There's nothing more fun than playing your favourite game with a friend. While there are a lot of games that offer multiplayer options, what could be cooler than playing together in the same place? Welcome to the local co-op experience! Often called "couch co-op" when it comes to consoles, and depending on the game, there is a world of local co-op games for you to explore with your friends!
RELATED: It Takes Two: A Refreshing Co-Op Adventure
A lot of the games on this list are well-loved and well-played games. Still, many play the game for their single-player mode and need to learn that there are fantastic local co-op options and know what multiplayer fun is waiting just around the corner for them. Let's look at some of the best co-op games, the best split-screen games and the best local co-op games around.
1. Mario Kart
It's easier to think of local co-op play after immediately considering Nintendo. The Nintendo Switch, their dedicated console, has plenty of local and couch co-op possibilities, as do its games. One of the most well-known and loved games for many editions of Nintendo Consoles is Mario Kart 8 Deluxe.
With over 42 Mario Bros characters to choose from, including Mario, Luigi, Princess Peach, Yoshi, Kong, Bowser, the baby versions of everyone's favourite Super Mario Characters, and even a few from other Nintendo projects like Link from The Legend of Zelda, a male and female player character and Isabelle from Animal Crossing, and characters from Splatoon.
I doubt Mario Kart needs much of an explanation, but the whole point is to win each race while driving a kart, and you can sabotage your friends to make sure you win!
There are two ways players can enjoy local co-op in Mario Kart 8 Deluxe, with up to four players using the same Nintendo Switch console and sharing a screen split between them and LAN. LAN uses your local network to connect players locally, letting up to 12 players race against each other on different devices as long as they share the same local network.
2. Stardew Valley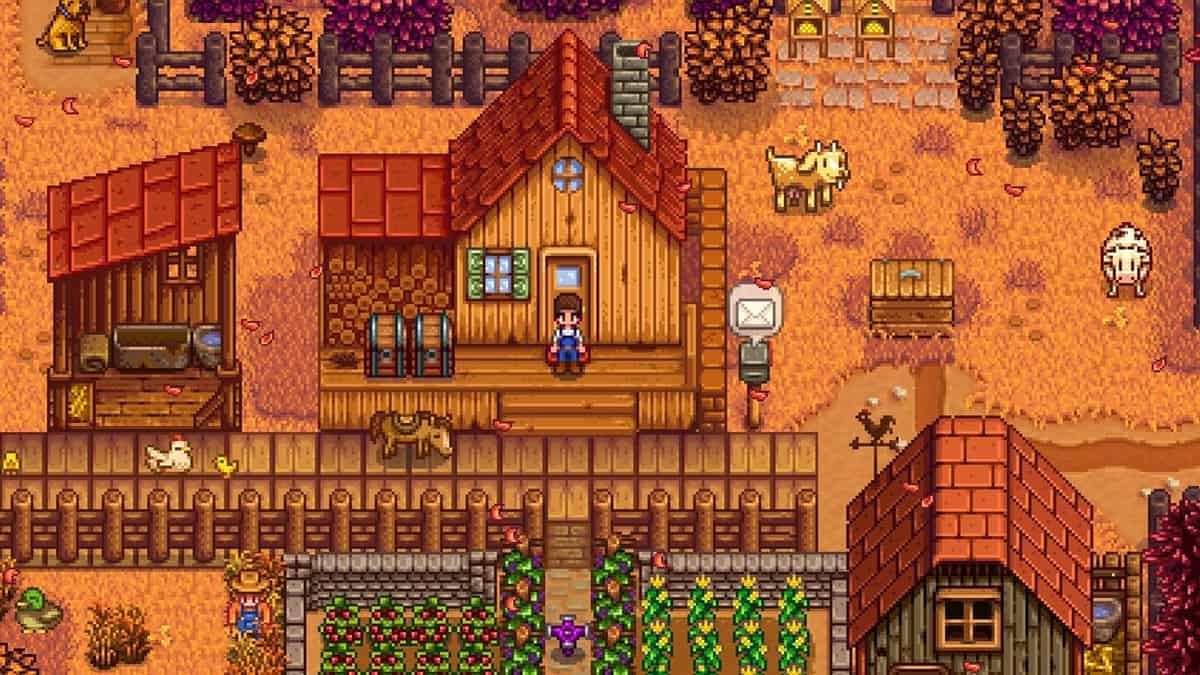 Stardew Valley became a sensation just after Animal Crossing: New Horizons and is one of the most beloved farming games of the last decade. With relaxing music, tasks to undertake daily in the game, and different ways to farm and earn money to improve your farm.
There is a beautiful community of NPCs in Stardew Valley for you to befriend as you speak to them, give them gifts when you remember their birthday, and participate in community events. You can even marry your favourite single NPC and start a family in the valley.
There is also a darker side to Stardew Valley, as you need to delve into the depths of the mines to get resources to improve your farm, all while facing dangerous monsters like slimes, skeletons, ghosts, massive insects, and more.
Stardew Valley has the option of being played in single-player mode or multiplayer. Multiplayer can be played on different devices on the same network or device by connecting an additional controller. The game calls this split-screen mode, allowing you to choose "Start Local Co-op". And there you go, enjoy one of the most beloved farming experiences with your friend! By the way, you can marry another player instead of an NPC.
RELATED: Top 10 Games of the Decade (2010-2019)
3. Rayman Legends
Rayman returns for another adventure in Rayman Legends, a platformer from Ubisoft and the fifth instalment in the Rayman series. The game is available on the Nintendo Switch with Rayman Legends Definitive Edition.
Rayman Legends continues the original game's story, explicitly continuing where Rayman Origins left off, continuing a century after its events. Rayman, Globox and the Teensies are woken up by Murfy when the Bubble Dreamers have nightmares that are worsening.
Barbara and her fellow princesses have been captured, and it is up to Rayman and his friends to save the world(s) after being transported to others and join them as they try to find their way home.
Rayman Legends supports up to four players locally so that you can play with your friends. As with most games with couch co-op options, you can also play online multiplayer with your friends, but why do that when you can all play together in person? "Seamlessly jump in and out of the action for non-stop fun!"
4. LEGO Star Wars: The Skywalker Saga
Most LEGO Games are local co-op compatible, but one of the most loved LEGO Games is LEGO Star Wars: The Skywalker Saga, where you get to play through "all nine Skywalker saga films" through the LEGO lens. With an almost infinite-feeling Star Wars galaxy to explore and a land filled with epic adventure, experience Star Wars.
There is a whole series of LEGO Star Wars to enjoy. Still, The Skywalker Saga lets you experience all nine episodes of the Skywalker Saga in any order, letting you start from any of the three Skywalker Saga trilogies.
The game offers a form of co-op gameplay called "Shared/Split Screen Co-op", even through the Steam version, usually played on PC. Unlike many games on this list, the local co-op is limited to two people. By plugging in a controller, a friend can instantly drop into your game and take control of one of the characters in your party.
Together, you can experience what it feels like to be a part of the Star Wars universe with your friend, and you don't even have to start new games; they can just join you wherever you are in the story and then drop out whenever they need to leave without disrupting your gameplay and your story.
RELATED: Why I Love LEGO, Star Wars & LEGO Star Wars
5. Rocket League
Rocket League is a scarce game combining two unlikely concepts into an enjoyable game about arcade-style soccer and cars. It sounds weird, but it somehow works. In Rocket League, you drive a rocket-powered car around an incredible soccer field where you can drive up the walls, all in an attempt to smack a gigantic soccer ball into the enemy goal.
While it's relatively apparent that you would have to play against other people to have a match and that friends can join you online for games, it wasn't until a while later that players started to realise that the game is local co-op compatible for up to two players.
To play split-screen, there is a bit of a process that needs to be undertaken, including that controller for player one and their co-op partner need to be connected before launching the game, and upon launching, "Player 2 must press the Options/Meny/Start button on their controller" which allows them to join Player one's party.
As a party of two, the players can then play Rocket League offline or online on a split-screen, meaning they can play against each other and get a little competitive, or they can play together as part of the same team against other online players.
6. Call of Duty: Modern Warfare
Call of Duty: Modern Warfare needs little introduction, like many games on this list. Call of Duty is one of the best first-person shooter franchises out there (although the latest Call of Duty games do have third-person options) and has many multiplayer or single-player modes for their players to enjoy. Many players are loyal to Call of Duty to the core, not only considering it a great game but one of the best games ever made. While there is a story, many players go into the multiplayer game modes just to test their metal against each other.
Call of Duty: Modern Warfare is not only known as a game that offers multiplayer with others from around the globe, including your friends. Sometimes, though, your friend is visiting, and you get the itch to play and want to start a game before they return to start a game, so what are your options? Call of Duty has long been known for its local multiplayer games.
The game allows players to play couch co-op with a split screen, but note that you can only play this way in specific modes. This is done so you don't accidentally put yourself at a disadvantage in a competitive match. However, it still gives you fantastic options to share with your friends.
RELATED: Call of Duty: Modern Warfare 2 Review – Immersive Experience but Lacks Novelty
7. Gears of War
Gears of War is the beloved third-person, over-the-shoulder shooter franchise created by Epic Games and developed by The Coalition. It takes place on Sera, a planet that is a lot like Earth, where humans have tried to survive despite being on the brink of extinction. Eventually, Sera's population splits into a civil war between the Coalition of Ordered Governments and the Union of Independent Republics.
The story of Gears of War has expanded throughout the franchise, and trying to explain it all here would be almost sacrilegious. Still, if you want to look at it for yourself or with a friend, you can do so with multiplayer.
Gears of War: Ultimate Edition has a few different ways to play co-op, including local couch co-op, split screen, and online co-op. Each version is supported for up to two players so that you can enjoy the game with a friend.
The process of unlocking a local co-op is a little complicated. You can find much information about people struggling to access Couch Co-op, no matter which version of Gears of War they are trying to access it on. If you want to try split screen with a friend, there are many guides to help you with it.
8. Borderlands
Welcome to Pandora, Vault Hunter, a hostile planet with a slightly lower gravitational pull that allows you to jump and soar. It also has its own wild and exciting ecology and ecosystem. There are plenty of Borderlands games to enjoy, ranging from our first introduction to Pandora in Borderlands and going all the way through to fighting on one of Pandora's moons in Borderlands: The Pre-Sequel and Borderlands 3 even takes you to different planets to find more vaults. You can explore even more with the Borderlands: The Handsome Collection.
One of the best things about this 2K Australia game is the Aussie humour, and the next is that you can party up with friends to a party of four. Suppose you are playing on a console (just because it's easier with controllers). In that case, you have to have everyone logged into their profiles before starting up the game. Once in the menu, Player 2 must press the prompted button to log in.
I could have sworn that I had seen split screen options for other Borderlands games growing up, and while it might be a bit of a Mandala effect or a bit of wishful thinking, Borderlands 3 for sure has local couch co-op using split screen for you to enjoy with up to two players.
RELATED: Borderlands 3: A Noob Opened Pandora's Box
9. Lovers in a Dangerous Spacetime
Welcome to the adorable space shooter video game available on PC, PS4, Linux, Xbox One and Nintendo Switch, Lovers in a Dangerous Spacetime. If the title sounds familiar, it's Asteroid Base's subtle tongue-in-cheek reference to Bruce Cockburn's hit classic Lovers in a Dangerous Time.
This game can be played alone, but lovers are literally in the name, so it makes sense that it would be much more fun with some company. The game is designed to be played with up to four players, each taking on the role of a tiny spaceman in a round spaceship.
There are a bunch of stations within the spaceship, all of which control the different aspects of the spaceship, including the weapons system, engine, shield, cannon, and navigation system. I'm sure you are starting to see why this game is better with friends… Of course, the devs thought about how difficult it might be on your own, so you get a loyal AI space pet to help you if you load up the game on your own.
Can you and your friends (or your pet) win the fight against the evil forces of Anti-Love and spread love around the universe?
10. Streets of Rage
Welcome to the perfect arcade-style side-scrolling beat 'em up video game, Streets of Rage (sometimes called Bare Knuckles in countries like Japan). Developed by the arcade-style fighter kings at SEGA, the games follow a group of ex-police vigilantes trying their best to rid their city of crime and corruption, one street brawl at a time.
Streets of Rage 4 is available on Steam, Google Play, PlayStation 4, Xbox One, and Nintendo Switch and can be played online with a friend or local couch co-op. With many multiplayer games, you often find that playing online with friends is incentivised because you can be joined by more people versus local co-op. Still, Streets of Rage 4 is the opposite.
Streets of Rage 4 wants to see you battling it out with up to four players in couch co-op, which has exciting mechanics that make teaming up with your friends much more fun. With a shared combo metre increasing the chance of massive combos from all players, the satisfaction of the fight is significantly increased for all playing. On the flip side, that shared combo metre can be broken if any player takes damage, so try not to lose any friends while you take some hits.
RELATED: Streets of Rage Live-Action Movie: What Do You Think of This Cast?
11. Kirby and the Forgotten Land
A great Nintendo classic and everyone's favourite little pink insatiable character, Kirby is back in Kirby and the Forgotten Land. The 3D platformer is filled to the brim with levels to explore, as well as many bad guys and bosses to defeat throughout the Forgotten Land; you can even play with a friend, turning the game into a co-op platformer, but unfortunately, only one friend, as the game only supports two players on couch co-op.
Nintendo Switch games often have capabilities beyond just one player on a console, and the joy-cons can be disconnected to create two little mini-controllers. The same can be said for Kirby and the Forgotten Land, where a friend can join your adventure as Bandana Waddle Dee.
There have been some complaints that the experience for the second player could be more fun for the player who gets to run around as Kirby, simply because Kirby is the main character of his story. Bandana Waddle Dee can't fight the way that Kirby is.
That being said, It is still a fun experience to run around the Forgotten Land with a friend, and if you and your friend are intense lovers of Kirby, it is a great way to share in that love while enjoying time together.
12. TowerFall Ascension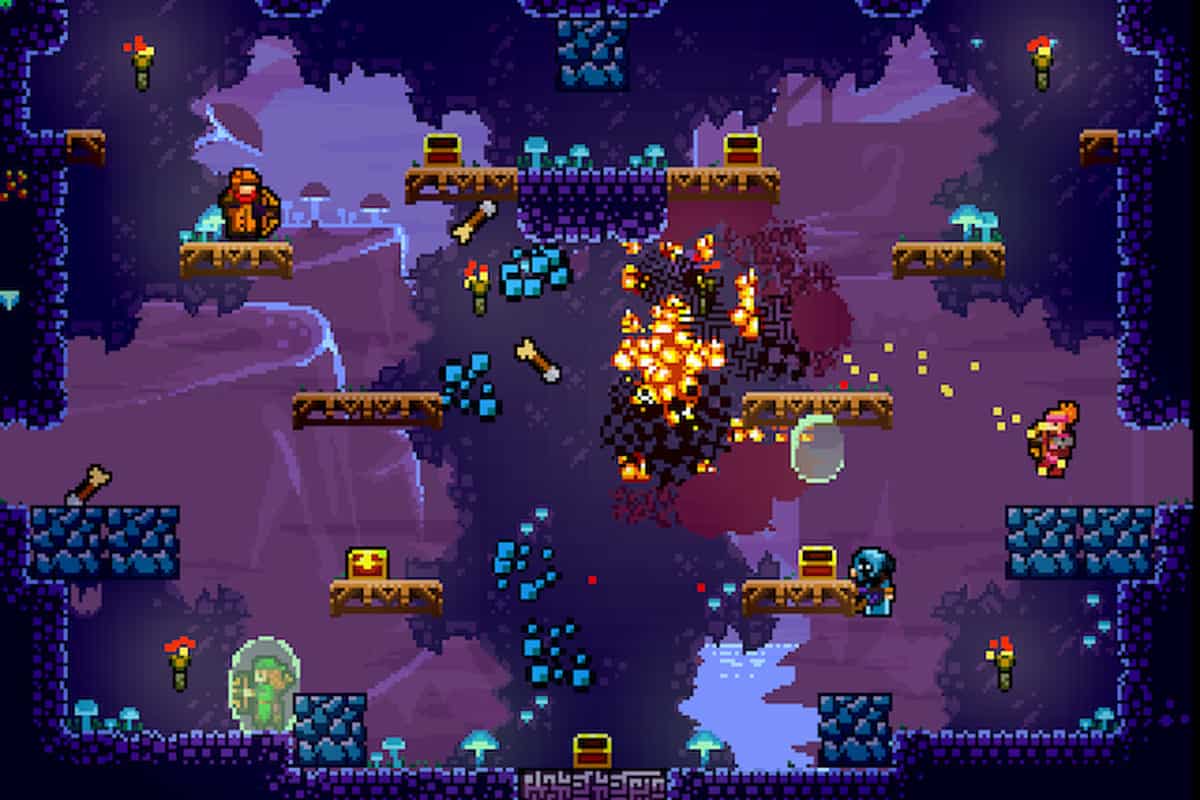 Introducing TowerFall Ascension, the game that takes the hit archery combat platformer TowerFall to the next level with the definitive version. Everything from the art style to the play style is inspired by classic arcade games "from the golden age of couch multiplayer".
Explore towers, loot the world to find power-ups that have the potential to break the mechanics of the game because they are so fun, and master archery. The game can be played single-player but has been designed to be played with friends for the best experience. "TowerFall is best played competitively with friends, cross-legged on the floor within punching distance of each other." By nature, it is a very competitive game.
Although a quest mode has been added to the game, bringing some story and a world of monsters and enemies for one to two players to contend with, the primary basis of the game is for everyone to go up against each other and do their best to take each other down. The game provides 120 unique maps to do this, amazing power-ups to find and use against your friends, unlockable playable characters, and the ability to customise your matches.
Normal (non-Quest modes) can only be won when one player is left standing, and that player can be named the victor and crowned champion among their friends.
RELATED: Mario & Sonic At The Olympic Games Tokyo 2020 Review – Momentarily Fun
13. Heave Ho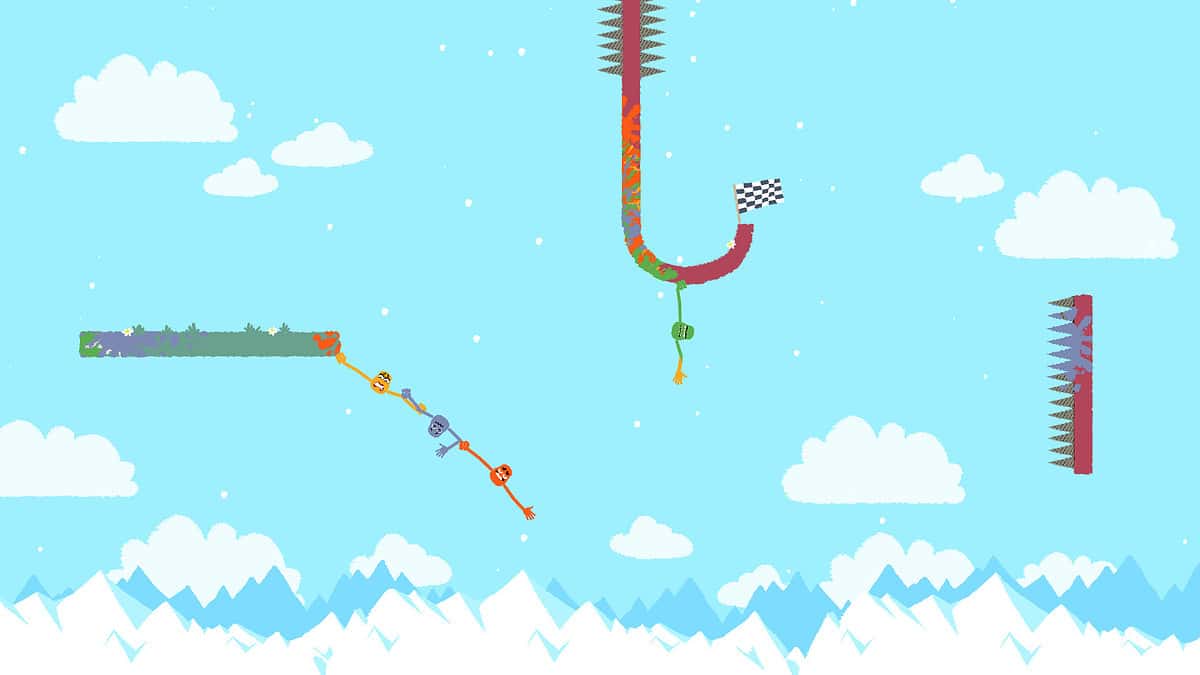 Heave Ho is a game that stretches the limits of friendship, similar to UNO. Available on Steam, Heave Ho is a game where up to four players must work together to cross a series of levels from start to finish. The only problem is that each player is a bean with a funny face and arms. And nothing else. Each level is a series of floating platforms, and you and your friends must not fall to your death.
To complete each round, you win by working together as you dangle, swing, and throw your friends to safety. The controls are alarming, as you have to control each limb (thank goodness the game's design only gives you a pair of arms to worry about). Still, it's all part of the game's fun, as those friends who would usually turn on you the first second they get need to realise that they need you.
Heave Ho is a rare breed of game that offers a multiplayer mode only as a local co-op and doesn't support online co-op. Still, with the game being available on Steam, gamers have found a way to jerry-rig their games through Steam to play together online. Otherwise, it's time to invite some friends over or test your love with your family members.
14. Human: Fall Flat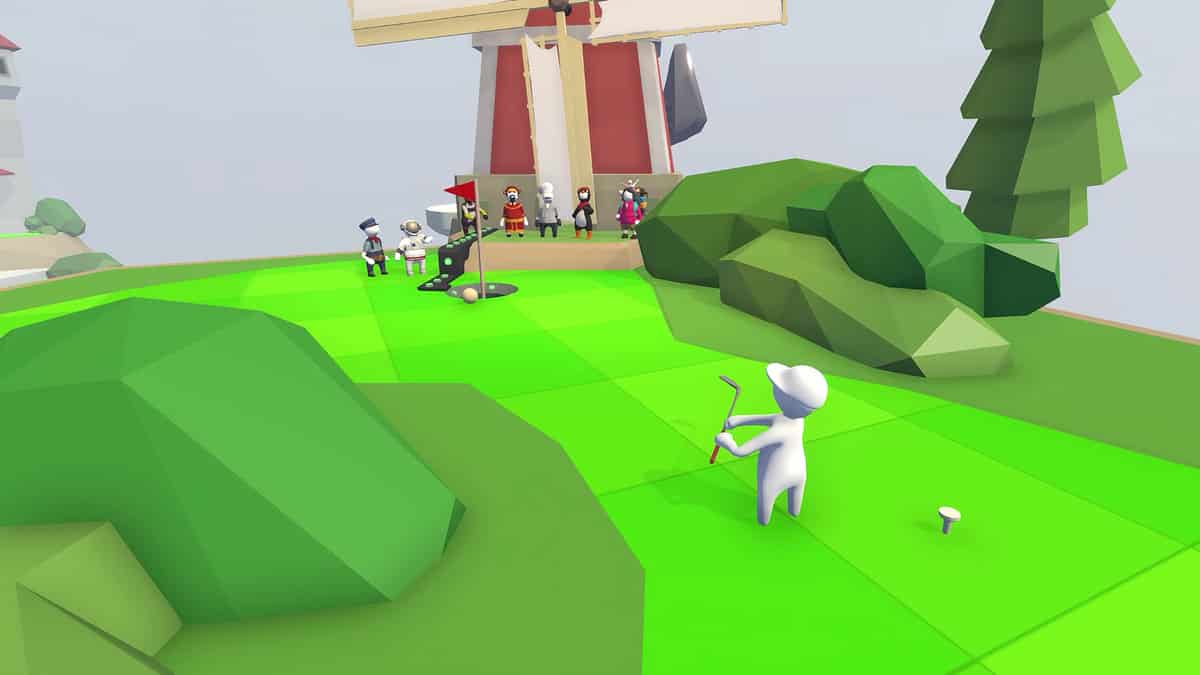 Human: Fall Flat is another game similar to Heave Ho where you sometimes have to work together with other players, but you are basically just a flailing mess with arms, but this time, you have a human body, and you aren't just an anthropomorphic bean, that needs to get to the other end of a floating platform.
In the worlds and puzzles of Human: Fall Flat, you aren't just controlling a little man with flailing limbs but also having highly advanced physics to contend with. "The worlds may be fantastical, but the laws of physics are very real."
Unlike Heave Ho, Human: Fall Flat does have online multiplayer capabilities where a player can host a lobby where up to 8 other players can join their game. This is possible with either a private or public lobby, each one deciding who can join you, but it also does support players locally, but only up to two.
Local co-op is achieved through split screen with a similar "Drop in/Drop out" system that was mentioned before, basically meaning that friends can join you in the game locally without ever disrupting your experience or your progress because you don't need to start a new level or a new save file for them to be included.
RELATED: Kayak VR: Mirage Is One of The Best PSVR2 Experiences
15. Animal Crossing: New Horizons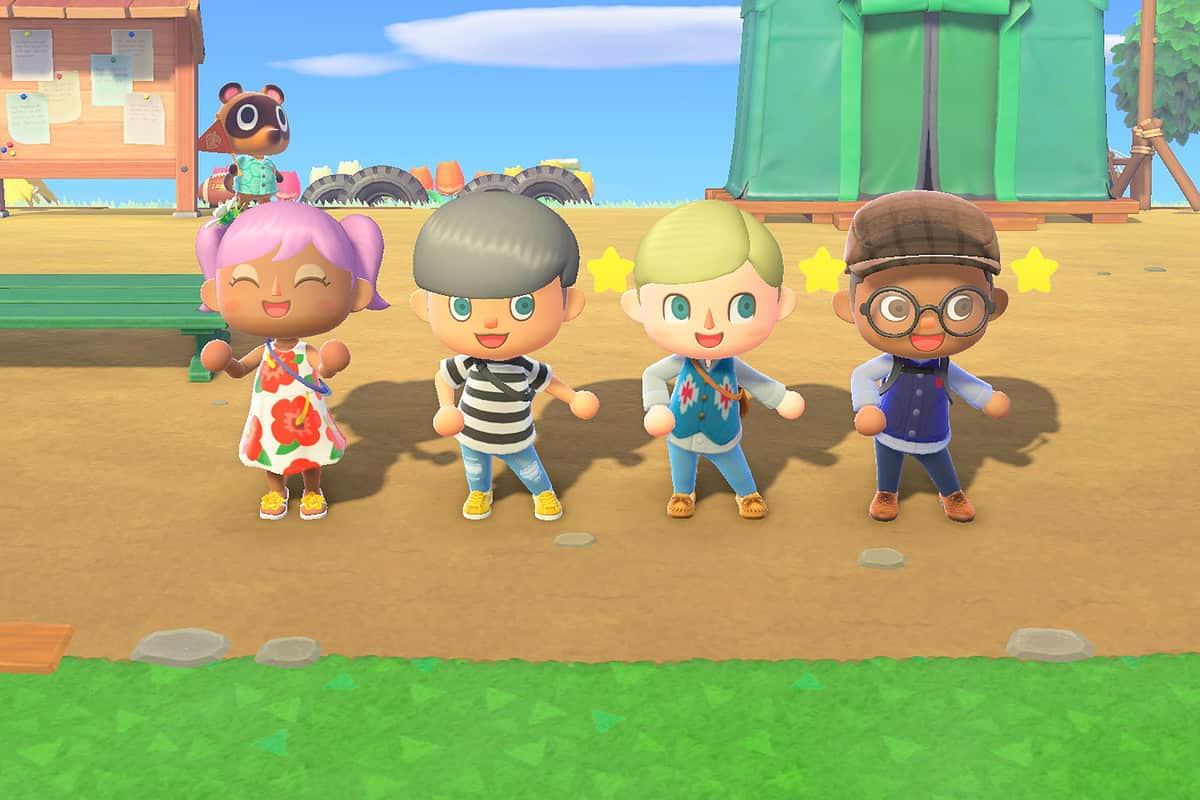 Animal Crossing: New Horizons was one of the biggest crazes during the COVID-19 pandemic because it allowed players to live a relatively everyday life on a remote island, running around as a cute little avatar, meeting cute villagers and doing mundane tasks like fishing, gardening and paying off a mortgage, all while escaping the ridiculousness of the real world for a while.
The lovely part about AC: NH is that if you have a Nintendo Switch Online Subscription, other players who own the game can visit your island and run around with you. If you are best friends (it's a setting, not just a childish promise, I swear), you can even work on your islands together to a limited extent. This was a massive craze during the pandemic when friend groups couldn't meet up, leading to many people investing in a Nintendo Switch and the game.
Anyway, this is a list of local co-ops. Suppose you have friends who don't own a Nintendo Switch but still want to play together. In that case, all you have to do is create a profile for them on the same device you are using, let them start up the game and go through the first part of the game until their time syncs with real-time, and voila, you have a friend who is living on the same island as you! This lets them play on your island independently (on the device) or join you using the joy cons or another set of joy cons.
The local co-op actually allows friends to do a ton more on the island than just a best friend visiting, as they can change the island, donate to the museum, and do a ton more, so it's a great way to play together and an excellent choice for a married couple who want to create a beautiful island together.
RELATED: These Super Mario Bros. Bowser Nike Dunk Lows Sneakers Are Hot
What is your favourite local co-op game?