Whether you're blowing up zombie heads, jumping from cliff to cliff in search of pirate treasure or placing block after block to build an overly complicated dirt house, you'll want to ensure you're comfortable. This can be achieved through the dozens of gaming chairs designed with the best ergonomics to ensure you won't destroy your back after several hours of sitting in front of a screen. Let's take a look at some of the best gaming chairs on the market.
RELATED: Ergotherapy Ergo-G Gaming Chair Review – Gaming in Comfort
13. Herman Miller Sayl Gaming Chair – Durable and Breathable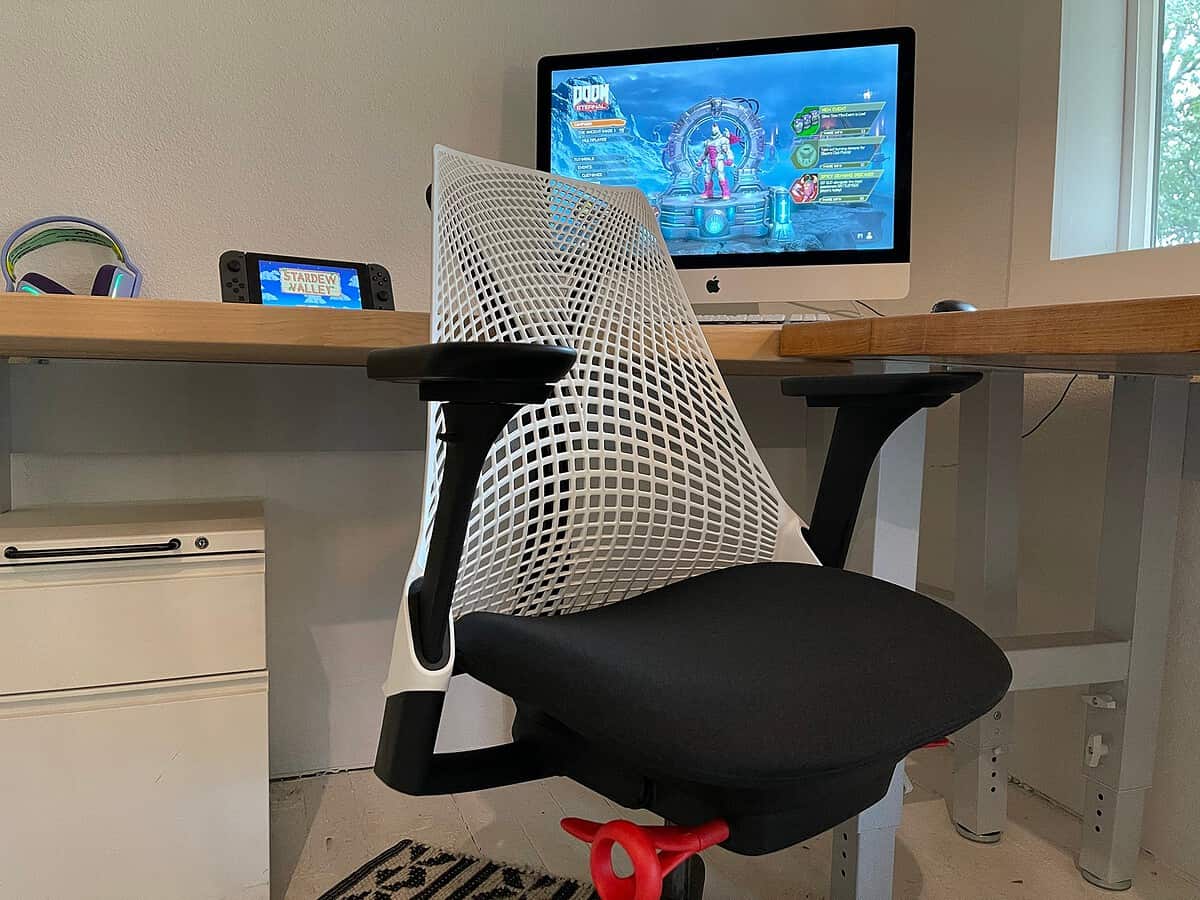 This suspension bridge-looking chair has been designed with pro gamers in mind. The mesh plastic of the chair is breathable and flexible, meaning it will conform to any user and keep sweat at bay for a while. The chair's high quality and near indestructibility have been backed by Herman Miller's usual 12-year warranty.
The chair has a striking palette of colours, including pink, making it perfect for those who don't want to ruin the theme of their gaming room. It has the benefit of adjustable armrests, which move in any direction, and different degrees of tilt. The sync upholstery fabric of the seat has been designed to stretch cleanly and offer plenty of comfort to its users.
While the chair is pricier, it is built to last for years. It is durable, provides good lumbar support and is a brilliant excuse to spend more than your annual budget.
12. Razer Iskur Gaming Chair – Comfortable
This gaming chair's adjustable lumbar support system easily conforms to anyone's back. With its green and black colours, the chair has been designed to match Razer's mice, keyboards and headsets, meaning it will easily fit into an avid Razer fan's setup.
The chair has a built-in lower back support that curves outward from the chair. Combined with the high-density foam used throughout, the chair is firm and comfortable. In addition, Razer uses multi-layered PVC synthetic leather to combat the peeling you often have to deal with when you've been using a chair for a couple of years.
The chair also features 4D armrests (which means players can move them in any direction – up and down, left and right, forward and back – for optimal comfort) and an adjustable headrest. As a result, it is easily one of the best gaming chairs on the market.
11. Herman Miller X Logitech G Embody Gaming Chair – Comfortable, Cool and Easy to Adjust
Gamers should expect nothing less than high quality and extreme comfort from this manufacturer collaboration. Herman Miller and Logitech G are both known for their brilliant lines of office chairs, so gamers were excited when the companies came out with the Embody Gaming Chair.
While it's not remarkably customisable, it's still a great chair that offers comfort and copper-infused cooling foam to give gamers the best possible experience. In addition, it has been designed to offer the best lumbar support to its user, no matter the angle the chair has been tilted. The armrests, backrests and seat can also all be adjusted.
One of the best parts about the chair is that it comes fully assembled, meaning gamers won't have to read through instructions and fight with pieces of plastic that don't want to fit together, no matter which way you twist them before they can take their new purchase for a test run.
Logitech G and Herman Hiller are both older brands, meaning they've served many customers and have a lot of experience. Together they have created one of the best gaming chairs on the market, though some aren't sure if Logitech G has brought much to the collab.
The chair's success lies in the simplicity of keeping to the tried and tested Embody designs. The only issue is its price, which may be much more than the average gamer can afford.
10. Secretlab Titan Evo – Customisable with Excellent Lumbar Support
Secretlab offers an affordable premium chair with this iteration of the Titan Evo, an amalgamation of Secretlab Titan and Secretlab Omega, Secretlab's previous gaming chair models.
The chair is incredibly customisable, with over 50 different colour choices and four upholstery options, including leather. Additionally, it has a full-length backrest that can tilt 165 degrees, replaceable 4D metal armrests, several different neck pillow and armrest options, each offering varying levels of padding thanks to the memory foam used within and is available in three different sizes (small, regular, extra large), meaning that it will fit any gamer just right.
The neck pillows and armrests are made to be easily adjustable thanks to their magnetic attachment points. This means your chair can evolve alongside you.
One of the best things about the chair is its 4-way L-Adapt Lumbar support system, which is built into the chair and can be adjusted through two separate knobs on either side of the chair, which allows its users to move the support up or down and in or out to their liking. No more using awkwardly placed pillows to prop up your back! Secretlab clearly cares for its customers' posture, and Titan Evo users won't be experiencing spinal problems anytime soon.
The chair has a 3 – 5 year warranty depending on the site you purchase from and has several valuable features, including an NFC anti-counterfeiting tag to ensure that you aren't being scammed out of a chair when you eventually make a purchase. However, while the basic chair option is quite affordable, it becomes pricey as you add more customisations to your chair.
Whether preparing for a long gaming night or an 8-hour work day, the Secretlab Titan Evo is the perfect gaming chair.
RELATED: Raidmax DK925 ARGB Gaming Chair – A Lighting Extravaganza
9. Noblechairs Hero Gaming Chair – For Night-Time Gamers with Back Pain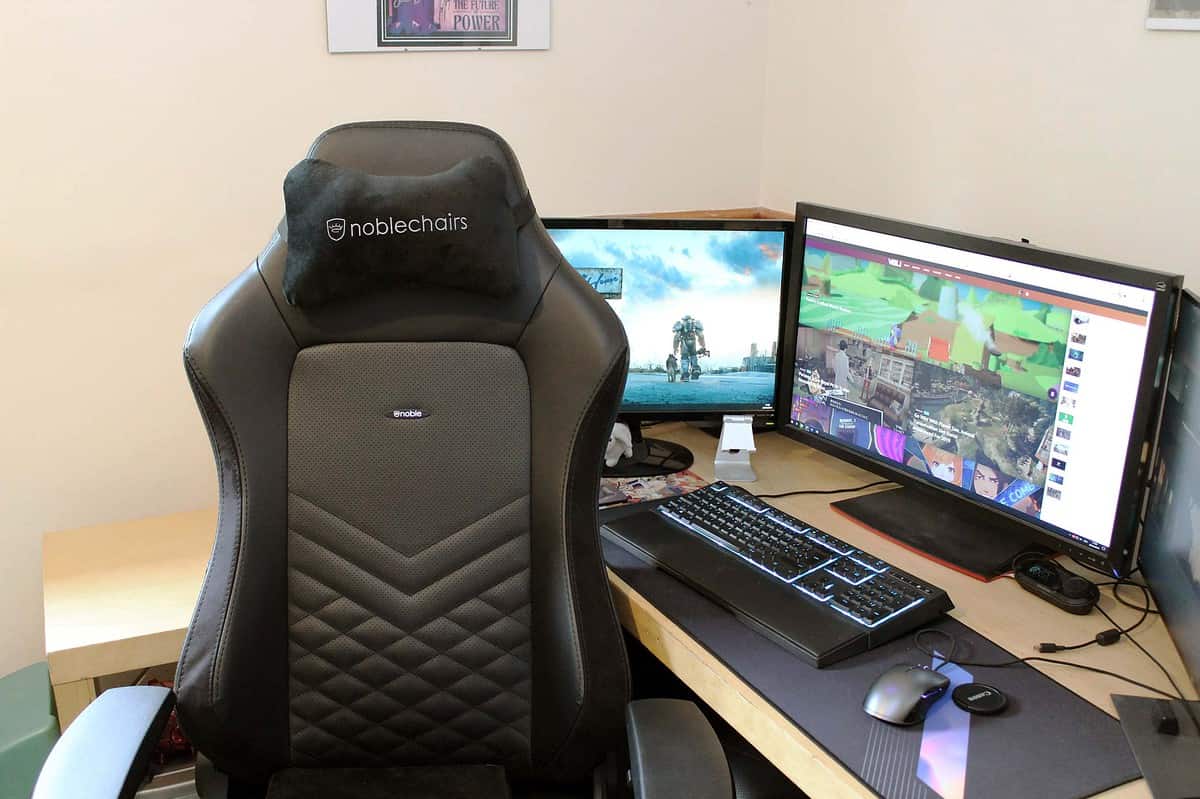 While the Hero gaming chair isn't one of the most exciting or sporty-looking chairs, it does an excellent job taking care of your back, easily making it one of the best chairs around. For the most part, chair assembly is relatively easy, though you may need help when attaching the back to the seat.
It's not the softest chair, featuring a cold-cure pressed foam that prevents sweating. Instead, it's firm, meaning you won't sink into it, which drastically helps your posture; however, it's also comfortable and will soften over time.
The chair is supported by a steel frame, which allows it to hold a maximum weight of 330 lbs or 150 kg and is upholstered with vegan PU leather. It's height adjustable and has pivoting armrests that you can move out of the way when you want to make room for a gamepad.
The nylon-coated polyurethane wheels are night-time gamers' best friends. Not only can you move around without making a noise, which prevents you from waking anyone up, but they are gentle on your floors, meaning they won't leave marks on your floor as you adjust and roll to get further from or closer to your screen. This is an excellent perk, given that you'd expect the sheer weight of the chair to at least make a dent in your floors.
The Noblechairs gaming chair is a budget-savvy, spinal-friendly option.
8. Xrocker Emerald Floor Rocker – For Floor Sitters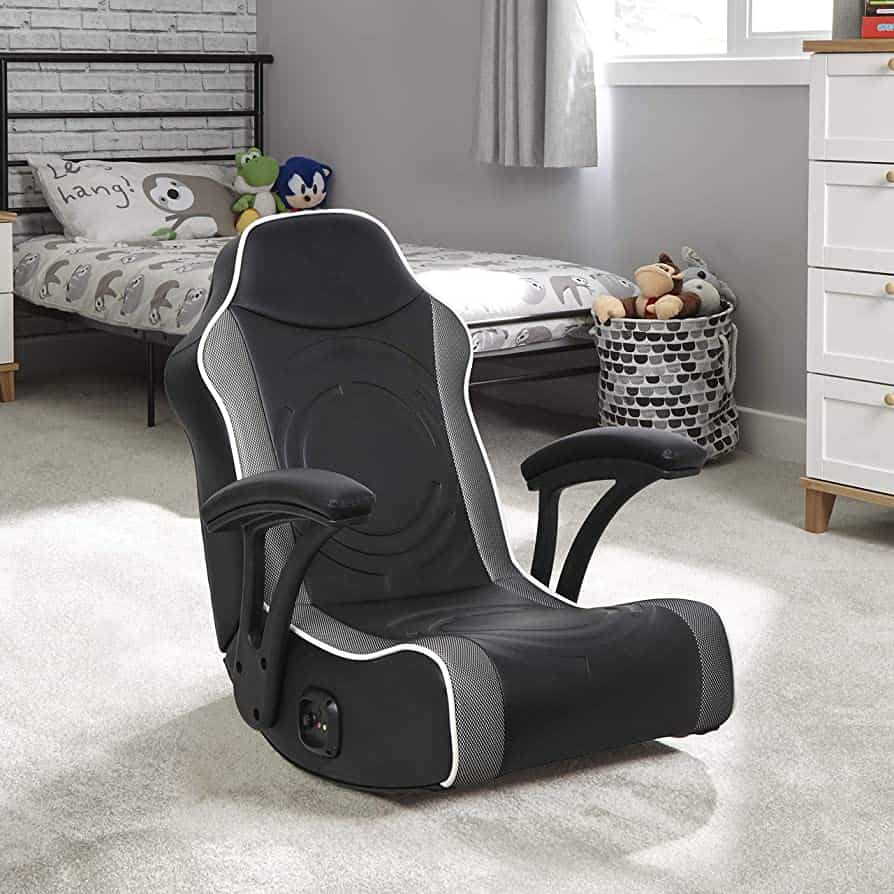 While this gaming chair isn't the most portable, given its status as a floor rocker, it is still an excellent option for gamers who are more flexible with their seating arrangements. The customisations that can be made to the chair are where the Xrocker Emerald Floor Rocker shines. It has a great selection of custom colours and makes for a surprisingly great RGB light show.
It features built-in speakers, with bass set right into the chair itself, though this means the chair needs to be near a power socket to work.
It's a relatively cheap buy compared to some of the other chairs on this list and is perfect for floor-sitters looking to give themselves a bit more support while sneaking around a digital world.
7. DXRacer Master Gaming Chair – Provides Affordable Lumbar Support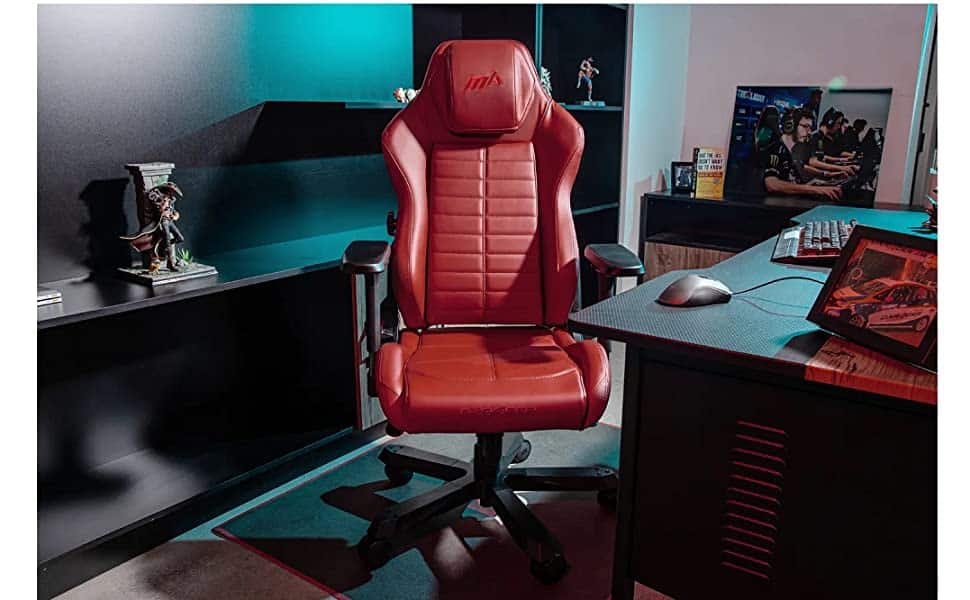 This gaming chair is designed in the racer style that many pc gamers are used to and is one of the most comfortable chairs on the market. Upholstered with microfiber leather, the chair comes in five different colours. In addition, it has a modular design with optional add-ons which users can use to customise their model for optimal usage.
The chair offers excellent lumbar support, though there have been complaints about the placement of the adjustment knob, and it is durable and high quality. DXRacer modelled their gaming chair designs after the seats they used to manufacture for some of the fastest cars ever made.
It can support a variety of body types but has been specifically manufactured as a one-size-fits-all solution, as it comes in XL/plus size only. It is decently priced but becomes progressively more expensive when you purchase add-ons.
The build quality is on par with the Herman Miller Embody, which is made evident by the frame's lifetime warranty.
6. VERTAGEAR SL5800 Gaming Chair – Lumbar Support Without the Guess Work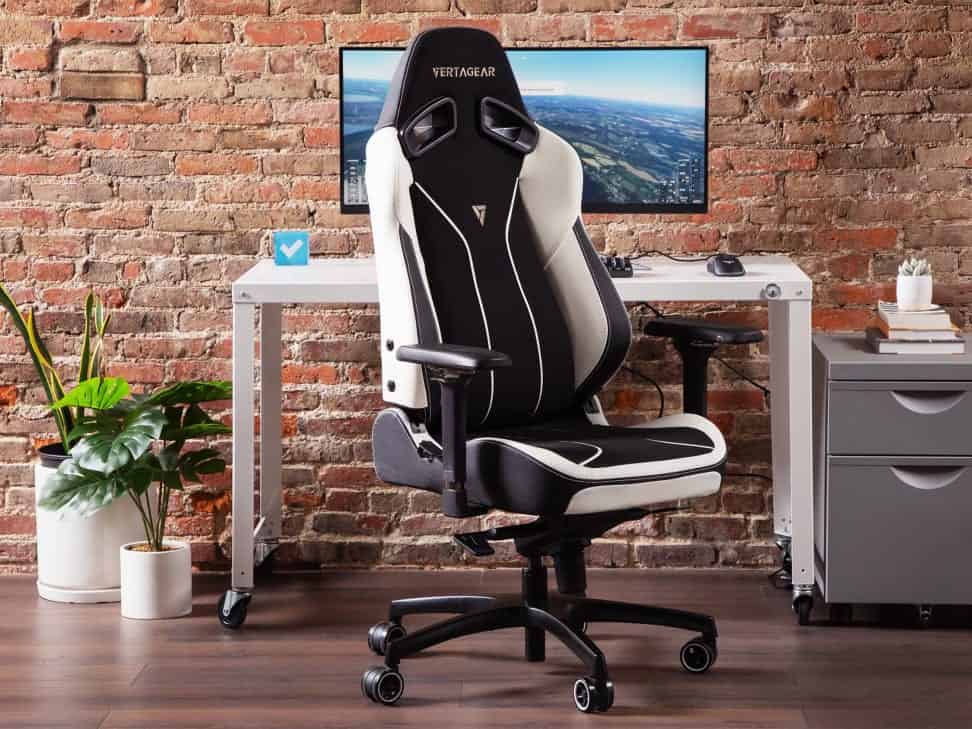 Despite not having adjustable lumbar support, the Vertagear SL5800 is still one of the most ergonomic chairs on the market. The chair features a ContourMax system that uses memory foam and embedded plastic pieces that move according to the user's sitting position, eliminating the guesswork that comes with finding a comfortable level of support. It also has a VertaAir seat, the combats the heat that builds in seat cushions through air pillars that allow for enhanced ventilation.
It is available in a wide range of colours and has an optional RGB lighting kit, though it does fall short in terms of who can sit on it. The SL5800 is built for tall, slender gamers and has a weight capacity of 250 lbs or 113 kg. Fortunately, Vertagear offers similar models like the VL4800 and PL6800, specifically designed for larger gamers.
5. X Rocker Pro Series – An At-Home 6D Experience
While not the most portable chair on the list, the X Rocker Pro Series is a fantastic piece of furniture that will keep you comfortable and make you not want to leave your seat. The chair is mounted on a pedestal and built from high-quality materials.
It was designed with gamers suffering from back pain in mind and will keep you upright for hours. Like with most X Rocker chairs, the armrests are adjustable and can be moved in several directions as you try to find the most comfortable sitting position.
This chair is known for being the best gaming chair with speakers. The 4.1 surround sound and vibrator beneath the seat make for an incredible experience and lets you have your own 6D theatre in your home. It's compatible with PCs and different consoles. All you need to do is, plug it in, set up your volume preferences and listen as the sounds of your game consume the room you play in.
The chair's one downfall is its robust design.
RELATED: Best Gaming Chair – Acer Launches Predator Thronos
4. Corsair T3 Rush – The One You Can Nap In
Thanks to its memory foam lumbar pillow and use of breathable and soft fabric, which replaced Corsair's usual faux leather, the T3 Rush is an incredibly comfortable chair. However, while the breathable fabric retains less heat and allows gamers to spend more time gaming without dealing with the squeaky sounds of pleather, some are worried about potentially staining their chairs.
It looks more like an office chair than a gaming chair thanks to its grey or black design and reclines to 180 degrees, meaning you can easily take a nap between gaming sessions if you feel so inclined.
Unfortunately, the chair has been designed for gamers with a smaller frame, so those larger than 200 lbs or 91 kg mays have difficulty fitting into the chair. You may want to avoid this chair if you're a messy eater or frequent drink spiller.
3. AndaSeat Kaiser 3 XL – For the Larger Gamer
The Kaiser 3 XL is specifically designed with larger people in mind and comes in two sizes: large, designed for those between 150 – 190 cm (4'11" – 6'2"), and extra large, designed for those between 180 – 210 cm (5'11" – 6'9"). In addition, it is available in two materials: premium PVC leather, which comes in seven different colours (including pink, orange and blue), and linen fabric, which comes in two different colours (carbon black and ash grey).
The height and tilt are adjustable, with users able to lower themselves by 3 inches and recline to 165 degrees. The 4D armrests are magnetic, made of PU foam and have three buttons, each of which allows them to be moved in a different direction. The neck pillow, made from memory foam, is also magnetic, allowing easy attachment and detachment.
The chair offers built-in lumbar support that can be adjusted through two knobs on either side of the chair. It's perfect for anyone looking for more space and better lumbar support from their gaming chair.
2. Cooler Master Hybrid 1 – Comfortable and Supportive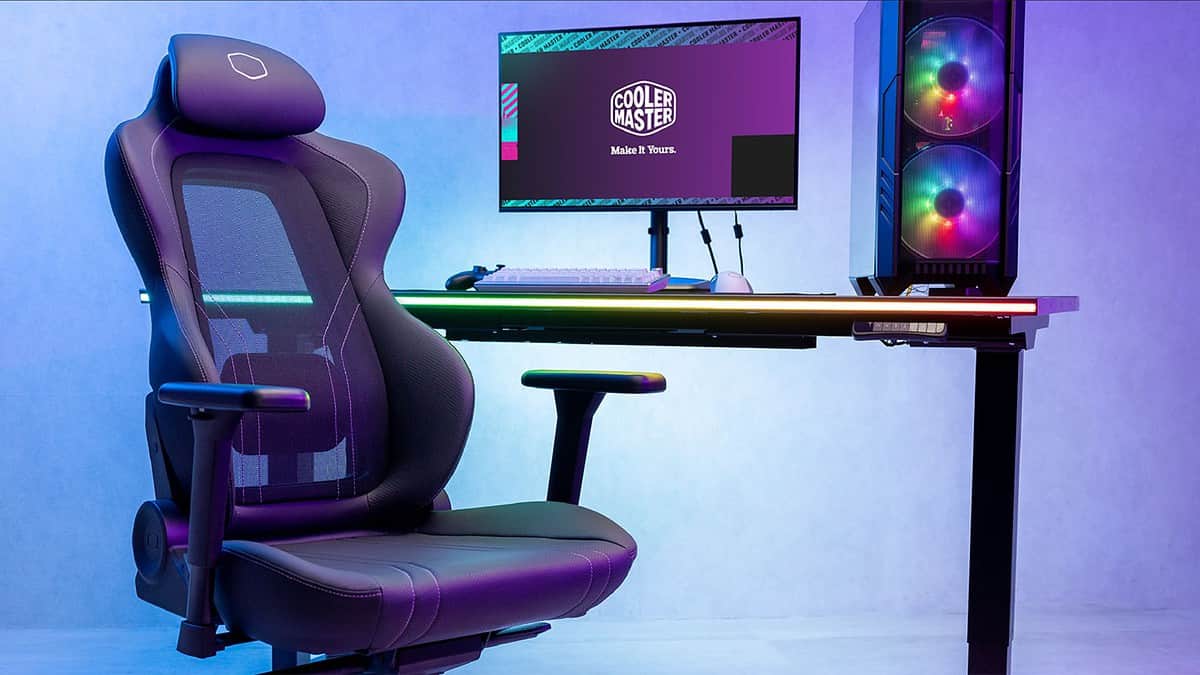 This chair is incredibly comfortable. It's dressed in polyurethane leather and is built on an aluminium wheel that can withstand a lot of pressure and supports up to 330 lbs or 150 kg. Users can tilt back to 180 degrees. Its wide seat and breathable back provide plenty of comfort for gamers.
The chair also has 3D armrests, which you can adjust the width of. Unfortunately, you have to flip the chair upside down, but Cooler Master sends you all the necessary gear to adjust your seat as you like. In addition, the adjustable lumbar support and headrest will ensure your posture remains straight during long gaming hours.
1. Asus ROG Destrier – The "Cyborg-Inspired" Mesh Chair
This all-black, mesh-backed gaming chair features a "cyborg-inspired" aesthetic that any gamer would love. The Destrier is upholstered with high-tension mesh and PU foam and offers adjustable lumbar support to its users. The headrest comes with an optional "acoustic panel" designed to keep you in the zone by blocking out distracting noises, though it is more gimmicky than anything else.
The chair reclines to 135 degrees and has four lockable steps and adjustments for the tilt, tension and depth. The 3D armrests can rotate 360 degrees and are height adjustable, but they don't lock in place. This can be incredibly frustrating when you lean back, and the armrests wobble and move where you don't want them to.
It doesn't look like a typical racing-style gaming chair and definitely has its shortcoming. However, the Asus ROG Destrier is still a brilliant chair for heat gaming sessions as the mesh back and breathable material will keep you cooler for longer.
Gaming chairs are a significant investment and will provide you with years of comfort through all your gruelling adventures, so make sure you pick the right one.
TL;DR
Gaming chairs are the greatest investment any gamer can make — especially those who enjoy PC games.
Some offer excellent ergonomics and support that will keep your posture straight even after hours of gaming.
Others offer comfort and cooling that will keep you glued to your chair even when you're not dedicating several hours to clear out a dungeon.
Which of these gaming chairs would you want?