If Pixar is good at one thing, it's making unforgettable animated movies that will have you moved to tears several times (if you didn't cry when Ellie died in UP, you're lying. Pixar was one of the first companies to release a 3D animated film, starting with Toy Story in 1995, and it was a decision that would put them on top for a long time. Let's look at some of the best Pixar movies of all time.
RELATED: Pixar: Has There Been a Drop in Quality in Recent Movies?
10. Turning Red (2022)
This adorable, brightly coloured film tells the coming-of-age story of the main character Meilin Lee (Rosalie Chiang), a young Chinese-Canadian girl who does everything she can to meet her mother's (Sandra Oh) expectations and make her proud. However, in her mission to be the perfect daughter for her mother, she often hides her interests, which has unfortunate consequences.
Mei soon learns that she can turn into a giant red panda during moments of high stress. While she first tries to keep the panda hidden, she and her friends start using the transformation to earn enough money to see their favourite boy band.
The film features young teenagers' obsession with boy bands, the struggles of navigating friendship, the difficulties of motherhood, puberty and bullies. It's one of the best depictions of young teenage girls I've seen in animation for a while.
Brought to screens by Domme Shi, who also directed the short film Bao, the film had several anime influences and a similar plot to A Goofy Movie, which also features a parent and child trying to repair a strained relationship.
Some critics considered certain scenes too mature for young audiences. Still, many fans disagreed with this assessment, as Turning Red did an excellent job of normalising stuff like menstruation. This topic is usually considered taboo despite it being a normal bodily function.
Turning Red is brilliantly animated and has some of the best food scenes. It's entertaining, hilarious and fun for the whole family, and it is one of the best Pixar movies.
RELATED: The Simpsons Halloween Special Features Parodies of Pixar and Spider-Verse
9. Inside Out (2015)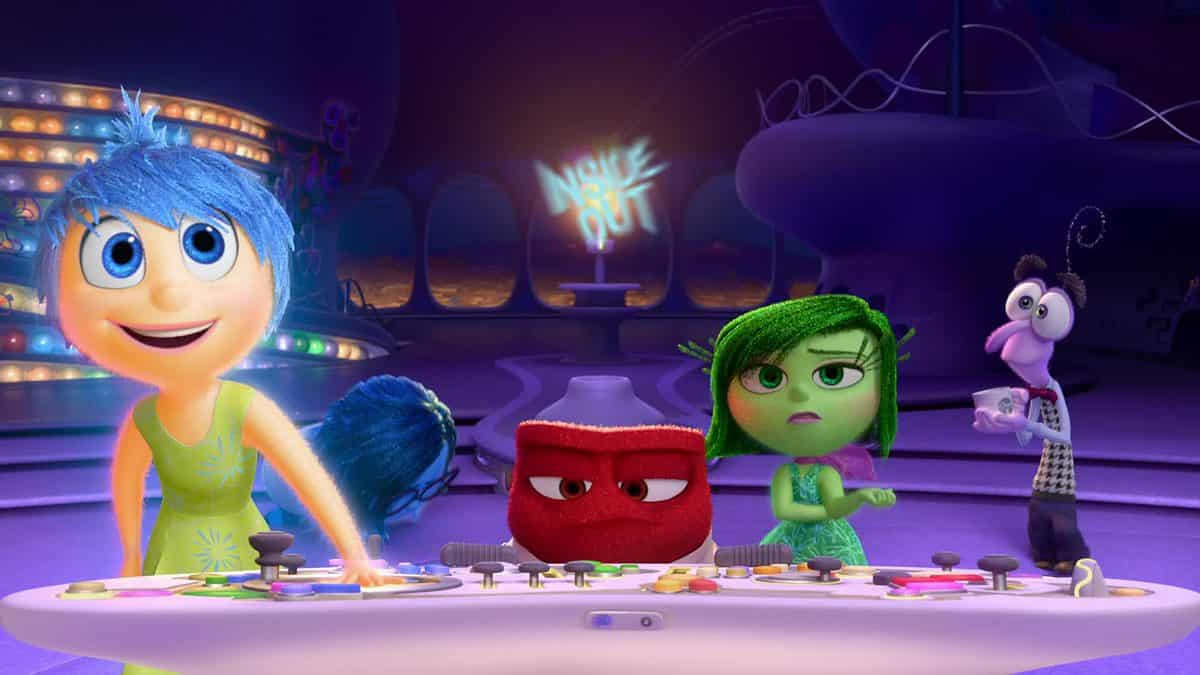 This movie takes place in the mind of an 11-year-old girl named Riley (Kaitlyn Dias), whose actions are controlled by Joy (Amy Poehler), Sadness (Phyllis Smith), Fear (Bill Hader), Disgust (Mindy Kaling) and Anger (Lewis Black) and is, for the most part, a very happy girl. But, unfortunately, her life takes a turn for the worst when her family moves to Minnesota, and Joy and Sadness are sucked out of Headquarters, leaving Disgust, Fear and Anger to take control of Riley.
While Riley's life gradually falls apart without her core memories, Joy and Sadness try to make their way back to Headquarters, meeting Riley's old imaginary friend Bing Bong (Richard Kind) along the way. When Joy falls into the "Memory Dump" after abandoning Sadness, she realises the true importance of the blue emotion. The two reunite, get back to headquarters and help Riley get back home.
The five emotions begin working together to steer Riley's decisions, and they are given a new console at which they can all work.
The themes portrayed in the film explore the importance of "emotional and psychological balance" and the importance of different aspects of people's personalities in attaining that balance. The film was recommended to college students who were dealing with homesickness.
Director Pete Docter began development for the film when he was inspired by the anxiety he felt about his young daughter becoming increasingly introverted.
Audiences, young and old, adored the film, and it quickly became one of the best Pixar movies.
8. Finding Nemo (2003)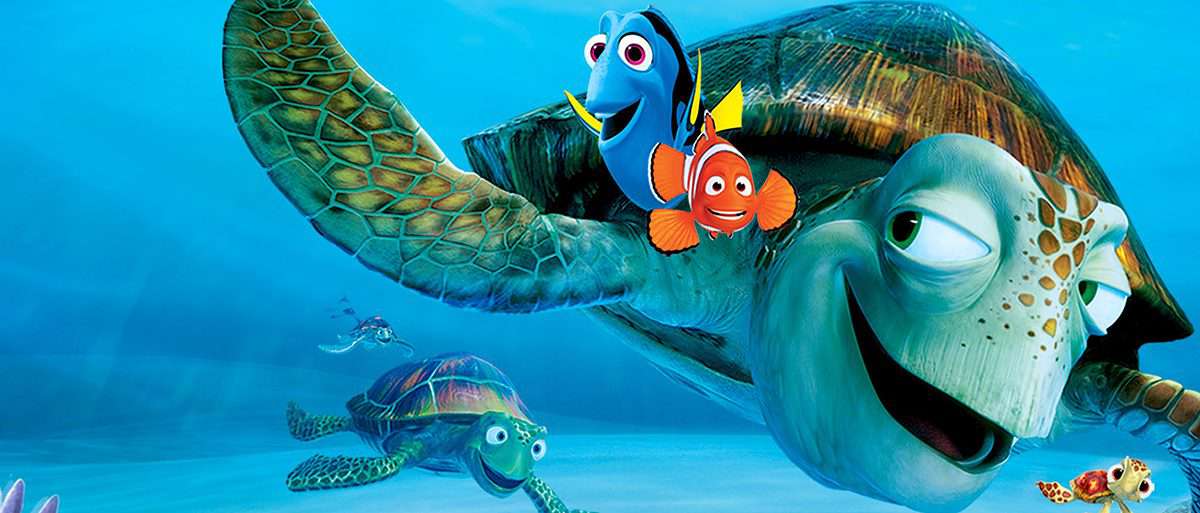 This film focuses on the story of Marlin (Albert Brooks), a clownfish who travels across the ocean in search of his kidnapped son with the help of a forgetful regal blue tang named Dory (Ellen DeGeneres). Along the way, the three meet and narrowly escape three sharks, avoid being eaten by an anglerfish and swim through a forest of jellyfish. They then befriend a sea turtle who gives them directions, are briefly swallowed by a whale and are finally helped by a pelican who takes Marlin to Nemo.
Meanwhile, Nemo has been placed in a fish tank where he befriends the other fish and tries to help them escape their tank. But, unfortunately, their plan fails, and when Marlin arrives to save his son, Nemo is playing dead, which the others don't realise.
Nemo finally escapes and reunites with Marlin. After they help free Dory by breaking a fishing trawler's net, they return to the reef. Fans' love for the old film eventually led to it receiving a sequel name Finding Dory.
RELATED: Alita: Battle Angel Anime Could Explore the Humanity Behind the Cyborg
7. Monsters, Inc (2001)
This film follows the adventures of James P Sullivan (John Goodman) and his best friend Mike Wazowski (Billy Crystal), a pair of monsters living in Monstropolis who work together to collect screams and power their city. This is a dangerous job as children are considered to be deathly toxic. However, while working late one evening, Sulley accidentally lets a young girl (Mary Gibbs) loose in the monster world.
Sully quickly realises that the young girl isn't toxic and nicknames her "Boo", much to Mike's displeasure. They sneak Boo into the factory to try to return her home. Unfortunately, Boo is found, and Mike and Sulley are exiled to the Himalayas. Sulley gets back and rescues Boo. Then Mike saves Sulley, and the three journey through the door vault to find Boo's door and get home.
Sully and Mike expose Waternoose's (James Coburn) plan to kidnap children and keep his company afloat, and he is arrested. After Boo is returned home, Sulley is made CEO of the company, which is now focused on making people laugh. The old film was one of the best Pixar movies and eventually received a sequel named Monsters University, which told the story of the beginning of Mike and Sulley's friendship.
6. Cars (2006)
This is the first film in the Cars franchise which takes place in an alternate universe where the world is populated by anthropomorphic talking cars.
The film follows Lightning McQueen (Owen Wilson), a rookie racer who gets stranded in Radiator Springs right before the biggest race of his career. He is sentenced to community service after destroying the road during a chase.
While Lightning is desperate to leave at first, he slowly begins warming up to the town and starts befriending several residents. He learns about Sally's (Bonnie Hunt) plans to get Radiator Springs back on the map and of Doc Hutson's (Paul Newman) past as a three-time Piston Cup winner before he crashed.
The media find Lightning after a tip from Doc, and he falls behind during his race because of how distracted he is. However, he learns that Doc and most of the town came out to support and act as his pit crew. Unfortunately, Lightning loses his race after ensuring that The King finishes his last race and decides that his racing headquarters will now be at Radiator Springs, which puts the little town back on the map.
The film became one of the best Pixar movies. It inspired the creation of two more movies, one centred around the adventures of Mater, Lightning's best friend, as a spy and the other around Lightning's struggle to deal with new, technologically advanced cars that are faster than him.
5. The Incredibles (2004)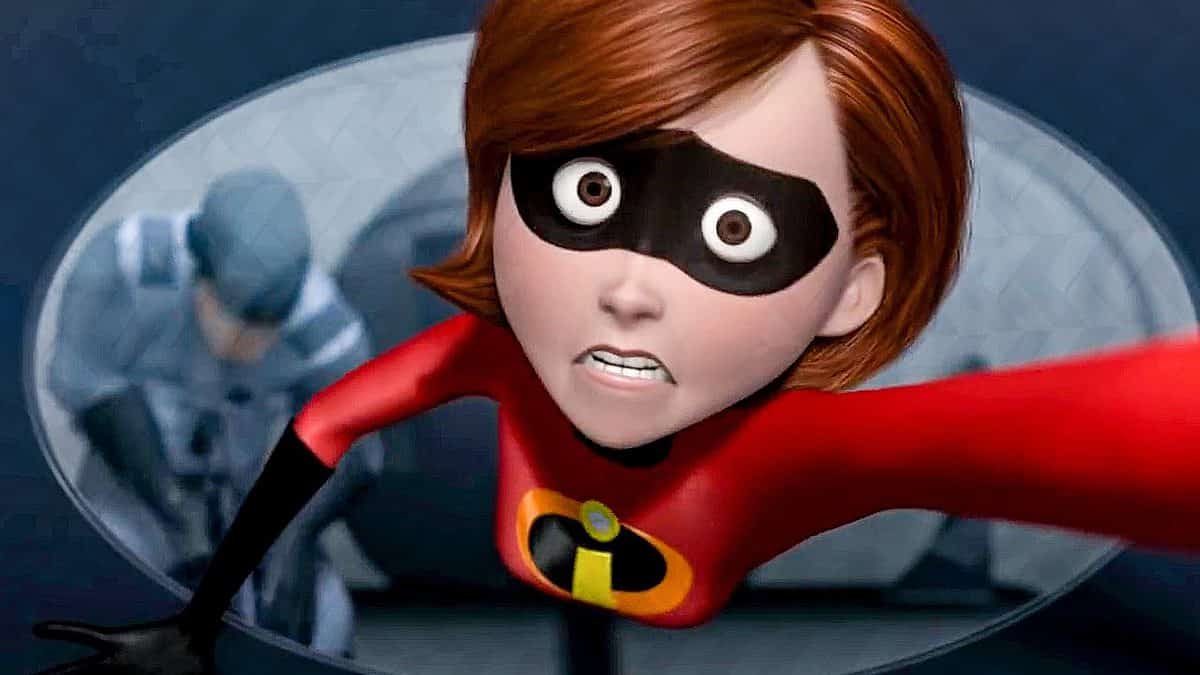 This animated film tells the story of a super-powered family who must hide their powers and live quiet lives. Bob Parr (a.k.a. Mr Incredible) (Craig T. Nelson) misses his Glory days and desperately wants to help people in any way he can. Unfortunately, this desire for more gets him in trouble and eventually fired, but he lands a new job that will allow him to be a superhero the way he's always wanted.
Bob doesn't inform his wife (Holly Hunter) about what he's been doing. When he's captured by an old fanboy seeking revenge against his hero, Helen goes after him, unintentionally bringing the kids along with her. The Parrs work together to save their father, then their home town and then baby Jack-Jack (though he mainly saves himself).
The film has some very dark moments for an animated movie – Bob paging through files of his now-dead comrades and believing that Syndrome had killed his family are particularly heart-breaking scenes – but it still manages to be entertaining.
Director Brad Bird also voiced Edna mode, the most iconic character in one of the best Pixar movies of all time.
RELATED: Top 60 Most Anticipated Movies Expected To Release in 2023
4. Brave (2012)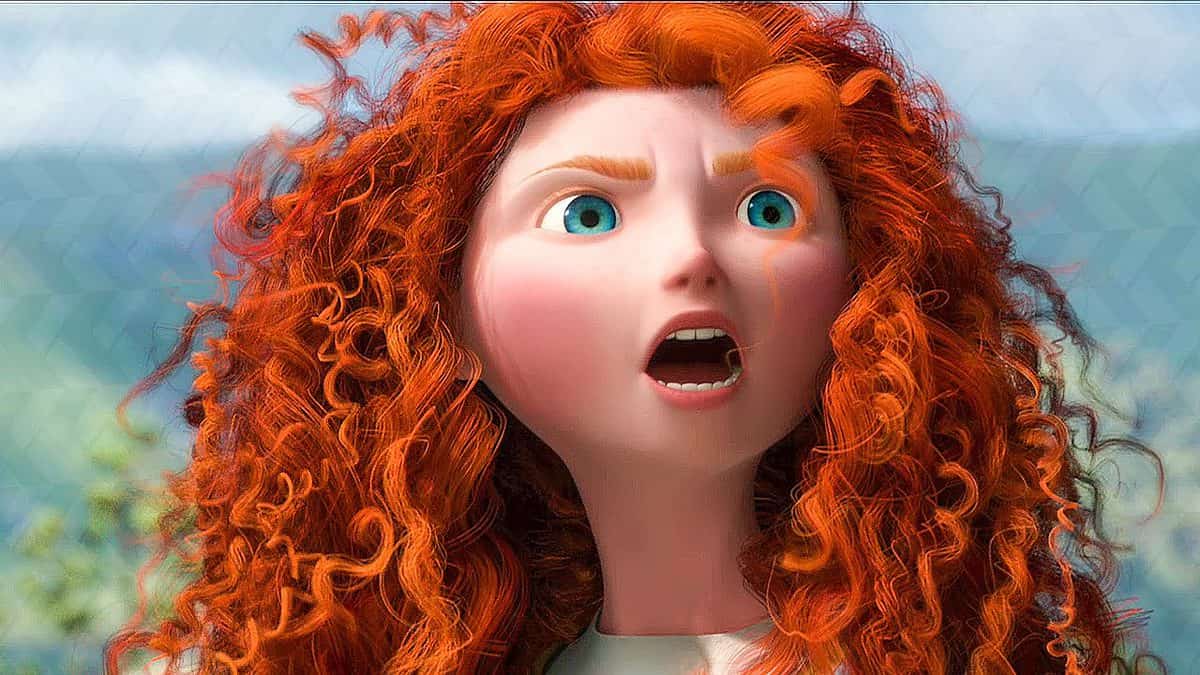 This visually stunning film tells the story of one of the best animated princesses: Princess Merida of clan Dunbroch. She's an adventurous young girl who would rather spend her days riding through the lands and shooting her bow than doing her duties as a princess.
Unfortunately for her, her mother has plans to turn her into a lady, and the two often disagree. This conflict comes to a head when Merida is informed that she is to be betrothed, something in which she has no interest, and she quickly expresses her displeasure about the matter. Her mother, however, will not be dissuaded, and three other clans arrive with the intent to compete for the hand of the princess.
The film is fantastic, with excellent music, brilliant storytelling, stunning animation and well-designed action sequences. The film's original director, Brenda Chapman, took inspiration for the story from her relationship with her daughter.
The film was praised for its originality and was ranked high by audiences who loved the introduction of a "tougher more self-reliant heroine for an era in which princes aren't so charming." It is definitely one of the best Pixar movies.
Pixar made a special tribute to Steve Jobs at the end of the film, who acted as the co-founder and CEO of Pixar.
3. UP (2009)
Up is, by far, one of the best Pixar movies. It has plenty of heart-wrenching moments that leave audiences wondering why they watched the movie again and hilarious moments that remind them exactly why they decided to watch it again.
The film follows the retired widower, Carl Fredricksen, who lost his wife just before he managed to take her on her dream trip to Paradise falls. After he injures a construction worker and is ordered to relocate, Carl decides to turn his house into a makeshift airship and fly to Paradise Falls to make good on his promise to Ellie.
Along the way, he picks up a young Wilderness Explorer named Russell, an excitable golden retriever named Dug and a colourful bird Russell named Kevin. Unfortunately, the group runs into trouble when they meet Charles Muntz, an old explorer and Carl's idol who has gone a little batty in his pursuit of finding the monster of Paradise Falls. Muntz captures Kevin after setting Carl's house on fire, and a disgruntled Carl and upset Russell continue towards the falls.
When they arrive, Carl pages through Ellie's old scrapbook and finds that she has filled it with plenty of pictures of their marriage and left a note thanking him for their adventures together. So he flies off to rescue Kevin and Russell (who had already flown off). During the rescue, Muntz falls to his death, and Carl's house floats away. He accepts the loss and decides to live on Muntz's dirigible with Russell and all the dogs.
The two reunite Kevin with her babies and return home, where Russell earns his "Assisting the Elderly" badge and "The Ellie Badge", which Ellie gave him when they first met.
2. Toy Story (1995, 1999, 2010, 2019)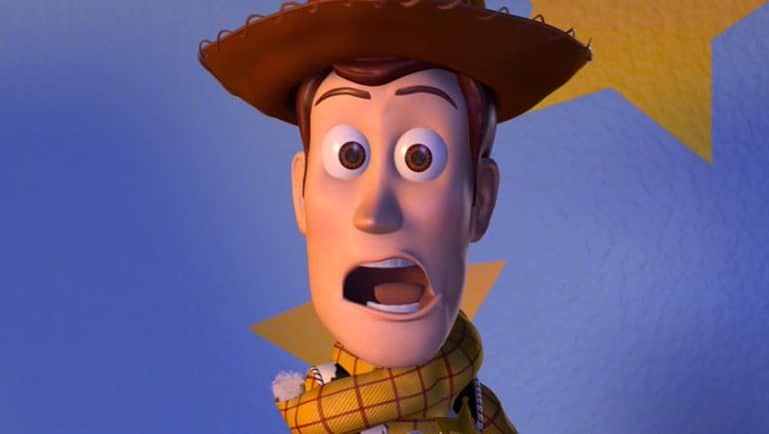 Toy Story has become the most beloved animated franchise ever created. The first movie was one of the first Pixar films ever made and set the gold standard for every movie that followed.
The franchise follows the story of a group of toys that come to life and centres mainly around the old pull-string cowboy Sheriff Woody (Tom Hanks). The first Toy Story movie introduced audiences to the toys on Andy's (the little boy who plays with them) birthday, and they watched as the toys panicked about being replaced by new toys.
A Buzz Lightyear action figure (Tim Allen) is introduced to the group and quickly becomes Andy's new favourite toy, much to Woody's disappointment. Woody's jealousy comes to a head, and he accidentally knocks Buzz out the window.
The two are later taken by Andy's neighbour Sid, and they suffer through various tortures. Woody and Buzz eventually help scare Sid into treating his toys nicely before making a break for the Moving Van and landing safely beside Andy. After that, Woody and Buzz start working together as co-leaders of Andy's toys.
In the second film, Andy wants to take Woody to cowboy camp but accidentally rips the old toy's arm and has to leave him behind. While sitting on a shelf waiting to be repaired, Woody finds an old penguin toy named Wheezy. Not wanting his old friend to be sold, Woody rescues the penguin but gets stolen in the process.
While Buzz arranges a rescue for Woody, the cowboy meets a collection of toys based on the TV show Woody's Roundup. He learns that they're going to be donated to a museum in Tokyo, something he's horrified by before the toys convince him that it won't be so bad.
The rescue team for Woody arrives, and he turns them down before realising that he wants to spend what years he has left with Andy, convincing Jessie (Joan Cusack) and Bullseye to come with him. They have to fight Stinky Pete – a toy never purchased by a child – and leave him in a little girl's backpack before returning to Andy's house.
In the third film, we see that Andy is all grown up, no longer playing with his old toys and getting ready to leave for college. The remaining toys are depressed about their future, and when Andy's mom accidentally throws them out, they decide to stow away in a donation box set for Sunnyside Daycare.
Woody tags along to try and convince the others that they weren't being thrown away, but they aren't willing to hear him out. The group is welcomed by a seemingly friendly bear named Lotso, and Woody tries to return home but is found by a young girl named Bonnie.
While at Bonnie's house, Woody learns the truth about Lotso and how he had turned Sunnyside Daycare into a toy prison. Woody returns to the Daycare to help break his friends out. Unfortunately, during their escape attempt, Woody is pulled into a dumpster by Woody, and the rest of Andy's toys follow him.
The toys narrowly escape death and return to Andy, who donates them to Bonnie.
The fourth film takes place a little while after Toy Story 3. Audiences learn that Bo Peep was donated to a new owner and that while Woody didn't want her to go, Bo had already accepted what was happening.
Woody struggles to adapt to life with a new kid, especially since Bonnie doesn't seem interested in him much.
Woody, who is convinced that Bonnie needs him, stows away in her backpack when she goes to kindergarten and helps a scared Bonnie feel a bit more at home by putting supplies on her table, which she uses to make her new favourite toy: Forky.
Unfortunately, Forky keeps trying to throw himself away, and Woody has to tail him constantly to ensure he stays with Bonnie. Finally, when the family goes on vacation, Forky jumps out a window. Woody follows him, and Forky realises his place is with Bonnie as the two make their way back to the RV.
They get sidetracked, and Woody meets Gabby Gabby, who wants his voice box to replace her broken one and reunites with Bo Peep. However, he and Bo Peep have very different ideas about the life of "lost toys", and while he learns about how great her life is, she agrees to help him rescue Forky, who didn't manage to escape Gabby Gabby.
After Woody insults Bo, he rescues Forky on his own and gives up his voice box to Gabby Gabby, with whom he empathises. When Gabby is rejected, Woody convinces her to come with them to Bonnie, but she stays behind to comfort a lost little girl. Forky returns to Bonnie, and Woody stays behind with Bo Peep after gifting his Sheriff badge to Jessie.
The films are definitely some of the best Pixar movies ever created and inspired a film about the origins of Buzz Lightyear. The film was named Lightyear and featured Chris Evans as the titular character's voice.
RELATED: Did Toy Story Really Drop An F-Bomb?
1. WALL-E (2008)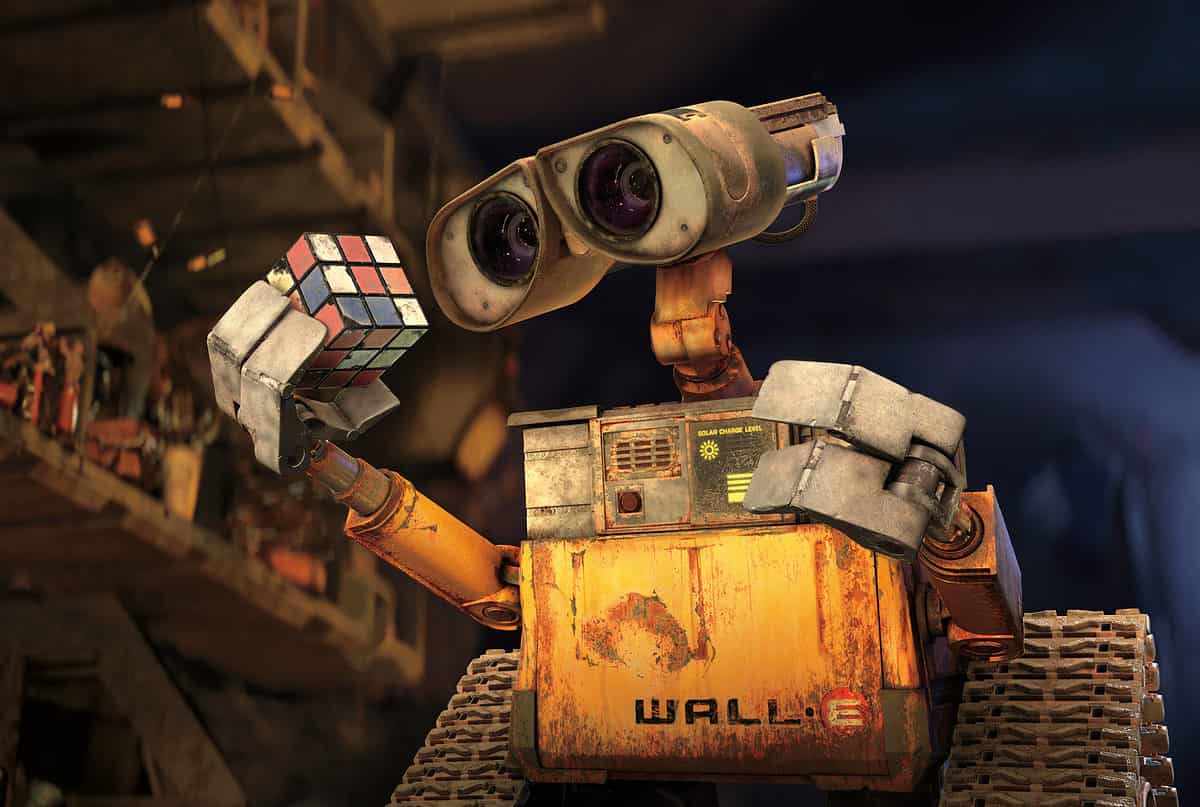 WALL-E is one of the best Pixar movies ever made. It follows the story of WALL-E, the last robot living on an uninhabitable Earth who, over 700 years, has developed a personality and remains active by salvaging parts from inactive robots. He follows a routine of compressing trash and collecting interesting objects (including a plant), but it is interrupted by the arrival of EVE, who begins searching the planet for signs of sustainable life.
The two are taken to the Axiom, the ship which acts as the home for the evacuated humans and begins to cause immense amounts of chaos. The relationship between WALL-E and EVE develops sweetly through the movie and culminates in one of the most heart-wrenching scenes in the film.
This adorable film has some hilariously funny light moments and soul-crushing dark moments that turn it into a true masterpiece.
RELATED: 15 Great Tips For Getting Started With Disney Dreamlight Valley
Other Pixar Movies Worth Watching
– Coco
The Pixar movie Coco is a masterpiece that deserves more recognition than it has gotten. Its stunning visuals of the Land of the Dead and its charming and enduring story effortlessly intertwine to create something special. The main character Miguel bravely delves into the underworld to find out more about his family, which leads him to an understanding not just of his grandmother, but also of love and life. In this Disney tale, Miguel discovers that love is necessary for family and spirit alike to survive in this world. In Coco, as in our own lives, life, love and survival are intertwined like one. Again, it's one of the studio's most magical movies.
– Ratatouille
Ratatouille is an animated comedy film made by director Brad Bird, whose intent in this movie was to discuss the importance of criticism. Through the character of Anton Ego – a food writer – Bird demonstrates that criticism should come from a place of love and appreciation for art. The movie itself exemplifies this; its beautiful animation and well-developed characters speak to the power of creative expression and remind us not to forget the pleasure it can bring. Ratatouille's message is clear: creating art is necessary work, but when done right, it provides beauty and joy regardless of its origin. That, and you can always trust a rat (Patton Oswalt's Remy) to be a great chef.
– The Good Dinosaur
The Good Dinosaur, released by Pixar Animation Studios in 2015, is renowned for its stunning visuals. The film tells the story of a dinosaur and a young human travelling through the American West as they try to make their way home. However, whilst it features animation in ways only Pixar can provide, its story heavily draws on familiar tropes from classic Hollywood films. With an arduous production process under its belt, The Good Dinosaur, unfortunately, doesn't have much unique to offer viewers beyond its beautiful aesthetic.
Worst Pixar Movies
– Luca
Luca is an animated movie released by Pixar, bypassing a theatrical release and heading straight to Disney+. While the movie might not offer up an intricate plot, it's hard to deny the immense charm it has. From its pleasant Italian Riviera setting to the main characters Luca and Alberto, audiences will undoubtedly be charmed by this film. Unlike the Pixar movies Onward and Soul, Luca keeps its scope small, focusing on a single element of magic to create an intimate story about family and friendship. Critiqued by some for being less ambitious, it is arguably more successful at creating the touching atmosphere that Pixar does best. Still, even with all its merits, it's definitely one of the lesser Pixar movies.
– Lightyear
Lightyear is a Pixar film set in outer space. The main character, Buzz Lightyear, crashes a colony ship and accidentally damages its light-speed crystal. In order to repair the damage, he must take several time jumps to undo the effects of the accident. Unfortunately, this means that he won't be able to return to his original timeline, leaving him all alone in an unfamiliar place. While some aspects of the film are references from other movies set in space, such as Toy Story, it doesn't offer quite the same level of adventure or drama as other similar films. A better alternative for those seeking a more enjoyable Lightyear experience would be 2000's animated film Buzz Lightyear of Star Command: The Adventure Begins.
– A Bug's Life
A Bugs Life is a computer-animated movie by Pixar which follows the story of Flick, an inventor ant who accidentally loses all the food his colony had gathered for a gang of grasshoppers. This lands him into trouble with Hopper, the leader of the grasshoppers, who demands twice the amount of food before autumn ends. To combat this menace, Flick proposes that they find bigger bugs to fight off the grasshoppers, so he looks for some out-of-work circus bugs to do the job. Although A Bug's Life is a remarkable movie with great characters and villainy from Kevin Spacey as Hopper, it has unfortunately developed a reputation as Pixar's 'sophomore slump' due to it being released in between two Toy Story movies and in the same year as DreamWorks' Antz.
RELATED: What Would The Boys Look Like If It Were Made By Pixar?
What do you think? Are these the best Pixar movies?