Drug addiction destroys not only the lives of those unfortunate enough to fall on its clutches: it also makes the person's entire world and everyone who has ever loved them fall apart, as they see them become a shadow of their former selves. As hedonistic impulses become more and more frequent, these films remind us that there's no glamour to be found in self-destructing habits. In this list, we'll take a look at the 10 best movies about drug addiction and its consequences.
Here are the best movies about drug addiction
10. Scarface (1983)
The story of Tony Montana's rise and fall from grace serves as a great cautionary tale about the corrupting forces of the drug economy. Although the movie glazes a bit over the effects drugs have on the addicts, the plot about Tony's sister, Gina, exhibits the usual dangers of a life of debauchery and illegal substances.
Directed by Brian De Palma, Al Pacino plays Tony Montana, a Cuban refugee who tries to live the American Dream, but only finds drug-induced nightmares in 80s Miami. Scarface is definitely one of the best crime films ever made – and maybe that's the reason why Montana (a drug dealer and drug user) is Pacino's favourite character of his career.
9. Sid and Nancy (1986)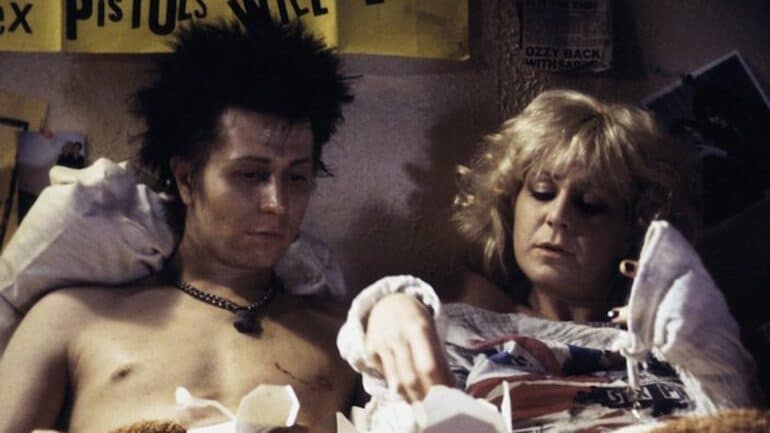 In 1969, a LIFE Magazine article claimed that "sex, drugs and rock" were the three sacraments of the emerging counterculture movements. Sid and Nancy is based on the tragic real-life story of the bassist of the Sex Pistols, Sid Vicious, and his American girlfriend, Nancy Spungen.
Although the movie tries its best to represent the relationship of Vicious and Spungen, and the crippling drug addiction that destroyed their lives, just as it happened, some acquaintances (including Sex Pistols' vocalist John Lydon) have disputed some elements of the film ass being mere fiction. That said, Sid and Nancy remains a solid portrayal of the tragedy that drug addiction can cause to people, especially those young and impressionable.
8. The Basketball Diaries (1995)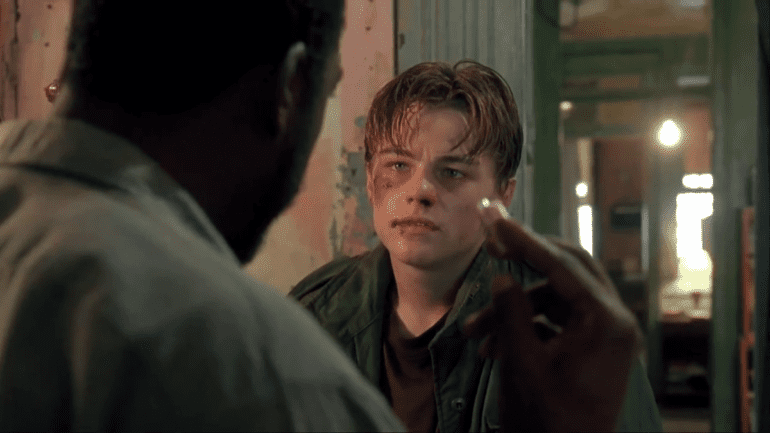 A young Leonardo DiCaprio stars in this 1995 film about an aspiring teenage basketball player who sees his life spiral out of control as he becomes addicted to drugs. The movie is based on the autobiographical novel by Jim Carroll, and how his struggles with heroin almost cost him his life.
DiCaprio had an on-set coach teach him how to talk and act like a junkie. The Basketball Diaries is a dark and sometimes depressing trip that highlights the dangers of addiction. Fortunately, both the movie and the real-life Jim Carroll got a happy ending, leaving their drug-riddled past way behind them.
7. Fear and Loathing in Las Vegas (1998)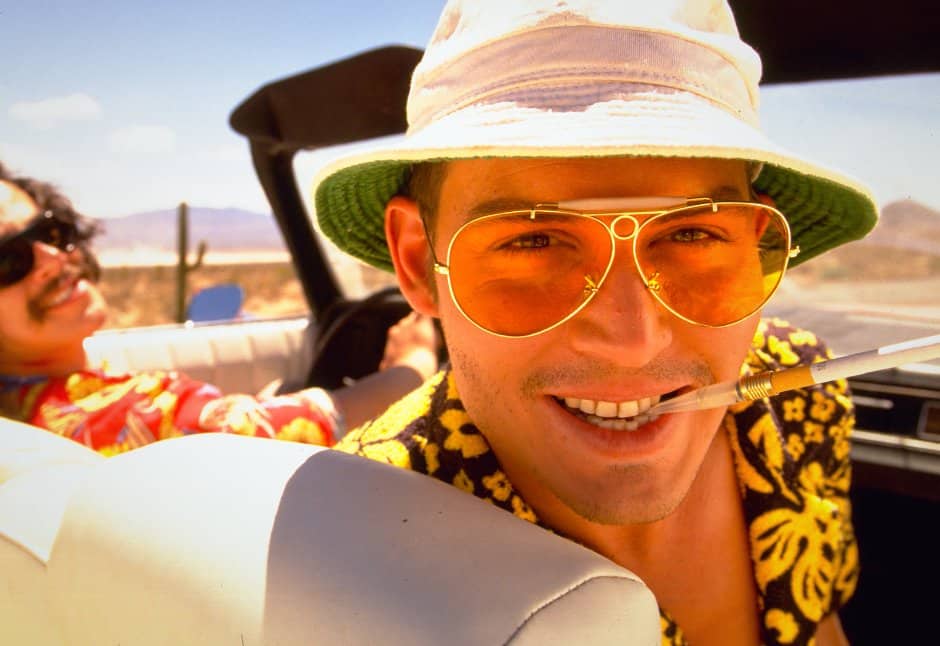 A psychedelic trip directed by Terry Gilliam, the unbridled energy of Fear and Loathing in Las Vegas might not be to everyone's liking, but there's no denying that Johnny Depp's amazing performance as Raoul Duke remains one of the most emblematic character moments of the 90s.
The film is an adaptation of Hunter S. Thompson's novel of the same name – which is, in turn, a fictionalized retelling of Thompson's own experiences in Las Vegas. A trippy exploration of Las Vegas seen through the eyes of an addict, Fear and Loathing is one unforgettable trip the kind that only Terry Gilliam can direct.
This Oscar-winning film deserves a place on any "best movies about drug addiction" list.
6. Pink Floyd: The Wall (1982)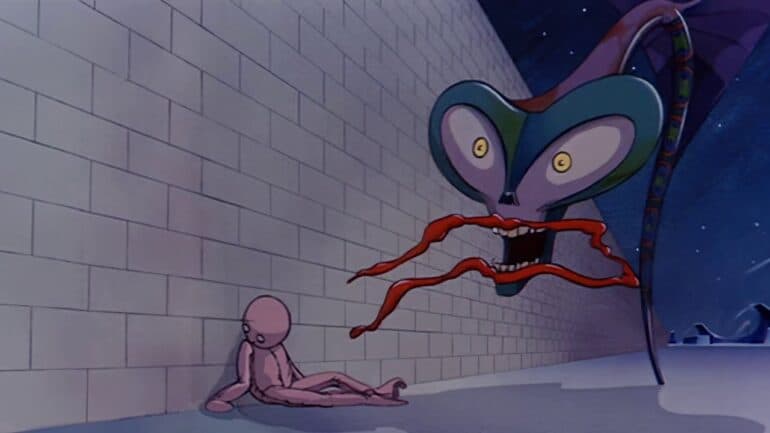 One of the most iconic rock operas ever made chronicles the disastrous life and eventual destruction of a rock star. The main character is based on Roger Waters, the lead member of Pink Floyd, and Syd Barrett, who had a very troubled life and had left the band some years prior.
Throughout the film, we see Pink (played by Bob Geldof) as he falls into a sense of disconnection from the rest of the world thanks to a mix of trauma and substance abuse. It goes without saying, but the soundtrack is amazing, too.
5. The Wolf of Wall Street (2013)
What could be considered Scorsese's rawest film, The Wolf of Wall Street chronicles the life and excesses of Jordan Belfort. Set in the unforgiving world of 80s stockbrokers, the movie shows us the relentless nature of Wall Street brokers, and how easy fortunes are made and lost in the business.
The movie received some criticism upon release due to its graphic nature, especially when it comes to drug use. Being the 80s, most characters are shown inhaling "cocaine," which was made using crushed vitamin B pills for the actors to snort. Unfortunately, this wasn't an entirely safe solution, as Jonah Hill would end up getting bronchitis after the copious amounts of pills he had to inhale.
4. Flight (2012)
Loosely based on the tragic events of the real-life Alaska Airlines flight 261, Flight stars Denzel Washington as a troubled hero airline pilot that manages to save most of the passengers on a flight on a malfunctioning plane. The only problem is that the investigation of the accident revealed that the pilot had a substance use disorder, a crushing cocaine addiction and was under the effects of drugs and alcohol when he almost crashed the plane.
Flight was directed by Robert Zemeckis, who is also a pilot. A poignant and well-crafted drama, the movie contains an uplifting message of addiction recovery, rehabilitation and self-improvement, and Washington's performance drives home the point even better. It's considered one of the best movies about drug addiction and alcohol addiction.
3. Trainspotting (1996)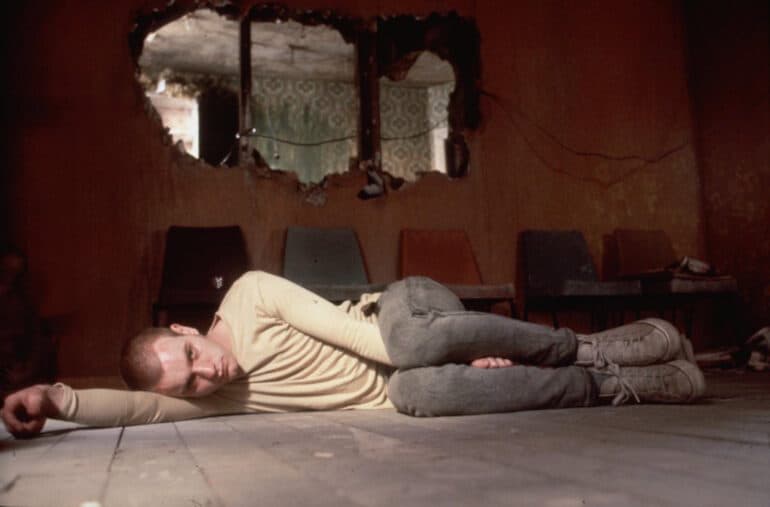 You can't have a discussion about the best movies about drug addiction (or addiction movies in general) without Danny Boyle's Trainspotting entering the conversation.
A British black comedy unlike anything you've ever seen, Trainspotting offers a unique look into the Edinburgh drug scene of the 90s. The movie follows Mark Renton (Ewan McGregor): a 26 years old heroin addict that hasn't made anything worthwhile with his life so far.
Tired of the destructive allure of substance addiction, Renton tries repeatedly to go clean, but it seems like kicking the habit might be even more difficult than he thinks. Ewan McGregor went the extra mile to prepare for his character: he met with recovering addicts in Glasgow and learned how to prepare heroin in a spoon for the role. The actor went as far as to think about using actual heroin to understand the effects better but thankfully decided against it.
2. Blow (2001)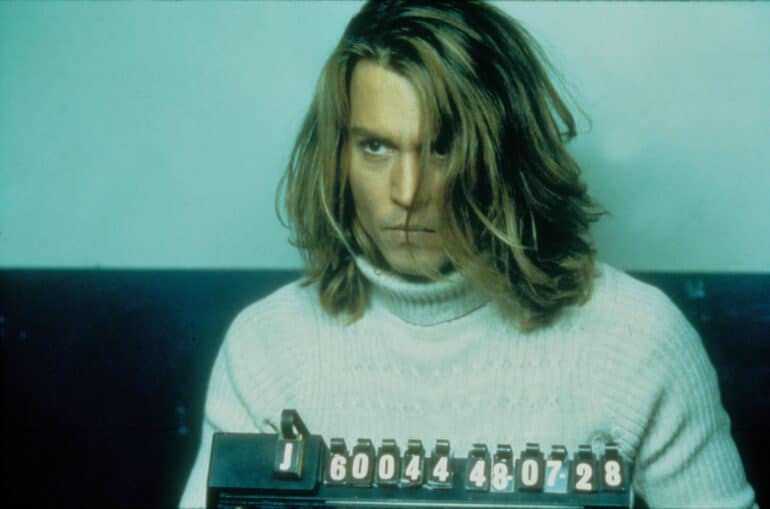 Starring Johnny Depp and Penelope Cruz, Blow is based on the real-life story of George Jung: the man that established the Medellin Cartel in America. The movie details the dealings of the Cartel in America, and how the cocaine craze of the 80s led to the emergence and position of Pablo Escobar as one of the richest men in the world.
This is the final movie that director Ted Demme ever made: the filmmaker would die less than a year after Blow's release while he was playing basketball. In a sad twist of fate, Demme's toxicology report revealed that the director had traces of cocaine in his system at the time of his death.
1. Requiem for a Dream (2000)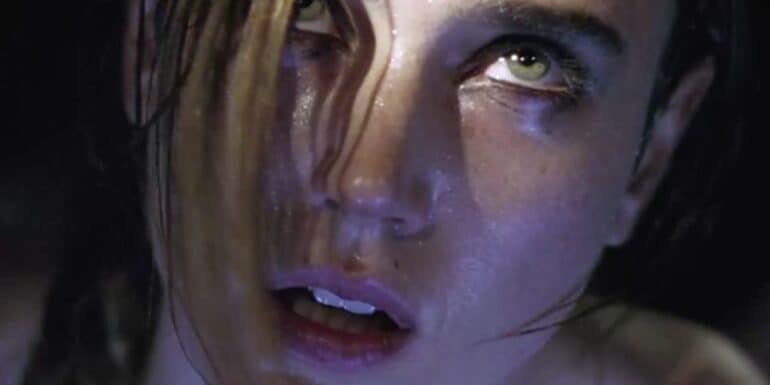 Whenever anyone talks of traumatizing movies that feature drug abuse as part of its main plot, everyone thinks of 2000's Requiem for a Dream. An extremely disturbing movie that shows the disastrous results of wasting one's life on drugs and excesses (whether that's heroin addiction, sex addiction or addiction to prescription drugs).
Requiem for a Dream follows the lives of four residents of Coney Island (Jared Leto's Harry Goldfarb, Jennifer Connelly's Marion Silver, Ellen Burstyn's Sara Goldfarb and Marlon Wayans' Tyrone C. Love) and how their lives have been irredeemably damaged by drugs. The visual presentation of the movie is intentionally hectic to make the audience feel as anxious and lost as the film's protagonists.
As disturbing as it is impressive, Requiem for a Dream can be a bit too harsh for some people to enjoy, but that's exactly what director Darren Aronofsky was going for with such an extreme film. A strong warning to the audience, Requiem for a Dream is definitely of the best movies about drug addiction, and mental health too.
Honourable Mentions: Beautiful Boy (Timothée Chalamet, Steve Carell), Clean and Sober (Michael Keaton, Kathy Baker, Morgan Freeman).
What do you think are the best movies about drug addiction?