The pomp and circumstance of English period dramas can captivate even the most die-hard fan of Hollywood's bombastic blockbusters. There's a certain something indescribable about the narrative style of these films, and seeing the amount of hard work it takes to recreate the intricacies of a certain time period is always great to see.
When you think about the best period dramas, you think about the early 20th century, royalty, true love, sumptuous period costumes, period romances, love affairs, the victorian era, award-winning novels, Charles Dickens and, of course, Jane Austen adaptations.
In this list, we'll take a look at 10 of the finest English period dramas ever released.
10. Mansfield Park (1999)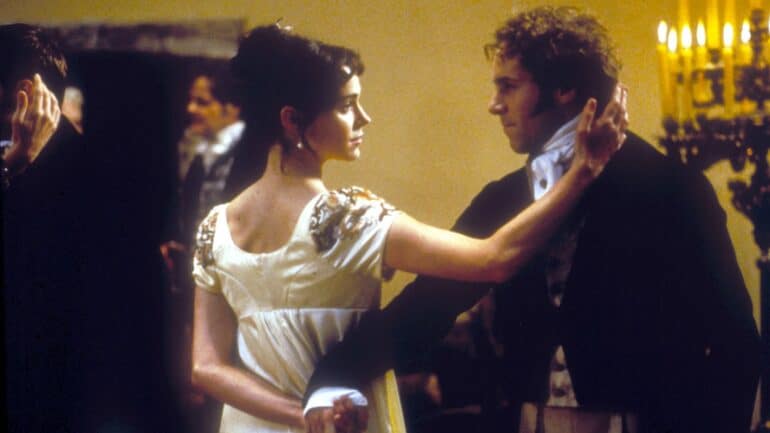 Based on a 19th Century novel by Jane Austen, Mansfield Park is an English romantic drama with all the typical sensibilities and lyrical flourish we've come to expect from someone as skilled as Austen. This adaptation takes some creative liberties with the source material, including some elements of Austen's biography and introducing societal issues, like slavery and the working conditions in the West Indies.
The movie centres around Fanny (Frances O'Connor), a young woman burn into poverty that suddenly finds herself living with a wealthy uncle who teaches her the ins and outs of living in high society. But can she adjust to her new life with the wealthy family?
It's worth noting that this novel was Austen's most commercially-successful book, helping her reach the status of one of the most influential female writers in British history.
9. The Theory of Everything (2014)
2014's The Theory of Everything relates the true story of Stephen Hawking, particularly during his time at Cambridge and his turbulent relationship with Jane Wilde. Starring Edde Redmayne and Felicity Jones, the movie offers audiences a glimpse at the strain that Hawking's condition caused not only on his everyday life but also on the relationships with those he loved the most.
Redmayne, who also attended Cambridge in real life, had to undergo some extensive preparation to play such a physically-demanding role. An osteopath even told him that he had damaged his spine due to his commitment to remain in the same hunched-over position in between takes.
8. Atonement (2007)
A story about how a misunderstanding destroyed the lives of three people told over a span of sixty years, Atonement is a touching drama that never shies away from showing how relentlessly cruel life can be. The movie begins when Briony Tallis (Saoirse Ronan) mistakes the loving relationship between her sister and the son of their housekeeper for an assault, condemning the young Robbie Turner (James McAvoy) to a life of prison and forced military service.
The story takes place in England in the 1930s, including a myriad of fancy dresses and realistic military gear. One of the dresses – an emerald green garment worn by Keira Knightley – has been considered one of the most beautiful pieces of clothing ever seen on film, and has become an icon of English period cinema as a whole.
7. Darkest Hour (2017)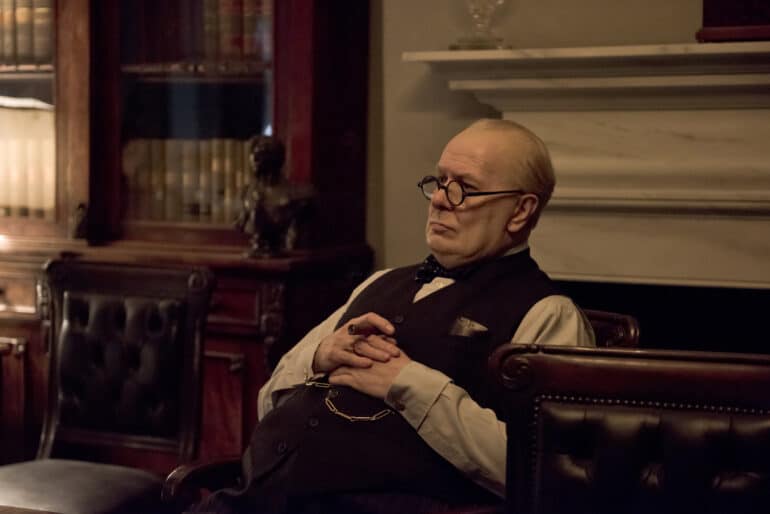 Starring an almost unrecognizable Gary Oldman as Winston Churchill, Darkest Hour recounts some of the tensest moments of the British empire, as the Prime Minister has to decide whether negotiating with Adolf Hitler is viable, or if England should press on with the war effort.
In preparation for his role, Oldman studied Churchill's mannerisms for a year, including the way the Minister walked and his cadence during his wartime speeches. In the end, the actor delivered one of the most convincing Churchill performances we've seen so far.
6. Jane Eyre (2011)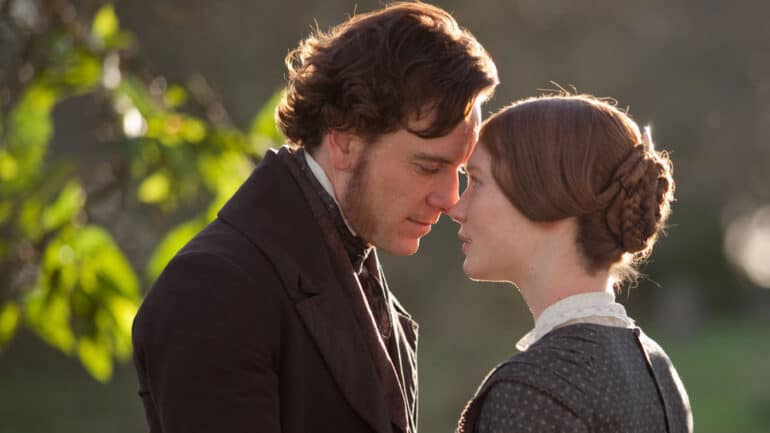 Though many adaptations of Charlotte Brontë's classic novel Jane Eyre have been made over the years, we'll focus on the most recent one as the best example of how to properly bring a literary classic to the big screen. Directed by Cary Fukunaga, this version of Jane Eyre was praised for its commitment to period realism and its lavish costume designs.
The film, much like the novel, is set in Victorian London and is about a timid governess who finds herself working under the employment of Edward Rochester in Thornfield Hall. Jane discovers some strange happenings in the house at the same time she also falls madly in love with Rochester.
5. Far from the Madding Crowd (2015)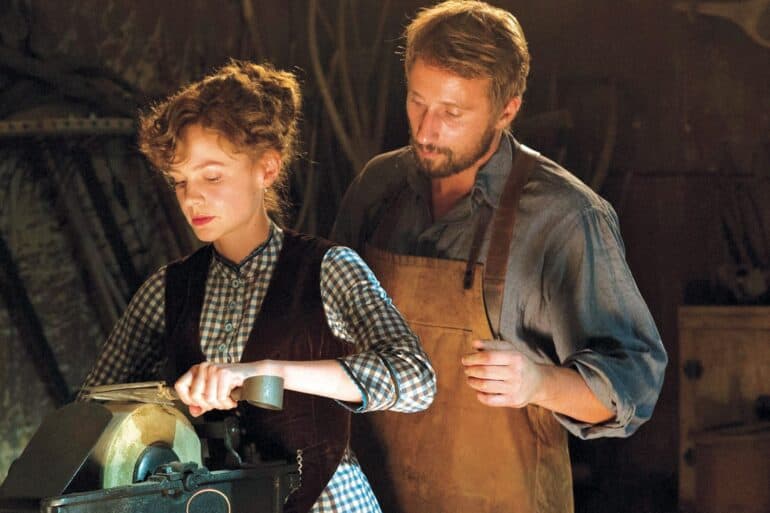 The latest adaptation of the 1874 novel written by Thomas Hardy (no relation to Venom actor Tom Hardy) is also the finest yet, thanks to the stellar performances by Carey Mulligan as Bathsheba Everdene and Matthias Schoenaerts as Gabriel Oaks. The movie is set in Victorian England, where a headstrong woman working on her aunt's farm soon begins flirting with three very different men.
Far from the Madding Crowd has all the markings of a classic English romance, complete with the usual misunderstandings and class struggles that have become synonymous with the genre.
4. The King's Speech (2010)
Following his brother's sudden abdication, King George VI prepares to take the reigns of the British Empire during one of history's most trying times for Europe. Masterfully played by Colin Firth, the film revolves around George's extreme stammer, and how he had to learn to overcome his speech impediment to reach the anxious British masses.
Although the movie is an eminently English period piece, The King's Speech was made as an Australian co-production. This resulted in the movie being the first Australian production to ever win an Academy Award for Best Picture. The movie had its script written for a while, way before the 2000s, but screenwriter David Seidler respected the wishes of Queen Elizabeth the Queen Mother, who didn't want the movie to be made during her lifetime, as the memories of "Bertie" were still too painful.
The film has an amazing cast ensemble which includes Colin Firth, Geoffrey Rush, Helena Bonham Carter, Guy Pearce and Jennifer Ehle. The King's Speech is definitely one of the best British period dramas.
4. Pride & Prejudice (2005)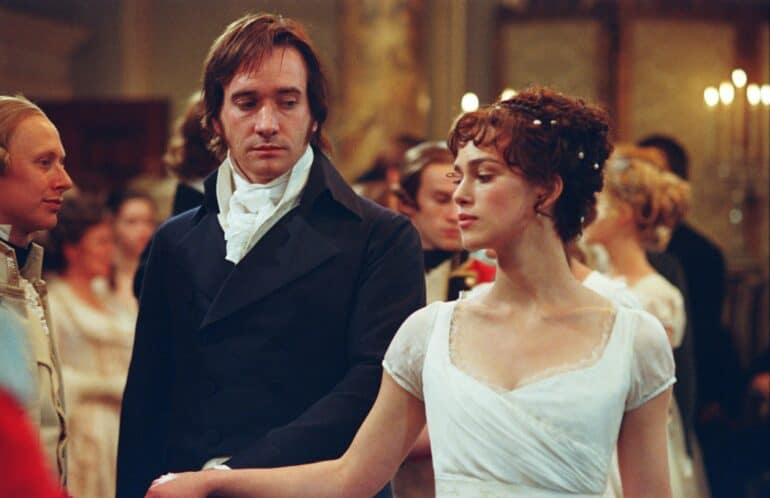 In this film adaptation of Jane Austen's 1813 award-winning novel, Kiera Knightley plays Elizabeth Bennet alongside Donald Sutherland, Carey Mulligan, Rosamund Pike, and Matthew Macfadyen as Mr Darcy. Arguably one of the most popular costume dramas (and love stories ever), Pride & Prejudice received critical acclaim and holds an 87% Rotten Tomatoes score. The film is praised for making the familiar period piece feel fresh and exciting.
Closely following the famous novel, in this story Elizabeth faces mounting pressure from her parents to marry. When the outspoken young woman is introduced to the handsome and upper-class Mr. Darcy, sparks fly. But will their love affair survive Darcy's overly reserved nature? It's a love story that never gets old.
3. Sense and Sensibility (1995)
Directed by Ang Lee and starring Emma Thompson (who also co-wrote the script) and Alan Rickman, 1995's Sense and Sensibility follows many of Jane Austen's narrative trademarks, but the performances in this adaptation, not to mention Lee's outstanding directing, make it one of the best pieces of English period drama we've ever seen.
The story follows the fate of the fates of the Dashwood sisters after their rich father dies and leaves his fortune to his only son. The movie was a massive commercial success, especially for its genre. It also earned Dame Emma Thompson an Academy Award for Best Adapted Screenplay, making her the first person to win Oscars for both acting and writing.
2. Barry Lyndon (1975)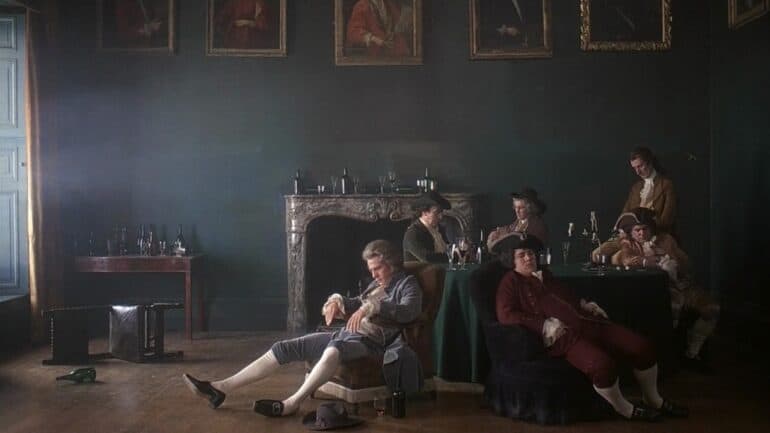 One of Stanley Kubrick's most impressive films, Barry Lyndon is what comes to mind to most film aficionados whenever you mention the subject of best English period pieces. At three hours long, the movie is a veritable epic, and it's also a marvel on the technical side of things, as special cameras had to be developed for the production in order to film using mostly natural light.
Barry is an Irish rogue who falls in love with Lady Honoria Lyndon. After the Lady's husband passes, Barry takes his place in the aristocratic society of 18th Century England.
Infamous for his perfectionism, Kubrick spent over two years filming Barry Lyndon and would frequently redo takes over thirty times. It definitely deserves a place on every "best English period dramas" list.
1. The Favourite (2018)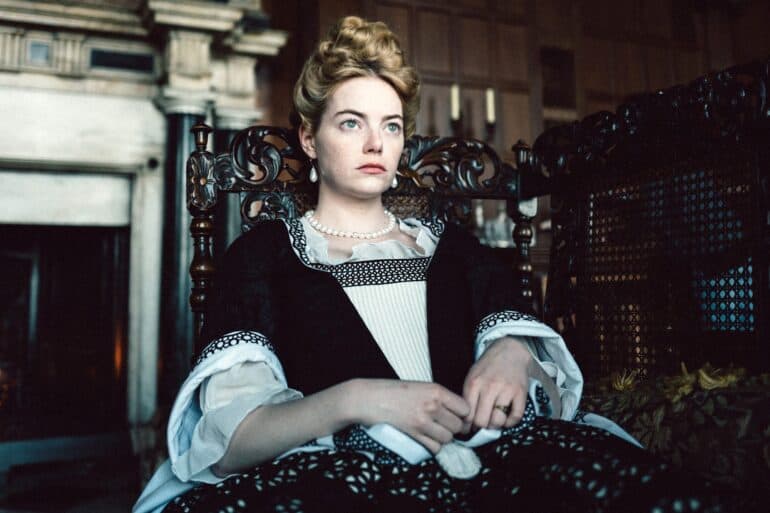 The most recent entry in our list is also one of the best English period dramas. Yorgos Lanthimos brings us a witty dramedy about two women who compete for the favour of the weakened Queen Anne. The story takes place in 1711 when Great Britain is locked in a seemingly neverending war with France.
Though Lanthimos and his team took some creative liberties with the story of Queen Anne (Olivia Colman) and her servants, it's undeniable that the movie has a unique flair that's rarely seen in this genre. The star-studded cast (which also includes Rachel Weisz and Nicholas Hoult) is also a delight to see together in the same film, especially Emma Stone's perfect 18th Century British accent.
1. Downton Abbey (2019)
You can't talk about English period dramas without mentioning Downton Abbey.
One of the most popular historical dramas of all time, Downton Abbey is a huge hit in both the UK and the US. First launched in 2010, the TV show follows the aristocratic life of the Crawley family from 1912 to 1926. It was by far one of the most-watched TV shows on ITV and PBS, before becoming the highest-grossing British costume drama TV series since 1981. In 2020, creator Julian Fellowes continues his six seasons with a feature film starring many of the original cast (including Hugh Bonneville as Robert Crawley, Elizabeth McGovern as Cora Crawley, Maggie Smith as Violet Crawley and Imelda Staunton as Lady Bagshaw).
In the film, written by Julian Fellowes (the television series creator), Robert and Cora Crowley are told they would be visited by the royal family. However, the visit doesn't go as planned, and drama ensues.
Tell us, what are your favourite English period dramas?