The Karate Kid fans knew it was coming. Now, Netflix has confirmed the return of Terry Silver (played by Thomas Ian Griffith) in season 4 of Cobra Kai. A new clip (which shows the character standing in the shadows) teases his arrival.
Everyone who has seen The Karate Kid Part III will remember the rich ponytailed villain who misleads Ralph Macchio's Daniel LaRusso down the wrong path. The teaser highlights some of these Karate teachings by using dialogue from the 3rd film. "If a man can't stand, he can't fight. If a man can't breathe, he can't fight. If a man can't see, he can't fight."
At the end of Cobra Kai season 3, we see sensei John Kreese calling a friend for backup after he is defeated by LaRusso outside in the dojo parking lot. That friend was always going to be Thomas Ian Griffith's Terry Silver. After all, flashbacks in some of the episodes showed how Kreese saved Silver's life while they were both prisoners of war in Vietnam.
"When they say Cobra Kai never dies, they mean it!" Thomas Ian Griffith commented on his return as Terry Silver in season 4 of Cobra Kai. The actor seems just as excited as fans to return to the iconic role.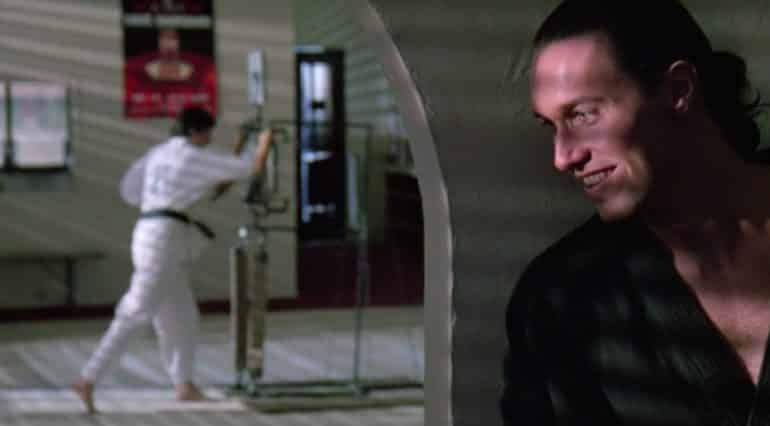 Given that Daniel LaRusso and Johnny Lawrence have now put their differences aside and started training students together, we might expect them to go head-to-head with John Kreese and Terry Silver. And we can't wait for those tense action-packed sequences.
Heck, there is even one theory that he might be Miguel's father!
There have been crazier rumours that suggest the return of other characters from the franchise too. One that's been circulating quite a bit is that Hilary Swank's Julie Pierce will return as Tory Nichols' mom. While some are quick to discredit that theory, anything and everything seems possible with Cobra Kai.
Since it moved to Netflix last year, the show has picked up a lot more hype and gained many new followers. And with good reason. Cobra Kai remains one of the most exciting rebooted (or rather reinvented) shows in recent history.
Are you excited to see Terry Silver in Cobra Kai season 4?