Thanks to Empire Entertainment, last week a few of our Cape Town and Johannesburg readers were treated to an early screening of DC's Teen Titans Go! To The Movies, an animated film that currently has 90% on Rotten Tomatoes. "Is Teen Titans Go! To The Movies worth watching? Is it fun for kids and adults? Is it as funny as the trailers make it out to be?" These are a few of the questions answered by our film critics – you, the viewers.
What a fun, wonderful and exciting movie! Teen Titans Go! To The Movies contains all the right elements to make it enjoyable for young and old, especially while snacking on some popcorn and something cool for the troat! Upbeat!!! – Gert de Jager
I must admit, I have not laughed so much in a movie in some time now. The overall movie was excellent and myself and my daughter absolutely loved it. Overall, the experience was fantastic and the movie was absolutely epic. – Darryl Linington
What a movie! Thank you @FortressofS for the opportunity to watch @TeenTitansMovie at a special screening tonight! pic.twitter.com/69EjCVFMYk

— Liza Smith (@doelie) July 26, 2018
Movie was very entertaining. Hearing people talking after the movie. Many commented that its a movie that is fun for young and old. My partner and I had many a good laugh. – Hilde Schoeman
Teen Titans Go! To The Movies, was such a fun movie to watch. I really enjoyed it and had some great laughs too. – Letape Lezario
I found Teen Titans Go! To The Movies a lot of fun! Although competing with high-end graphic cartoons and the likes of the Marvel Universe, The Titans are consistent in their offering and the timing of jokes with the visual freedom offered by cartoon format went down well! Good to have some values of friendship and morals sprinkled in there too. – Thomas Hope
The movie is highly enjoyable, even for adults who have to sit through an animation with their kids, in my opinion since I don't have any. The whole story of superheroes being blinded by Hollywood and being manipulated to create a mind controlling device is hilarious and a good plot twist. However, Jade Wilson being Slade was kind of obvious for a fanboy, "Slade Wilson". Other than that, it is the perfect movie for all ages. – Aasif Sulaiman Jappie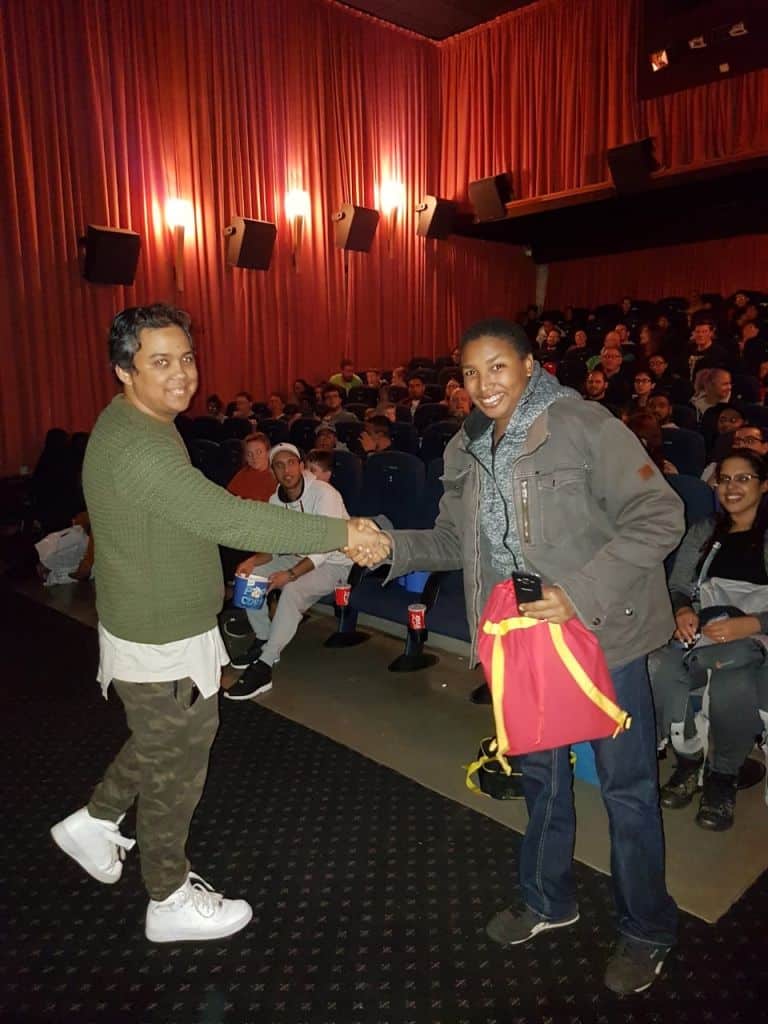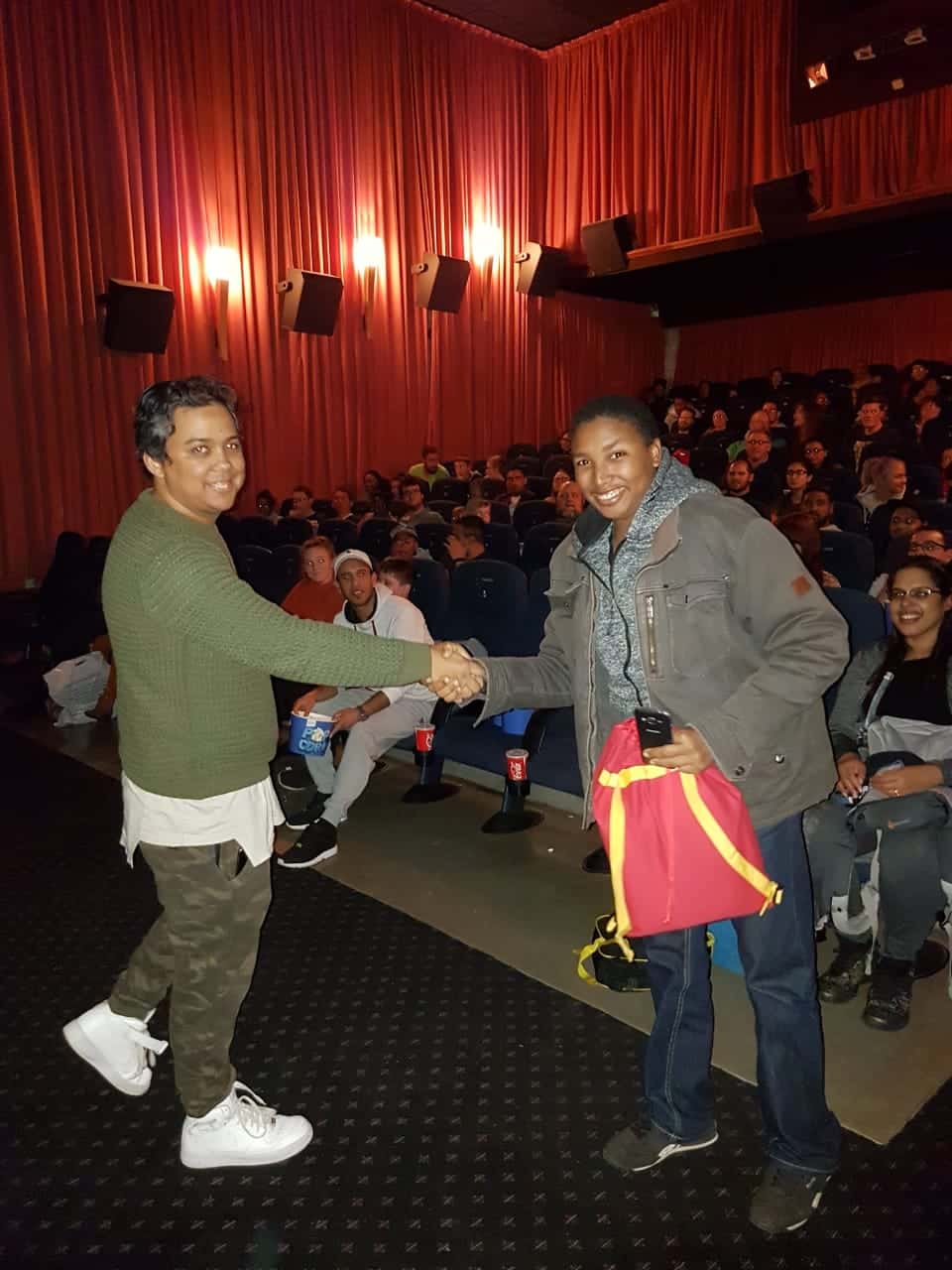 WOW! The storyline.. .dialogue & movie was AWESOME… As an adult, I truly enjoyed it! – Mark Gavin Sylvester
It was like watching a Muuuuuuuch longer version of the Cartoon Network show. My kid enjoyed it very much and so did I. Extremely funny, although I wish they should have built on that…With that I only have one thing to say…"Excelsior!!!" – Dean Fury
Teen Titans Go! To The Movies had very nice jokes and I liked the reference to other movies like The Lion King. Enjoyed it, my sister loved it! – Gizelle Govender
From my side, I thought the movie was a brilliant mix of music and action with a touch of dark humour. It was buckets of fun and a great continuation of the series.
My girlfriend: A surprisingly awesome time (she isn't an animated series fan in general). I thoroughly enjoyed the humour, music and a great story. – Duran Cole
The Teen Titans Go movie was everything I hoped it would be and more, it had all the humour from the TV series that I've come to love and the Teens were as crazy as ever. The plot twists were excellently executed and the subtle easter eggs were all welcome additions to the movie. The songs were indeed as loveable and catchy as ever, there had better be a soundtrack. – Carlos Klaasen
Great treat for fans of the television show as they captured the fun yet bumped it up for the big screen. A couple of absolutely brilliant moments. – Ronnie Davis
@FortressofS #TeentitansGoToTheMovies Kids waiting for 8.00. pic.twitter.com/Vr7z9dWyyN

— Lourens Schoeman (@RedBaron12) July 26, 2018
Teen Titans Go! To The Movies had the perfect amount of humour and action and can be enjoyed by people of all ages. This is definitely a movie that I would recommend to friends and family and a movie that I could watch again. – Cameron Naidoo
I really like the movie, had more than a few chuckles at the excellent social commentary that was made about the business of superhero movies, and thought the retro feel of the film was AMAZING! – Ernst Swart
My kids, hubby and myself really enjoyed it. I was a bit worried as I have a 7-year-old and a 16-year-old and sometimes a movie is targeted for a specific age group. But this one had us all glued to the screens! A thumbs up from me! – Mellisa Walker
I wasn't able to attend the screening but my 6-year-old daughter attended. She really loved the movie and told me she thought it was really funny. She loved the line at the end (a possible headache for us) and kept repeating it. The only negative was that she felt the movie was a tad bit too long for her. Other than that, she was all smiles! – TJ
The movie was entertaining, fun and light-hearted. It made one realise, the value of friendship and that by consistently working hard, your goals can be achieved. – Crystal Daries
I loved Teen Titans Go! To The Movies! Its humour appealed to both adults and children. The songs were catchy. I loved the different art styles that were thrown in the movie to give it a different perspective. The only thing I would have liked was that the original voice for Slade, Ron Perlman (from the original teen titans show) would have been used. Other than that, I thoroughly enjoyed the overall silliness and whimsicalness of the movie. – Shavaun Cronje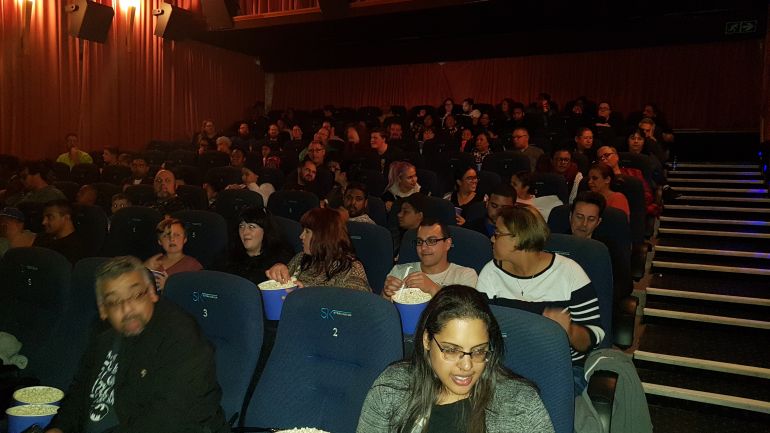 The movie did not disappoint: dialogue was smart and witty; characters were funny and entertaining. There were some excellent 'one-liners'. I chuckled on the drive home – remembering some of the lines. My favourites were Beastboy: 'Whad'up Deadpool?' and '…that song was phenomenally dope'. I want to incorporate this into my everyday language, may not go down well at Board meetings though. – Julie Hill
The movie was, in my opinion, below average. It came across as a low budget experience, almost as if made with spare parts. The storyline was weak with below average special effects similar to what one may expect to find on the morning cartoons on TV. Most direct-to-video releases from the DC Universe animated movies are of a higher quality and I found Teen Titans to be of a similar quality to the Spider-Ham comic titles but not as good. – Vimal Sardar
The experience was great, we really enjoyed ourselves. – Koketso Bantobetse
The movie was awesome. I generally do not watch superhero cartoons but I was captivated throughout the screening. I thoroughly enjoyed the humour. As an adult, I got the puns and it made me laugh a little louder than I should have. I was impressed with the inclusion of music. I don't think I've watched any superhero movie that included music scenes. Overall it was a great movie. – Carmalita Kortman
The movie was very enjoyable, for both kids and adults. The story was very good, and there were more than enough moments to keep the grown-ups engaged, but the kids also had a lot of fun. It was, overall, a very good movie. – Geoff Murphy
Although the storyline was good(and I am an avid Teen Titans Go! watcher), I found myself getting bored halfway through. My 6-year-old also started fidgeting which confused me because she can sit for hours on end watching Teen Titans on Cartoon Network. I think maybe it dragged on a bit too long for a bit and didn't with one idea, for example when the Teen Titans went back in time to remove the superheroes only to 3 minutes later quickly change things back made that scenario meaningless and unnecessary. – Rushannah Job
Nice young voice coming to the fore in the DC cineverse. – Liza Smith
Teen Titans was way more fun than I expected it to be. It truly is a movie for the whole family! We had a blast watching it. – Zynique Muller
Teen Titans Go! To The Movies was thoroughly enjoyable. – Carmen De Koker
The movie was really awesome for both myself (23) and my little brother (11)? Thank you so much for the amazing opportunity. – Tiffany Salvador
Teen Titans Go! To The Movies is currently in cinemas nationwide.