The season finale of Ted Lasso ended on a huge cliffhanger, painting an intriguing picture for what's to come. However, after it wraps up its loose ends and story arcs, Ted Lasso Season 3 should really be the show's last.
What does The Big Bang Theory and Two and a Half Men have in common? Besides the fact that they were hit sitcoms, they also outstayed their welcome by more than five seasons. They should've ended much earlier and preserved their legacy in the process. Instead, the audience remembers the fumbling last few seasons that nearly destroyed all the goodwill.
By calling it a day after Ted Lasso Season 3, the show goes out on its own terms. After all, the story isn't about AFC Richmond's journey to trophies, but about the numerous people associated with the club. Realistically, the audience doesn't need to see AFC Richmond becoming Premier League or European champions as that's not the message here (go play Football Manager and live that fantasy elsewhere). And unlike other sports-related programming, Ted Lasso isn't trying to equate success with medals or being the best in the league. It's about the people becoming better and growing as human beings.
Though, how long can this formula work for this show? Many fans already complained that the second season didn't have the gusto and impact of the first, so imagine what would be said if trotted along for five or even six seasons.
Apple TV+ isn't stupid, though. The streaming service has valued quality over quantity, hence the fact it doesn't have the longest list of content. If it truly does see itself as different from its competition, it'll know that the plug needs to be pulled after Ted Lasso Season 3. There's no point in retreading the same ground or pandering to the fanbase when the budget for future seasons could be invested in entirely new shows, such as the upcoming Shrinking.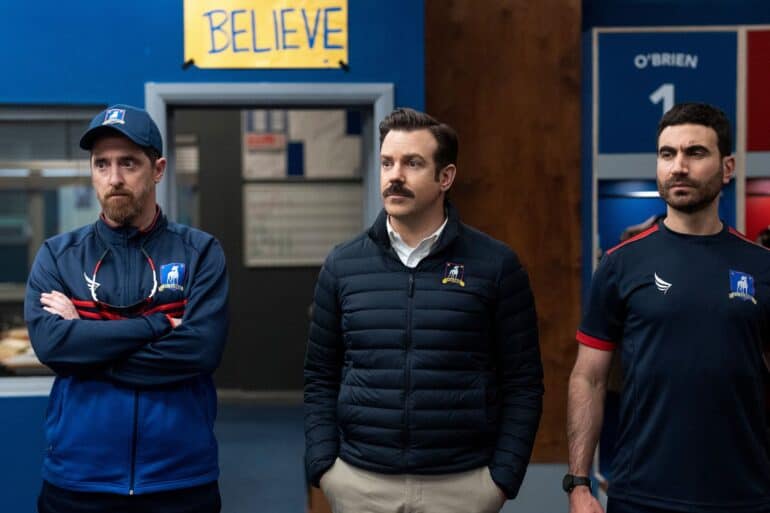 Recently announced, Shrinking is a brand-new Jason Segel comedy series that's been ordered by Apple TV+. It'll be co-written and produced by the Ted Lasso team of Bill Lawrence and Brett Goldstein (aka Roy Kent). Undoubtedly, this proves that the streaming platform recognises the talent behind its key shows and is more than willing to invest in their other creative projects.
RELATED: Ted Lasso Season 2 Review – Apple TV+ Scores Again!
Interestingly enough, Lawrence actually revealed to The Hollywood Reporter that the original plan for the show was meant to end with Ted Lasso Season 3. "When we started, we plotted out everybody's beginning, middle and end of a three-season arc," Lawrence said. "This story is going to be over next year, regardless, even if the show finds another story to tell and goes on."
That said, Lawrence admitted that he'd love to keep going as long as star Jason Sudeikis wants to do the show. Though, how long will Sudeikis want to jet between the U.S. and England to film new seasons for Ted Lasso, especially with two young children to raise and the opportunity to do other projects?
In modern society, the audience has gotten too used to shows going on for longer than they should have. Networks see the money and continue churning out more episodes and seasons for people to consume. But at what point does it turn from resonating art to merely a soulless product? Everyone knows that Ted Lasso is all about heart and character, and that's why it should be protected at all costs, including ending the show before it dilutes its message. Maybe it's time that we set Ted and his friends free.
Tell us, do you think Ted Lasso Season 3 should be the show's last? Let us know your thoughts in the comments section down below.