Technology changes fast, and at this point, it's safe to say that it also underlies just about every industry, including food and agriculture. The developed world is already going through what some are referring to as a fourth agricultural revolution, and it hinges on the availability of advanced technologies to agribusiness operations and small-scale farmers alike. Since experts are predicting that the coming year will be a transformational year for food tech, this article will focus on just a few of the top trends to watch in 2022.
1. Urban Smart Farming
Urban farming isn't just about giving more people access to fresh produce. Growing food closer to home using hydroponic equipment like the products found at agron.io can also help to create a more resilient and sustainable supply chain. In cities, it would be impossible to meet this goal without indoor smart farming.
Smart farming involves using a combination of vertical hydroponic systems and Internet of Things (IoT) technology to monitor and control every aspect of the plants' growing environment. It allows farmers to grow food year-round and in just about any location, including in cities. Experts believe that urban smart farming is the best way to meet future needs, so the increase in companies engaging with these practices and technologies is definitely a trend to watch in 2022.
2. Agricultural Robots
The agricultural robotics industry is growing, and experts believe that it will be worth over $10 billion by 2025. Don't expect to see people-shaped robots out walking the fields, though. Despite any sci-fi fantasies consumers may be holding onto, agricultural robots are thoroughly practical tools used to complete slow, repetitive tasks that are dull and unpleasant for farmers and farm labourers.
Common examples of agricultural robots either already in use or in development and ready to be released into the fields in 2022 include drones, milking robots, driverless tractors, automated harvesting systems, weed control robots, and others. What they all have in common is that in addition to reducing the negative impact on humans of highly repetitive tasks, these technologies increase overall production yields, especially when used in conjunction with IoT crop monitoring systems.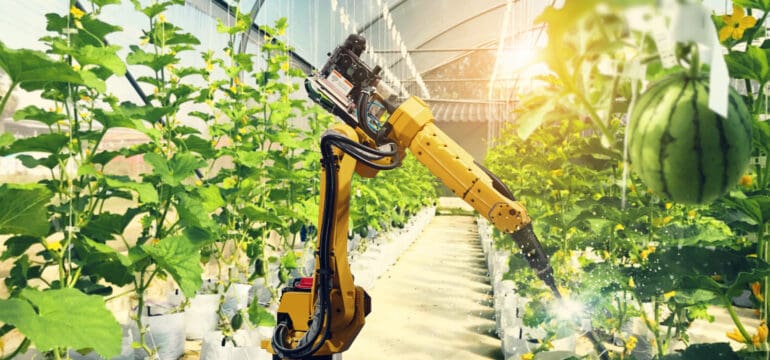 3. AI-Integrated Equipment
Even traditional farming equipment is becoming increasingly connected. One notable example of AI integration in traditional farming applications is John Deere's recent introduction of fertilizer and herbicide sprayers that use machine learning to identify both weeds and crops, applying precise amounts of the correct substances to maximize crop yields.
The machine learning technology behind John Deere's new AI-integrated sprayers use deep learning algorithms to reduce application rates of herbicides, fungicides, and fertilizers by up to 77 percent. The coming year should see not just a wider popularization of existing AI-integrated equipment but also emergent technologies that use similar algorithms to accomplish different precision farming tasks.
Stay on Top of the Trends
With the pace of technological development seeming to increase daily, it's hard to predict exactly what 2022 might bring. That said, it's safe to assume that the companies behind emerging trends such as smart farming, crop care automation, and AI integration will all continue to push the envelope in the coming year. Anyone working in the industry or interested in starting up a new farming project should pay close attention because there are big things coming in ag tech, and keeping up with all these emerging technologies can make or break a smart farming startup.