Are you a content creator? Are you looking for a ring light? The TaoTronics TT-CL026 might be an affordable solution.
The Ring Light
With the ever-increasing world of content creation, there are more and more must-haves for creators. While some require a small investment, such as a good camera or laptop for editing, there are some just as important, but not as price-sensitive. One such item is the ring light.
This has been quite a popular requirement of late, with a multitude of options and benefits during filming. This was never a personal requirement on my end, having made do with a number of options. However, having received the TaoTronics TT-CL026 LED Ring Light for review, it proved itself quite useful.
Let's take a closer look.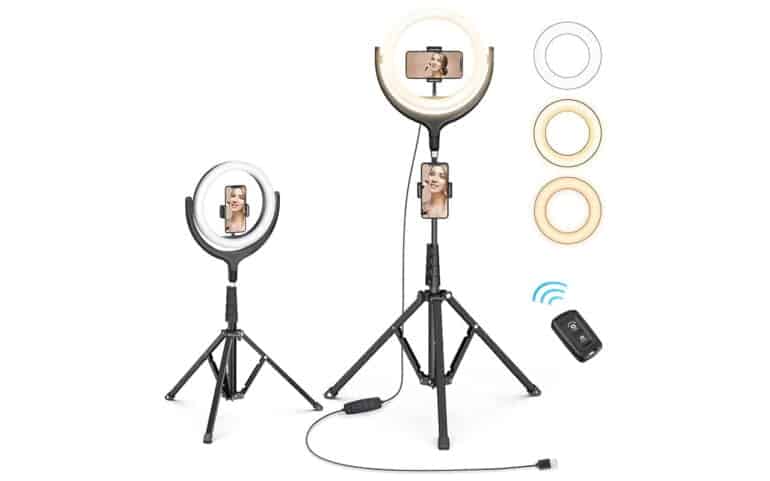 TaoTronics TT-CL026 Unboxing and Setup
The TaoTronics TT-CL026 comes in a fairly small box, considering its contents. The unit is packed quite neatly into the box. However, it's not all in one piece, but rather a set of components that requires some assembly.
Unpacking the contents, you have the 12" LED ring light itself. In addition, there are also two phone holders, one with a flexible head with the other being a standard holder. The tripod stand forms the base for these components to connect to. It's not a complicated task, though, only some alignment and screwing in. There aren't any separate screws and the likes, but the components themselves, which makes it easier to complete.
Both phone holders are adjustable and are able to house most smartphones. By default, this includes the iPhone 12/12 Pro/12 Pro Max/12 Mini/11/11 Pro Max/X/8/8 Plus/7/6, the Samsung Galaxy S Series/Note Series, LG, Huawei, and more.
Finally, there's the Bluetooth remote shutter, which can be paired with your smartphone. There's an app for both Android and iOS to make use of the remote if it's required. And to pack each of these for convenient travel, Taotronics has included a bag for this.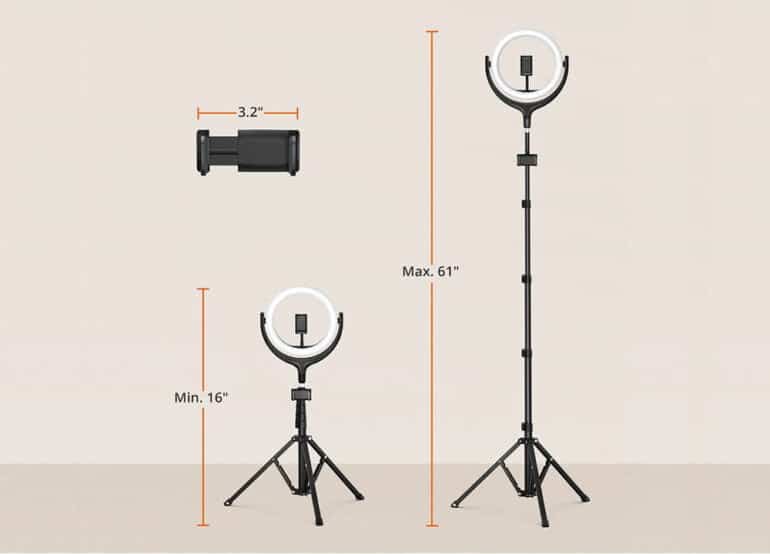 Build and Design
Starting off with the tripod base of the TaoTronics TT-CL026, it is crafted from an aluminium alloy. Upon unboxing, it seems fairly short, but with its extendable arm, it can extend from 40cm all the way to 132cm. This makes it more than suitable to be placed on a desk or even when standing on the ground.
But that's not the entire height. In addition to this, the tripod base provides an additional 30cm or so. Then there's the ring light itself, which tacks on just a few more centimetres. In total, we're looking at close to 2m from the ground to the top of the ring light. This creates quite a few options for use cases.
The ring light has a plastic finish, mostly black, with the LED section encased in a thinner white plastic mould. The head screws onto the top of the aluminium tripod stand. Once it has been screwed in, it's very stable and cannot easily be pulled off.
But, while it is sturdily affixed, it can still be rotated 360°, which means you don't need to manoeuvre the tripod once it's in position. In addition to this, the head itself can tilt 135° in either direction, to illuminate any area around it. Further to this, the adjustable phone mount can rotate 90° horizontally, to adjust against the positioning of the light.
It may seem trivial on paper, but in use, these directional changes very welcome. But, more on that later. The build quality is great, the aluminium tripod stand is sturdy while also light, making it easy to transport. The black finish of both the tripod and head gives it a premium look.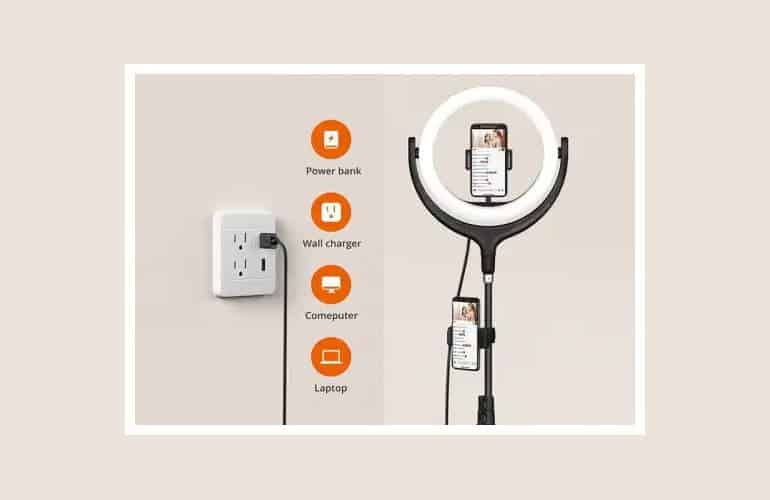 TaoTronics TT-CL026 Usage and Performance
Once in use, the TaoTronics TT-CL026 is just as easy to move around, set up and adjust. This came in handy. The setup I had wasn't as straight forward, positioned at an angle and having to adjust the heights for the different shots. And, it worked really well.
When it comes to the LED ring light itself, there are also a number of lighting options. There are three colour temperatures to choose from. Again, this may seem trivial, but filming different objects gives off a different appearance on camera, which needs to be factored in. Furthermore, each of the colour temperatures can also be adjusted for brightness.
The LED light is powered by USB, which needs just 5V/2A to power on, which means it can be used via your laptop, power bank and even your smartphone if you have an adapter available. This is the height of portability, which doesn't require a conventional power source from a wall socket or mains.
During my testing and general filming, I didn't immediately find a need for the second smartphone mount. However, it again came in handy for one specific use case. When recording using the phone mounted on the ring light, you can use the second to adjust some settings, provide additional lighting, or even have your notes available if you're going to be recording yourself with some dialogue.
Conclusion
With each component well thought out and made available, there are quite a number of use cases for the TaoTronics TT-CL026 LED Ring Light. The stand is ultra-lightweight and ultra-portable thanks to its lower USB power requirement.
There are many options for ring lights at the moment, although many of these have questionable quality. The TaoTronics TT-CL026 is a solid unit that isn't as flimsy, standing up around 2m while still being able to support the weight of two smartphones and a rotating head without buckling.
If you're in the market for a decent light source, which doubles as a selfie light, then the TaoTronics TT-CL026 is a very good option. It's available on Takealot for R849, as well as a number of stores across the country.
TaoTronics may be a fairly new brand for South Africans, but with a few solid reviews on Fortress, there are only good things to report. The brand offers affordable options with mid-range quality, and the TaoTronics TT-CL026 LED Ring Light is no different.
The Review
TaoTronics TT-CL026 LED Ring Light
The TaoTronics TT-CL026 LED Ring Light is a unit with great features and build quality. It is ultra-portable while also affordable. A must-have for content creators.
PROS
Ultra-lightweight, Ultra-portable
Affordable
Easy setup and packing away
CONS
LED light could be brighter
Review Breakdown
Ease of Learning

0%

Ease of Use

0%

Design

0%

Performance

0%

Enjoyment

0%

Value for Money

0%