Two of the more popular review items were gaming laptops and audio products. At least this was the case for me. Audio reviews included a mix of headphones, earbuds and speakers. If there's one notable trend in this category is the affordability of quality audio. Additional trends included the prolificacy of active noise-cancelling and Bluetooth capabilities. With the release of the TaoTronics SoundSurge 85 Bluetooth headphones, we find all of the above-mentioned qualities.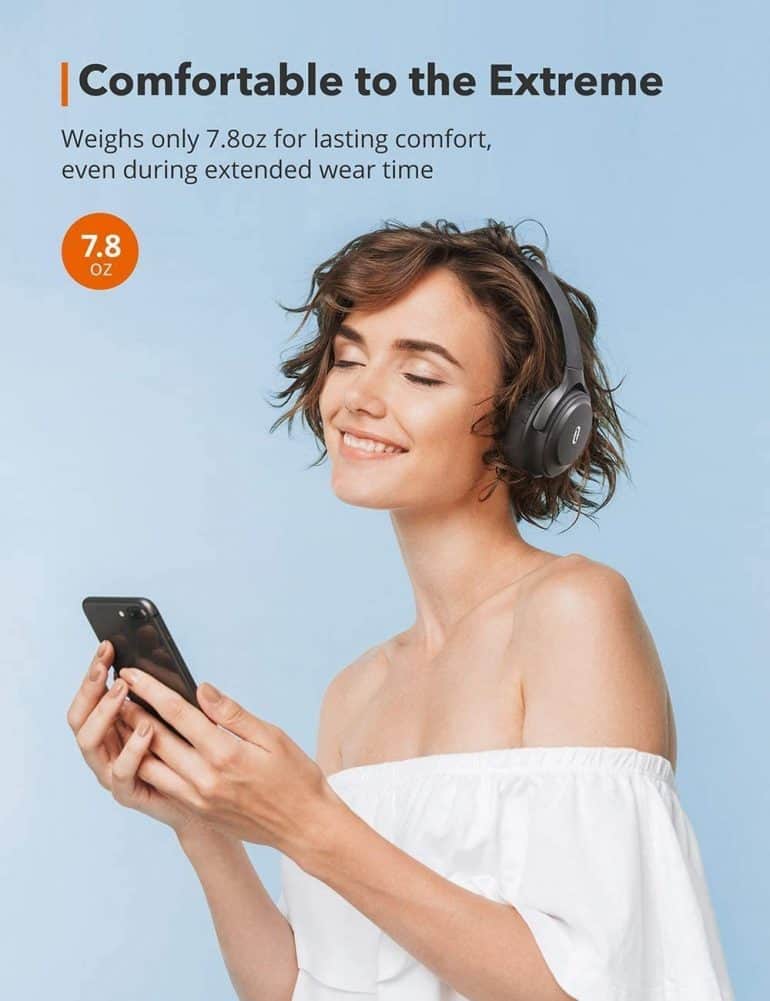 TaoTronics SoundSurge 85 Build and Design
The TaoTronics SoundSurge 85 has a very basic design. It fits the mould of your standard Bluetooth headsets. There aren't any over-the-top lines, earcups or the likes. And I prefer it that way. It reminds me of the Xqisit oE400 Bluetooth headphones I reviewed a few years back.
It has a very lightweight design, making it comfortable over the ears and on the head. The headband, too, doesn't have the typical heavy pressure pushing down on your ears. In addition to the faux leather covering over the memory foam, means that you will have no trouble wearing these for longer periods at a time.
As is standard on over-ear headphones, the headband is adjustable. It has 10 clicks of adjustment, measuring about 5cm on each side. The earcups rotate both up and down, as well as left and right for the perfect over-ear fit.
The right-hand side earcup houses the control buttons. This includes the power on/off as well as the volume +/-. In addition, it also includes a Type-C USB port for charging. The left-hand side is much less populated, including only a single button, that of the ANC toggle. A blue LED indicator light turns on once toggled.
Overall, the TaoTronics SoundSurge 85 headphones have a solid build and minimalist design. Despite its matte plastic finish, it doesn't have a cheap aesthetic.
TaoTronics SoundSurge 85 Setup and Features
As with most modern Bluetooth headsets, the TaoTronics SoundSurge 85 unit is fairly easy to setup. Once you've powered on the device, keeping pressing the power button to enter into pairing mode. On the source device, wait for it to be picked up and you're ready to pair. It's as simple as that.
An easier method is to utilise the included 3.5mm cable. Simply and plug and use.
The active noise cancellation is also easy to use. Users just need to hit the toggle switch and it's turned on. This is evident by means of the blue LED indicator light. It is worth noting that whether the device is turned off or not, the ANC feature will remain active if not turned off itself. This is important to saving battery life when not in use.
The buttons also double up in their function. Volume buttons will skip forward or backward when long-pressed, while the power button has a 'recently dialled' function when double pressed. This only works when connected to your smartphone.
TaoTronics SoundSurge 85 Performance and Quality
As with all headphones, it doesn't really matter what it looks like or what features it may have, it the sound quality is poor, you're not going to want to use them, and reviewers shouldn't be recommending them.
Given the ANC feature, there are two options to listening to the audio, with or without the ANC being active. When it's active, the sound diminishes somewhat. It's not bad, but you'll need to turn up the volume a bit. At the same time, the level of detail is a tad bit washed as a result. Still, it's not bad.
Using the headphones without the ANC support delivers a much more rounded experience. Each of the levels receives a more balanced feel. The highs and mids are the most noticeable in terms of clarity and accuracy. This also depends a lot on the sound type, whether you're watching a movie, listening to music or playing a game. For the most part, it's balanced across all three but definitely geared more towards music and games.
The lows, the bass, is also quite good, but not as much. You'll notice the most difference when turning off the ANC capability with a more pronounced bass. This leads me to believe that the device has been setup for use in meetings when using ANC. That's not bad, but I would've liked to have had an option to choose which audio preset I'd prefer when using ANC.
As for the ANC itself, it's great. Yes, the sound volume and some information is lost when turned on, but blocking out surrounding sounds is key here. It does this really well. The white noise it emits drowns out all the surrounding sounds. I tested this both at night and during the day when it's noisier to pick up if any sound filtered through. Unless someone is right up against you screaming at you, chances are you're not going to be hearing anything going on around you.
In terms of the technical specifications, the TaoTronics SoundSurge 85 has 40mm drivers in each ear. The Bluetooth 5.0 offers support for A2DP v1.3.1, AVRCP v1.6, HFP v1.7 CVC8.0 profiles. It has a built-in microphone and CVC 8.0 noise-cancelling as well. Finally, in terms of the audio codes, it supports aptX, SBC and AAC.
Battery
TaoTronics claims the SoundSurge 85 can reach up to 40 hours of battery life in various scenarios. This includes using the Bluetooth mode without the ANC or using the 3.5mm jack with ANC. Using both Bluetooth and ANC has a suggested 20-hour lifespan.
When it comes to real-world testing, it wasn't that easy to test each of these options. That's not to say that it's not possible, but wasn't feasible for me to get through 100 hours of testing to confirm all. Having reach 20 hours of Bluetooth playback alongside a few ANC tests here and there, the headphones have not yet run out of juice.
Whichever way you look at it, even if it doesn't quite hit the 40-hour mark, having gone beyond the 20-hour mark is more than enough for me, which itself took more than a week to achieve. And this is great in itself.
Conclusion
The TaoTronics SoundSurge 85 Bluetooth headphones offer great value for money. Not only does it offer quality audio via Bluetooth connectivity, the ANC feature works great. With the increase of remote workers in 2020, these features became primary requirements.
Having checked all the boxes and quality audio, the headphones make for an easy choice if you're in the market for a pair of headphones. You can grab a pair of the TaoTronics SoundSurge 85 Bluetooth headphones at Takealot for R1,299. They're not going to compete with the likes of Beats or the Sony WH-1000XM4, but if you can manage to save some R,5000 while still having quality audio that's comfortable for your personal preference, then you've scored a great deal.
SoundLiberty 92
The TaoTronics SoundLiberty 92 is a surprisingly good pair of in-ear buds. While they may resemble the Apple AirPod in terms of the design, it costs less than a quarter of the price. Yes, it may not be as good in terms of the audio quality and features, but they deliver on a very reasonable budget.
In addition to the great quality, it also boasts IPX8 water resistance and touch controls to make it easy to operate. It's a single-size approach, so it may not be the most comfortable for all ear types. With an expected battery life of around 5-6 hours, it's more than sufficient for daily use.
The Review
TaoTronics SoundSurge 85
At a price of just R1,299, the audio quality and ANC features of the TaoTronics SoundSurge 85 is a great steal. You'd be hard-pressed to find are well-rounded pair of Bluetooth headphones at a similar price point
PROS
Above-average sound quality
Comfortable
Great ANC support
CONS
ANC dampens the sound
Bass could be deeper
Review Breakdown
Ease of Learning

0%

Ease of Use

0%

Design

0%

Performance

0%

Enjoyment

0%

Value for Money

0%