The last few years have tended to feel a bit like cash-grab season, with all of the endless remakes, re-releases and remasters that have come out. Most have been needless and exploitative, with the "remastering" being little more than a few extra points added to the resolution and the devs calling it a day.
A lot of times people are just banking on nostalgia, and unless you go the whole hog (ala the Resident Evil 2 remake), the end result can fall rather flat, especially if all it actually does is remind people that the original game may, in fact, have some aged flaws in it that our memories had skimmed over.
However, along comes Tales of Vesperia – a JRPG with just enough good reasons (and a pretty damn good game in the genre already) to prove itself one of the rare exceptions to this rule.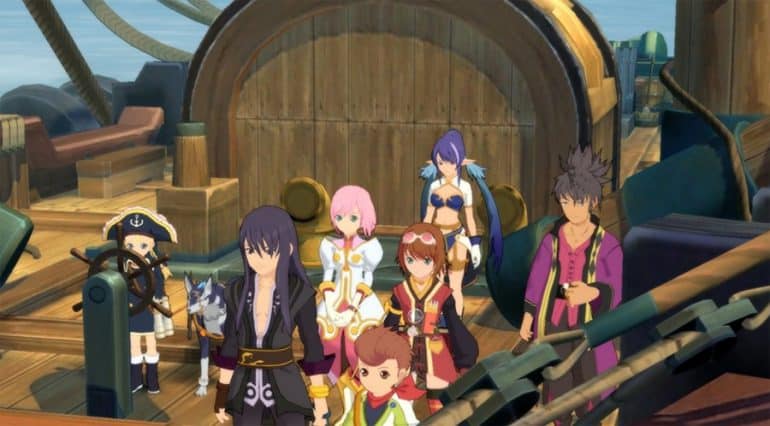 Tales of Vesperia was released just over 10 years ago as an exclusive on the Xbox 360 outside Japan. It did average sales for an already slightly niche franchise. Part of that, some feel, was the fact that the 360 was not primarily seen as a JRPG-heavy platform, and while Tales of Vesperia may have been trying to break new ground on the platform and start a trend, it ended up being a strange and lonely island by itself. Which is a shame, because some consider it one of the best titles in the entire franchise, but beware that such opinions are deeply contested on parts of the web, as you might expect.
For those not in the loop, Tales of Vesperia is a game series similar to Final Fantasy, in that each new game in the franchise shares a similar set of themes, items, magic, naming conventions, mythical figures and small details, but at the same time are generally always a new story set in a new world with new characters. The common themes often include a conflict between two worlds, prejudice, and environmentalism. You nearly always start the game by doing some mundane task, but by the end, you are saving reality by battling a god, or some such. Battles take place in a real-time manner, as opposed to turn-based.
The graphical style is a cartoonish, anime-esque aesthetic, which worked very well in its favour here, as this style shows little ageing over the ten years since release. The Definitive Edition has upscaled the graphics to good effect, with PS4 running at 1080p, 60FPS all the time, the Xbox One running at 720p 30FPS outside of battles, and the Switch version running at a lower resolution if in handheld mode. The PC version is dependent on your specs but can run up to 4k.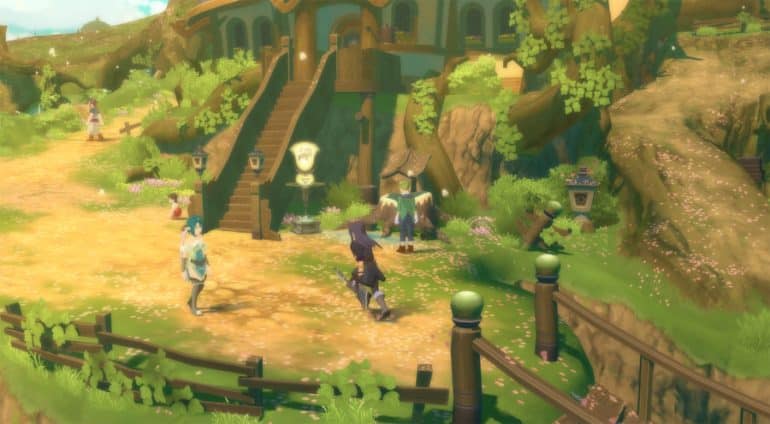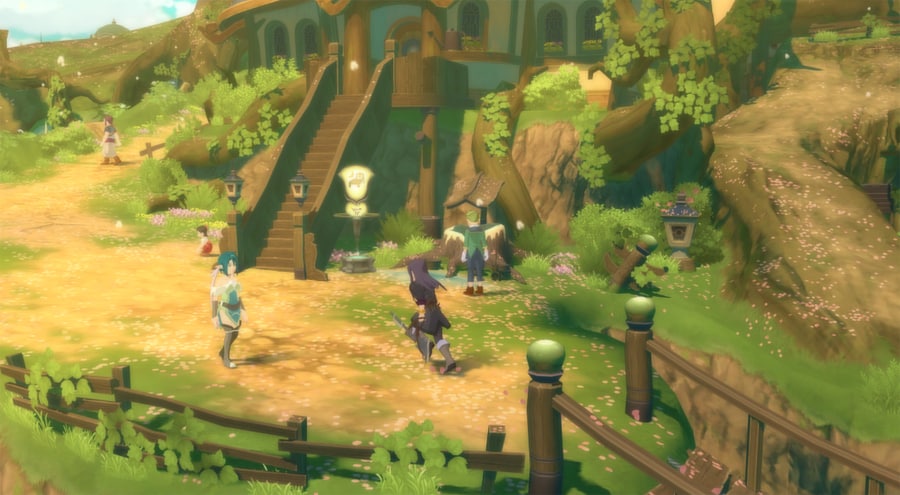 Part of why this matters is the battle system – it starts off basic, but ends up fast, frenetic and chaotic, and has a genuinely good level of combo-ing available when you get very good at it. In such cases, FPS matters, and it looks great here. It's nothing like Devil May Cry, but above expectations for a title like this. On a basic level, battles involve 4 party members, with you directly controlling one of your choice. You can issue commands or set behaviours on the AI members. You have a basic attack, and you learn special attacks which you can use at the end of combos, and you also learn a power-up mode that removes your cooldown, and then there are big flashy special attacks. You also learn and set abilities via weaponry that may be passive or actively change elements of battle. So there is a bit of meat on the bone here to toy with, and it's not like some titles in this genre where you come just for the anime bits.
The story is something I don't want to ruin too much because part of what's appealing about it is how it goes from a very basic level to such far-out craziness. Basically, your main character is Yuri, a roguish type living in the slums of a great city. The world is powered by Blastia, devices that act as everything from barriers against monsters to generators for water and power. When a Blastia that provides water to the lower slums is stolen, Yuri goes to the Upper Quarter, and soon enough gets involved with escaping with a princess. Aside from the princess, he also has an actual dog join his party (the dog holds a knife in his mouth to fight), a puckish child, an old man (who is the ancient age of 35 – that's anime for you), a small pirate girl, and a few others besides.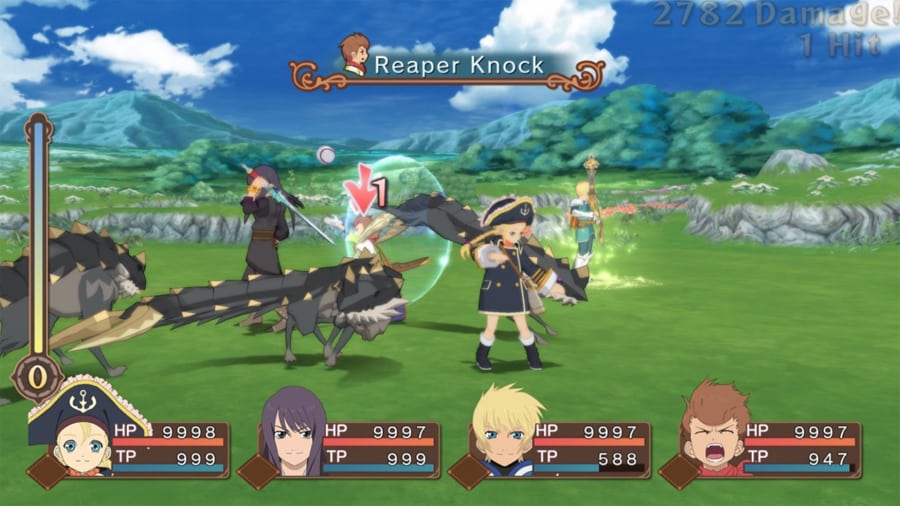 What I cannot stress enough is that this is much more than it appears on the surface: Tales of Vesperia games always take delight in playing with stereotypes and expectations and then turning them on their head. So you may start the game with everyone seeming to fit into one typical role for the story, but soon enough a great deal more detail about them is revealed that changes everything you expected or assumed, and they end up being quite dynamic and well-developed figures. This extends to the story too – there are more examples of total war, racism and genocide in Tales' cute cartoony world than in many other supposedly more mature releases.
Tales of Vesperia is also one of the last mainstream released JRPGs that has a proper world map and a sense of exploration attached to it, so if that is your vibe, you will be well-served here. There are plenty of secrets and explorative elements to the world, so it feels like there's always a lot more to see – with extra quests, hidden dungeons and the like, spread throughout the entire game.
New in this Definitive version as well are Flynn and Patty as playable characters. Flynn was only an NPC in the original release, and Patty is a new character, only seen in Japan before. Both add some variation to your teams but not much more to the story, although there's little reason to complain about them in general. There are also two more boss fights, as part of Patty's story, and the voice tracks have been added too and are available in English or Japanese throughout. Furthermore, all of the original DLC costumes are included, so you can do insane clothing options for your entire party right off the bat. If that's your kinda thing.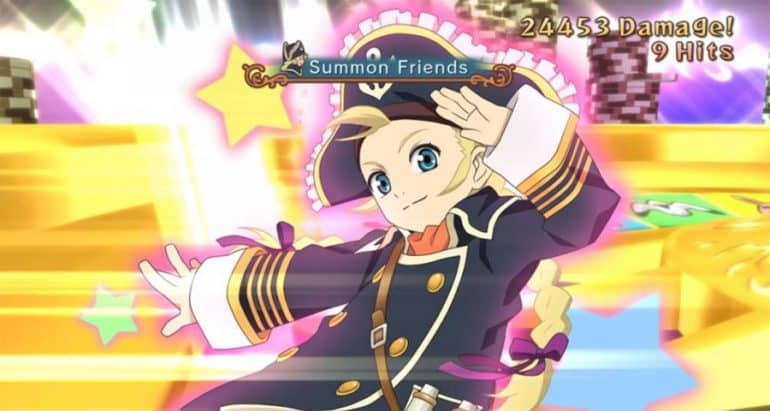 Here's how you should approach this – If you love JRPGs and haven't played this one, buy Tales of Vesperia now. If you like RPGs but are hesitant about the anime aesthetic, still buy it, and push past the first few hours. It'll grow on you. If you played this before but only ages ago on the original Xbox 360 version, buy it now again too. Enjoy the nostalgia, as the game still is as fun to play as you remember.
Ultimately, what I think attracts people to Vesperia out of possible games in the Tales series is that it is an excellent representative of the best parts of the series as a whole, with very few downside parts. It hits all the highs that it should (characters, combat, world, content, story etc.) and the lows that you may experience only feel low by comparison, and are not really that bad objectively. The Definitive Edition has just reminded me of that, and although I've spoken about Tales of Vesperia plenty over the years on forums, I was still pleasantly reminded of so many great parts of it as I sat down with it again now.
The Review
Tales of Vesperia: Definitive Edition
In the end, Tales of Vesperia: Definitive Edition reminds us why we fell in love with the franchise in the first place.
PROS
Represents the best parts of the series
Deep and interesting story
Review Breakdown
Storyline

0%

Gameplay

0%

Graphics

0%

Replay Value

0%

Sound and Music

0%