The Tales series has been a gaming staple for quite a while. During that time Bandai Namco created some memorable (and not so memorable) stories. Having never actually played any of the previous games in the franchise, Tales of Arise caught my eye due to its beautiful graphics and fast-paced but tactical combat.
It would be fair to say that my expectations were quite high. So, did the game live up to it?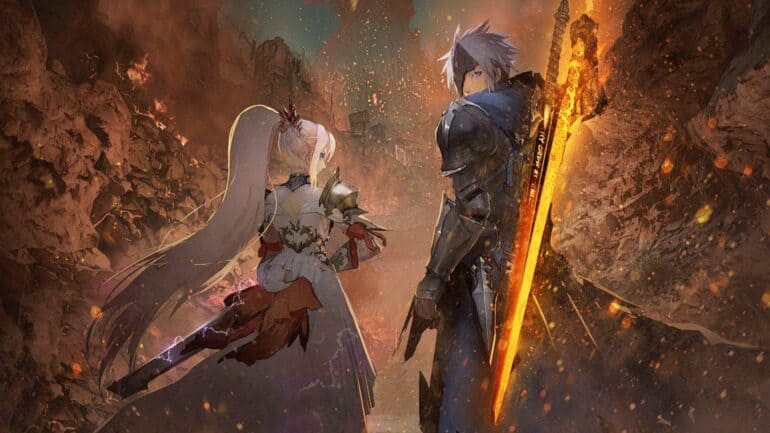 What is Tales of Arise about?
Tales of Arise takes place 300 years after the enslavement of the population of the planet Dahna by a technologically superior race, the Rena. With the people of Dahna under control and slaving away, the planet is divided into several realms, each ruled over by a powerful Renan lord.
You are placed in the shoes of an amnesiac hero who wears an unremovable iron mask. No one knows who he is or why he is cursed to wear the steel prison. Referred to only as Iron Mask, you spend your days slaving away in the mines of Calagia.
Of course, things soon take a turn for the adventurous when a strange Renan prisoner makes an appearance. Iron Mask and a mysterious woman, Shionne, soon find themselves on a journey to free the Dahna people once and for all.
It sounds like your bog-standard JRPG: an amnesiac hero sets out to save the day. While Tales of Arise's narrative starts off predictably, it soon ventures into new, exciting and unexpected territory.
As with previous entries in the series, the game isn't just about exploring the world and hitting monsters with pointy objects. During your time spent with your crew of unlikely heroes, you'll see them develop and reveal more of themselves. It's this type of character development that made me grow attached to the protagonist and his fellow adventurers.
How does it compare to other JRPG games
Tales of Arise manages to not fall into the same trap that many JRPG games fall into. Unlike many modern games in the genre, its visual style could be described as painterly, with environments looking like they were pulled straight from a watercolour painting. Each region of the world is filled with various dangerous creatures, areas to explore and quests to complete.
As you explore and complete side quests, you'll learn how to cook various meals which will give you and your team an added boon in combat. It's also during these quieter moments around the campfire that you'll be able to converse with your fellow teammates and learn more about who they truly are.
Not only will you be gathering various crafting materials for recipes and fishing, but you'll be searching for little hooting owls as well. These feathery creatures will give the players various cosmetic accessories when discovered. These are just one more excuse to explore the game's beautiful looking maps.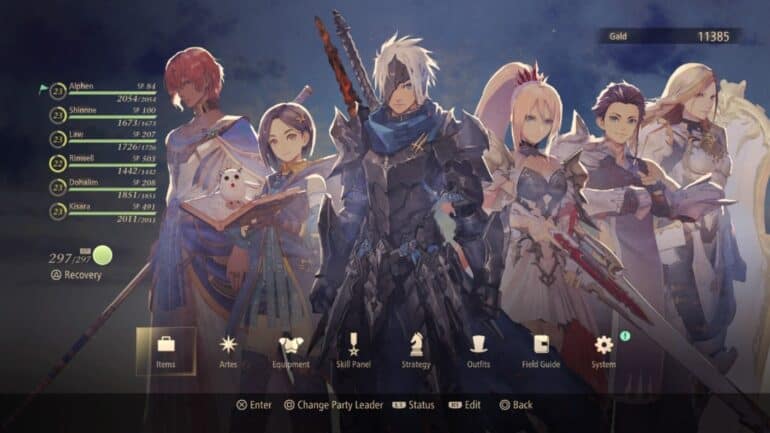 The Artes of combat
Combat in Tales of Arise is a fast-paced real-time affair and comes in two flavours:
Firstly, there is direct control, which sees you switching between your heroes on the fly and using their abilities to pound your enemies to dust.
The second is Auto control, where you control the protagonist and the AI controls your fellow heroes. You are able to set parameters for your AI-controlled heroes which will indicate when or how often they use their abilities. This mechanic actually works very well and is best suited for when you just want to grind and quickly dispatch weaker enemies.
Direct control works best when you want to be a bit more surgical in your strikes. For instance, when taking on a boss enemy.
Landing blows also recharges your Boost Gauge. Once this gauge is full, players can unleash a heroes unique ability. Along with the Boost Gauge, there are the Boost Strikes, which sees party members combining their attacks into one powerful screen-filling attack.
Apart from your pointy weapons, heroes also have access to the Artes, basically the game's version of magic. Performing these Artes uses points from the Action Gauge — so you won't be able to keep spamming these.
Having to keep track of all these gauges and abilities during Tales of Arise's realtime-action can get chaotic at times and there were moments when I wasn't sure who was doing what. This can be a bit of an issue, especially when facing off against some of the tougher bosses where strategy is of the utmost importance.
Tales of Arise will win over new fans
Tales of Arise sets out to lure new fans to the franchise while still offering die-hard fans what they want. It's a tedious balance and one that Tale of Arise expertly achieves.
The game looks absolutely gorgeous thanks to its unique art style. The characters are memorable and endearing, the combat is strategic and action-packed.
Tales of Arise is a great re-invention of the franchise that does not set out to alienate long-standing fans. It's a game that those who see their interest peaked should definitely give a try.
The Review
Tales of Arise
Tales of Arise is a great re-invention of the franchise. It brings a few welcome changes without alienating long-time fans.
PROS
Gorgeous visuals
Fast-paced tactical combat
Interesting and deep characters
Review Breakdown
Gameplay

0%

Graphics

0%

Replay Value

0%

Sound and Music

0%

Story

0%