What We Do in the Shadows, currently #31 on Rotten Tomatoes' list of the Best TV Shows of 2019 So Far, is now streaming first on Showmax in South Africa.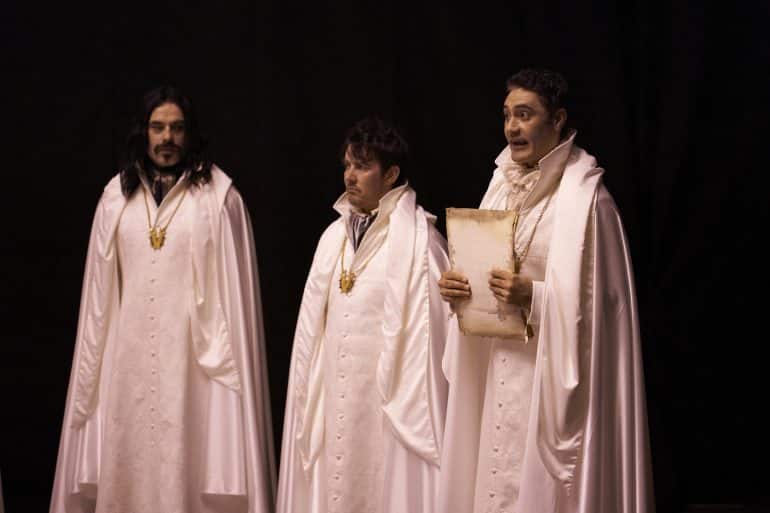 The show is a spinoff of the 2014 cult-favourite mockumentary film of the same name from New Zealand comedy geniuses Jemaine Clement (Legion, Flight of the Conchords) and Oscar-nominated Thor: Ragnarok director Taika Waititi. The series takes us to Staten Island, New York, where a documentary crew goes behind the scenes to capture the daily (or rather, nightly) lives of a group of vampire housemates who've been rooming together for over a century – plenty of time to get on each other's nerves.
BAFTA winners Kayvan Novak (Four Lions) and Matt Berry (The IT Crowd, Toast of London) play Nandor the Relentless and Laszlo respectively. Gifted sketch comedian Natasia Demetriou sums up her character, Nadja, as: "Horny. Bloodthirsty. Grumpy." Harvey Guillén (The Magicians) is the endearing, obedient, and determined Guillermo, general dogsbody and familiar to Nandor, who's going to reward him for his years of service by making him a vampire – for sure – any year now. Scene-stealer Mark Proksch (The Office, Better Call Saul) plays daywalker and energy vampire Colin Robinson, who feeds off the negative energy generated by people having to listen to him talk and talk…
Vianne Venter caught up with Taika and his vampire cast to find out more:
What was it like to work with Taika and Jemaine?
Natasia: It's very scary to improvise in front of Jemaine and Taika and the cast, 'cause they're the funniest people in the world. Any time Jemaine gives you a note, you're like, 'Well, you should be doing it.' I so often just want to be like, 'Put on my costume, because you're better than everyone.' It's all very dreamy, getting to work with all these people.
How does the series connect to the movie?
Kayvan: What fans loved about the movie, they will find in the series. They won't necessarily find the same vampires, but they'll find new vampires, who were created by the guys who created the other vampires that they love. It's an extension of the universe.
What will audiences enjoy about this show?
Kayvan: Vampires are truly international, you know? They come from Transylvania, they go to live in Staten Island, or New Zealand – they don't discriminate. They love to travel. And they're kind of superheroes, aren't they? Supernatural superheroes. But they're naughty. A lot of superheroes are goodie-two-shoes, but these superheroes are kind of… bad. But you still love them and root for them. I think people like an anti-hero.
Mark: If you like The Office or the movie at all, I think you'll like the show. It's very funny. It's very silly. And I think we need a comedy that's just funny and silly right now.
What can you tell us about the set?
Harvey: What's so cool about this show is that we get to shoot in this beautiful mansion set that, down to the details, sets the tone for it. When you walk in, you just completely get immersed in this whole world. I haven't met anyone who hasn't walked on set and just looks around, is in awe, and just can't stop staring. I still do it. I'm here every day for work and I always find something new.
How did the costume design help define the look of the show?
Taika Waititi: We were lucky enough to get the original costume designer, Amanda Neale, who did the film with us, which is great because it keeps it within the world and it keeps it authentic to the thing we created years ago.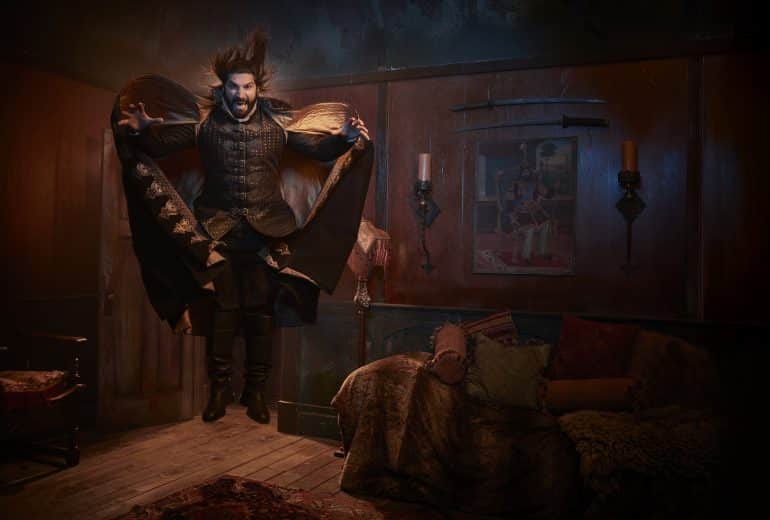 Harvey: You should see the costume designer's room. Everyone's dresses and costumes for the vampires are so elegant and beautiful and detailed. I walked in and there were like 25 pictures for each character. And you get to Guillermo and there's a sweater. Like, there was just a sweater picture. That was it.
Tell us about the stunts and wirework in the show.
Taika Waititi: We wanted to ensure that we didn't forget the things that make vampires cool – the fact that they can levitate and they can shape-shift into different creatures. The stunts are really important to us. Without them it's just people in gothic costumes, talking.
What We Do in the Shadows, which was nominated for two Emmys this year, is now streaming first on Showmax, just in time to add some fun to your Halloween watchlist.