Back in the day, one popular card game that dominated the playgrounds was Snap. Fast forward a few years and this simple concept has evolved into various modern and more intricate versions that tend to lack the simplistic joy one gets from playing the original. Enter Taco Cat Goat Cheese Pizza, "a wild game of quick action" reminiscent of the classic card game we all played and loved as kids.
What's in the box?
Taco Cat Goat Cheese Pizza consists of 64 cards each adorned with a cutesy version of a… you guessed it… Taco, Cat, Goat, Cheese, or Pizza. There are one or two unique cards, but we'll get to them in a bit. The art is adorable and adds to the overall theme of simplicity and accessibility.
The cards are made of a nice thick durable card stock, which should be able to take the strain from over-excited players smacking their hands down on them. They are also small enough to take almost anywhere, making this the perfect travel companion.
How do you play it?
Up to eight people can participate in a game of Taco Cat Goat Cheese Pizza.
Each player is given 12 cards from a shuffled pack — no peaking allowed.
Each person then takes a turn placing the top card of their deck face up in the middle of the play area.
While doing this, players have to say the five magic words, Taco Cat Goat Cheese Pizza. The first player would place a card and say 'Taco', the second player would place their card and say 'Cat', and so it continues.
Should the card that is placed face up correspond to the word spoken by the player placing the card, all players need to slam their hands down on the centre pile.
The last player to slam down their hand on the pile needs to take the whole pile of cards and start the new round by saying 'Taco'.
As you can probably guess, the player who runs out of cards first is the winner.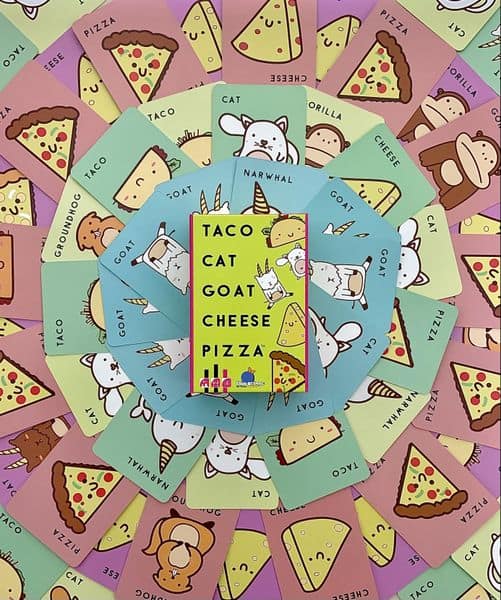 The special cards
There are a few special cards thrown into the mix to help change up the game's formula. These cards, when flipped, sees all the players performing a certain action before slapping their hands down on the centre pile of cards.
The Gorilla Card – Players must beat their chests.
The Groundhog card – Players must knock the table with both hands.
The Narwhal Card – Players must use their hands to form a horn above their heads.
While not altering the basic flow of the game drastically, these cards do help keep everyone on their toes.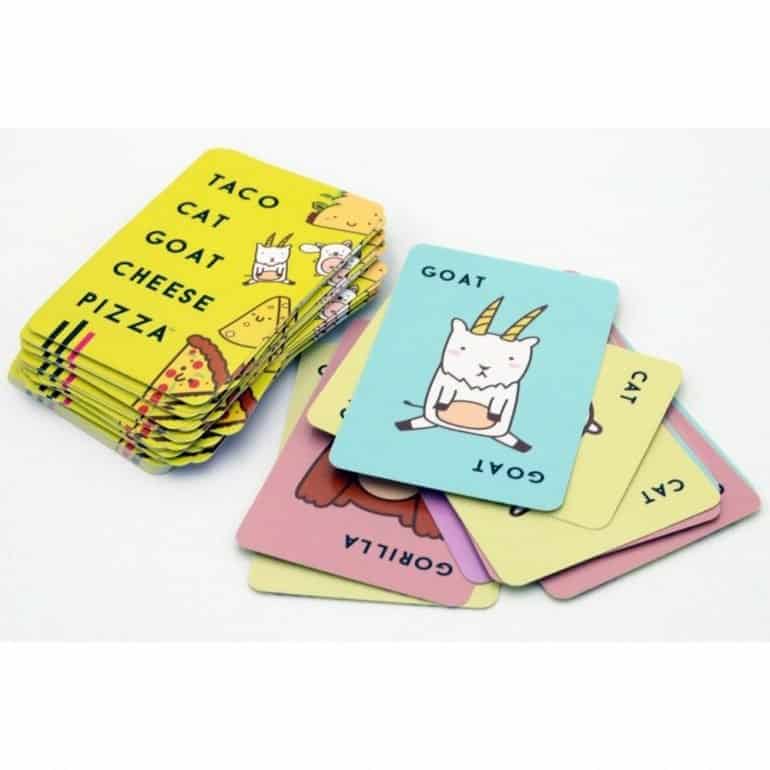 What did we think of Taco Cat Goat Cheese Pizza?
Taco Cat Goat Cheese Pizza is exactly what it says on the box: a simple, fun and quick-filler card game that will keep family and friends occupied in-between other larger more time-consuming board games.
It does this job very well.
These type of card games have been around for many years and there is good reason for this. The simplicity and accessibility, paired with the primal joy of slamming your hands down on a table, is something that resonates with both young and old.
A game of Taco Cat Goat Cheese Pizza takes anything from 10-to-15 minutes and usually can end up being very loud as eruptions of laughter is something that happens often.
If you don't go in expecting a complicated card game, but instead a card game that you can play with the whole family (including those that don't usually play card games), then this is one you should definitely give a try.
For more information on Taco Cat Goat Cheese Pizza, visit solarpop.co.za. The game retails for less than R200 locally.
The Review
Taco Cat Goat Cheese Pizza
Taco Cat Goat Cheese Pizza is exactly what it says on the box: simple and fun.
PROS
Quick to play & Easy to learn
Cute card designs
CONS
Might be a tad too simple for some
Review Breakdown
Gameplay

0%

Components

0%

Complexity vs. Depth

0%

Theme

0%