While Superman/Shazam!: The Return of Black Adam is a standalone short film (only 25-minutes long) which was released in 2010, it's available as the main title feature of the DC Showcase Original Shorts Collection which also features the short Showcase films of Green Arrow, Jonah Hex and The Spectre – accounting for the odd running time system listed here. So just be warned, and don't expect a full length animated Shazam! film. That isn't what this is. But if you're concerned by the shorter length of this, don't be; it's still one of the best on-screen versions of Captain Marvel ever.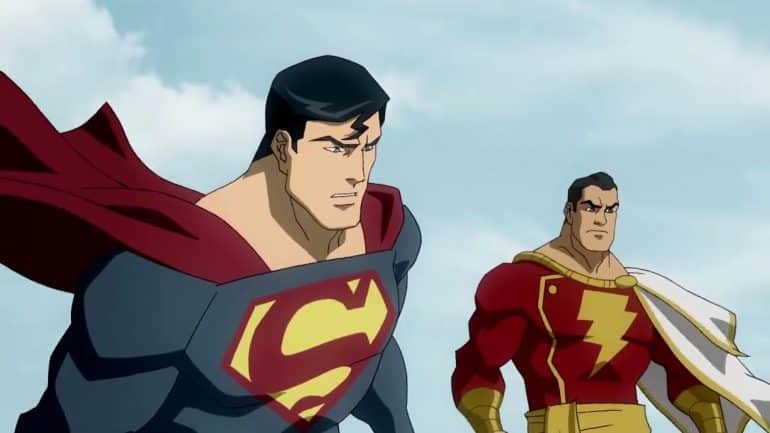 Wait, did I say Captain Marvel? I meant… yup, Captain Marvel. And unlike the live-action or recent comics versions, here they actually had the good sense to call him by his original name and not "Shazam!" – even if that may confuse some people who don't quite get the difference.
It's a quiet day in Fawcett City, and young Billy Batson is going through his daily routine – picking out what clothes to wear out of his limited wardrobe, trying to find some food to feed the rats in his home, and standing up to some bullies who are trying to mug a homeless man. He tries to do good, but life's tough and it's never easy. Thankfully, a kind reporter by the name of Clark Kent has been trying to write a story about Billy to highlight the problems of orphaned and homeless kids in the city. However, their latest meeting is interrupted by a supervillain whose powers resemble those of Superman: Black Adam.
But Black Adam isn't there to pick a fight with Clark Kent or his more public persona of Superman; instead, he's after Billy because he believes that the young boy may be summoned by an ancient wizard called Shazam, who will bestow great powers upon him. While Superman attempts to save Billy from Black Adam, Billy is chased into the subway system where he meets Shazam and becomes the world's mightiest mortal Captain Marvel. But is Billy ready to handle the newfound responsibility that comes with gaining the power of the gods?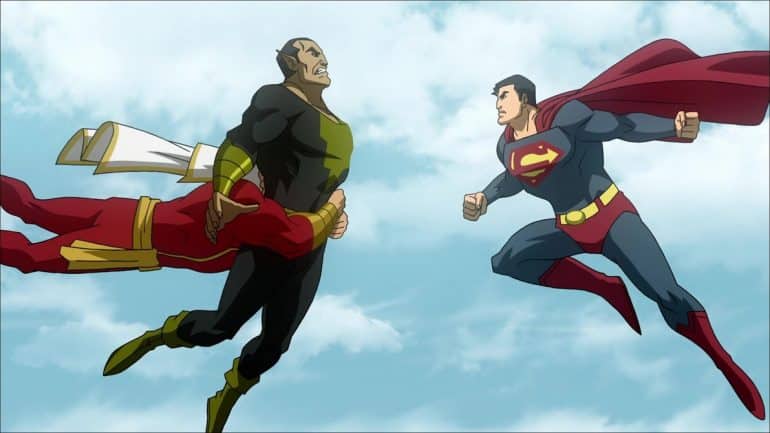 As a simple origin story for Billy becoming Captain Marvel, it's surprisingly effective in covering all the basics. Billy's personal history is glossed over, but with enough details given that viewers can put the pieces together about his tragic life; his innocence and innate goodness is conveyed perfectly without ever feeling cheesy or saccharine-sweet. Likewise, his meeting with the wizard races by quickly but all the bases are covered, while his crash course in learning how to handle his powers is logical and completely entertaining. It's all condensed, but while the testing of his powers is nowhere near as hilarious as the film version did it there's far more of a sense of wonder to the whole thing. Plus, Billy seems… well, more like the Billy his long-time fans will know.
Voice-wise, the return casting of George Newbern and Jerry O'Connell from their run on Justice League Unlimited was a perfect move, with both bringing just the right tone to their characters. Arnold Vosloo as Black Adam oozes just the right amount of calculated menace to Black Adam without ever losing control or sounding like a stock villain, while Zach Callison (better known to fans as Steven Universe) plays Billy with complete sincerity.
Unfortunately, the simplicity of the main story itself and, in particular, the complex history of Black Adam does suffer as a result of the short running time. It isn't that it's wrong in any way, it's just slightly superficial… but then, given that it's trying to tell Captain Marvel's origin story as well, it's also understandable. As for Superman himself, in Superman/Shazam!: The Return of Black Adam he's the embodiment of everything he should be. But, like Black Adam here, he's mostly just a background character and it's clear throughout who the main focus of the story really is.
Despite those minor faults in Superman/Shazam!: The Return of Black Adam, the story moves at a fast pace and is never boring. The animation, in particular during the action sequences, flows incredibly smoothly and looks great. Occasionally a few extra touches would have been nice, like if the train had been remodelled to resemble the one from the comics, but for the most part it looks and feels like a high-quality production which truly understood the look and feel that was needed for the story. But then, the same could be said for all of DC's animated Showcase short films – the Jonah Hex and Spectre tales, in particular, are classics which should impress viewers, even if they've never heard of these characters before.
So the question remains: is Superman/Shazam!: The Return of Black Adam the best on-screen version of Shazam! and the big red cheese Captain Marvel?
Very possibly, although it's up against some tough competition. The origin story alone makes it feel more complete than Captain Marvel's appearances in Young Justice, although it isn't as fun; it doesn't have the sense of cliffhanger adventure as the classic serial or the TV show, or the playfulness of the recent live-action film… yet it's far more accurate to the comics, in particular in terms of the portrayal of Billy; Superman and Captain Marvel sharing screen time isn't quite as electric as it was in the Justice League animated show, but it shows them both in a better light.
Superman/Shazam!: The Return of Black Adam may not quite be the best, but it's certainly as good and at times better. With a longer running time and a more involved storyline, it could have been the perfect Shazam! film and almost feels like a missed opportunity now.
The Review
Superman/Shazam!: The Return of Black Adam
If you're looking for a great representation of the character then this is it, and it's incredibly enjoyable. Not only that, but with the other short films on the DVD as backup features too, the whole package is one of the best-animated productions DC has ever released.