There has always been one party game on Nintendo systems synonymous with fun and that is the Mario Party games. It's a game franchise that is as much about having loads of laughs and an enjoyable time with a group of friends as it is about stealing your opponent's hard-earned stars. Each iteration in the franchise for the most part, while offering hours of entertainment, does tend to stay close to the tried and tested formula of getting a group of friends to compete in a variety of creative minigames. So, does Super Mario Party, the franchise's first outing on the Switch, mix things up a bit or is it still just more of the same?
Super Mario Party consists of five major modes, Mario Party, Challenge Road, River Survival, Sound Stage and Partner Party. Each of these modes offers their own unique challenges to compete in.
The aptly Mario Party mode sees players traversing one of four boards and basically plays out like a roll-and-move board game with mini-games interspersed between each round. Your main goal is to collect as many coins as you can and then using those coins to buy precious stars from Toadette. The player with the most stars at the end of the game wins. While this might be a very familiar mode for those who have played the previous Mario Party games this version does add, at least, one quite significant feature to this mode.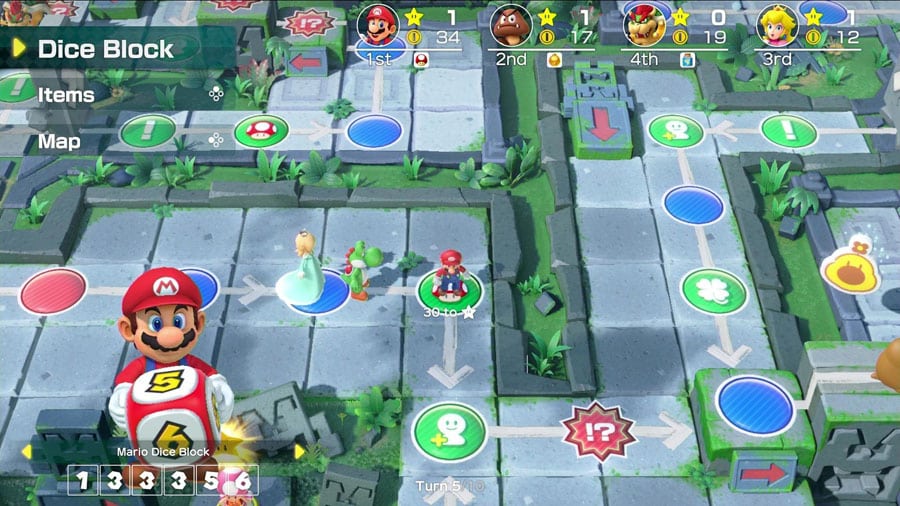 Just like previous Mario Party games, this version also sees players using virtual dice to move across the board, the difference now is that each character has their own unique second die, which they can roll instead of the normal die. Using these special dice can be a bit of a gamble as each has both pros and cons attached to them. For instance, Mario's greedy cousin, Wario's special die has four sides with sixes while landing on any of the two remaining sides will cause him to lose two coins. Mario's, on the other hand, removes the numbers two and four and replaces them with two threes. This new mechanic adds a welcome layer of strategy to the game, making who you choose as your character matter for the first time in the franchise.
Along with the decision of which character will suit your playstyle best, players will also need to take into account when the best time is to use their special die. Choosing to use it at the wrong time can be costly as I found out many times. There is also the ability to recruit various other characters, which, of course, gives you the option of using their special die instead of yours helping to expand the strategic options open to you.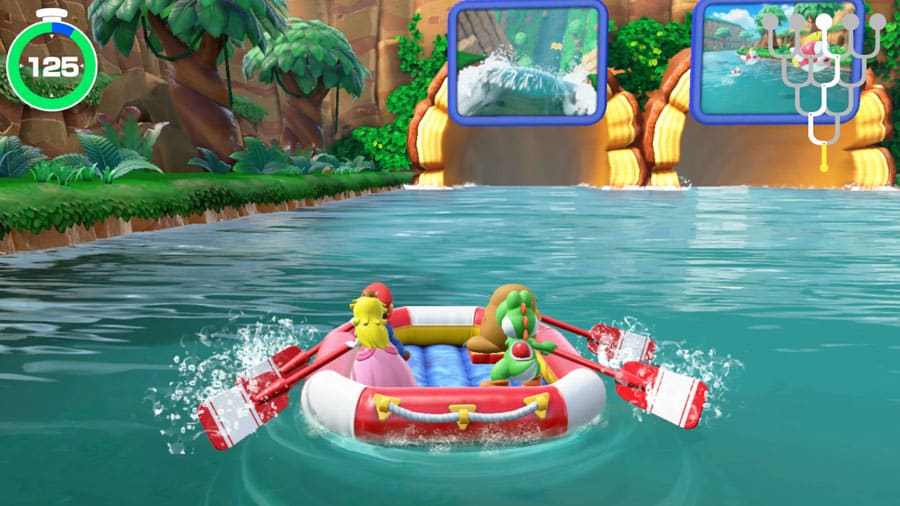 Each of the four boards offers up unique little challenges or obstacles to be aware of such as an oversized Blooper that will knock you back to where you began or the Whomps that will block your way. While each board looks and feels unique enough, I have to admit that they did tend to feel stale after a few playthroughs. The mode would definitely have benefited from a few more boards.
In-between each round players will have to face off in one the game's myriad of mini-games. These tend to be quite fun and creative for the most part with more than half of these making use of the Joy-Cons motion and rumble features such as one where you have to cook a surprisingly realistic looking cube of meat on each side by flipping it using the motion controls (trust me, it is way more fun than it sounds) or Rattle and Hmmm that tasks players with guessing an enemy's identity based on the rumble the Joy-Cons emit. The use of rumble and motion controls could've easily felt tacked on but luckily, they manage to keep things fresh and more importantly fun.
Next up is Challenge Road, which only opens up once all of the mini-games have been unlocked. It sees players play through each of these mini-games but with the addition of some sort of handicap to make them just that little bit more challenging. It basically boils down to feeling like a single player gauntlet as you race towards the finish. It's one of the modes that feels the weakest, possibly due to the fact that Mario Party games were never really designed to play solo.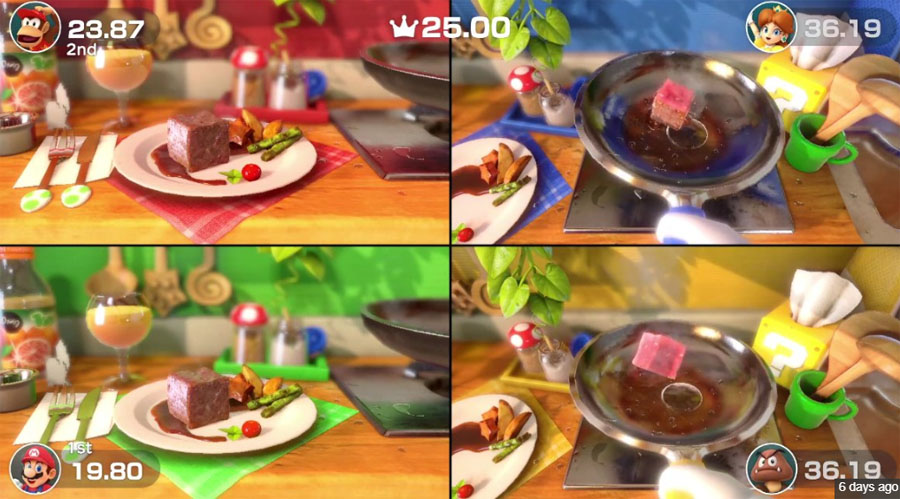 Then there is Partner Party mode where you still find yourself moving across a board but this time you team up with a partner to collect those valuable stars. It's a mode that needs a bit more tactical thinking as you need to discuss each round with your partner and continually be aware of where they are if you want to end up victorious.
The last two modes are River Survival and Sound Stage mode. River Survival as you can guess sees players having to work together as they race down a river avoiding all kinds of deadly obstacles. Of course, this wouldn't be a Mario Party mode if it didn't include mini-games which you will be competing in throughout your journey down the river. Sound Stage on the other hand, as the name suggests, is basically a "who can keep the beat the beast" competition where you have to complete a number of rhythm-based mini-games. The player who can keep up to the beat is the winner.
There are also a few mini-games that utilise the Switch's ability to sense and interact with a second Switch. While these games are quite impressive, they end up feeling more like small tech demos showcasing this feature.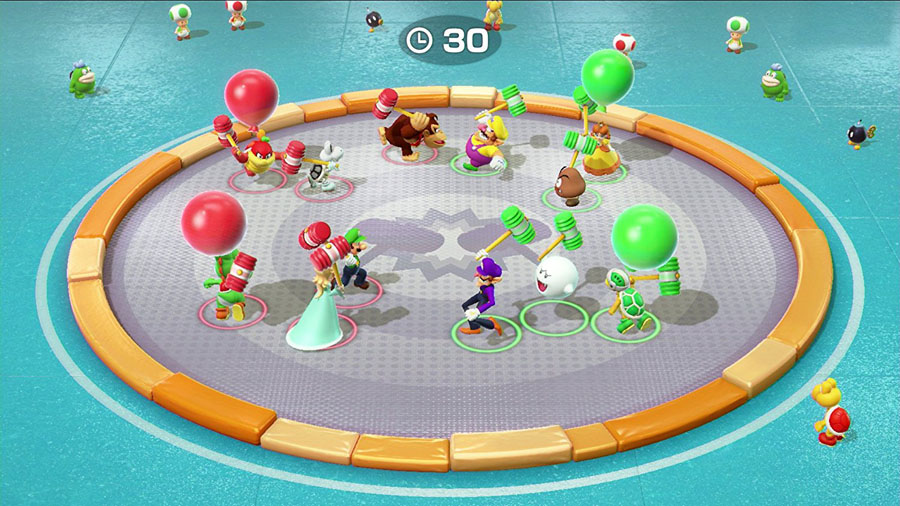 Getting together with friends and challenging each other in Mario Party has always made for some fun and memorable moments. Super Mario Party on the Switch continues this tradition, thanks to various enjoyable and engaging mini-games and some truly welcome new additions to some of their modes. Sure, there are moments when the minigames can be a bit hit-and-miss and even your most planned out strategies can be derailed by plain bad luck.
Even still, Super Mario Party on the Switch is not only a gorgeous looking game but one that will keep you and your friends (and family) entertained for a very long time.
The Review
Super Mario Party
Super Mario Party continues the tradition of having fun with friends, thanks to its various mini-games, and some truly welcome new additions to some of the modes.
Review Breakdown
Storyline

0%

Gameplay

0%

Graphics

0%

Replay Value

0%

Sound and Music

0%