Street Fighter fans have long pondered over the enigmatic origins of Blanka, the electrifying jungle warrior known for his vivid green skin. Street Fighter 6 has the answers.
RELATED: A Street Fighter Character Could Be Coming To Mortal Kombat Soon
Street Fighter's roster is one of the most iconic lineups you can find in any fighting game. Right from the start, it seems like every character has had a chance to shine in the spotlight, and the newest instalment finally allows players to create their own personal legends. There's a lot to see and do in SF6, and many players are there for the fighting aspect, but there's also an equally large majority present thanks to the expressive character creator. The Street Fighter franchise is one that is rich with a diverse cast in terms of design. They've even managed to avoid trapping themselves in a generic lineup. Thankfully, it's made up of larger-than-life folks like E. Honda, Dhalsim and Blanka.
RELATED: The Top 10 Best Street Fighter Characters of All Time, Ranked
For Blanka, his green skin is one of the most notable features you'll identify. You can actually discover his reason for the extreme transformation if you choose to be his student in the World Tour mode. You'll initially encounter Blanka after being asked to travel to Brazil. Blanka is an eccentric character, and his first encounter really sells the value of becoming his student.
You'll first meet Blanka-chan, a jungle sprite and extreme Blanka fan that manages to evade all your takedown attempts. Eventually, Blanka arrives and gets you to wear the Blanka-chan costume. This development is one you'll need to stick with if you want to get more dialogue out of him. Besides, his missions are quite fun and engaging. As the best rainforest guide in the world, Blanka has a lot to teach you. His abilities are also nice to have if you want to mirror his fighting style.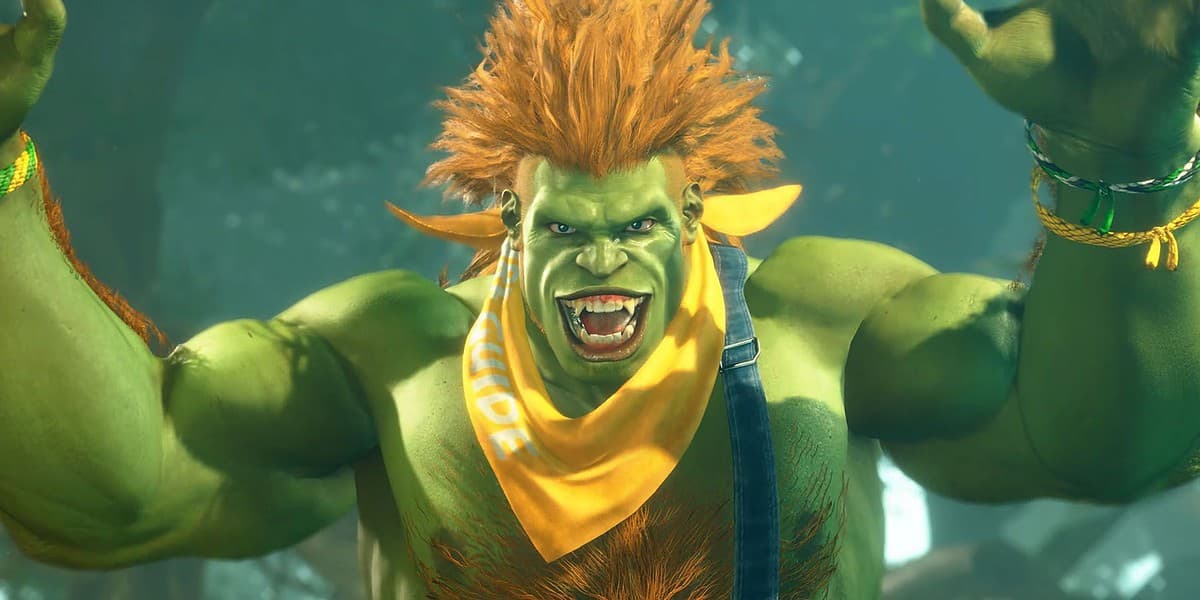 RELATED: Street Fighter 6 Game Review – Your Turn, Mortal Kombat
During your many interactions, there's a chance to answer the burning question on the minds of Street Fighter fans. "Why is Blanka green?" On why Blanka's skin is green, it's explained that Blanka had to borrow the power of the jungle to protect himself from bugs. "I smushed up some grass and flowers and painted my body with them. And now I'm the color of the jungle! Uwo!"
A truly dedicated man of the rainforest, it's impressive that Blanka was willing to go to such lengths as a way to blend in. This explanation kind of retcons what we previously got. In Street Fighter 2, it's revealed that Blanka got his green skin after being struck by lightning. The lightning also works as an explanation for his electricity powers.
Interestingly enough, the lightning origins are actually not the first version of Blanka's green skin backstory that we got in Street Fighter. The first in-universe explanation was that Blanka's skin turned green when he ate plants while trying to blend into the jungle environment. This led to his skin changing colour thanks to an over-exposure to chlorophyll.
RELATED: The Street Fighter Live-Action Movie Cast Comes to Life
Street Fighter 6 is one of the most fun fighting game releases we've seen in recent memory, and Blanka receives a much-needed spotlight in this one. For Blanka fans, getting to become Blanka-chan is a brilliant reward from Capcom.