The Duffer Brothers address rumours regarding Stranger Things and their planned spin-off Netflix TV series.
Matt and Ross Duffer, the creators of the blockbuster sci-fi series that has been a hit on Netflix since July 2016, appeared on a podcast recently to discuss their upcoming projects. There is not only a fifth and final season of Stranger Things for fans to look forward to but also a spin-off that is already in the works.
Details on the Spin-off
Not much is known about the spin-off yet other than what the Duffer Brothers have shared to dispel the runaway rumours. Not even Netflix has been made privy to the details as of just yet.
Rumours were circulating that the Stranger Things spin-off would focus on individual backstories from the main series such as Millie Bobby Brown's Eleven or even more 'numbers' from the series. These rumours were quickly put to rest as the Duffer Brothers made it clear that the spin-off would not be focusing on any of the same characters that we have seen before, but rather that it would be '1000% different,' from anything that we have seen from them before.
The creators went on to say that the biggest connection that viewers would find between the main series and the spin-off would be the 'storytelling sensibility'.
"There is story that connects to the Stranger Things world, but it really is more about how we're telling that story."
Stranger Things Season 5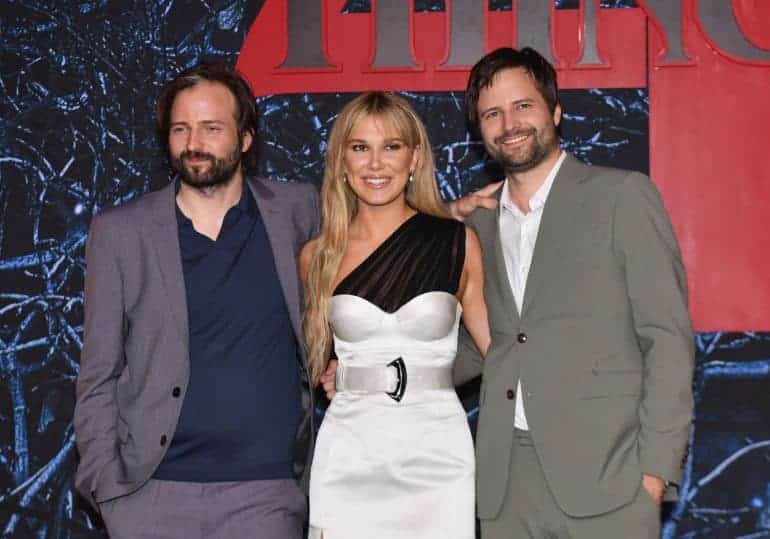 While many fans will be devastated to hear that the beloved gang will not carry over into the Stranger Things spin-off, they can rest assured that Mark and Ross Duffer will be giving viewers a final season that is action-packed, mysterious and a finale that the cast and their characters truly deserve.
We imagine that the cast will be just as devastated when they eventually part ways, having developed a strong bond and friendship through practically growing up together on the show. While many of their friendships and relationships will hopefully live one, one is of particular interest amongst fans. Actress Natalia Dyer, playing Nancy Wheeler, and Charlie Heaton, playing Jonathan Byers sparked a relationship two years into working together on the cast of Stranger Things and fans are praying that the two stars will stay together after the finale of the series.
Unlike in their past seasons, the Duffer Brothers say that they have not tied off the mystery of season 4 just yet, allowing season 5 to pick up right where season 4 leaves off. This means that we can expect a fast-paced, action-packed season 5, just as the brothers have promised.
Despite spelling the end for Stranger Things, viewers can look forward to season 5's release in 2024, and further the spin-off which currently has no announced release date. Until then, enjoy Stranger Things seasons 1 through 4 currently available on Netflix.
One of the greatest sci-fi hits of the last couple of years, and one of the most popular series on Netflix, it is sad to see Stranger Things coming to an eventual close, however fans can rest assured that the Duffer Brothers don't seem to be done with the strange and fantastical world just yet.
Are you excited to explore the Netflix Stranger Things spin-off in the future?