Horror fan José Mellinas has created a very cool mashup where Stranger Things 4 meets Nightmare on Elm Street.
Duffer Brothers' Stranger Things season 4 presented us with a villain that traps his victims in a nightmare realm before brutally killing them, leading to many fans drawing comparisons between the villain, Vecna, and the main villain of Nightmare on Elm Street, Freddy Krueger.
Unsurprisingly, fans are drawing comparisons between the two, as the Duffer Brothers have said that they conceived Vecna from the very beginning as their version of the famed Dream Demon. Additionally, it seems almost perfect that actor Robert Englund, who plays the demonic serial killer that torments Elm Street, also stars in Stranger Things season 4 as Victor Creel.
Victor Creel is a recurring character in the fourth season of Stranger Things that was imprisoned as a patient in 1986 at Pennhurst Mental Hospital for the gruesome murders of his family.
Vecna vs Freddy Krueger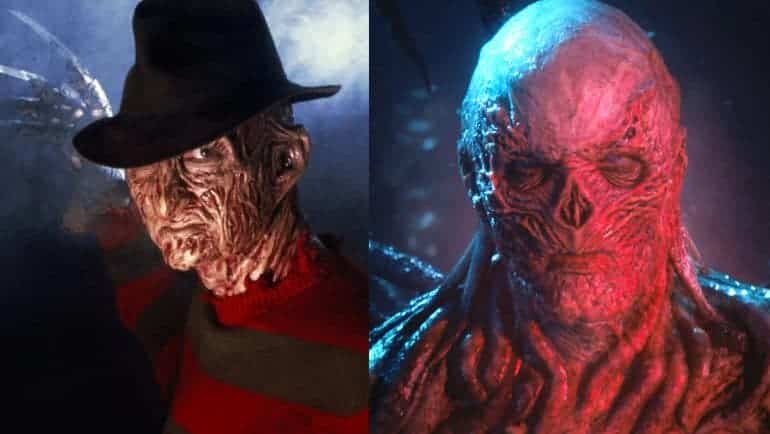 There are plenty of similarities that can be drawn between the Nightmare on Elm Street and Stranger Things villains, however without spoiling too much here are some of the more obvious ones.
The most obvious of the similarities is that the two look very similar. While Vecna does not don any clothes throughout the season and Freddy does, they both appear to be disfigured, meaty, humanoids that were once human. Trading Freddy's knife fingers for monstrous claws, Vecna appears to be very similar to the Dream Demon.
While both were once human, each became killers, both in life and in the afterlife. Freddy was the killer of children in life and the killer of teens in dreams, and now Vecna hunts teens as well.
Inspired by Nightmare on Elm Street's Freddy Krueger, Stranger Things' Vecna even sounds like the cult classic serial killer, making it impossible not to draw comparisons.
Dustin, from the show, compares Vecna's way of killing his victims to how Freddy enters the dreams of his victims and kills them from within their dreams. Vecna takes over the mind of his victims, making them see illusions before finally brutally killing them.
Watch The Fan Trailer Below
It didn't take long before fans were putting together a Stranger Things 4 fan edit that reimagines the season as a Nightmare on Elm Street film.
The fan edit focuses on Max's nightmares and incorporates classic scenes from Nightmare on Elm Street as well as many of the nightmarish aspects of Stranger Things season 4, while not revealing too much of either villain.
Watch the fan edit at your own risk as it does contain spoilers for the season of Stranger Things that is currently streaming on Netflix, however, José's mashup feels like it could be the latest addition to the Nightmare on Elm Street franchise.
Stranger Things has always been a thrilling sci-fi series, so it comes as no surprise to see fans warping the material into something as horrifying as the dream demon, especially as they have plenty of horrifying material to work with.
Do you think that Nightmare on Elm Street deserves a reboot, possibly created by Stranger Things' Duffer Brothers?