The guys from Clone Force 99 are back to kick some a** in the new trailer for Star Wars: The Bad Batch.
Disney Plus released a fantastic new trailer for Star Wars: The Bad Batch this week and, from what we can see, the upcoming animated series will certainly not disappoint.
The two-minute trailer is crammed full of stylish action and there are even a few noteworthy cameos for Star Wars fans to look out for.
Check out the gripping trailer below.
What is The Bad Batch about?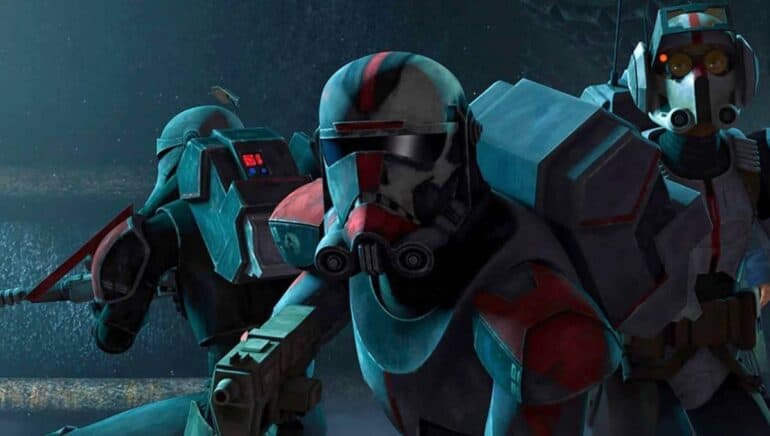 The new animated series follows the rough-and-tumble group of clone troopers known as the Bad Batch- a unique squad of clones who vary genetically from their brothers in the Clone Army.
Each member of this formidable group (which is comprised of Hunter, Echo, Tech, Wrecker and Crosshair) possesses a singular exceptional skill that makes them extraordinarily effective soldiers and a force to be reckoned with, but they are also disobedient and have no regard for orders (as can be seen in the above trailer) and that doesn't sit well with Grand Moff Tarkin.
The show is executive produced by Dave Filoni (The Mandalorian), Athena Portillo (Star Wars: The Clone Wars), Brad Rau (Star Wars Rebels) and head writer Jennifer Corbett (Star Wars Resistance) with Carrie Beck (The Mandalorian) as co-executive producer and Josh Rimes (Star Wars Resistance) as producer. Dee Bradley Baker (The Clone Wars) will voice all of the clones in the upcoming series.
When does Star Wars: The Bad Batch release?
If you are a Star Wars fan (or just looking for something promising to watch) be sure not to miss the premiere of Star Wars: The Bad Batch on Disney Plus come May 4 (also known as Star Wars day). The animated series is set to debut with a special 70-minute episode. Thereafter, a new episode will be released every Friday starting from May 7.
Share your thoughts on the Star Wars: The Bad Batch trailer and the upcoming series in the comments below.