Ever wonder about the Star Wars lightsaber colour meanings? We take a closer look at unique versions of the Star Wars lightsaber variants.
When you ask Star Wars fans about unique lightsaber variants, most people will mention Mace Windu's purple lightsaber, but there is, in fact, many other strange and different versions of the classic Star Wars weapon that have appeared in comics, video games, movies, TV shows, toys and other forms of memorabilia. George Lucas really put in the work with the Star Wars films, making each colour have a different backstory and meaning in the franchise.
As a kid of the '80s, if anyone were to ask me what my favourite weapon was, I'd have to gleefully shout out, "Lightsaber!" There possibly isn't a more recognisable and more elegant weapon out there. Plus, how cool are those sound effects?
It's a "laser sword" that not only carries with it a deep history and lore but, as a symbol of leadership, also says don't mess with me or I'll cut you.
And while these weapons have become part of pop culture, with even my 3-year old being able to recognise Darth Vader's lightsaber, there are some less familiar and unique lightsaber variants of the well-known Star Wars weapon out there.
Star Wars Lightsaber Variants
Before we look at different Star Wars lightsaber colour meanings, let's look at all the variants first.
1. Sabercane
Remember back in the '80s, when the world was fascinated by everything ninja-related, every kid at our school wanted to own a shuriken?
The most prized weapon, however, was the expertly hidden cane sword, as seen in the 1989 movie Blind Fury. For those who aren't as old as I am, the weapon basically featured a standard sword that could to be slid into a shaft that resembles part of a cane, thereby fooling your opponents into thinking that you were unarmed.
The Sabercane follows the same basic premise and allows a Jedi (or Sith) to conceal their weapon during diplomatic missions or just to fool their opponent into thinking they are unarmed. While not many Jedi and Sith are known to have carried these concealable lightsabers, the Jedi Tera Sinube and Sith acolyte Haanzen both wielded a Sabercane.
Haazen used a Sabercane out of necessity, since he was not permitted to possess a lightsaber by the Jedi Council and adopted it as a way to hone his saber skills without their knowledge.
Tera Sinube's Sabercane hilt was made out of wood from his homeworld. The bonus of using the Sabecane was that the shaft of the weapon could also be used for bludgeoning pesky Stormtroopers.
As far as unique Star Wars lightsaber variants go, this one is pretty cool.
2. Lightsaber Pike or Lightsaber Lance
A weapon mostly reserved mainly for Jedi Temple guards during the Clone Wars, the lightsaber pike, also sometimes referred to as the lightsaber lance, closely resembles its medieval counterpart. Although instead of a pointy metal end, the lightsaber pike has a blade that is thicker and shorter than that of a regular lightsaber.
While the fighting style of those using a pike can be nearly identical to that of someone using a double-bladed lightsaber, the latter is far deadlier to both the target and the wielder as one wrong move could result in a missing limb.
One makes the Pike so different from other unique lightsaber variants is that the long shaft was usually constructed out of phrik alloy, a very rare metal and one of the few lightsaber-resistant materials out there.
Of course, the fact that the weapon only has a short lightsaber at the end meant that deflecting loads of incoming blaster fire was near impossible. Luckily, Stormtroopers tend to miss.
Lightsaber pikes mostly came in two types, one fitted with a standard phrik alloy blade and the second making use of a secondary short lightsaber blade (similar to what Darth Maul uses) giving the wielder more offensive options in combat.
3. Lightsaber Tonfa
Mortal Kombat's Stryker looked awesome wielding his dual tonfas (nightsticks/ batons). But, remember how absolutely useless they were in combat due to their short range?
The same can be said for the lightsaber tonfa, which admittedly is probably one of the most bad-ass looking lightsabers on this list. However, wielding them successfully tends to be a lot more trouble than it's worth. That's probably the main reason why we hardly ever see these on the battlefield.
The short perpendicular lightsabers had a second handle extending 90 degrees from the main hilt. These extended handles allowed the wielder to block incoming lightsaber strikes more effectively. Most lightsaber tonfa wielders used a variety of blocking, countering and jabbing techniques, making them deadly in combat.
There have only been two known users in the Star Wars universe for this lightsaber, namely the young Jedi Padawan Maris Brood and Sinya, a Black Sun member.
Unlike other unique lightsaber weapons, the tonfa requires their wielder to get up close and personal with their foe, which can be dangerous if they aren't versed in the use of these weapons.
4. Lightwhip or Laserwhip
Another rare and unique lightsaber variant is the lightwhip or laserwhip.
Functioning similarly to their lightsaber counterparts, lightwhips emit a coherent beam of energy and, unlike the lightsaber's rigid beam, the lightwhips emit flexible beams of energy exceeding several meters in length.
Again, just as in the case of the lightsaber tonfa, lightwhips take a certain amount of skill to use as flailing beams of pure energy can be hazardous to both the wielder and their foe.
Most of the lightwhips found in the hands of both Sith and Jedi tend to be single beamed, although there have been variants with multiple energy beams being emitted from the main hilt.
With its abnormally long reach, defending against a laserwhip attack is difficult, even for a seasoned Jedi Master.
While it was a formidable weapon, its extended length meant that it was weaker than your standard lightsaber weapons. This made successfully penetrating material, such as Durasteel armour, difficult.
Due to this inherent weakness, some lightwhip wielders would include additional tassels, composed of various solid materials, to help increase the weapons damage capabilities.
Lightwhip wielders included the Sith Lady Githany, Dark Lady Lumiya, and even Jedi Master Obi-Wan Kenobi.
5. Double-Bladed Spinning Lightsaber
Probably the weirdest and most unique lightsaber variant on this list, the double-bladed spinning lightsaber was specially designed for use by the Inquisitorius, a group of Dark Side adepts entrusted with enforcing the will of the Empire.
What makes this lightsaber so special is that it is capable of emitting one or two beams of energy.
When both these blades were activated, the hilt would allow them to spin rapidly letting the wielder attack more ferociously while still maintaining a degree of control.
Now, just like some of the other variants, one wrong move or out of place appendage could see the wielder losing a finger or a whole arm.
One big design flaw of the double-bladed spinning lightsaber though is that when the blades are spinning the central part of the weapon is left open to attack.
This means that a swift strike to the main disc could completely destroy the weapon. It's basically a case of a very imitating and scary-looking weapon having one problematic flaw, which when exploited could cut the battle short (quite literally).
Having a glaring flaw in their weaponry is something the Empire seems to excel at. You know, like the thermal exhaust port of the Death Star.
6. Crossguard Lightsaber
Mentioned in Star Wars lore way before Kylo Ren made it famous, the crossguard lightsaber design goes back to the Great Scourge of Malachor — a battle which took place between the Jedi Order and the Sith Empire on the planet of Malachor.
While the weapon might not look as outlandish as some of the other unique lightsabers on this list, it is considered a very rare weapon.
Looking very similar to a medieval great sword, the crossguard lightsaber consisted of a primary blade and two power vents known as quillons. These quillons (vents) acted as a method of expelling excess raw energy from the central blade.
Now, you might ask why these burst of raw energy does not disarm the wielder? To protect the user's hand (and appendages) the quillons each made use of an emitter shroud.
In the case of Kylo Ren's lightsaber, the quillons played an even more important role as his weapon makes use of a cracked Kyber crystal (these give the lightsaber the ability to emit energy beams).
This means that the vents also helped expel and divert extra heat generated by the crystal.
Besides Kylo Ren, Jedi Roblio Darte also wielded a variation of the crossguard lightsaber, which had only one vent instead of the more familiar two. Ezra Bridger also finds and ignites a crossguard lightsaber in Star Wars Rebels.
7. Lightclub or Greatsaber
As the old saying goes, "If you can't beat them, then beat them to a pulp with an even bigger weapon".
The aptly named lightclub, or the greatsaber, functions similar to a regular old lightsaber, except that it can have a blade of up to three meters in length. Who says size doesn't matter?
First used by the Revanchists during the Mandalorian war, these absolutely huge lightsabers were able to emit such long blades due in part to special focusing crystals. They were developed to help cut through Mandalorian iron, an extremely durable material.
Being so large in size, the lightclub lightsaber is a unique weapon only used by those skilled enough (and strong enough) to manage its overwhelming size. As can be expected, those large enough to wield these weapons preferred a more aggressive fighting style, basically beating their foes into submission.
The mutated Gamorrean Dark Jedi Gorc was famous for using a lightclub, which perfectly complemented his love for fighting.
8. Protosaber – Back To Its Roots
Every great invention usually starts with a not so great prototype, and the lightsaber is no exception. These protosabers made use of an external power pack connected to the saber's hilt.
Not only were they difficult to use (as trying not to cut your own power cord was sort of essential), they tended to run out of power fast, limiting their effectiveness. Although being really unpractical and limiting the user's mobility, these primitive lightsabers still packed a punch, unlike anything else seen by the Jedi or Sith before.
Protosabers were widely used during the Hundred-Year Darkness and Great Hyperspace War by both Jedi and Sith. Naturally, just like your shiny new iPhone 8 will eventually be replaced by the bigger and better iPhone 9 so too was the Protosaber replaced as improvements in technology and materials meant smaller power sources.
While the lightsaber (and its unique variants) quickly replaced the protosaber, there were still those that kept using upgraded versions of the old design called retrosabers. These weapons, while still retaining many of the protosaber's weaknesses (such as the external power pack), had the ability to emit a short power surge, creating a more powerful blade for a short period.
Kksssshhhh. Vrãu, vrãu. Psssssssss. THAK. Ffffkrrrrshhzzzwooooom… woom… woooom…
The Meaning of Each Star Wars Lightsaber Colour
Now let's look at the different Star Wars lightsaber colour meanings.
Beyond the simple explanation of "Blue Blade = Good Guys & Red Blade = Bad Guys," there's a lot of meaning behind the colour of each lightsaber in the Star Wars movies. Inseparable companions of every Force user, these elegant weapons are amongst the galaxies' most coveted arms.
Yoda having a green lightsaber or every Sith Lord wielding a red one aren't just mere coincidences, either. Since every Force user has to create their own lightsabers, there's a lot of the users' souls imprinted into these mystical weapons.
Let's take a look at the meaning each colour in the lightsaber spectrum represents and how they fit in the larger Star Wars mythos.
Star Wars Purple Lightsaber
One of the rarest lightsaber colours, there are very few purple lightsabers in the Star Wars lore. One of the most iconic as the one wielded by Mace Windu (Samuel L. Jackson) is a Jedi Master renowned for his strength and combat prowess. Behind the scenes, the purple colour was chosen because it was actor Samuel L. Jackson's favourite colour – but in the Star Wars movie universe, nothing happens without a reason.
Built by Windu in his youth, this unique lightsaber used an amethyst-coloured kyber crystal that gave the weapon its peculiar pigmentation. According to most basics of colour theory, purple is usually seen as a combination of blue's calmness and red's fieriness; this means that Windu's lightsaber could represent his skills as a Force user and his impressive physical combat skills.
Jedi Master Mace Windu isn't the only Star Wars character to wield the purple blade. An'ya Kuro and Jaina Solo Fel also do.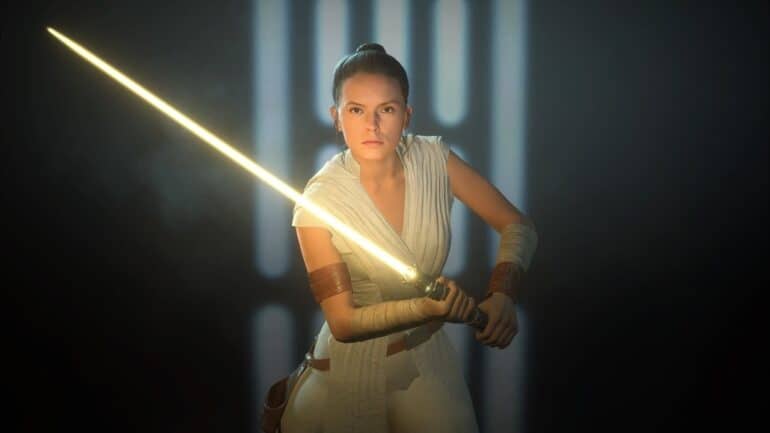 Star Wars Yellow Lightsaber
Another rare blade colour (often seen with Jedi Sentinels), there's only one known use for yellow kyber lightsaber crystals, and that's to make lightsaber pikes. These weapons were used by the Jedi Temple guards: an elite force that was tasked with protecting some of the Jedi's most sensitive knowledge.
Due to its connections to the Jedi Temple guards, yellow has often been seen as a colour denoting servitude in the Star Wars universe. In the Expanded Universe, an ancient Jedi managed to purify a kyber crystal that was corrupted by a Sith, turning it yellow in the process. This could also mean that a yellow blade denotes purity or casting away one's own ambitions.
Popular characters who had yellow sabers include Jedi Temple Guards, Tyvokka, Plo Koon and even Luke Skywalker.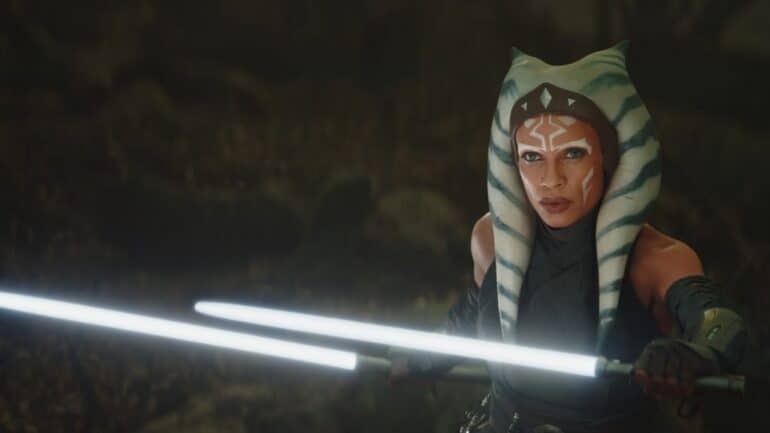 Star Wars White Lightsaber
Speaking of purifying crystals, Ahsoka Tano managed to achieve this with two red blades. The result was two uniquely coloured white lightsabers that she wields into battle. The lack of any discernible colour might look a bit bland, but it's a perfect representation of Ahsoka's state of mind.
Having cast aside the Jedi and refusing the Sith's temptations, Ahsoka's white lightsabers represent her lack of any discerning affinity to either side of the Force. In a way, she's a balanced Force user who walks the thin line between two powerful forces, so it's only natural that she had to wield two lightsabers.
In Star Wars Legends, formerly known as the Expanded Universe (abbreviated EU), Imperial Knights also carried a white saber, showing their connection was simply to do with duty and not a personal side of the force.
Star Wars Black Lightsaber (Darksaber)
A blade passed down through combat in Mandalorian lore, the Darksaber (which goes back to the time of Tarre Vizsla) is a pitch-black lightsaber with a short blade and a thirst for blood. Created by the first Mandalorian, Tarre Viszla, this unique lightsaber bears some resemblance to a real-life sword, namely its tip and the blade's edge.
The Darksaber plays an integral part in the lore of the new Expanded Universe, with the weapon appearing in the popular The Mandalorian show. Its unique colouration denotes not only its lethality but also sets it apart from the other lightsabers we've seen, perhaps reminiscent of the blade's shadowy status.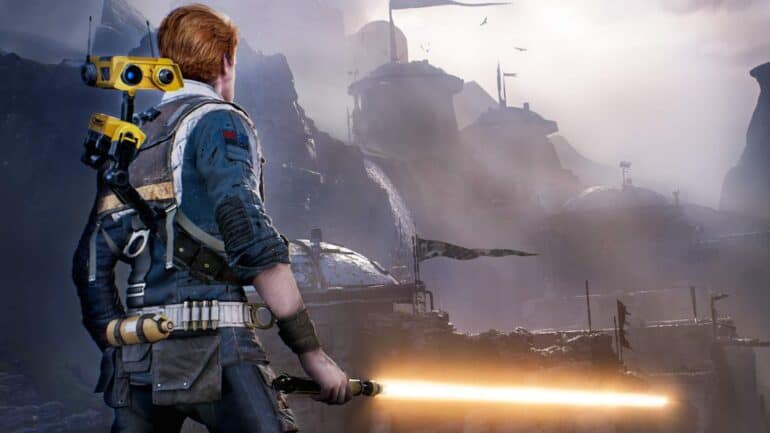 Star Wars Orange Lightsaber
Orange blades aren't just a rarity in Star Wars lore: their canon status has been the subject of debate over many years, until the video game Star Wars: Jedi Fallen Order was released in 2019. Before then, non-canon appearances of an orange lightsaber were seen in the hands of Jedi Master Plo Koon, who died during the Order 66 betrayal.
This colour has never been linked to the Dark side, despite its close relation to the colour red. When a Jedi, or some other Force user, crafts a lightsaber, they imprint some of their spirits into the blade's kyber crystal. For this reason, orange lightsabers, as they are a hue of yellow, can be seen as the colour of choice of peaceful and dutiful Jedi.
Some characters who wield orange sabers include Cal Kestis (video game Star Wars Jedi: Fallen Order), Chancellor Palpatine (Revenge of the Sith) and Yaddle (The Phantom Menace).
Star Wars Green Lightsabers
One of the most popular lightsaber colours in the Star Wars universe, green is a calm and peaceful colour that reflects its user's wise and reserved nature. Famous Jedi who have been seen wielding a green saber are Qui-Gon Jinn, Luke Skywalker, and Master Yoda.
The Jedi Order is a complex organization that goes beyond Knights and Masters. Once a Jedi ascended to the Jedi Knight position, they were given the chance to become either a Jedi Consular, a Guardian, or a Sentinel. Green lightsabers were the colour of choice for Jedi Consulars: a select group of warriors that chose to reflect on the mysteries of the Force.
Consulars were seen as the diplomats of the Jedi, achieving their victories through non-violent confrontation instead of outright strength. That's the reason why we usually see green lightsaber wielders being seen as the voice of reason in the Star Wars movie universe. These skilled mediators rarely unsheathe their blades and would rather use the Force to influence the minds of their opponents.
Luke Skywalker's famous green lightsaber first appeared in the 1983 film Star Wars: Episode VI Return of the Jedi.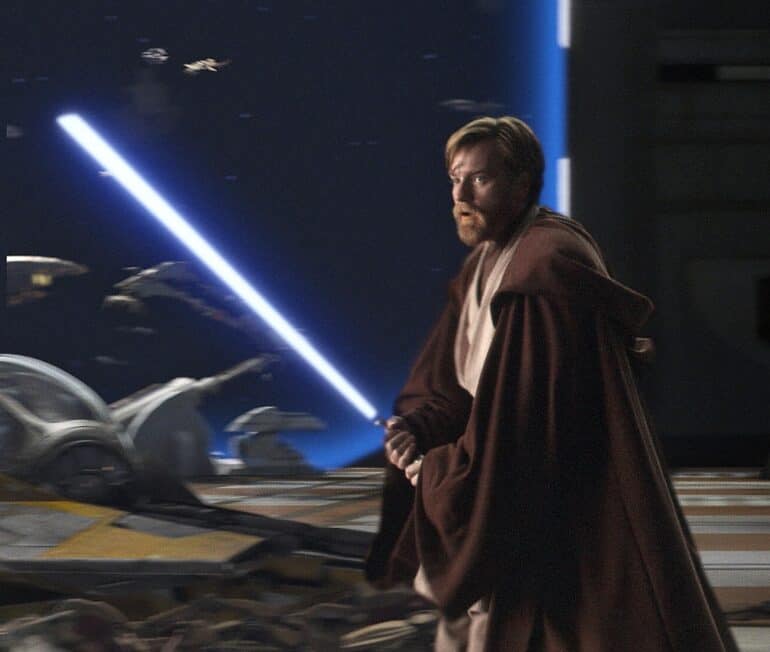 Star Wars Blue Lightsabers
When most people think Star Wars, one of the first images that will pop into their minds is that of two swordmen, one with a red lightsaber (often used by the dark side users) and another with a blue one (often used by the light side users), clashing blades. The "duel of fates" between blue and red lightsabers goes as far as the beginnings of the Jedi Order and is a strong visual representation of the clash between the Dark and the Light Sides of the Force.
But have you ever wondered about the actual meaning of the more common blue blade and what the colour represents?
Many powerful Jedi have used a blue lightsaber, including Obi-Wan Kenobi and Anakin Skywalker (first appeared in Star Wars: Episode II Attack of the Clones). The colour is usually associated with Jedi Guardians, and it symbolises their strong resolve to fight the followers of the Dark Side of the Force.
Jedi Knights who used a blue lightsaber usually did it to signify their mastery over the physical aspects of the Force. A blue kyber crystal wasn't all that uncommon, making this one of the most popular lightsaber colours among members of the Jedi Order.
The most popular blue lightsaber belongs to Luke Skywalker. First owned by Anakin Skywalker and then passed on to Luke, the weapon is then officially Rey's by the time of The Rise of Skywalker.
Star Wars Red Lightsabers
The preferred colour of every Sith Lord and other dark forces, the red hue of a Sith lightsaber holds more significance than any other colour in the lightsaber spectrum. One thing to keep in mind when it comes to the kyber crystals that fuel every lightsaber is that they're technically living beings. The Force flows through them, so they can also be corrupted by the dark powers of a Sith Lord.
These crystals are usually unresponsive when held by Dark Side acolytes, so their wills must be broken through a process known as "bleeding." Using the Force, a Sith corrupts the crystal to the point it begins to emit a blood-red glow, which gives Sith lightsabers their characteristic pigmentation.
Red kyber crystals are imbued with negative emotions (pure hate, rage, fear, pain and the sinister nature of their wielder), and they're also a proper representation of its owner's unbridled passions. Some kyber crystals break during the bleeding process, which makes the lightsaber's blade appear distorted. This is what happened to the crystal found in Kylo Ren's iconic tri-pointed lightsaber – a saber that, appropriately, was green before it bled.
Some of the famous characters who have red blades are, of course, Darth Vader, Darth Maul, Darth Talon, Depa Billaba, Barriss Offee, Count Dooku, Darth Sidious, Asajj Ventress and many others.
Synthetic crystals (Synth-crystal or synthetic kyber crystals), which are artificially created, also have red colouration — although they too can be manipulated to other colours.
In pop culture, the red-bladed lightsabers are arguably just as popular as blue ones.
Star Wars Magenta Lightsaber
In Star Wars canon, the magenta or pink lightsaber is very rare. Constructed by Mara Jade from a rare crystal given to her by Emperor Palpatine, she uses it when she becomes the Emperor's Hand. Mara Jade used this weapon throughout the Galactic Civil War.
The pink or magenta lightsaber can also be seen in the Star Wars Jedi: Fallen Order video game. The game's protagonist, Cal Kestis, may optionally wield a magenta-bladed lightsaber.
And that's the meaning behind the different lightsaber colours in the Star Wars franchise. Don't be surprised to see even more variants as the Star Wars saga continues to expand.
Summary of Star Wars Lightsaber colour meanings
Colour
Meaning
Users
Blue
righteousness & bravery
Anakin Skywalker, Obi-Wan Kenobi
Green
harmony, helpfulness, cooperation
Yoda, Qui-Gon Jinn
Red
hate, fear, and other negative emotions
Darth Sidious, Darth Vader, Kylo Ren
Purple (Amethyst)
moral ambiguity, uncertainty, and reconstruction
Mace Windu
Black
leadership for Mandalorians
Pre Vizsla
White
an autonomous individual
Ahsoka Tano
Yellow
pious nature
Asajj Ventress, Rey
Orange
no backstory
Cal Kestis
Magenta
no backstory
Mara Jade
Cyan
no backstory
/
Indigo
no backstory
Disney Unveils A "Real" Retractable Lightsaber
Star Wars fans rejoiced when Disney revealed what looks like a real lightsaber in a recent 13-second clip promoting Star Wars: Galactic Starcruiser at Walt Disney World Resort on Star Wars Day.
Ever since the franchise launched in 1977, Star Wars fans (both young and old) always wanted to get their hands on their own lightsaber. The "elegant weapon for a more civilized age" is one of the most famous props in movie history.
Unfortunately, you'll never get to actually tough that Jedi weapon — even if you spend a whopping $6,000 to stay at the expensive Star Wars hotel. It seems nobody is actually allowed to handle the lightsaber replica, aside from the actors involved.
"Unfortunately, that lightsaber isn't for guests to use or purchase. It's strictly for use by the performers," Disney revealed to IGN. Guests will be given a different high-end lightsaber replica with a fixed blade instead.
Still, there are many other really great options if you're looking for a very cool and ultrarealistic lightsaber.
Forget the plastic toys. Saberforge.com offers high-end custom lightsabers (custom sabers, handbuilt lightsabers and new lightsabers) that look like the real deal and have realistic lightsaber effects (sounds, lights and colours). So does ultrasabers.com. Between the two options, you're bound to the best lightsabers money can buy. You'll truly feel like a Jedi with a custom saber in-hand.
Guinness World Records Honours Russian Youtuber For Retractable Lightsaber
Russian Youtuber Alex Burkan, who heads up the Alex Lab channel, has been recognised as the inventor of the world's first retractable lightsaber. His Star Wars-inspired invention mimics the Jedi weapon and is even able to cut through steel.
After hundreds of experiments, Burkan was able to create a lightsaber — a plasma blade (3 feet in length) that burns at a temperature of 5 degrees.
"The key component of my lightsaber is an electrolyzer. An electrolyzer is a device that can generate a huge amount of hydrogen and oxygen and compress the gas to any pressure without a mechanical compressor," Burkan told Guinness World Records.
The Youtuber pointed out that the lightsaber was still in the early stages of development — it only works for 30 seconds at full power and "the hydrogen torch is not as stable as it could be".
Which is your favourite unique Star Wars lightsaber? Did you know these Star Wars lightsaber colour meanings?