DK (Dorling Kindersley) publishing are masters of over-sized coffee table-styled reference books. These cover a range of topics, which include one of my favourites: Star Wars. One of their latest additions, the Star Wars: Complete Vehicles, is a behemoth to behold and hold.
The large-format Star Wars: Complete Vehicles book contains almost all of the vehicles from the six Star Wars feature films, including Zam's Airspeeder and Solar Sailers. Each vehicle (ships and walkers) feature a hand-drawn cut-away of different sections. These are used to illustrate engines, weapons, canteens, quarters and more. Some ships are also slightly disassembled to show more detail on the vehicle.
Sure, you'd be able to find that in a range of books, but what I like about each page is the inclusion of information blurbs. These blocks of text give you a brief history of the ship, what battle it was used in, why it came to be, and more. It's not the same for each vehicle, but they fit their given subjects.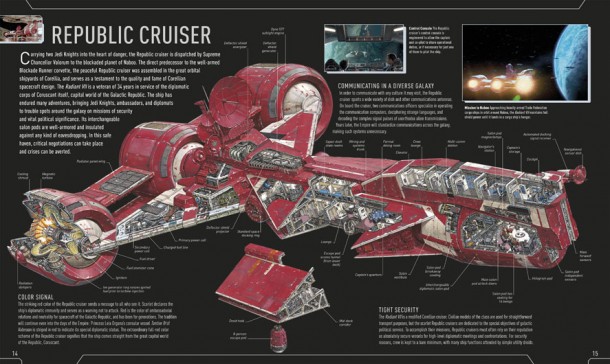 The forward in Star Wars: Complete Vehicles, written by John Knoll (visual effects supervisor on episodes I-III), gives some interesting detail on the people behind the different designs, and how technical creators and artists had to work together to achieve their goals.
Star Wars: Complete Vehicles is a hardback book and printed on high gloss pages. The print quality is rich and brings each image – photo & drawing – to life. It's easily something you will "ooo" and "aaah" over in years to come. I often find UK publishers to use inferior adhesive when binding hardback books, which will eventually fall apart after a few years, but not DK. After a few stress tests everything is intact and none of the pages have shifted at all. It's a pleasant surprise and show's a lot of effort was put into the title.
While the Star Wars: Complete Vehicles book claims to be a complete guide on Star Wars (movie) vehicles, I found a lack of information on the Super Star Destroyer ships. The pages give information on Luke's uncle's speeder, but the imperial behemoths are only mentioned here are there. This gives the book a somewhat unfinished feel and hints that the "complete" guide is far from it; it loses a star because of this.
Barring the omission of a few ships, the Star Wars: Complete Vehicles guide is well worth the investment for any Star Wars fan out there.
All images owned by Dorling Kindersley