It's been nearly 40 years since writer J.M. DeMatteis last brought his skills to the Star Trek universe, but if there was ever a story to come back for then Star Trek: Hell's Mirror is it!
For decades, Khan Noonien Singh drifted through space, held in suspended animation aboard the sleeper ship Botany Bay. Earth's greatest Augment, the genetically altered Khan fled from a planet that rejected his superiority. And while he slept, the Earth grew and expanded outwards… not joining with other worlds as a part of the Federation, but instead emerging as the dominant centre of the evil Terran Empire.
Aghast at the corrupt, uncivilised universe he now finds himself in, Khan leads his fellow Augments in revolt against this brutal dictatorship. Hoping to free the countless enslaved alien worlds, his conflict brings him into battle against the Terran Empire's most lethal and cruel captain: James T. Kirk. Can Khan, now allied with Spock and wielding control of a powerful secret weapon, overcome his most hated adversary and restore peace to the Mirror Universe?
The one area of Star Trek's mythology over the decades that's fascinated and terrified fans the most since the original series is the Mirror Universe – the parallel timeline where evil rules supreme. In the Mirror Universe the heroes are villains, the peaceful Federation is the cruel Terran Empire, and the only way to survive is to kill or be killed. It's the warped dark side of Star Trek, and finally, we're given a glimpse of what Mirror Khan – normally known as the galaxy's most feared villain – would be like in that universe.
Naturally, in this existence where the roles are generally reversed, he's now the good guy… but don't expect him to be too good. He still has the same swagger, single-minded purpose and boastful (and arguably rightfully deserved) arrogance that makes him instantly identifiable as being the same old Khan. His nature hasn't changed even if his outlook has, and it's this fact that sells a great deal of the story and feels the most genuine. It doesn't hurt that Mirror Kirk, by contrast, is as cold and ruthless as expected and the character dynamics between them are a good reflection of what fans know.
Unfortunately, this story has two things holding it back from achieving the level of brilliance that readers may have been hoping for though: the art, and the short length of the story itself.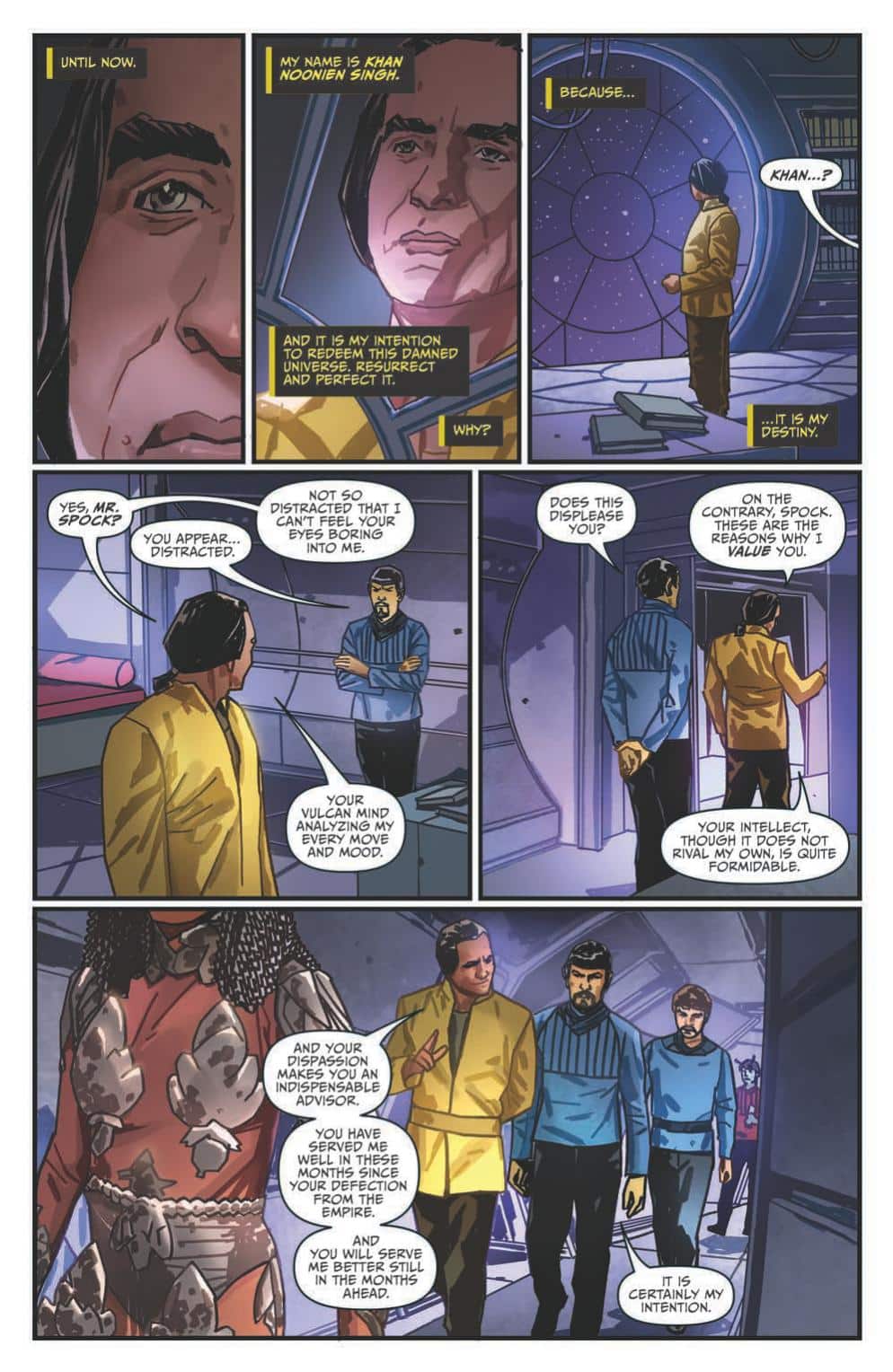 The art itself isn't actually bad, and Matthew Dow Smith has to be commended for capturing the essence of the characters in their postures and movements. Their looks echo those of the original series, making it easy to imagine this playing out on screen as an actual episode, and the scene transitions move smoothly; however, a cleaner art style with more definition and attention to the smaller details would have complimented the story better.
Meanwhile, the limited page count also means that there's too much story left unsaid and unexplained. Ideas and moments are rushed, robbing them of their full impact, while Spock – a pivotal figure, especially in light of the events of Mirror, Mirror – is underutilised. With such a limited page count and so much time spent on narrative setup, there's little time for things to play out more naturally, for themes to be explored, and for Kirk and Khan to form any sort of bond. The core idea and the chance to see Mirror Khan is so tantalizing for fans, and a whole lot more would have been welcome. You can sense a far bigger story lying behind what's happening, being restrained from breaking out.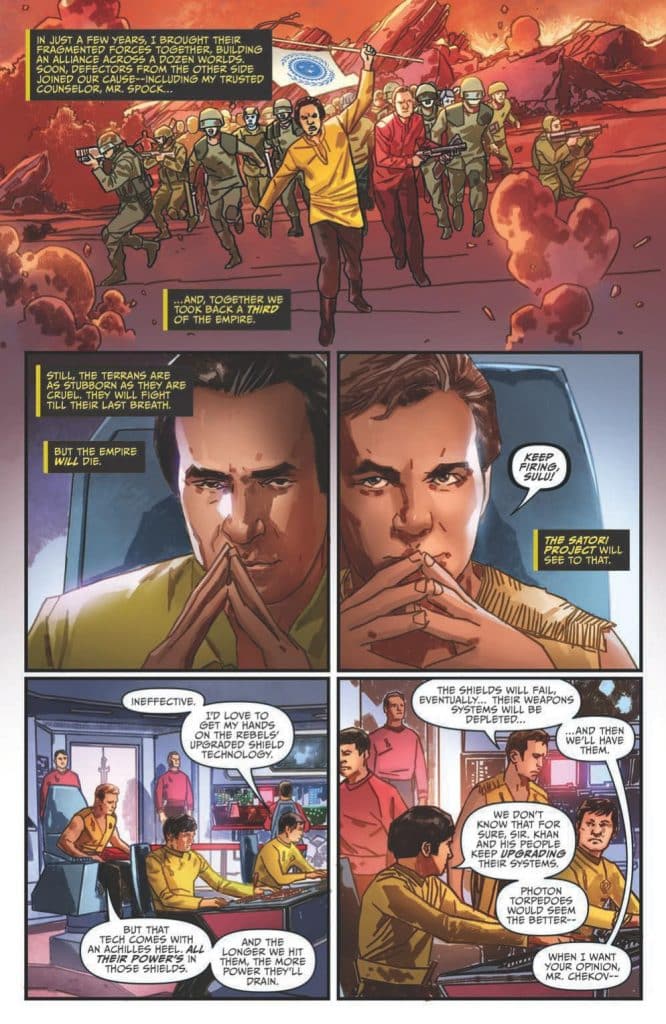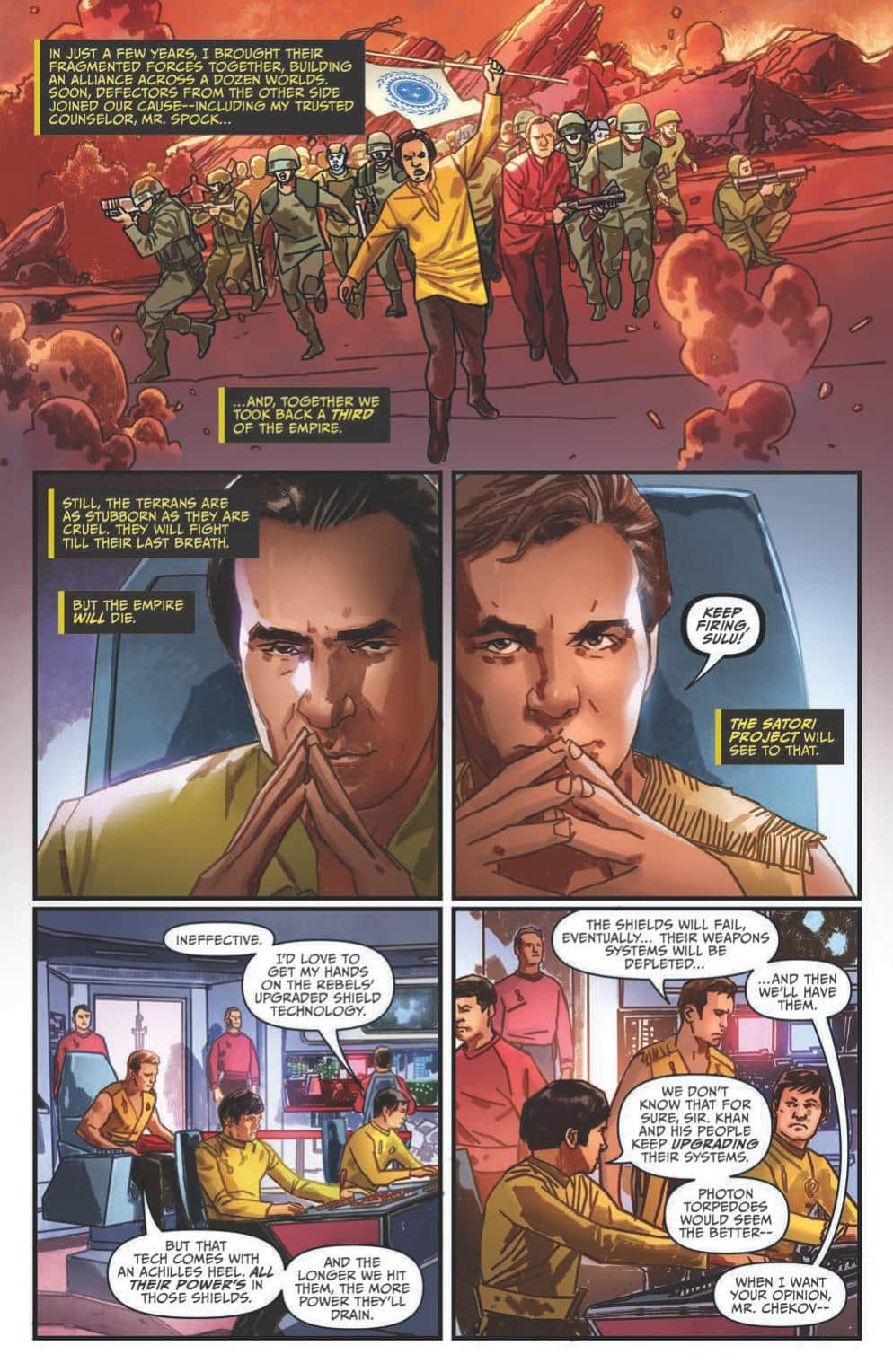 As it is, Star Trek: Hell's Mirror is still an incredibly fun and typically twisted jaunt into the Mirror Universe. There's a bad habit with many Mirror Universe stories to heavy-handedly overdo the "opposites", but here it plays out subtly and is all the better for it. There are plenty of intriguing parallels that play out and a lot to mull over once it's all done, along with a fair amount of jaw-dropping moments. Like Khan himself, this is a thinker first and foremost… but when it comes to action, it doesn't hold back. Thankfully, it's also very much in the writing style of classic Star Trek too, so don't expect profanity-laden rants because this reads like the real deal.
While it may not be everything that readers might have hoped for, it's still one of the best Star Trek stories in recent memory and light years ahead of anything currently on the small screen.
Star Trek: Hell's Mirror is worth chasing around the moons of Nibia, the Antares Maelstrom and Perdition's Flames to get a hold of.
The Review
Star Trek: Hell's Mirror
A brief taste of something special.