What else can you say about Netflix's immensely successful series Squid Game that hasn't been said before? It seems like this wonderfully dark show is everything social media is talking about, and it gave Netflix one of its most culturally-relevant shows in years.
Created by the South Korean filmmaker Hwang Dong-hyuk, Squid Game took everyone by storm with its gripping plot and shockingly violent setting. One might think that this show, like many other of Netflix's productions, was always destined to be a multi-season affair.
The truth, however, is that the story behind the Squid Game show is as fascinating as its deadly plot.
That's why in this list, we'll take a look at 10 things you probably didn't know about Netflix's Squid Game.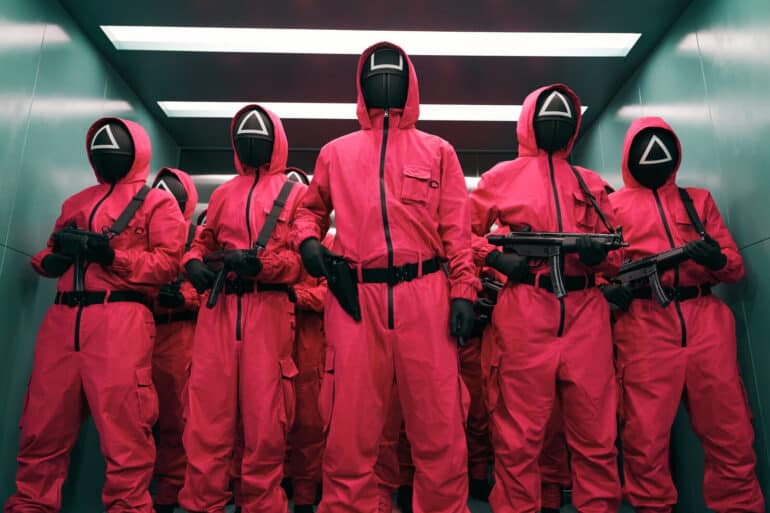 10. Years in the Making
The idea behind Squid Game is nothing new. Hwang came up with the basics of the story in 2008 when he was going through a tough bout of financial problems. After failing numerous times to secure funding to make a film, Hwang, his mother, and his grandmother all had to take out loans to make ends meet.
During this time, the filmmaker would usually read Japanese manga like Gambling Apocalypse: Kaiji and Battle Royale. It was then that he also discovered Suzanne Collins's The Hunger Games book series, and wanted to create something similar to those stories that also included the economic reality of South Korea.
It wasn't until 2019 that Netflix formally announced that they would be producing Squid Game, following the platform's massive success in Hwang's home country.
"I'm good at everything, except the things I can't do." – Mi-Nyeo
9. A Show or a Movie?
One of the reasons why Squid Game works so well as a self-contained miniseries is because it was always meant to be a movie rather than a show. While many of Netflix's shows use cliffhangers to keep audiences hooked for the next season, Squid Game ended in a pretty satisfying way that should please fans even if there's no season two.
Of course, transforming the story from a movie to a show meant that the plot needed to be more complex than before. For Hwang, that meant fleshing out the games and adding more characters into the mix.
Characters like Hwang Jun-Ho, a police officer who sneaks into the games disguised as one of the guards, were added to extend the show's tension. It also added a much-needed subplot to the show, as Hwang knew that it would be nearly impossible to focus the show solely on Gi-hun.
8. Not Done Yet
With the massive popularity of Squid Game and its change to a serialized format, it's clear that Netflix intends to continue Hwang's story beyond what we saw in the first nine episodes.
That said, the show's creator might not be all that excited about continuing the series. Hwang mentioned that the stress he endured while working on the show's script was unlike anything he's ever been through. He even lost six teeth during the process due to excessive stress!
Despite that, Hwang has said that he's open to the possibility of a second season, even though there are no plans for it yet. However, this time he'd be using a writing team to help him flesh out the story. Whether this would affect the overall quality of the show remains to be seen.
"This is Hell. What are the rules in Hell?" – Deok-Su
7. Meaningful Casting
From the very beginning, the production team knew they wanted Lee Jung-jae to play the lead character of the show, Gi-hun. However, Korean fans might have been more than a bit shocked by this choice in casting, as Lee is better known for his good looks and mellow romantic films.
That's precisely why it was necessary for him to be cast as Gi-hun, because audiences wouldn't expect to see him playing such a character. This might be part of Squid Game's recurring theme of deceitful appearances, as we saw during each of the show's deadly "games."
6. Smells Like Dalgona
Among the many games played in Squid Game, none of them have proved more popular than Ppogi, the one they play in the show's third episode. This children's game involves players perfectly cutting a stamped shape out of a honeycomb candy cookie in less than 10 minutes.
In South Korea, dalgona was a popular snack during the 70s and 80s and is still considered a delicious retro snack. Made with just sugar and baking soda, the simplicity of the candy made it popular among street vendors.
Since the show's release, dalgona has seen a rise in popularity, and not only in South Korea, but all over social media and the rest of the world.
Of course, the prize for successfully winning a game of Ppogi in real life isn't as spectacular as it is in the show. Most street vendors would gift winners a second candy if they managed to carve the shape without breaking the cookie.
Hwang remembers playing this game as a kid and even had Gi-hun use his strategy of licking the dalgona in the show.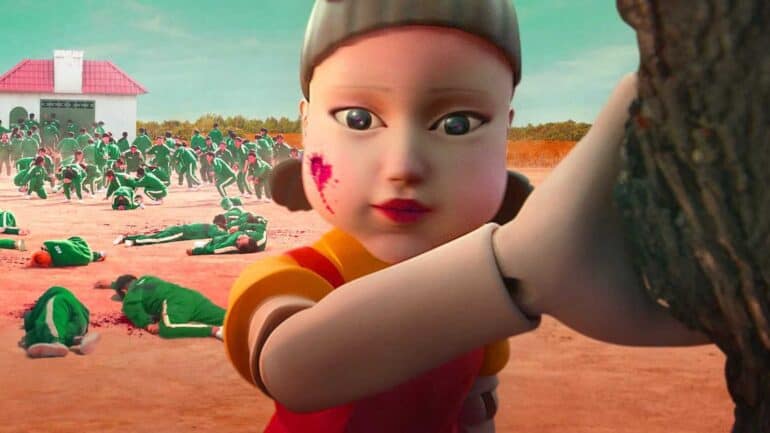 5. That Real Creepy Doll In Squid Game
If there's one moment that truly set the stage for what Squid Game was to become, that was the reveal of the giant creepy doll seen in the show's first episode. This statue marked the overall tone of the series as a combination of innocent children games, and deadly slaughter.
The doll was inspired by several textbook illustrations that could be seen in South Korea during the seventies and the eighties – which would be the lead characters' younger years.
However, the doll that's seen in the show is a bit more than simply a CGI creation: it's a real-life statue that you can visit even today  – if you dare.
Three hours north of Seoul, in Jincheon County, lies Macha Land. This horse carriage museum might not be all that interesting for fans of the ultraviolent Squid Game, but they'd be more than pleased to discover that the giant doll from the show is there, guarding the museum's entrance.
The statue itself was made before the show, and the production team simply borrowed it for filming. The doll is now back to its original location in Macha Land – minus a hand, that it seems to have lost at some point during its journey.
"You don't trust people here because you can. You do it because you don't have anybody else." – Gi-Hun
4. Against the Status Quo
It's no secret that Squid Game is an allegory to a hyper-competitive capitalist society. The idea behind the show is that people will do whatever it takes to survive and to become financially stable, consequences be damned.
This theme is reinforced throughout the show as many of the sets and props involve some sort of hierarchy that reflects how status works in real life. That's how we end up with a dormitory that looks more like a warehouse, and with the drones that oversee the entire games.
In Squid Game, those who rise above the rest are given more freedom than their peers. This is the reason why all of the guards use the same featureless masks, excepts for the ones in charge, who wear masks that resemble a face, human or otherwise.
3. A Matter of Scale
Ever noticed how massive everything in Squid Game looks? Every prop looks to be larger than their real-life counterparts, particularly the schoolyard games and the colourful stair rooms.
This, of course, was made on purpose by the production team. The idea was to evoke the world view of a kid in school when the world seems like a much larger place. It also gives the show an eerie, supernatural look that's hard to match or even to describe.
Originally, Squid Game would have included even more child-like references. For starters, the guards would have used boy scout outfits, but Hwang wasn't all that convinced by the looks. In the end, they settled for the now-iconic red jumpsuit look and added masks that look like an ant's face to complete the costume.
"We've already come too far to end this now." – Sang-Woo
2. Wrong Number
In the show's first episode, several contestants receive a card with a phone number they should call if they wish to participate in the games. Unfortunately, this eight-digit number follows South Korea's real phone number conditions – unlike Hollywood's 555 numbers.
This meant that the number in the card actually belonged to someone in the country – and that someone is a man living in the Gyeonggi Province. This man (whose name remains a secret to protect his identity) claims to have been receiving phone calls asking him about the games continuously.
Unfortunately, the phone number is tied to his business and he's been using it for ten years, so there's no way that he'll change it. There have been some offers to buy the number from the man, including a bid made by a South Korean presidential candidate, who's offered to pay $85,000 for the number.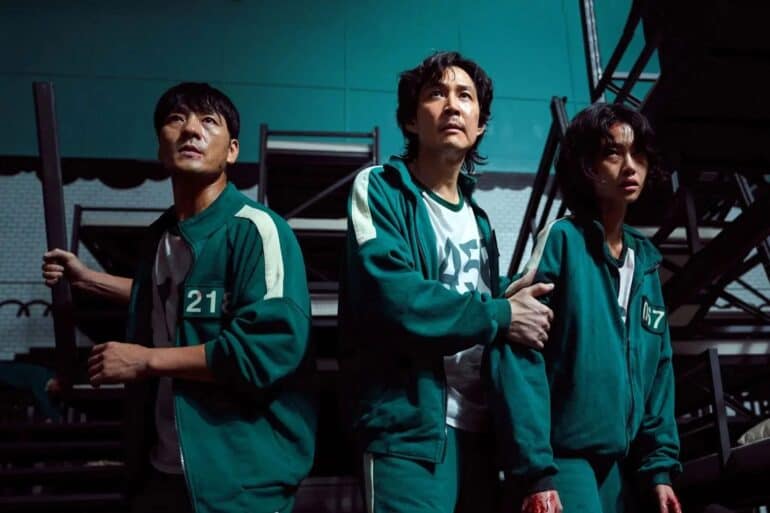 1. Behind the Squid Games
Preparing the games for Squid Game took a lot of behind-the-scenes planning. We've previously mentioned only two of the show's games, but what about the rest of the trials?
For example, in the tug o' war game, the production designed a machine that would pull an end of the rope, so the actors would need to actually struggle for the scene.
The glass bridge game set was made on a platform that was over one meter high – more than enough to cause real distress in some of the most acrophobic actors.
The final game, which is the titular "squid game," was chosen because it was one of Hwang's favourite games as a kid. The director says that not only is the squid game physically intensive, but he also sees it as an analogy of societal struggle seen through the eyes of a child – which just so happens to be most of the show's premise.
Tell us, are you excited for season 2 of Squid Game?