Details about the post-credit scene of Thor: Love and Thunder have been leaked just days before its release.
Excitement is mounting as we count down the days to the release of Thor: Love and Thunder across the globe, however, it appears that several details on both the movie and the post-credit scene have been released just ahead of schedule.
Thor: Love and Thunder features Thor on a bit of a self-discovery journey, a quest for inner peace. This quest through the galaxy is suddenly interrupted by the appearance of a galactic killer known as Gorr, the God Butcher. Gorr seeks the annihilation of all gods, no matter the pantheon. Thor fights alongside past allies and new, such as King Valkyrie, Korg, and ex-girlfriend Jane Foster. To Thor's surprise, Jane is able to wield his hammer, Mjolnir, and is now the Mighty Thor. Together they all embark on an adventure to understand the mystery of the God Butcher, why he wants to annihilate all gods, and to stop him before it's too late for all of them.
The Post-Credit Scene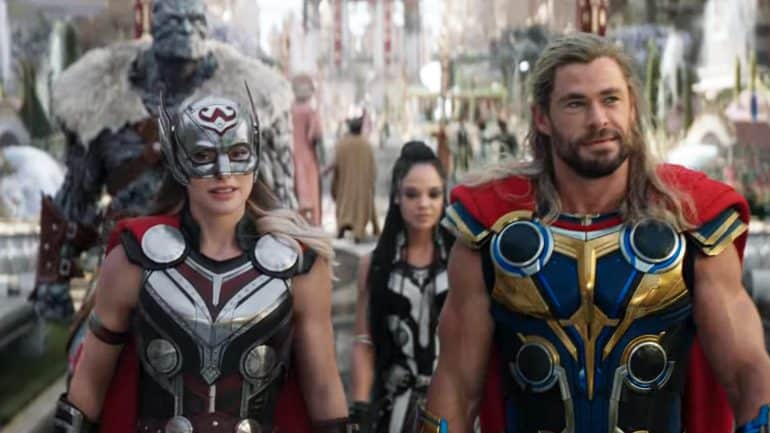 The post-credit scene itself was not leaked. However, key details on it were — revealing that the Marvel Cinematic Universe plans to use the post-credit scene to introduce a new major character that has been rumoured to be joining for a while.
In the final scene, Zeus who is played by Russel Crowe is recovering from his massive fight with Thor earlier in the movie and is lamenting humanity and how it has strayed too far from caring about the existence of gods. He resents that it seems that all humanity really cares for is superheroes these days. The final moments of the movie introduce Brett Goldstein as Hercules as Zeus tasks Hercules with bringing gods back to the attention of humans, making them love and respect them once again.
Hercules in the MCU
Hercules first appeared in the Marvel Cinematic Universe in Avengers #10 in 1964. Much as Stan Lee adapted the Norse pantheon to create characters in the MCU like Thor, Loki, Hela, and Odin, so too were the Greek gods adapted into comic book superheroes.
A merge between the legends of old and a superhero, Hercules has all the superpowers one would expect of son of a god. He has superhuman strength and durability, superhuman speed and reflexes as well as stamina and endurance. He may not command thunder like Thor can, but he will no doubt be a good match for the beloved Norse god of thunder.
With Zeus having fought Thor in Thor: Love and Thunder, and Hercules seeming to have powers that are a good match for the god, it wouldn't be surprising if the next Thor sequel culminated in an epic battle between Thor and Hercules.
Although it's not surprising that the Greek pantheon is included, there has been no evidence of their involvement in the Marvel Cinematic Universe until present. What other gods could be waiting to be revealed in upcoming Marvel Movies?
Are you excited about the Thor: Love and Thunder post-credits scene?