When it was first announced that Insomniac Studios would be making a new Spider-Man game, many fans were cautiously excited. Not because we didn't think that Insomniac was up to the task, but rather because most games based on the Web-Head have been, at best, just okay in the past few years. After the success of the Arkham series of games, kudos to RockSteady, fans were patiently waiting for Marvel to give Spidey the game he deserves. Well, did Insomniac pull it off? Does Spider-Man's latest outing prove that, just like the Arkham games, superhero games have the potential to not only be good but amazing?
I immediately found refreshing that Insomniac's take on Spider-Man skips the classic origin story. No Uncle Ben dying (spoiler), no figuring out his powers for the first time, or trying to cope with going to school and being a superhero. This version of Spidey has been on the job for a few years now, he's comfortable with his abilities, seems to know his limits, and made peace with the fact that with great power comes great responsibility. However, as we all know, this isn't all rainbows and butterflies for Peter Parker (when has it ever been?). He and Mary Jane have broken up, he's working at what seems to be a dead-end job and as always finds himself in dire financial straits. You know, typical Spider-Man stuff. But even through all this, old Pete keeps a smile on his face, because life could be worse, couldn't it? Yes, it can and it will.
I don't want to say too much about the game's narrative for fear of spoiling its many twists and turns, but let's just say that it doesn't take long for the proverbial spiderweb to hit the fan. We all knew that Mr Negative featured prominently in the game, but in the shadows, there is trouble brewing that could end up changing Peter's world forever. The story kept on surprising me with new twists and turns; some which were genuinely unexpected and truly heart-wrenching at times.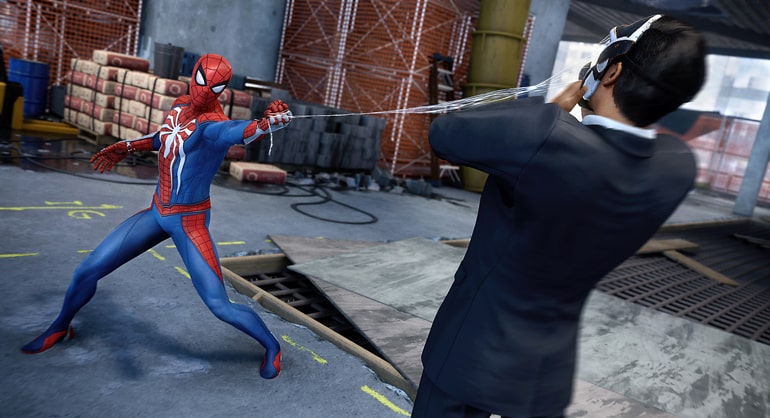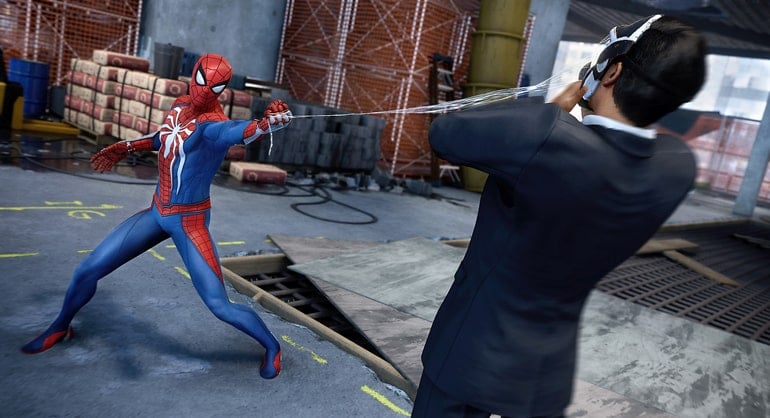 From the moment the game began, I was enamoured by the on-point voice acting which truly made me feel invested in the various characters Peter interacts with during the game. Many a well-written game has seen its narrative fail due to over-the-top or bad voice acting but Spider-Man's voice actors nail it perfectly. Contrary to most previous Spider-Man games, Insomniac focuses on not only being Spider-Man and doing everything a spider can but also giving us a glimpse into what it means to be Peter Parker. Where Spider-Man swings through New York's dispatching justice (and spitting out one-liners), Peter partakes in more mentally stimulating gameplay which comes in the form of easy to grasp yet surprisingly fun minigames. It's also while playing as Peter that players will be able to interact more intimately with their surroundings and learn more about the game's universe. We all know that the Spider-Man comics are just as much about beating up the bad guys as it is about Peter and his daily life and tribulations, and this game captures the dichotomy perfectly. As Spidey, Peter is loved and adored wherever he goes (well, mostly), yet as Peter Parker he is just your average down-on-his-luck science guy. It's refreshing to experience the world through his eyes.
Insomniac has taken a lot of care to include as much detail as it can about the Spider-Man universe into the game. I experienced numerous "did you see that?" moments while playing the game, from little Easter eggs to familiar references. Nowhere is this more apparent than when completing the various side-missions or tasks, especially the ones where you have to search for old backpacks Peter left throughout the city. Each of these contains little mementos that reveal more about Peter/Spider-Man's past. It's this love and attention to detail that makes it clear just how much respect and reverence Insomniac has for the character and the lore.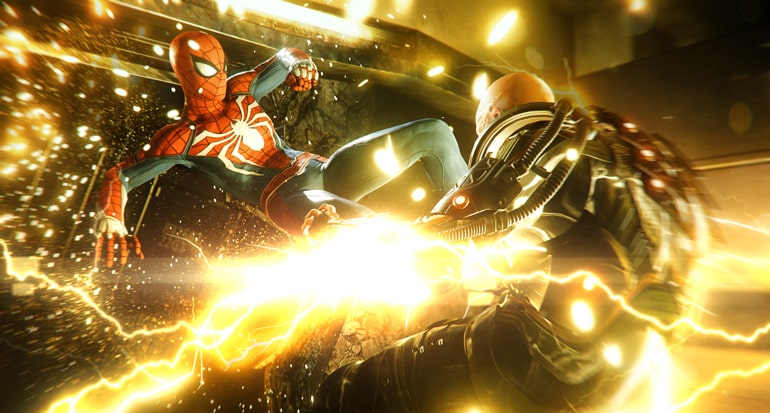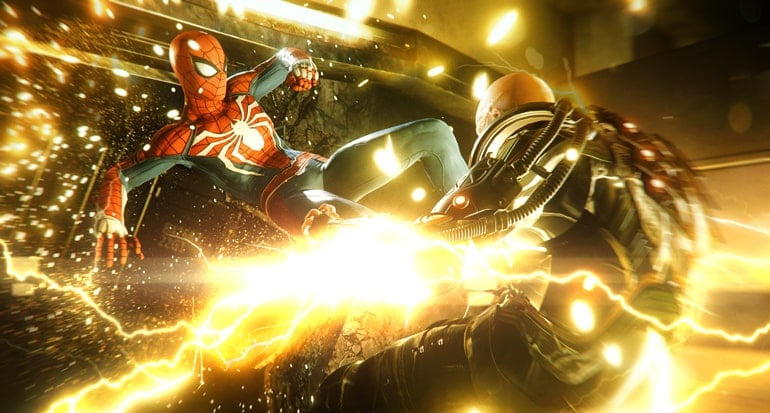 Now, the most important question, is it fun to web swing through New York? The short answer is a resounding hell yeah! Swinging through the various neighbourhoods, leaping over buildings, and running up walls is just as much fun as you would expect it to be. It did take me a few minutes to come to grips with the nuances of web-swinging, but once I did I was speeding through the streets like I've been doing it for years. It's a surprisingly intuitive mechanic which I found easy to learn yet hard to master. Basically, web-swinging boils down to pressing R2 to initiate the swing and holding it in to continue web-swinging; by releasing it Spidey immediately let's go. The X button allows Spidey to web zip or pounce off roofs (I used this often to close distances fast) and by pressing both the R2 and L2 buttons he is able to zip to a specific point quickly and perch atop it. Naturally, Spidey does have some spectacular Parkour abilities such as running along or even straight up walls, which is done by holding in R2. The animations are smooth and perfectly transitions from one move into the next, making it feel like you are the Amazing Spider-Man. Of course, keeping the peace isn't always as easy as swinging around the city, sometimes Spidey needs to get his hands dirty.
Combat follows the now familiar formula made famous by that other superhero who loves caves and has an awesome car. And while the core of the combat might seem familiar, it does have some very obvious differences to the Arkham games. First off, if Spidey wants to prevent ending up being left squashed on the pavement, he'll need to keep moving constantly, especially when facing off against gun-toting enemies. Where the Dark Knight could take a few bullets (but not a lot) Spidey seems even more vulnerable. In order to stay alive, he needs to keep dodging as much as he can. Luckily, he has his trusty Spider-Sense to warn him of incoming attacks, but even with the aid of this ability the game doesn't shy away from making you work for each victory. He not only throws a mean punch, but he also has access to a few interesting gadgets. There is the standard web shooter, to incapacitate pesky enemies, as well as a web bomb and even a little drone but to name a few. Each of these tends to be handy especially during the latter stages of the game. Unlike some of his more muscle-bound counterparts, Spidey prefers to use his head more during encounters and the game allows players to approach combat in whichever way complements their style of playing. Just like the pointy-eared, cape-wearing superhero, Spidey can sneak into an area and take care of business without being seen or if the mood strikes him go in punching. The game gives you gadgets that are helpful in either scenario. As Spidey completes missions (more on those later) and basically stops the bad guys he'll earn XP which lets him level up. As Spidey levels up he'll receive points which can be invested in three different skill trees, the Innovator (gadgets), Defender (combat) and Webslinger (exactly what it sounds like). Each of these trees has some handy upgrades available to Spider-Man and I was able to unlock most of them by the time the end credits rolled.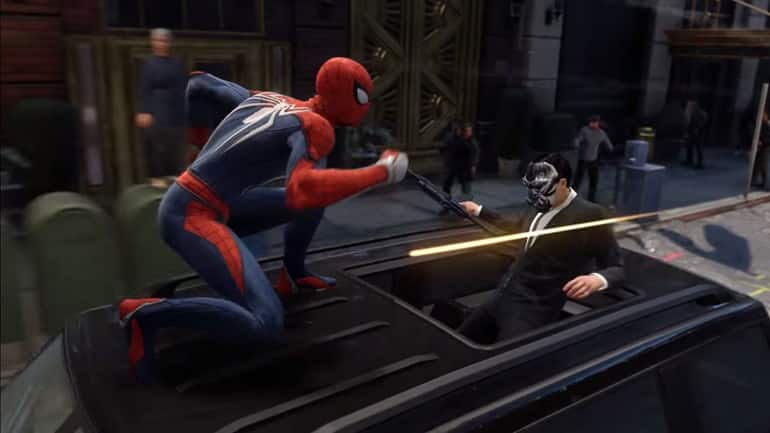 As mentioned, when not trying to stop the game's super-powered villains, Spidey has time to patrol the city and complete various side-missions and tasks. There is a surprising amount of these ranging from time trails to stopping crime and even clearing out bases. Completing these earns you different tokens which allows you to upgrade your gadgets and more importantly unlock new Spider-Man suits. Now, this is one of my favourite parts of the game. Each suit (that becomes available at certain points) can be constructed using these tokens. Most of the suits have their own unique ability such as shooting out a bunch of webs that can incapacitate enemies. These powers are activated using a focus bar, and this bar is also what is used to heal Spider-Man. What I found to be a great touch was that these suit abilities could be equipped with any of the suits that have already been constructed. Meaning that if you like a specific suit but a power from another suit you could swap it into the suit you like. Spidey can also add various buffs to his suits that are also constructed using the tokens. I have to mention that some of the side-missions can become a bit repetitive, especially if you do a few of them in a row. But the game has so many different types that I tended to alternate between them in order to keep things fresh.
The main missions on the other hand, while some do follow the same structure, never felt overly repetitive as I always had a new gadget or ability I wanted to try out. Boss battles while not always the most creative, did require me to be on top of my dodging and web-swinging game. As has been shown in trailers there are quite a few quick time events in the game. Now, I don't really enjoy these in game's but Spider-Man handles these in such a way that the control is never really taken completely away from you. Most of these events take place during sequences that would be difficult to recreate when giving the player complete freedom ,so it's understandable that they are present in these moments.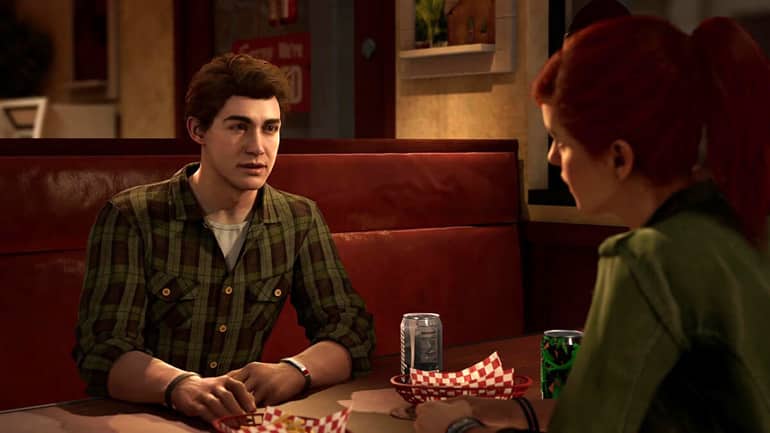 While playing as Peter and Spider-Man is fun, you also get a chance to play as Mary Jane. These sequences play out like an old adventure game as she mostly sneaks around and solves a few uncomplicated puzzles. It's a great way to give players a break from the sometimes-intense action when playing as Spidey. I'm not a fan of sneaking around in games, but these sections never felt frustrating, thanks to some generous checkpoints.
Visually, the game looks good especially when it comes to the cut-scenes. New York itself feels vibrant and alive and it truly seems like the citizens are just going about their daily lives while you swing past them. It's great when they acknowledge you swinging or running by and that adds to the whole immersion factor of the game. I did experience a few graphical glitches but nothing major. As mentioned the animations are top notch and Spider-Man moves as you expect him to.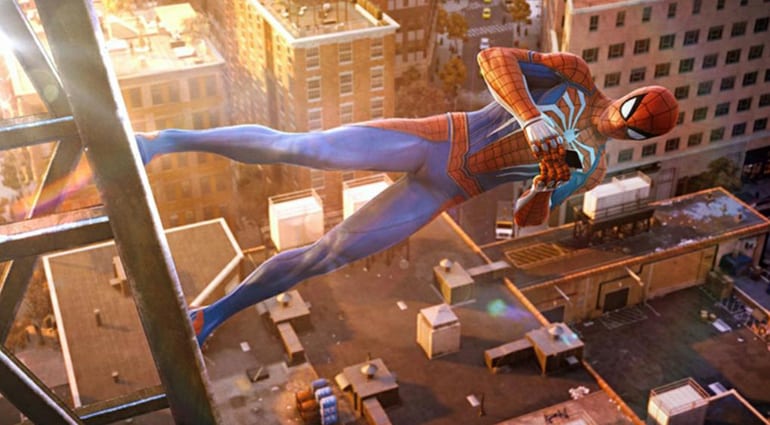 Spider-Man is a game that lived up to most of my expectations and even surprised me on a few occasions with its emotional story that had me cheering and shedding a tear at various moments. It's a game that truly feels like it belongs with the great Spider-Man stories that have been written over the years.  Insomniac has shown us not just what it means to be the character but also what it means to be Peter Parker and taught me that you don't always need a costume to be a hero. This is the Spidey game we've all been waiting for and the game we deserve. Hopefully, we don't have to wait long to step back into the red and blue boots of Spider-Man again.