In recent years we've seen quite a number of gadgets launched that have pushed the boundaries of capabilities, functionality, design and purpose. Sometimes, these devices are launched in very limited supply only to allow the exploration of a bigger project still in the works. Projects such as Google's Glass come to mind. In addition to this, Google's ecosystem has seen a much larger rollout as well, moving beyond the smartphone realm, and forcing its way into the number one OS for smartwatches, and many other peripherals. We've seen it in cars, fridges, personal assistants, and the likes. We've seen a few Android devices launched with projector functionality, and projectors launched with Android OS support. Sony, however, has taken things a bit further by introducing the Xperia Touch, a multi-touch surface with short-throw projection.
The company caused quite a stir at the MWC 2017 when it showcased its latest device to eager onlookers, and announced plans to take the device commercial. Having surprised audiences, the world wasn't quite ready for the Touch, leaving very little in the way of useful applications for the device. We spent some time with the device to unpack its capabilities, usefulness, and whether it can be a start of things to come in the near future.
Build and Design

Summary:
Decent build quality
Smart speaker lookalike
Without knowing too much about the Touch, it simply looks like some type of portable speaker. In fact, most of the body is wrapped in a speaker grille, with the front, rear and bottom sides standing out. The front is covered in a sleek glass panel, which houses the projector lens near the top, with the Sony logo and infrared sensors at the bottom. The rear end has a matte, plastic finish, which also houses the microSD card slot. At the bottom you'll find the USB Type-C and miniUSB ports – the former used as a charging port. The charger itself is surprisingly short, at just 1m in length. For a projector of any sorts, this isn't ideal, and for the little unit such as the Touch, it's even more frustrating, especially when you're trying to use the device on an elevated surface such as a table or desk. Unfortunately, you aren't able to switch to another Type-C cable with ease, as you will require the same power throughput, which most standard cables do not cater for.
For the most part, the Touch has most of the hardware fitted to many smartphones, and also includes a power button, volume rocker, dedicated play/pause button, 13MP F/2.0 camera, the mic and quite a few sensors, as mentioned earlier. While many of the sensors are used to pick up and track motion for the touch functionality, there are some that don't seem to fit the narrative, such as a humidity and temperature sensors, a barometer, and a magnetometer. Where it makes more sense, the unit also includes an ambient light sensor, proximity sensor, gyroscope, and multiple IR sensors. Another weird sensor is one listed as "human detection". Users are able to setup the device to operate as some sort of news hub, and is triggered whenever anyone nears the Touch, which prompts it to switch on the previously displayed screen. With the home screen featuring a few widgets, such as a clock, it makes a good companion whenever you require quick information.
Overall, the design isn't your standard smart speaker layout, nor does it look like any other portable projector. It's a mix of both worlds. And that's good. We don't need a radically shaped design or anything dreary from previous releases. The unit weighs just under 1kg, which isn't completely lightweight, but it's light enough to carry around in a backpack or some laptop bags.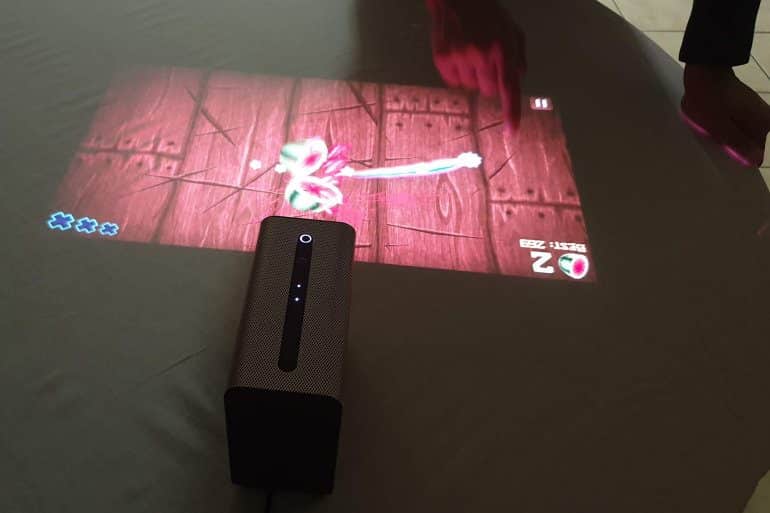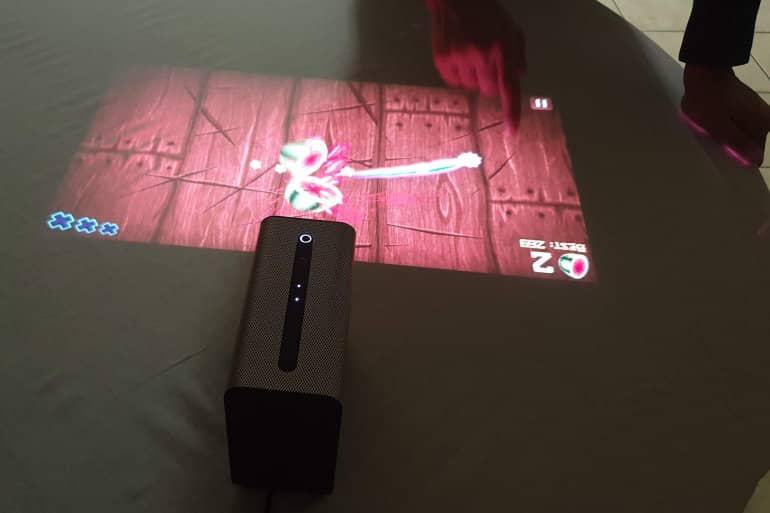 Projection Display

Summary:
Reasonable resolution
Lacking brightness
For the Touch's display, the unit projects via an SXRD projection system, which has a three primary-colour LCD shutter. The native resolution is 1366x768px, which isn't all that bad. In fact, this is better than many full-sized projectors available today. While it may seem a bit pixelated close up, sitting back on the couch watching a few movies, you wouldn't notice it, or be overly picky about it.
There are two modes of operation: table top mode and wall mode. And there's a real performance difference between the two. The first mode is the standard for the Touch, standing upright and projecting down onto a flat, solid surface. It's worth noting here that any crease or dent in the surface is a potential hazard, which may register as a touch and cause a few chaotic moments. Also worth noting is that it has to be a solid surface, as any reflective or clear surface such as glass won't work at all. The type of surface makes for differences in the display, with darker surfaces absorbing most of the light and not reflecting much in the way of viewing. It's preferable, then, to sit the Touch atop a white surface. When projecting in this mode, the device is able to pick up 10-point touch, which is surprisingly good. The projected image covers a 23" area for your interaction.
In wall mode, users simply have to flip the device on its side in order to project upwards onto a wall. It's not the most intuitive setup, as it's easy to get confused with the rotation. Thankfully, the sensors in the device knows exactly when it's being moved, and automatically suspends the light projection, which means you won't shine light in your eyes. At first, I found this a very strange addition, but a very useful one. Placed flat against a wall, the unit projects the same 23" size as on table top mode. However, you're able to extend this up to 100" as you move the device further away, reaching this size at just 38cm. To put that into perspective, most standard projectors need over 2m in distance for a similarly lit area. The angled projection, however, does mean that the device will always have to be placed in front of you. Although it doesn't need the power cables to function, it does affect the brightness, which we'll discuss more in a minute. The ultra-short-throw projection mode does add an additional cost to the unit overall, but with its portability tag, it's part of the requirement.
Back to the topic on brightness, the Touch only emits 100 lumens of light. Even your mid-range projectors offer over 1,000 lumens, making this device quite dim, and not suited to well-lit environments at all. In fact, during a few sunny days, even drawing the curtains didn't assist the weak brightness from getting any better, which means you'll most likely have to find a way to block out most light from entering, or simply wait until after dark to bring out your party piece. Noted that the unit is less than half the distance away from the wall, and even closer to the projected surface, so the same amount of light isn't lost, which does make up for some lack of lumens from the diode. Colour representation is good as a whole, but tends to get washed out on different surfaces, while also having a strong blue hue on white surfaces. The contrast isn't bad either, but when in a completely dark room, you'll definitely notice that some of the blacks appear towards the grey end of the spectrum.
There's no real indication of the durability of the lamp life. Even at 100 lumen, one still has to wonder how long the device will function normally before it needs to be replaced, and whether it can be replaced at all.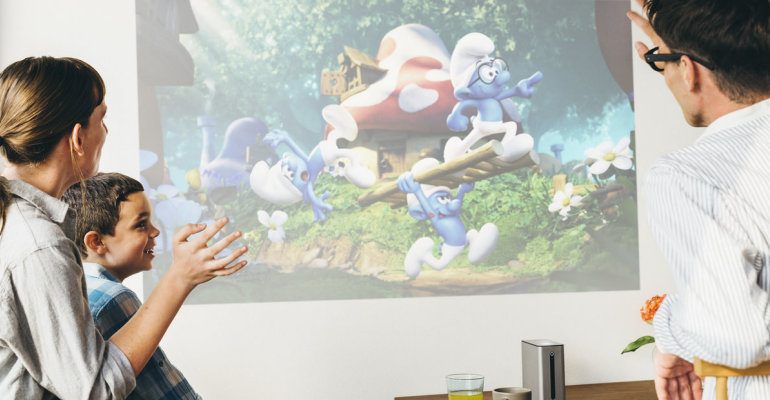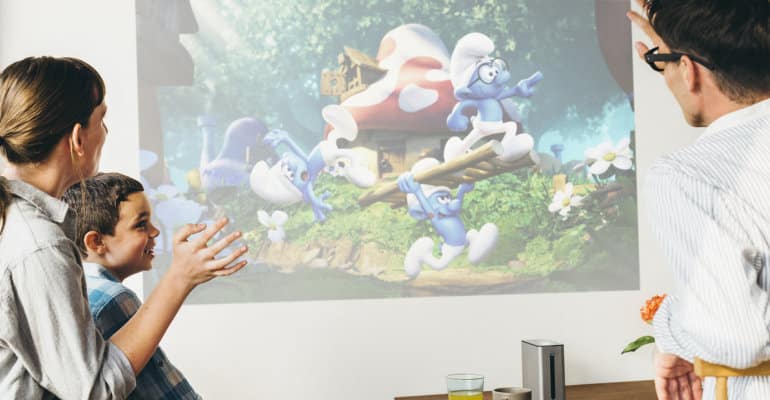 Performance and Battery Life

Summary:
Mid-range specs
Limited battery operation
One of the questions I often received about the Touch was how one would setup and use it. For starters, from first boot, it operates much the same as any other Android device, having Android 7.1 Nougat installed as the OS. The rest of the setup isn't complicated either, as all you have to do is choose which mode you wish to use. As mentioned previously, however, there is a difference between the two modes. The standard, table top mode is recommended when needing to utilise the device for any function other than to simply watch a video. Even if you wish to watch a video, I would recommend first flipping into standard mode, selecting your clip, and then reverting back to wall mode for your viewing pleasure. The main reason for this is that when in wall mode, the projected light isn't favourable with your hand movements, which makes picking up your gestures quite a tricky prospect. On the desired surface in table top mode, I had no such issues, with the Touch easily tracking my movements. Having tested a few games such as Fruit Ninja, and a few drawing apps to boot, I was fairly confident of the unit's functionality. The experience was quite enjoyable, and made for some fun moments with people over. It wouldn't replace your typical mobile gaming addictions, but is a great party piece if you can find enough two player games.
In terms of its overall specifications, the Xperia Touch includes a Snapdragon 650 chipset, 3GB RAM, as well as 32GB internal storage. And coupled with the display resolution, for the most part, then, this equates to a mid-range smartphone. Another key element to the specs is the inclusion of automatic keystone correction, which means that your image is adjusted based on the angle to the projected surface. I originally had my doubts about this, but after a few tests, which reached the extreme in some cases, I'm happy to report that for normal angles and the likes, the automation worked really well. You may, however, want to avoid angles greater than 30-degrees.
While the unit may not be a smart speaker, it still has elements of this built in. As with Google Home, Amazon Echo, and the likes, the Touch also has a trigger phrase to activate the voice assistant: "Hi Xperia". While it may not be as catchy as many others, it works. The Touch utilises Google Assistant as the personal assistant, so users can be fairly confident of its functionality. You can get some basic voice commands here. In practice, however, there were a few issues. The first of these being that the microphone pickup isn't all that great. With a single pinhole opening, there isn't much in the way of distinguishing voice audio, which often left me having to raise my voice at the Touch, almost as if I was scolding it for misbehaving. In terms of being an actual smart speaker, the sound quality is good. It's loud enough, and it's clear for the most part. The two-way stereo audio provides two directional sound, so the audio isn't washed out for users sitting on the opposite end during a film. While it is good, it's no match for other dedicated smart speakers.
As mentioned earlier, the unit includes a 13MP camera. This may seem out of place, but it does have some uses. Users are able to video call using this feature, but the device has to be in table top mode. In addition to this, you'll have to be sitting quite low in order for it to accurately pick up your face. Another caveat is that due to the overall lack of brightness, you may prefer using a slightly darker environment to be able to see the person on the opposite end in more detail. The issue here, however, is that they then don't get to see you in the same detail. A catch 22, if you will.
Conclusion
The Sony Xperia Touch is an anomaly. For the most part, the device is filled with glitz and glam and can entertain a crowd for short periods at a time. As a daily device, however, it doesn't quite live up to the expectation. That said, I wouldn't go as far as to call the Touch a completed product ecosystem as yet, but rather something along the lines of testing the waters as a first try. For intermittent use such as portable gaming, a movie or two on the weekend, the Touch provides effective usage. If, however, you wish to interact with the device multiple times throughout the day for various reasons, you may find a few challenges here.
Where things take a real turn for the worst is the retail price. At R24,000, it's definitely not affordable. In fact, users are able to buy a 12" tablet and a decent 1080p resolution projector and have some spare change left over. Granted that this is a 2-in-1, perhaps even a 3-in-1, device. If the unit were able to compete against the tablets of today, we'd have some serious competition in the market, as well as many more competitors in the same space. Given the short-throw projection capabilities, however, it may be some time before the costs can drop significantly. At the end of the day, Sony has taken the giant leap at bringing something novel to the market, even though not in a global mass production release. As with many other devices that have started a new trend, it may take one or two more iterations and price drops before it becomes part of the mobile ecosystem, or it may just fall away completely. Only time will tell. I do take my hat off to Sony for being brave enough in today's climate, and can only hope that it won't easily give up on the idea.
You can find some footage of me having some fun with Fruit Ninja on Instagram.