A few years ago, Sony announced that it was pulling out of the South African TV market. The decision was most likely down to poor sales as a result of many factors within our borders. Fast-forward to Q4 2020 and the brand announced it was back. This was exciting news for fans of Sony TV products, which had an impressive lineup. As part of the announcement for its return, Sony confirmed the range of TVs that would be reintroduced. One of those TVs was the Sony Bravia X90H 4K 65" LED Android TV.
The X90H range bridges the gap between conventional TVs and that of the more high-end OLED range. As a result, it's not quite as pricey as the latter, but definitely still not for everyone's budget. However, given the wide array of listed features, we take a closer look at whether they're any good, and whether the quality is worth it.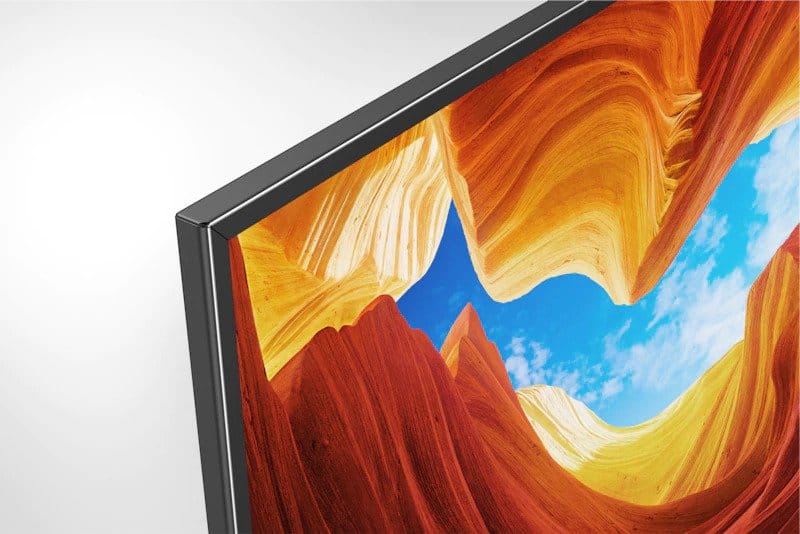 Sony Bravia X90H Build and Design
When it comes to the design, the Sony Bravia X90H is one of the most plain-looking smart TVs I've seen in a while. In my opinion, that's really not a bad thing. The bezels are extremely thin, leaving almost no room for design liberties across the front.
The feet are just as minimalistic. Despite its metal finish, they're quite unassuming. They're quite thin compared to many other modern feet or stands. That said, they're extremely robust, more so than those same over-the-top options from other manufacturers.
The frame is made from sturdy aluminium. Its metallic finish looks quality despite it being quite thin. On the edges, there's no flex at all. The only give there is lies near the input section, which flexes just a tad. It isn't very noticeable and also, you're not going to be using it all that often once you've completed the initial setup. But, more on that later.
Compared to most other modern smart TVs, at least within the same price bracket, it's thicker than most. Its really thin bezel, however, more than makes up for this. When mounting to a wall bracket, it won't protrude as much as you'd assume once in place.
In terms of connectivity, the Sony Bravia X90H has you pretty much covered across most of the options. This includes wireless connectivity in the form of Bluetooth, Wi-Fi, Chromecast and Airplay. Physical inputs include RF, composite video, x4 HDMI (HDCP2.3), digital audio, auxiliary jack, as well as x2 USB ports for good measure.
Sony Bravia X90H Screen and Display
There's no doubt that Sony takes its displays seriously. There aren't any shortcuts taken, while still offering quite a host of features to make it stand out even further.
The 65" screen has a full array LED panel. Underneath, it is powered by TRILUMINOS™ Display, which creates accurate and quality images.
It supports a wide variety of viewing options depending on the source or apps streaming quality. The Sony Bravia X90H supports 4K (3840x2160px) at 120Hz. However, before you can enjoy this viewing, a firmware update is required upon first use. The firmware update also brings with it the support for Apple Airplay, variable refresh rate (or VRR) amongst other features.
All of this technology is supported by Sony's X1™ 4K HDR CPU. This extremely powerful processor supports its dynamic features and AI, while also supporting many of the graphics capabilities.
Additional support from the CPU includes Live Colour Technology, Precision Colour Mapping, Dynamic Contrast Enhancer, Object-based HDR remaster and X-tended Dynamic Range.
All put together, the image quality is extremely impressive. The contrast is great, with darks and lights quite noticeable. Under regular viewing, the brightness is great as well. However, it dims a bit when switching to HDR mode. In terms of the greys and blacks represented, it's also quite uniform.
Once the unit's colour has been calibrated, it's even more impressive. The colour gamut measures 85.71% for DCI P3 XY and 91.40% for DCI P3 UV.
The only negative aspect about the screen is its viewing angle. It doesn't have Sony's X-Wide Angle support, which means that anything from the sides will be fairly dark. Thankfully, however, my living room setup means that there isn't any wide-angle viewing required, so it wasn't much of an issue.

Setup and First Use
Unlike most other larger TVs, the Sony Bravia X90H has a unique, easy-to-use configuration. Where other TVs have a set of screws to accompany its feet to secure the base, the X90H skips all this. Instead, users can simply unpack each of the legs, and slide them into position. When in place, you'll feel that click as the magnetic clips take effect, letting you know that it has now been secured. Even if you lift the TV off its stand, it won't fall out or even wobble. This gives you peace of mind knowing that it's locked in place.
I really loved this approach. Not only does it save you quite a bit of time, but it's also actually more secure than those units deploying screws to secure it in place. On many occasions, over the years reviewing TVs, I found that some screws and sockets are extremely difficult to tighten into place. You hope that three of the other four screws do the job well enough because the fourth wouldn't tighten all the way. The slide-in foot is an understated feature but works really well.
Once you've positioned the TV, there's the small aspect of setting it up for first use. If you're an Android user, this should be a very familiar approach. Given its Android TV UI, you'll simply need to type in your Google credentials to get started.
Once you've signed in, you'll then have the option to customise your experience. From the apps, you download to how they're displayed on the home screen. It's fairly simple overall, and it only takes a few minutes to complete.
Features and OS
For those familiar with Android TV, the Sony Bravia X90H includes all the standard OS features. The TV runs on Android TV 9.0, along with pre-installed apps, including Netflix, YouTube Prime Video and Google Play Movies and TV.
Upon first use, the TV remote uses the standard infrared technology. However, to get the most out of the experience, you can setup its Bluetooth option. This allows you the option to issue voice commands and other options not available using IR.
Using Google Assistant or even Amazon's Alexa becomes as easy as speaking into the remote. In addition to this, the TV is capable of connectivity to the Google Home and Amazon Echo devices, allowing you to prompt commands via the TV and picked up on those respective devices.
The remote also supports HDMI-CEC. This means that you can control other devices that are plugged in via supported HDMI devices. It becomes really useful when using your gaming console, allowing you to control media via the remote instead of your controller.
It may seem trivial, but with many TVs still limiting the support for storage formats, it's worth pointing it out. The TV supports the most common options, including FAT16, FAT32, exFAT and NTFS.
The TV also supports Dolby Audio and Dolby Atmos. If there are apps used that support the technology, it will kick into effect.
Lastly, there the support for Calman auto-calibration software. The software addresses colour variations in the various videos you watch, adjusting on the fly to create an even display, fine-tuning each frame as it appears.
Sony Bravia X90H Performance
Each of the features available on the Sony Bravia X90H is carried out with precision. Yes, the unit may require some calibration to cater for your home's surroundings, but once that is completed, you'll be able to enjoy some of the best visual displays short of the OLED range.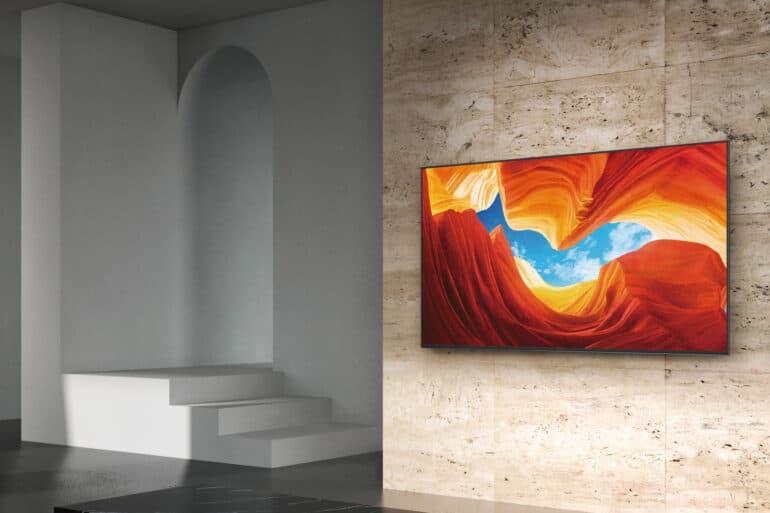 Conclusion
The Sony Bravia X90H 4K 65" LED Android TV is a great TV. It has quality written all over it. It may not be the most sophisticated in terms of its design, but the build quality and narrow bezels are very impressive. Image quality is just as great, with deep blacks and vivid colours, matched with sharp contrast.
At a retail price of R24,999, it's not an easy purchase. That said, it's not the most expensive smart TV around, even when you exclude the OLED ranges from the various OEMs. It lies almost in the middle of the pricing bracket between conventional smart TVs and that of OLED units, so it makes sense. With the great picture quality, host of features and Android TV support, the Sony Bravia X90H is a great option for anyone in the market.
The Review
Sony Bravia X90H 4K 65" LED Android TV
The Sony Bravia X90H 4K 65" LED Android TV is a great option for any prospective buyer. It's thin bezels and minimalist overall approach to the design makes it an easy fit for any room. It may be a little on the thick side, but not at all something to worry about. The picture quality is great, and with the added features makes for a great purchase.
PROS
Brightness and Contrast
Easy setup
HDR, Refresh Rate and 4K
Review Breakdown
Ease of Learning

0%

Ease of Use

0%

Design

0%

Performance

0%

Enjoyment

0%

Value for Money

0%