Say hello to the future of television. Meet the world's first QD-OLED TV.
Sony hasn't been holding back in 2022's CES, and we can't be more excited for the innovation as consumers. The Sony Bravia XR A95K TV will come in 65-inch and 55-inch sizes, both at a 4K resolution. This is easily set to be something that will get a lot of people talking within the tech space once it's released this spring.
This year isn't the first time we've heard of Quantum Dot OLED (QD OLED) TVs. The technology has been rumoured to be coming to market for a few years now. Most of its buzz was garnered around Samsung's take on the technology, however, it seems like Sony saw its chance and took it.
So far, it has all been quiet on Samsung's end concerning QD-OLED TVs, so we can't help but congratulate Sony on making it first. Still, there will be a lot of comparisons with Sony's version once Samsung is ready to show what they have.
QD-OLED is designed to take the best aspects of OLED with the benefits shown in Quantum Dot LED TVs. Essentially, the deep blacks and infinite contrasts from OLED are combined with the benefits of QD LED TVs, like the higher brightness and vivid colour reproduction. Combining these features makes for a display that is a total beauty. We will get to see and appreciate colours with a deeper and higher level of vividness.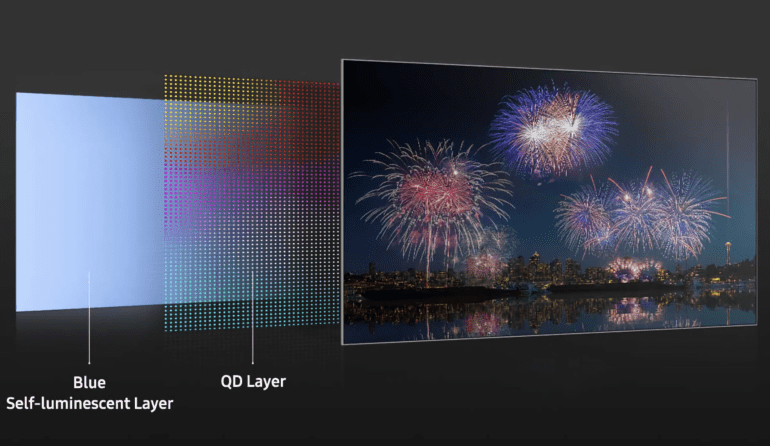 On how they shifted to Quantum Dot OLED, Sony revealed that they developed an XR Triluminos Max processor that was able to fully exploit their new RGB colour volume potential. The new XR processor claims improvements like enhanced depth mapping to define foreground objects against their backgrounds, and an advanced colour algorithm trailed to control colour saturation and luminance over a wider range than ever before on a Sony TV.
The Sony A95K QD-OLED TV features a unique panel, but it also comes with an equally special stand that can put the unit in a "front position" style if you want the TV in front of the stand, or a "back position" style if you want the TV up against your wall. The back of the TV has built-in cable management that makes for an interesting back design.
For audio, the A95K uses a premium version of the Acoustic Surface Audio technology found in Sony's standard OLED TV screens.
The A95K features four HDMI ports with two of them using full HDMI 2.1 capabilities. The new Sony OLED TVs will support 4K gaming at 120hz, which is exciting to learn. For the gamers with wallets to match their gaming ambitions, they are sure to enjoy what this guarantee offers.
There's also a promise of auto-HDR tone mapping and auto low latency mode when using the new TVs with a PS5 console. The new Sony TVs will also ship with the option of variable refresh rates right from the start, rather than making buyers wait for software updates unlike in past models.
Once the QD-OLED TVs are released to consumers, it will be interesting to see how all these features stack up together both for viewing and gaming. From what we've been shown so far, it's looking good for Sony.