If you haven't played it before, Sonic Colours: Ultimate is a fun experience on a beautiful space theme park that is ultimately let down by clunky controls.
I first played Sonic Colours on the Nintendo Wii when it was released a decade ago, back in 2010. I don't have the fondest of memories of it but I do remember enjoying it enough that it was probably the best Sonic game I have ever played.
I am a mid-90s kid, so I didn't really play any games before the PS1 era. In fact, the only Sonic game I can compare this to is the train wreck that was Sonic Unleashed.
Sonic Colours is more fast-paced and has some classic platforming elements to it, making it a much better experience for those wanting to play as the super-fast hedgehog. It is by far nowhere near as good as Super Mario Galaxy but is good considering how far Sonic and friends have unfortunately fallen.
But now it is 2021, and the real question is whether or not the Ultimate edition of Sonic Colours updates the game with current day visuals and frame rates worth the trip back into space to stop Eggman's evil scheme?
Get Up To Speed
In Sonic Colours: Ultimate, Sonic and Tails notice that there is a huge theme park run by Eggman hovering in the sky. The Blue Hedgehog presumes that it can only be the evil scientist up to no good.
As it turns out, Sonic is right and Eggman is using this as a cover-up to absorb aliens that he has kidnapped. These beings have incredible powers, enough to power up his next giant robot.
Of course, Sonic and Tails team up with the aliens, called Wisps, to help them defeat Doctor Eggman.
That is all to the story. It is very much written like a Saturday morning cartoon – very simple and not really funny but charming enough to engage with.
The best moments happen between Eggman and his two robot henchmen who are very incapable of doing anything right – which, of course, is his own fault for programming them that way.
The biggest problem with all the cut scenes in Sonic Colours: Ultimate is that it hasn't received any visual upgrades. In fact, it looks like it was ripped straight off the Wii version, looking very much 480p at best. So when it switches to a cut scene, it is very jarring.
On the positive side, it does show off how much better the gameplay in Sonic Colours: Ultimate looks now.
At Full Throttle
The gameplay, the reason why you would buy this game, is actually pretty good. While not excellent, it is a lot of fun. Plus, Sonic Colours: Ultimate's 4K and 60FPS upgrade is a welcome addition. It unfortunately still feels like a 2010 game though.
There are some classic 3D Sonic segments in the game that have you running fast and blasting through the various parks at breakneck speeds. These are probably my favourite moments in the game. From sprinting to rail grinding to falling from significant heights, and, of course, collecting those classic rings along the way, is what I love about the franchise.
That comes to a halt when you reach the various platforming sections in Sonic Colours: Ultimate, where jumping becomes frustrating and clanky. How you jump and double jump, and then control Sonic in the air is very poorly designed because the amount of control is very limited compared to other platformers. By the end, I did get used to it but that is not ok.
Action is very much boiled down to a button press, which makes sense when it was designed for the Wii remote. But now on the PS5, with it automatically lining up the shots, it becomes very easy.
The classic need to have rings on you as a shield before you die is back, and there is more than one moment where I found myself stressing that I had nothing stopping a robot from making me restart from the last checkpoint.
To make things more interesting in Sonic Colours: Ultimate, the aliens help Sonic by being more than just cheerleaders on the side, like Tails. Instead, each coloured Wisp offers different powers that challenge the normal Sonic platforming.
Like one wisp will turn you into a ghost that allows you to get into hard to reach spots. Another wisp makes you rocket up to all the rings that are in the sky. Then there's wisp that changes you into a spike ball that sticks to surfaces, allowing you to get to platforms when a simple jump won't suffice. My favourite wisp is the drill one, allowing you to dig through at breakneck speeds. This allowed for some of the most exhilarating moments in the platforming sections.
Unfortunately, these wisps aren't like classic Super Mario power-ups. There is a timer to them. I am not a fan of making power-ups limited, but I understand why they do for level design reasons. They also didn't really find a way to combo wisps well enough to make things interesting and instead mainly made the wisps independent.
Ultimately, the gameplay in Sonic Colours: Ultimate is adapted for the current consoles, and aren't really upgraded in any meaningful ways. Still, the gameplay is fun enough.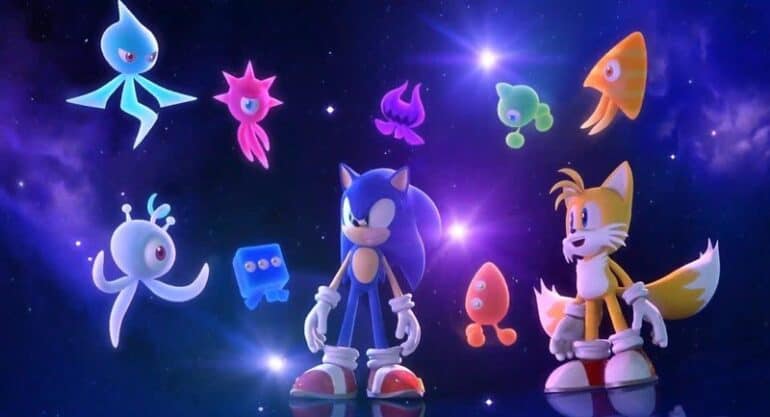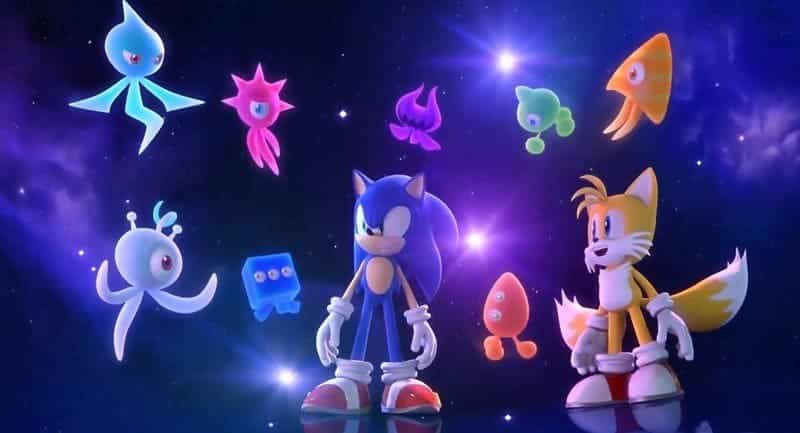 Hustle and Bustle in Sonic Colours: Ultimate
It is a pity that Eggman used this theme park for evil intentions. I think if he ran it like a business and opened it up to the public, he would kill it and the money would be pouring. Why? The theme park in space is gorgeous.
The space station mixes classic architecture and futuristic structures that look like something a kid could only dream of visiting. Eggman obviously has a lot of work to do with safety but, once he nails that, there is a lot to offer at his theme park.
It also has planets from other galaxies that he has connected (or rather imprisoned) to his theme park and that opens up a lot of new biomes. There's a water planet that actually blends its water sections very well. The wisp planet is also available, with levels that show the aliens' planet full of machines wanting to harvest their awesome powers. My favourite planet has to be the one falling to pieces. It presented some of the best running sections that sees you blasting through asteroids and grinding on a death rollercoaster.
A quick note about level design: there were loads of areas unattainable because the wisps weren't made available and so that is a good reason to want to return.
Yes, Sonic Colours: Ultimate is not the best looking game but the passion for great background designs comes out loud and clear. I want to honour the people behind this game's great art. It is colourful like the name suggests.
Final thoughts on Sonic Colours: Ultimate
From the fast-paced sprints down the exhilarating runways to the platforming sections that are made more interesting thanks to the wisps and their colourful set of power-ups, Sonic Colours: Ultimate is a good Sonic game. And one that is still fun to play in 2021.
For those returning, the 4K visuals and 60FPS are welcome but ultimately a skin that doesn't do enough to warrant a replay unless you really want to and nostalgia is what fuels you.
The Review
Sonic Colours: Ultimate
If you haven't played it before, Sonic Colours: Ultimate is a fun experience on a beautiful space theme park that is ultimately let down by clunky controls.
PROS
A fun 3D Sonic game
The running sections can be exhilarating
The wisp power-ups make the platforming more fun
4K and 60FPS is nice
CONS
480p cut scenes
Incompetent controls, especially the jump
Audio can be repetitive and a bit generic
No real upgrades to the gameplay introduced in the 2010 Wii game
Power-ups has more potential
Review Breakdown
Gameplay

0%

Graphics

0%

Replay Value

0%

Sound and Music

0%

Story

0%