Song of Horror highlights its best strength in its latest instalment: great horror settings and expansive lore, helping a player overlook its more mundane aspects.
My opinion about Song of Horror shifts so wildly over time. On the positive side, it's an episodic horror series that throws back to the best parts of the survival horror from the '90s. The survival aspect is emphasized well in gameplay, and the overall plot is building well over time across the chapters. On the negative side, the puzzles can be obtuse and weirdly integrated into the world, the enemies lose a lot of tension and become annoying to deal with, and there is an overall lack of polish and several bugs present, the latter of which can be extremely detrimental to some players.
However, I will say it: I feel more positive now about Song of Horror at Episode 4 than I did at Episode 1. Part of that is a clearer idea of where everything is going, although we do still need to play Episode 5 to see how it wraps up. But mostly, it's the fact that the episodes do genuinely seem to be getting better over time. The puzzles are better constructed, the enemies have a bit more dynamism, and most importantly of all, the setting for each chapter is different and more interesting each time. We have started with an abandoned home, moved to an antique store, explored a university at night, and now, in Episode Four, comes the Abbey of Santa Cecilia, a monastery infested by the dark Presence, which has the added element of a music concert that was due to be held there being mysteriously destroyed, along with all attendants. It is by far the largest of all the chapter's maps and features a wide range of different interiors all within the monastery.
Your main character is once again Daniel Noyer, who is attempting to solve the mystery of the Presence by tracking down mysterious antique dealer Sebastien Husher. You are joined by new character Ernest Finnegan, a former archaeologist and colleague of Husher, as well as two other characters from previous chapters, who are chosen based on who has survived and who you used the most. Once again, you play with one character at a time, and if that character dies, you switch to another. The same feature which means that Daniel cannot die returns, meaning you are not incentivized to use him, but there is one interesting addition to this system: you finally have character start from different spawn points in the level, depending on which order you play them in, rather than just feeling like you are retracing your steps at each round of play.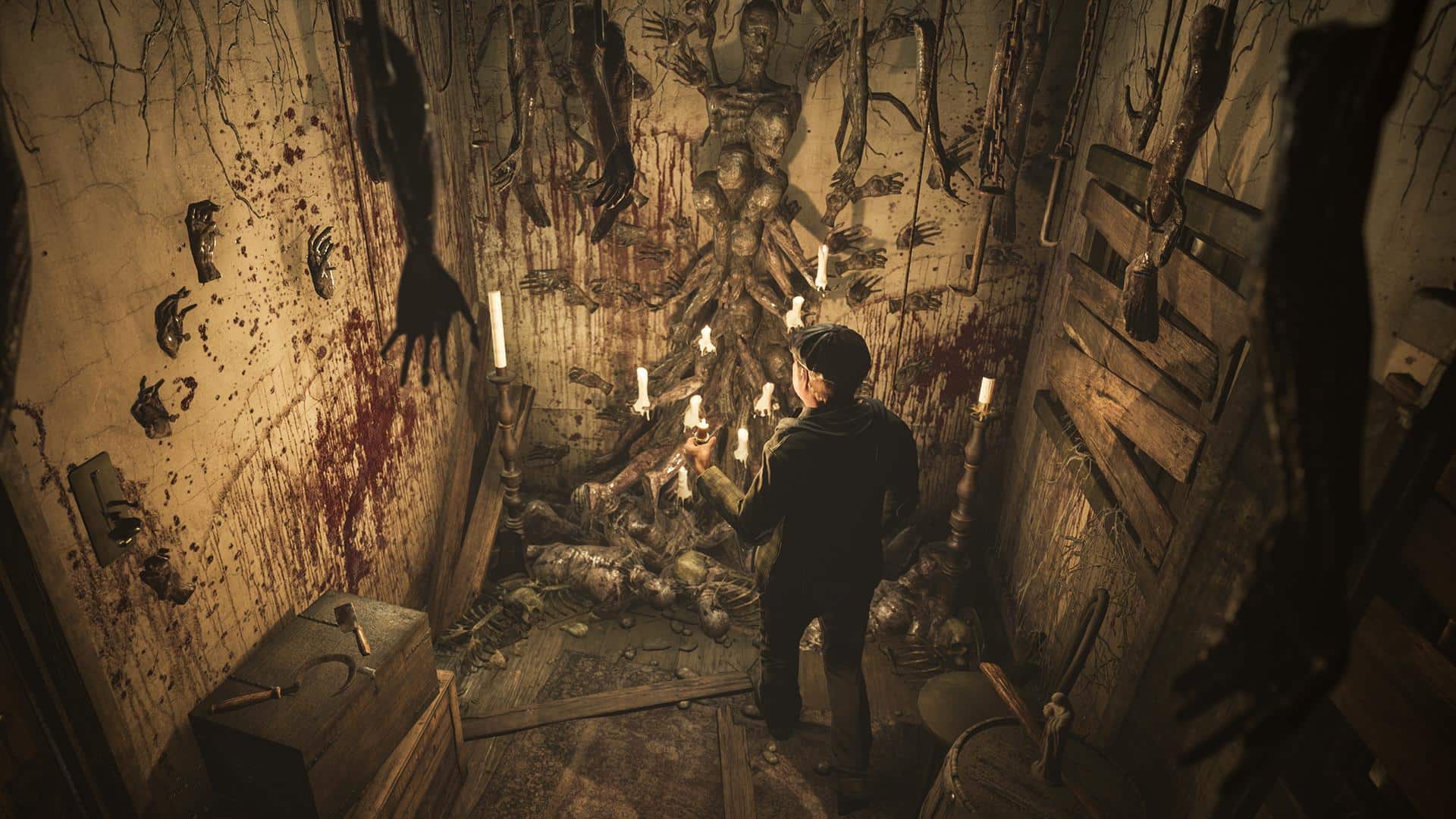 The main meat and potatoes of Song of Horror are the puzzles, which are as good as the series has ever made them. Yes, they are still a bit silly, but they now err much more on the side of "silly but enjoyable" than "silly and frustrating." I never quite got stuck on something really obtuse the way I did in earlier episodes. Enemy engagements are much the same, with different designs for the main monster, but there is a new monster that needs to be dealt with in a new way, adding a small amount of variation to the standard formula.
The audio and sound effects have always been standouts, especially with good headphones on, but here the effects seem even more engaging and tense as you progress. I found myself getting immersed in this chapter in a way in which I did not quite manage to do so in earlier chapters. I have heard reports of other players suffering a terrible game-breaking bug near the end of a playthrough, but luckily that did not happen to me and may have been patched out at this stage.
https://www.youtube.com/watch?v=20xHEYb2_Es
It's hard to know where the developers' can take Episode 5 that will be even more of an acceleration of tension than we have had up until this point, but I am actually looking forward to seeing. Song of Horror has had a very slow build-up, and if you only played Episode 1 or 2 and stopped there, I encourage you to give it another go. I didn't think I would get back into enjoying it as much as I have, but there you go. It's still a decidedly lower budget release than many major studios put out, with the requisite amount of polish missing, but I have come to respect Song of Horror for the amount of heart it has and how hard it tries. And, at times, it can be very scary.
The Review
Song of Horror
With a great horror setting and interesting and expansive lore, Song of Horror: Episode 4 has gotten us sufficiently excited for the final chapter.
PROS
Great, scary setting
Puzzles are better designed
Best chapter yet in the series
CONS
Some bugs
Enemy encounters still largely meh
Review Breakdown
Storyline

0%

Gameplay

0%

Graphics

0%

Replay Value

0%