You'll find a simulator for just about everything these days. Whether it's farming goats, flying planes, house flipping or even performing surgery, there's a game for that. So it's not such a big surprise that Saber Interactive developed an off-road simulation title focused on travelling rugged, harsh and unforgiving terrain. Your enemy in SnowRunner is mud, snow, swamps and rocky landscapes.
And while that certainly doesn't sound like it is everyone's cup of tea, the biggest surprise about SnowRunner is that it is actually quite enjoyable.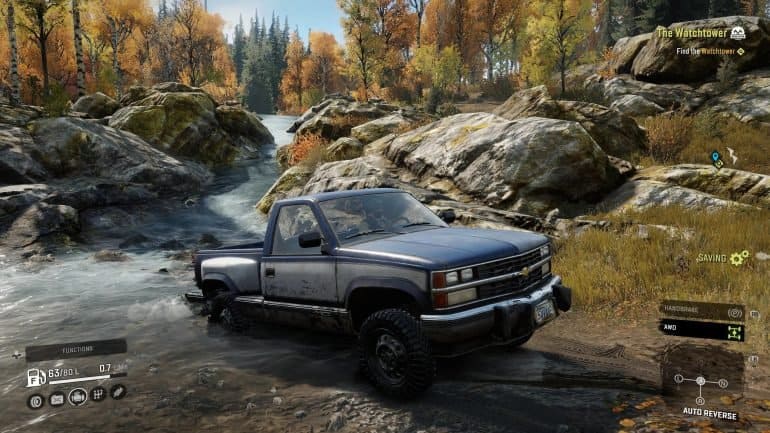 When Fortress of Solitude was first offered the game for review, nobody wanted to touch it — not even me. On paper, SnowRunner seems like a drag — especially for someone who has never driven a truck through difficult terrain. This seemed like a title dedicated to those who actually work in the trade, like truck drivers or evil bad guys carrying illegal cargo. Much to my surprise, however, I found myself enjoying the simplicity of the game.
There are no bad guys, no complex stories and no racing as the title suggests. Instead, making your way from A to B and overcoming the elements is your only objective. It's slow-paced and sometimes painfully difficult, but SnowRunner is also rewarding and fun. Success here means you've chosen a good route, you've managed your fuel well and you've brought the appropriate tools to get you to your destination. Drive smart and you'll be victorious. Rush and you might find the environment causing your engine to give up.
Now, after a lengthy wait, SnowRunner has been ported for the PS5 — which means that you'll be able to enjoy the challenge in 4K at 60 frames-per-second with haptic feedback support (you'll be able to feel every twist and turn in the dirt). Plus, if you already own the game on PS4 will be able to upgrade to the PS5 version free of charge.
Sometimes it's nice to take a break from the many violent and complicated games out there. SnowRunner offers just that. With the inviting environment (which comes alive with plant life and such), the experience can be quite soothing. It's not the most glamorous driving game ever made (it could use some polish), but that's perfectly okay. It does what the creators set out for it to do: offer a satisfying off-road simulator with powerful vehicles travelling through extreme locations.
SnowRunner will be available for the PS5 and Xbox Series X|S on 31st May 2022.
Here's your chance to win SnowRunner on Xbox Series X.
To stand a chance of winning a code for the game, all you have to do is share this post and leave a comment below (on this page).
The competition closes on Friday, 3 June 2022 at midnight. Winners will be contacted via email after this date. Please use a working email address to communicate logistics.
The giveaway is restricted to readers who reside in South Africa only. Terms and conditions/Site disclaimer rules apply. One entry per person. The winners will be contacted via email. The prize excludes travel, is non-transferable and cannot be redeemed for cash.
The Review
SnowRunner (PS5)
If you're looking for a different type of off-road simulator, and you have the patience to fumble over and over again, SnowRunner is worth trying.
PROS
The game's simplicity
Enjoyable gameplay
CONS
Complicated menus
Could use a more exciting presentation
Review Breakdown
Gameplay

0%

Graphics

0%

Replay Value

0%

Sound and Music

0%