Sniper Ghost Warrior Contracts sounds like an anime title and, I'll be honest, I kind of thought it might be based on some lesser-known piece of Japanese culture. It is not. It's the 4th instalment in the franchise developed by CI Games.
Being a complete novice to the title, I did a bit of research into the previous games before playing Sniper Ghost Warrior Contracts, just so I could compare apples with apples. The main difference between the previous 3 and new title is that the open-world element is gone and has been replaced by missions, or contracts, as the name suggests. Each level is fairly open-world but, at best, it is now open-level.
On its surface, Sniper Ghost Warrior Contracts should appeal to me massively. It's first-person, it is all about stealth and strategy, it is about killing from a distance with some really beautiful weaponry, it has "bullet time" and spectacularly gory kill shots. After all, there are few things a satisfying as watching the snow behind some anonymous filthy baddie turn red as you put a bullet through his head from 500 meters away.
…the open-world element is gone and has been replaced by missions…
Sniper Ghost Warrior Contracts also has very clear plot points. I don't mean an overall plot point for the game, though that is there. I'm talking about each mission has a very clear objective. Go here, kill this person, get paid this much. Simple and beautiful. Then use that money to buy new guns and gizmos to dead people.
So it's a win? Not quite.
The overall plot point for Sniper Ghost Warrior Contracts is some mundane drivel about "big oil" and the politics of "who gives AF".
Then there is your moral justification as to why you kill people you do not know for money. From that point on, the game becomes the digital equivalent of a fidget spinner. You get a contract, you plan your kill, sometimes you need to retrieve something, you choose your kit to best accomplish the said plan, you execute said plan and then you escape. This is all really great the first 5 times you do it, but there are 25 maps or contracts you need to finish and, with the exception of a few variations in the challenges, it all just becomes about taking the shot.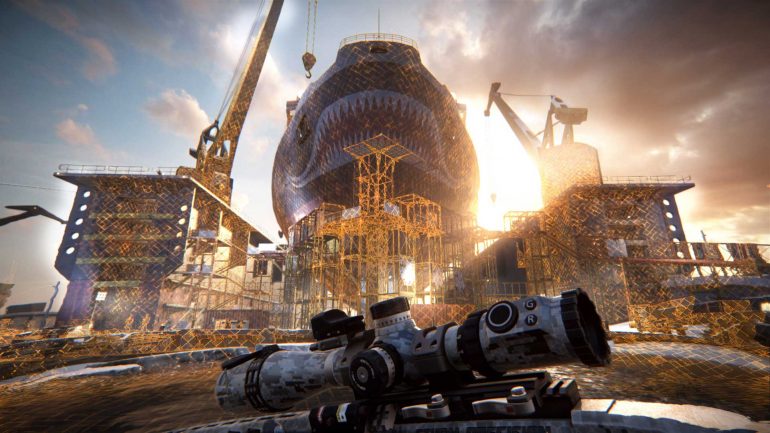 You can choose to try the side missions within each contract for additional money and sometimes you can go full John Wick with the hand-to-hand wet work. Sometimes you will need to blow stuff up and sometimes you will need to kill more than one person. All of these things add a new layer to a contract and you do need to plan very carefully. However, at the end of the day, it is the same thing for every single level. Plan, kill, escape, repeat.
The locations are stunning and varied. You travel from private mansions to snowy forests and oilrigs. All beautiful and all epic.
The locations are stunning and varied.
One good thing is that very little of the planning you used in a previous contract will translate to a new contract. You approach each with a clean slate and you need to be thorough. As the old saying goes, failure to plan is planning to fail and failure in this line of work is absolute.
The A.I. is a bit schizophrenic too. You have 3 difficulty settings, where Easy means you can have 2 guys standing side by side, blow the one guy's head off and the other won't even acknowledge it. In Normal, the NPC's can range from blind and deaf to almost clairvoyant. I have had enemies spot me in a snowstorm from 300m away. Hard means that every move you make requires you to bend the laws of physics. In all of these modes, your enemies are cursed with very short memories. Even if you have killed half of the soldiers protecting a location, if you stop shooting for 5 minutes, they simply forget you are there. If only life were like that.
…the game actually feels lonely…
Another strange characteristic of Sniper Ghost Warrior Contracts is how much of it is spent in 'in-action'. The planning is slow. Waiting for the perfect shot requires patience. The escape to the extraction point all happens in real-time and is often completely uneventful. Except for pulling the trigger and the occasional hand-to-hand stuff, the game actually feels lonely. I'm beginning to think that this is intentional. I guess in reality, this is what the life of a sniper is and, if that is the case, this game nails it.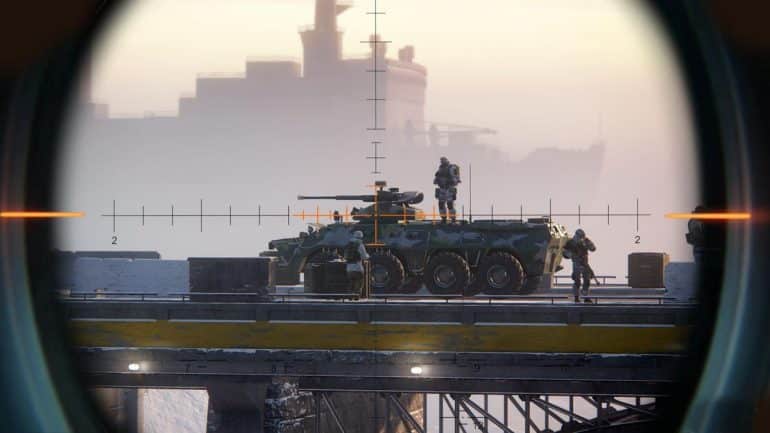 The toys you get to use, as you can afford them, do add a layer of interest. There are drones to help with targeting and surveillance. A myriad of explosives, climbing gear, camouflage, grappling hooks, zip lines and, my personal favourite, remote-controlled gun turrets.
The toys you get to use, as you can afford them, do add a layer of interest.
These are particularly handy when confronted with multiple targets, but I use them almost always. I am of the 'shock-and-awe' school of assassination. For me, I generally plan to plant turrets all around the target, and then in one smooth action, I kill everyone all at once. For 5 – 10 seconds, I rain down hell on every living thing in the kill zone and then it's over. A location must be a smouldering ruin when I leave, or I have not done my job properly. The destruction has to be so complete that the day becomes etched into the collective consciousness of all who knew my target, for generations.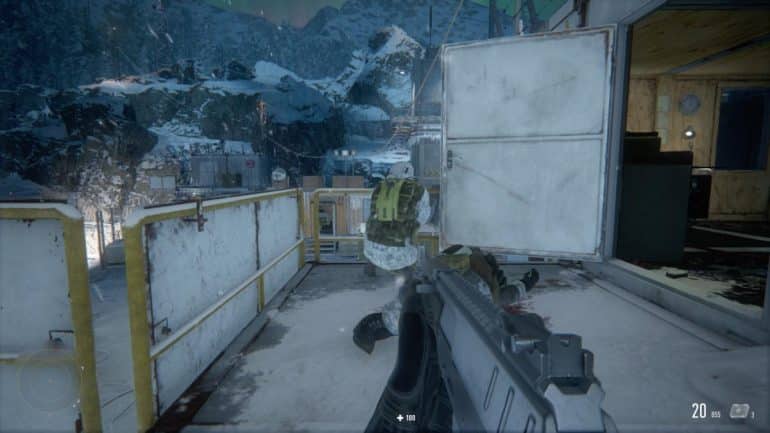 Sniper Ghost Warrior Contracts could be completed quite quickly if you just focus on the main objectives and keep your kills simple, but, if you are like me and each kill needs to be perfect and complicated, then this should keep you going for the whole Christmas break. The replayability is pretty high. Add to this the inevitable DLC's and this could be a game you play for a few hours here and there, as you can, for years.
It looks great; the sound is perfectly suited to the environs and I think playing it spread out like that will minimise the monotony of the gameplay. What I would love to see is a VR version. That would be pretty damn awesome.
The Review
Sniper Ghost Warrior: Contracts
Sniper Ghost Warrior: Contracts is a fun game when taken in small doses. Some replay value, but lots of developmental opportunity over the course of its life.
PROS
Fun gunplay
Great looking environments
Finally taking down your target
Review Breakdown
Storyline

0%

Gameplay

0%

Graphics

0%

Replay Value

0%

Sound and Music

0%