LEGO has always been seen as the gold standard for modular building systems but recently more toy companies have started to develop their own unique modular building systems and toys. The latest of these is the Snap Ships toys from Play Monster.
As the name implies, these aren't your regular toy space ships. Instead, each spaceship is built by connecting various modular blocks and other pieces to form the final product. What broadens the appeal of these toys is the fact that you can mix and match these pieces to create your own unique ship too.
Snap Ships toys come in various shapes and sizes.
In this review, I'll be taking a look at two of these sets from the Forge Faction (the good guys). The first set includes the small but fast LANCE SV-51 Scout. The second contains the GLADIUS AC-75 Drop Ship.
What's in the box?
First off, I have to mention just how awesome the packaging for Snap Ships toys is. It's heartwarming to see a toy company realising that part of the experience of receiving a new product is the unboxing, and Play Monster has gone all out in this respect. Not only are the boxes suitably bulky and adorned with various visuals and schematics that gives you more insight into the ship and the factions but, as a bonus, it also doubles as a stand for your finished ship.
On closer inspection, you'll notice that on the back of the box it shows you just how each Snap Ship is put together. As an added extra, there is some flavour text that indicates what the ship is used for. All these added touches help to draw collectors into the Snap Ships toys universe.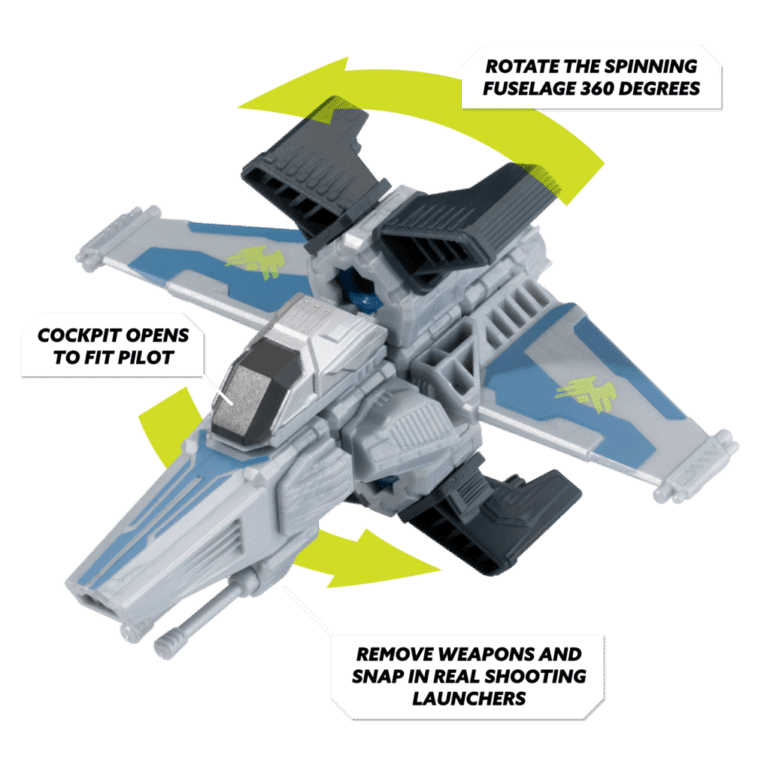 The LANCE SV-51 Scout can fire mini plastic missiles and can be built in one of two ways (as indicated on the box).
The larger GLADIUS AC-75 Drop Ship, on the other hand, only has one option schematic when it comes to the building but it comes with a small Rover that drops from the larger ship.
Each ship also comes with a small crew (of their specific faction) that fits snugly into the cockpit.
Again, it must be mentioned that although Snap Ships toys do come with building instructions, you are still free to mix and match as you see fit.
How do you play with it?
Although each part is made of a solid moulded piece of plastic, there is quite a surprising amount of detail. Especially, when considering that most of these consist of blocky shapes.
My initial thinking was that, due to the modular nature of the ships, each would have a square-like shape. Although this is mostly true in the case of the GLADIUS AC-75 Drop Ship, there is a surprising amount of variety when looking at the finished ship's silhouette.
Play Moster should also be commended for being able to use the same modular system for all Snap Ships toys – even though all the products look remarkably different.
But that's not all. You can also download the Snap Ships – Build to Battle app, which creates life-sized digital versions of the constructible ships. Using Augmented Reality, they can even be summoned into real-world environments.
The app also gives you access to the Snap Ship toys universe – which allows you to learn more about the fleet or unlock more details. Heck, there's even an option to battle with other ships in "intense combat flights against the Komplex".
So how does the modular system work?
Basically, it boils down to a peg and hole system where some of the blocks have holes and the others have little pegs or nodules that slot into these holes. It's as simple as that, and it's this simplicity that helps to create your own unique ships so easy.
What did we think?
I thoroughly enjoyed my time reviewing these Forge Faction Snap Ships toys. This is a product that younger me would've loved to have owned and adult me is glad to have as part of his collection.
There are some tiny issues that I picked up such as some of the connections between the components becoming a bit lose over time, but never to a point where it took away from the experience of building and playing with these ships.
As a modular system, Snap Ships absolutely nails it. My 10-year old and 6-year old quickly figured out how to build their own unique looking ships, even combining parts from the different sets. And in essence, this is how one measures the success of such a system: by the creativity it unlocks.
The Snap Ships toy range is available for purchase at Takealot.com, Toy Kingdom, Hamleys, CNA, Everyshop and Raru.co.za.
The Review
LANCE SV-51 Scout & GLADIUS AC-75 Drop Ship
Snap Ships tick all the boxes of what makes a modular toy system so great. Both of these ships were a joy to build and even more fun to play with.
PROS
The modular system encourages creativity
Each ship feels unqiue
Attention to detail
The little pilot figures are a great addition
CONS
Some of the connections can become lose over time
Review Breakdown
Packaging

0%

Durability

0%

Paintwork

0%

Detail

0%

Features

0%

Fun Factor

0%