When Shrek was released in 2001, many theatre audiences were met with a completely unconventional take on fairytales. Instead of a dashingly handsome underdog, we got a green Ogre with a Scottish accent. A lot of things were very weird about this movie, but that's what made it special at the time.
RELATED: Dwayne Johnson Is The Perfect Fit For A Live-Action Shrek Movie
Before gracing our screens, Shrek went through what many would call production hell. While it was released in 2001, the film was actually in the works since 1995. Even the process of coming up with a character like Shrek was a bit too odd to imagine from someone like Stephen Spielberg. That's why it was nice to learn that Spielberg actually bought the rights to Shrek from a children's book by cartoonist William Steig. This purchase was made all the way back in 1991. Unfortunately, time ran out for his ownership of the film's rights. Therefore, he sold it to Jeffrey Katzenberg, who co-owned DreamWorks Pictures with Spielberg. Katzenberg immediately got to work and began active production for Shrek in 1995.
This is where things got a little bit tricky at the studio. You see, while Shrek was a nice little idea, DreamWorks was already working on a fluid traditional animation film called The Prince Of Egypt. This film was the type of project that felt promising and rewarding for an animator, and the studio understood the delicacy it required.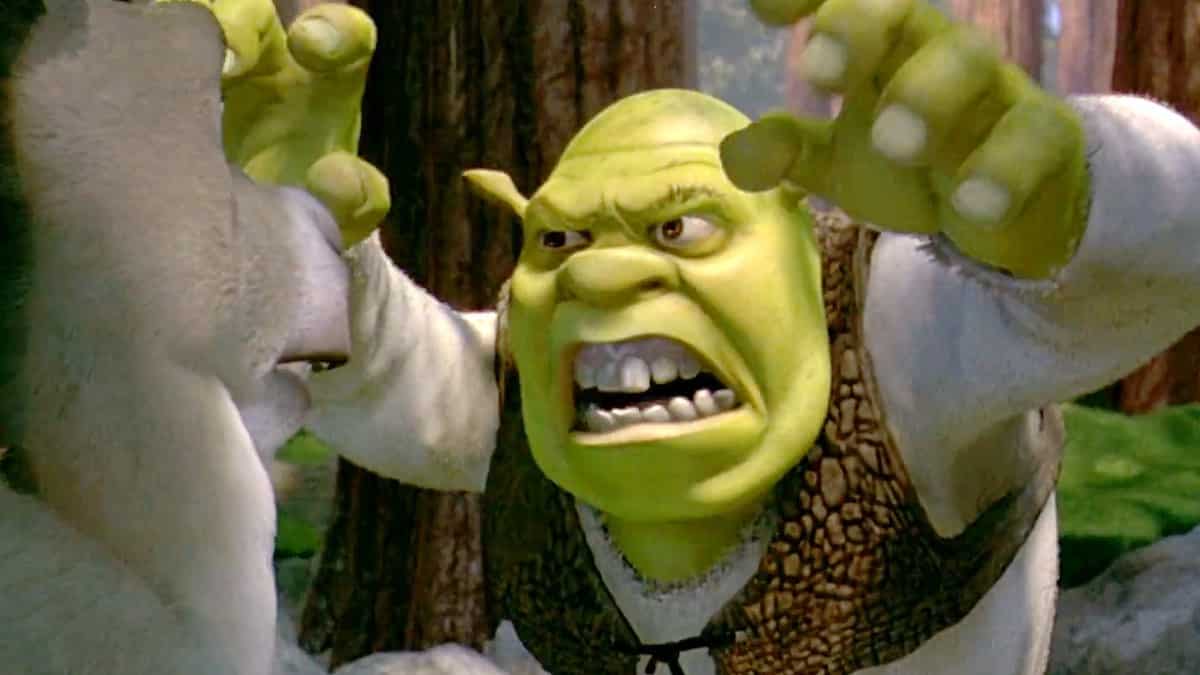 RELATED: House of the Dragon Is Really A Shrek Rip-Off. Here's All The Proof
Meanwhile, Shrek was a completely new venture for animators. It used 3D computer graphics. Back then, we didn't have any of the advancements that exist today. Even worse for DreamWorks, they lacked the budget for films that a company like Pixar was able to invest into Toy Story back in 1995. This head-scratching state of things made it nigh impossible to think of a proper development direction. Production was also quite slow, so the solution from DreamWorks higher-ups birthed a new type of punishment for animators.
If someone wasn't performing up to the expected standards for The Prince Of Egypt, they were "Shreked." A term that meant the end of a typical animation production process in exchange for an experimental film about a random Ogre man from a children's book. Shrek was not exciting to work on at that point, and in a book written by former DreamWorks animator Nicole Laporte, "It was known as the Gulag. If you failed on Prince of Egypt, you were sent to the dungeons to work on Shrek."
Shreked: A combination of the words wrecked or decked and screwed. It is used when someone gets absolutely destroyed – Urban Dictionary
RELATED: 13 Films That Suffer From The 3rd Film Curse
Production didn't look too good by 1997 either. Although they hired Chris Farley for the voice, the tragic passing of this actor meant that they didn't have his lines to work with anymore. Turning to Farley's SNL castmate, Mike Myers, Shrek was given new life once again. As you would have it, Myers recorded all his lines in his exaggerated Canadian accent. However, he made the bold decision to pitch a Scottish accent for Shrek. This would mean re-recording all his lines. A move that will cost the studio $4 million dollars. Katzenberg was doubtful, but Myers' passion rubbed off on him. Years later, Katzenberg has credited Myers for the move, saying he gave life to Shrek.
RELATED: The 14 Best Old Cartoon Network Shows
But it looks like Dreamworks animators are about to get Shreked again in 2023. Shrek 5, the highly anticipated instalment in the beloved animated franchise, is generating considerable buzz among fans as recent statements by Illumination's Chris Meledandri shed light on its development. Meledandri, at the helm of this creative endeavour, eagerly anticipates the return of the film's original voice cast, including the iconic trio of Mike Myers, Cameron Diaz, and Eddie Murphy.
The prospects for Shrek 5 appear promising, given the resounding success of the 2022 spinoff sequel, Puss in Boots: The Last Wish. Eddie Murphy, lending his vocal talents to the boisterous character of Donkey, expressed his enthusiasm for the possibility of another Shrek adventure earlier this year. Murphy emphatically declared, "If [DreamWorks] ever came with another 'Shrek,' I'd do it in two seconds. I love Donkey. They did 'Puss in Boots' movies. I was like, 'They should have done a Donkey movie.' Donkey is funnier than Puss in Boots. I mean, I love Puss in Boots, but he ain't funny as the Donkey."
And he isn't wrong.
Tell us, are you looking forward to Shrek 5?