Could Peter Parker's childhood friend become his greatest enemy? As fans eagerly await the release of Marvel's Spider-Man 2, there is no denying that the inclusion of Venom has added a new level of excitement to the game. With creative director Bryan Intihar confirming that Eddie Brock would not be the host attached to the sentient alien symbiote, many fans have speculated that Harry Osborn, Peter Parker's childhood friend and son of Norman Osborn, would take up the mantle of Venom.
RELATED: Marvel's Spider-Man 2: What We Hope to See
While there has been no official confirmation from Insomniac Games, fans have been speculating for quite some time that Harry will take on the role of the symbiote antihero in the highly-anticipated Spider-Man sequel.
Speculations surrounding Harry's potential evolution into Venom possess a notable degree of validity. A compelling thread linking these theories stems from the fact that Harry's own father, the enigmatic Norman Osborn, boasts a documented track record of engaging in symbiote experimentation. Moreover, Harry's affliction and subsequent enigmatic vanishing offer a fertile ground for his emergence as the infamous Venom.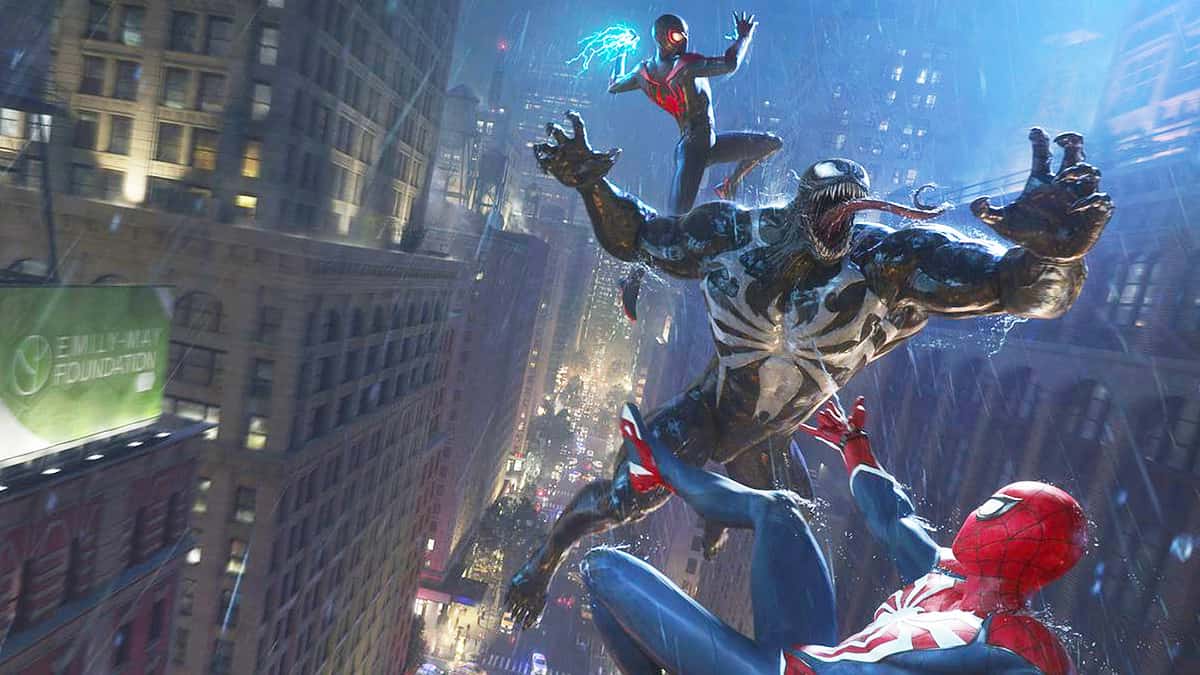 Marvel Spider-Man fans will recall that near the end of the game, Peter and Mary Jane Watson learn that their close friend is terminally ill. Harry suffers from Oshtoran Syndrome, the same disease that killed his mother, and it turns out that he has been in a coma-like state the entire time, undergoing experimental medical treatments. In a post-credit scene, we see Harry in a stasis chamber, which suspends him in time while his father searches for a cure. Norman will go to extraordinary lengths to ensure his son's recovery. This therapy appears symbiotic in nature as Harry is bound in the tank among many black, gooey web-like growths that react to Norman when he touches the glass (It's worth wondering if he was aware of the effects the symbiote would have on him while inside). Of course, fans know that the symbiote parasitically bonds to its host, but this may not be true in Marvel's Spider-Man 2.
RELATED: PS5's Spider-Man 2 Will Allow You to Play as Venom
Spider-Man: Miles Morales enthrals viewers with an intriguing post-credits scene, tantalizingly hinting at Harry's metamorphosis into the formidable Venom. Within this climactic moment, we bear witness to Harry, ensnared in a cocoon of obsidian webbing, as he gradually rouses from his slumber. Our perspective mirrors Harry's own, affording us a glimpse of Norman's mounting impatience as he vehemently implores for his son's release from stasis, despite the cautionary words of impending repercussions.
This allows Insomniac to explore Harry's link to the symbiote storyline in the upcoming sequel. It would be interesting to see how Peter deals with his childhood friend, becoming one of his greatest enemies. Additionally, Norman Osborn's involvement in Harry's transformation could add another layer of complexity to the story. If done right, having Harry as Venom could make for an exciting and emotional sequel.
RELATED: The Incredible Twist that Brings Gwen Stacy Back in The Amazing Spider-Man 3
Whether or not Harry becomes Venom remains to be seen, but it is clear that Insomniac is setting him up for a significant role in the game's upcoming story. I am sure fans cannot wait to see what they have in store for Peter's troubled friend. So, get ready to swing into action and discover the secrets of Venom in this highly anticipated sequel set for release on 20 October 2023.
RELATED: Spider-Man: Beyond the Spider-Verse Needs the Symbiote Saga
Who do you think will be Venom in Marvel's Spider-Man 2?