Reintroducing Shadowman is no easy feat. After all, Jack Boniface had some of his best moments in years gone by. I mean, who could forget the epic Shadow Man video game for the Nintendo 64? Yet, Cullen Bunn and Jon Davis-Hunt are bringing the spirit of the Shadow Loa back in Shadowman #1.
Instead of retelling Jack's origin story, Shadowman #1 acts under the premise you understand the character and the journey he has been on. Sure, there's a little bit of exposition sprinkled into the dialogue to ensure newcomers can easily pick up what's vitally important from his past, but this is a new tale that doesn't need you do have read all thousand issues of the Crisis of Infinite Reboots.
If you aren't familiar with Bunn's writing, you'll quickly realise that the writer was born to do horror. From his work on The Damned and Harrow County, he has a mind that'd make Thomas Ligotti blush. So it makes sense to put him on a book that needs a little bit more macabre than usual.
What's instantly noticeable in Shadowman #1 is the Clive Barker influence running deep throughout the book. This doesn't feel like a superhero story, but more like a supernatural horror. It isn't just about the frightening monsters lurking in it, but the themes that get right under your skin. You know, like something out of the Books of Blood.
At the same time, it helps that Davis-Hunt unleashes nightmare fuel in every panel. There are moments when his monster designs are eerily reminiscent of those godforsaken McFarlane Toys Monsters, which might open up a portal for Pinhead and the Cenobites if you aren't too careful. Yet, he still maintains a comic book sensibility and draws from his time at 2000 AD in panels that demand more satire and "playfulness".
More importantly, Shadowman #1 feels fresh. You don't get the sense that you read this all before, even if some of the cast is recognisable from previous iterations. There's a real fear and deep uneasiness throughout, as the creative team put aside superheroism or plans for some major crossover with ten other books. Instead, this is about Jack—it's his story, as it should be.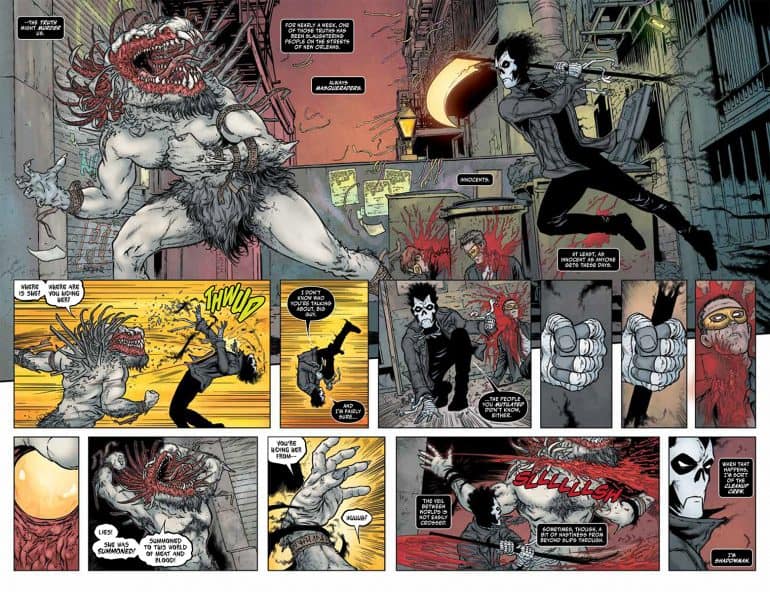 Shadowman has always been a fascinating character that deserves to reach the same level of notoriety as other horror-infused icons like John Constantine, Swamp Thing and Blade. Every time a new book drops, you think he's almost there and ready to elevate himself in the pop culture discussion. Judging by Shadowman #1, there's simply no reason to ignore him any longer, because he's just as good, if not better, than all those other characters.