The Teenage Mutant Ninja Turtles have been a force to be reckoned with ever since making their comic book debut in 1984. Leonardo, Donatello, Raphael and Michelangelo have won the hearts of generations of fans over the decades, with the perfect blend of action, fun and brotherly bonding.
It's been a minute since we last saw the awesome foursome in a movie, so fans were delighted to hear that a Teenage Mutant Ninja Turtles CGI animated reboot was in the works with Nickelodeon and Point Grey Pictures. Jeff Lowe has been tapped to direct the movie from a script by Brendan O'Brien.
While details about the plot have been kept under wraps, Seth Rogen, who is producing the Teenage Mutant Ninja Turtles reboot along with Evan Goldberg, has given fans a little insight into what the new movie will entail.
In an interview with Collider, Seth Rogen said that the latest adaptation of the Teenage Mutant Ninja Turtles franchise will put a lot of focus on the "teenage" aspect of the characters.
"As a lifelong fan of Ninja Turtles, weirdly the 'Teenage' part of Teenage Mutant Ninja Turtles was always the part that stuck out to me the most. And as someone who loves teenage movies, and who's made a lot of teenage movies, and who literally got their start in their entire profession by writing a teenage movie, the idea of kind of honing in on that element was really exciting to us. I mean, not disregarding the rest, but really using that as kind of a jumping-off point for the film."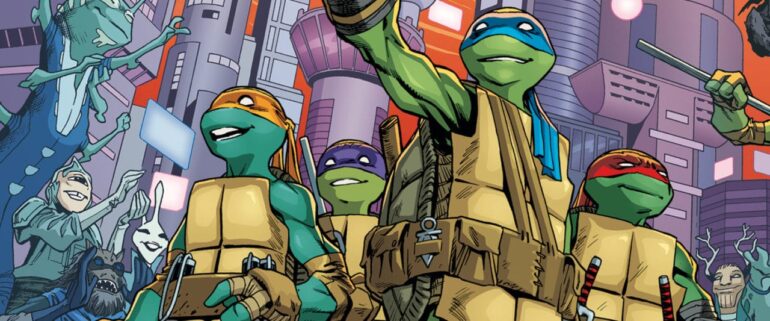 This new approach might be a welcome change from the grittier Teenage Mutant Ninja Turtles releases in 2014 and 2016. The classic 1990 live-action film, simply titled Teenage Mutant Ninja Turtles was pretty light-hearted and is still considered to be the best TMNT film to date.
Perhaps Rogen is on to something by drawing a little inspiration from yesteryear.
Are you excited for Seth Rogen's version of the Teenage Mutant Ninja Turtles?