I've been fighting this boss for about two hours now. I don't even know how many times I've died to him.
I've started to see the patterns when he swings and moves, and I know when it's a safe time to attack and when it's not. I know which combos are exploitable and which should be avoided entirely. He's down to just a couple of attacks being needed before he dies. My reactions are too slow. He punishes me. I die. Again.
"I'm never playing this game again," I tell my wife. "I'll look at walkthroughs on YouTube instead to see the content." The next day finds me playing the game again. I beat the boss. It's an amazing, incredible experience. There's another, harder boss 10 minutes later.
This is Sekiro: Shadows Die Twice.
Sekiro: Shadows Die Twice is the most recent release of FromSoftware, famed for their Soulsborne series. Famed for creating games that were expansive, dark, disturbing, vague, and extremely challenging, they have moved away from the European settings of their earlier franchises to work with something closer to home for them – a shinobi adventure in the Sengoku Period of Japan.
You play as Wolf, a shinobi vassal bound in service to a young lord, Kuro. After your homeland is invaded and you try to save Kuro, you are struck down, losing your arm, and Kuro is kidnapped. You awaken to find that you have been saved by a mysterious sculptor, who provides you with a new mechanical arm, and a vague sense of direction about where to go to find your missing lord and rescue him.
Sekiro is the most direct game From has ever made, in terms of story. There's a lot of implied stuff in the backstory, but for the most part, the story is fairly straightforward, with more voice acting and cutscenes than ever before for one of their titles. I still found the world that had been built to be intriguing and interesting to traverse, but there's a lot less vaguery that people can spend the next 5 years exploring in YouTube lore videos. Which is kind of a pity, but at the same time, it is a change in pace. You do have a choice of four endings, with only one being "bad" and the rest having various secret or challenging ways to achieve them.
There is a great feeling of travelling through one huge world, even when you are only in a certain area, which I see as a trademark of From's at this stage, so that you might travel down a long dark cavern for ages and ages, and then realise that if you travel through this shortcut, you might connect back again to this other place you were in much earlier, and realise that those two areas are geographically very close. During the game, you will travel between a ruined Japanese town, a large castle and surrounds, a series of groves and peaks with massive Buddha statues, a poison swamp, a temple, and a few others that I don't want to spoil. There is a nice variety in all the places you end up seeing.
Let's talk gameplay. Wolf has one primary weapon – his sword – and only one set of clothes. He has three stats: health, posture, and damage. Health and posture are increased via defeating mini-bosses, and strength is increased via defeating main bosses.  This means the fashion and build variety of Souls games is gone, which might upset some fans. The most that you find in the world by way of extra weapons are tools that you attach to your mechanical arm: an axe, a shuriken launcher, a spear, a flamethrower, and so on, and there are not really more than ten of these tools altogether.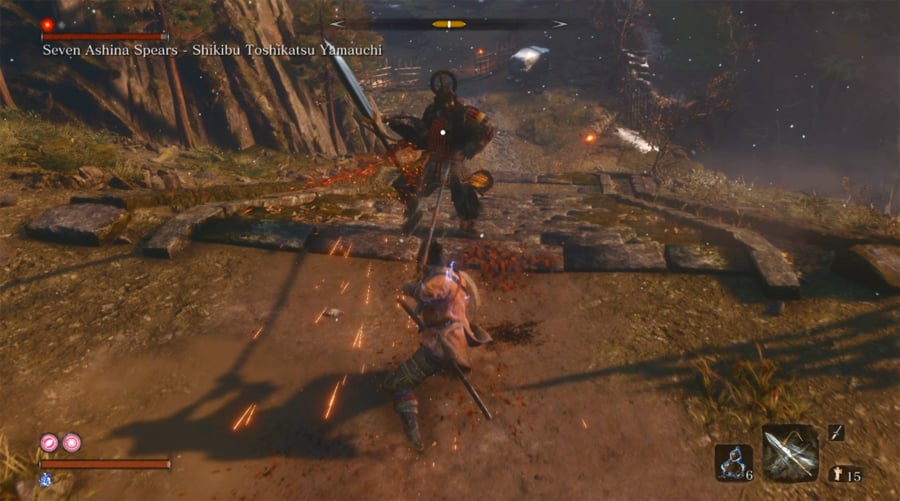 This can all be seen as a reduction of features until you realise what the Sekiro: Shadows Die Twice wants you to do, which is master the katana completely. And boy oh boy does it feel satisfying when you start getting that part of things right. You have two bars that are used during combat, and the same for your enemy. One is health, and one is posture. When health is gone, enemies die, but that is rarely how you will defeat them. What you really want to do is to break their posture and get a deathblow. On a normal enemy, this is the end of them. Mini-bosses and Bosses have more than one health bar and will require this posture breaking more than once.
What health depletion does aid with is the recovery of the posture meter: if an enemy has low health, their posture stays closer to being broken for longer periods of time. So it becomes a balancing act for you as the player to know how to approach each enemy in the most optimal way to damage health and posture.
Posture can be damaged by swinging your sword into an enemy while they block, or by parrying their blows with precision on each strike. Timing is critical on the parry blows, and every now and again they will use a dangerous attack that cannot be parried, and which you must avoid or jump over. Some enemies are affected in different ways by your ninja tools, and therefore some tools are essential in combat with those enemies. However, tool usage is limited, as you require the use of tokens to use them, and these tokens can only be refilled at a rest point.
This all means means the speed of combat is very high, and you will most often be left with just you and your sword during tough fights – if an enemy unleashes a flurry of 7 blows in a row, you must be able to time your parries on each blow to reduce their posture and also not get hit yourself. Also, spamming the parry button ends up punishing you. Just FYI.
During the game, you can gain levels and currency, and while these are not spent on stats, you can use the level points to unlock new passive traits or active attacks, which you can then slot in and use as you please. Currency is used to buy items from merchants.
Upon death, you will lose half your money and half your experience towards your next level, with no chance of recovering it. Thankfully, you are able to pause the game completely in menus for once, but you cannot use items from the menu.
Traversal around the world is greatly changed from other titles From has released – you now can jump, wall jump, and grapple using a rope to swing from point to point. You can crouch in stealth mode, and try to take enemies by surprise with an assassination move. On normal enemies, this kills them, and on mini-bosses, it might reduce their health by half before the fight even begins. You can also overhear them speaking before a fight, and sometimes gain valuable intel. In general, mobility feels excellent and very liberating. This does have the side-effect of often making normal enemies feel superfluous. I can navigate areas quite easily with never having to fight any of them.
The environment is not so oppressive as Souls games are. Adding to the fact that most of the valuable ninja tools are obtained early in the game, that means exploration, in general, does not have as many rewards as the best areas in those Souls games. You do have items, most of which involve passive buffs to your skills, or which heal damage and status ailments, but not many of the items you find are interesting per se.
Sekiro: Shadows Die Twice is very difficult, which I will not deny, but it is also true that it is most difficult at the start of the game. At that point, you only have one use of your renewable healing item, and you will quite easily die to a very normal mob enemy. It also doesn't get any better if you try to play it like a Souls game, or even Bloodborne.
What clicked for me, and what I hear from other players too, is that you need to learn how the game wants to be played. What it wants is for you to be aggressive: get up into your enemies face, parry him, go for the strike. Repeat. Clash your sword like there is no tomorrow. Your dodge and jump are only good in certain situations. Your own sword using reflexes will serve you much better. It took me about a third of the game before I got this into my head, but after that, I had a much more successful experience.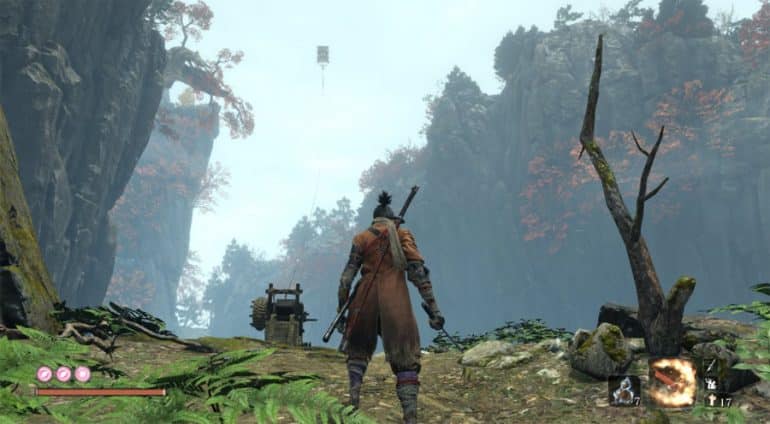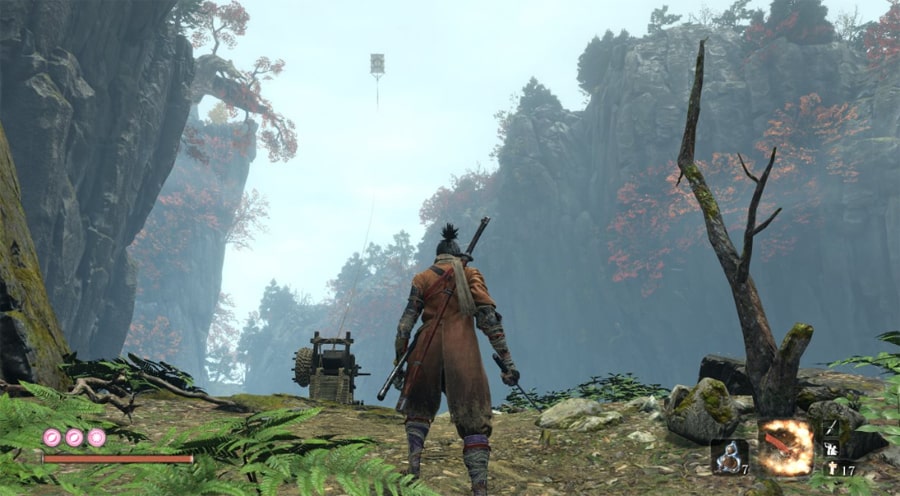 Sekiro: Shadows Die Twice does have a respawn mechanic – in battle, you can die and resurrect once per life for free. You can do it a second time in battle if you get a deathblow. What this means technically is that you could die once in Phase 1 of a Boss, deathblow them to activate Phase 2, and then resurrect once more in that fight before dying for real. You do resurrect with half a bar of health, and in practice, this often means the resurrection functions like just one more use of a health healing item, and a saving move if you are too slow on a specific slash. It can lead to some funny events where you lie on the ground and only resurrect when an enemy has their back turned, whereupon you can stab them. But that doesn't work in boss battles, sorry.
Death happens a lot in Sekiro: Shadows Die Twice, and you shouldn't be afraid of it. Most bosses are quite close to checkpoints so that there are only a couple Souls-like boss runbacks. You should be willing to run in, die, learn from it, and try again. The only downside of this is that a sickness called Dragonrot spreads through the lands the more times you die – this can seem disturbing at first, but in practice means very little.
NPC's will get sick, and sometimes you cannot carry on with their storyline quests, but later in the game, you find ways to heal it and it doesn't really affect anything else. Perhaps a missed opportunity, if it could have been more incorporated into the story, but at the same time you shouldn't be punished for dying in a game, and I agree with that final call.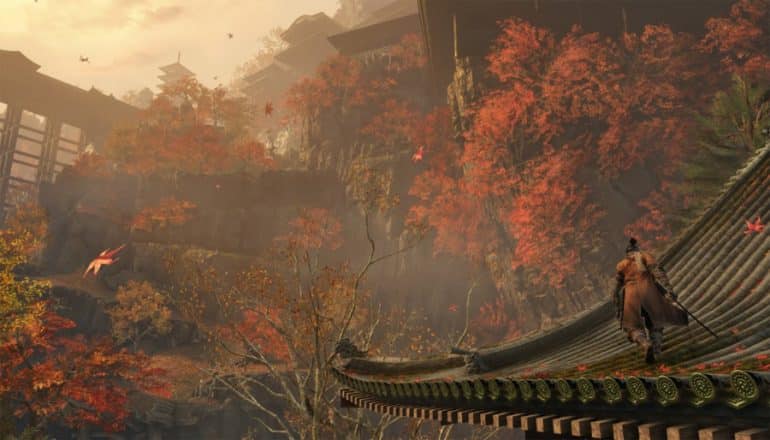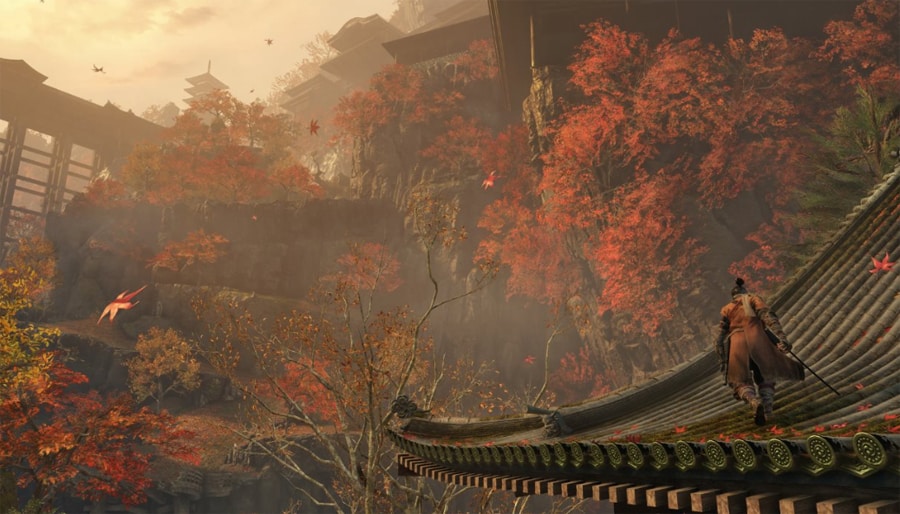 In conclusion, I am a huge fan of FromSoftware already, and I can say that Sekiro: Shadows Die Twice has given me some of the greatest fights and challenges to overcome that I have ever had from them. However, the design of the game and the way everything works means that the need for exploration is diminished, and there is very little replayability value unless you impose challenges upon yourself. There will never really be a way to play the game in a different style, which means it has less longevity than other titles by this developer. But for the one journey I had, it was magical.
Despite all the frustration and pain, nothing compared to that moment where it all clicked, I became like Neo from The Matrix, and took down some huge and daunting enemy without getting hit once. Very few games and game series can match those moments of success.
If you have played a Souls game and found it not to be something you enjoy, you will definitely not enjoy this title. However, if you like a high level of challenge and have experienced Souls or Bloodborne before, I encourage you to get Sekiro: Shadows Die Twice. It's different from them, and you will need to learn to play in a different way. But it'll give you that same deep sense of satisfaction when you conquer this dark land.
The Review
Sekiro: Shadows Die Twice
Sekiro: Shadows Die Twice is a game that offers just as many rewards as it does challenges. It's not an easy game and that is for the best.
PROS
Challenging, yet rewarding
Deeply satisfying combat
Gorgeous setting
CONS
Exploration feels limited
Difficulty might be off putting to some
Review Breakdown
Storyline

0%

Gameplay

0%

Graphics

0%

Replay Value

0%

Sound and Music

0%