Sega is celebrating its 60th anniversary with another retro console(s) – The Game Gear Micro.
And it just might be might be the tiniest one yet.
The Game Gear Micro is a reimagining of Sega's (not so successful) 8-bit handheld system.
The launch features four different consoles with four preloaded games on each device.
The hardware itself measures 80mm x 43mm x 20mm. Each device features a 1.15-inch display screen. Other specs include a single mono speaker and a headphone jack. It charges via USB, though it also runs off two AAA batteries. And each game allows you to save your progression.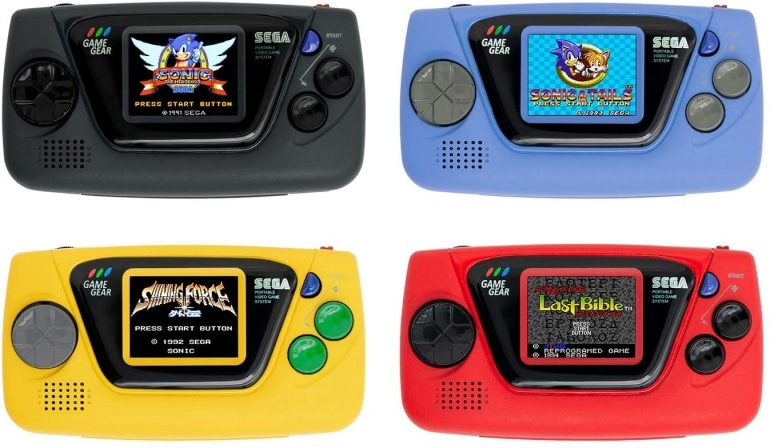 The different colours and various games are a gaming collector's dream. So let's take a detailed look at what each console has to offer…
The black device comes with:
Sonic the Hedgehog
Puyo Puyo 2
Out Run
Royal Stone
The blue console features:
Sonic Chaos
Gunstar Heroes
Sylvan Tale
Baku Baku Animal
The yellow version is preloaded with:
Shining Force Gaiden: Ensei – Jashin no Kuni he
Shining Force: The Sword of Hajya
Shining Force Gaiden: Final Conflict
Nazopuyo Aruru no Ru
The red micro includes:
Revelations: The Demon Slayer
Megami Tensei Gaiden: Last Bible Special
The GG Shinobi
Columns
If you're wondering how you're supposed to play games on that teeny tiny screen, Sega has the solution. If you're willing to buy all four consoles for 27,255 Yen (or 250 USD), Sega will include a mini version of its Big Window magnifying-glass accessory.
https://youtu.be/ZJD0VZQzK1s
Japan will be the first country to get its hands on the Game Gear Micro on October 8, 2020 International orders will ship on October 6th. Each game will set you back 4,980 Yen (which is around 50 USD).
Sadly there's no word on the Game Gear Micro consoles being released anywhere else at this time.