From the humans who brought you Despicable Me, The Secret Life of Pets is a hilarious animation about what your pets might get up when you're not at home (in this case an extreme possibility) – and what they think you get up to.
[dropcap]M[/dropcap]ax (C.K), a small terrier, has a perfect life and the perfect human companion. But when Katie (Ellie Kemper), his owner, brings home a new stray, things take a turn for the worst for Max. In runs Duke (Stonestreet), a bear-like dog that Katie rescued from the pound. Max immediately doesn't like Duke because he doesn't want to share Katie, and the two end up in a sibling rivalry.
The new "brothers" are taken for a walk with the rest of the building's furry gang, but end up loose from their leashes, chasing each other down the streets of New York. One crazy stray cat later, and their collars have been swiped. Animal Control catches the two now seemingly homeless dogs, but luckily for them a ballsy fluffy white rabbit named Snowball (Hart) busts them out.
The Secret Life of Pets is action-packed with Max and Duke trying to get back home, their furry friends trying to find them in the big city, and Snowball and his gang on a mission. It's a great animation for all ages as it has a script tailored for adults and enough comedic-blunders for kids to enjoy. Kevin Hart, Jenny Slate (Gidget) and Lake Bell (Chloe) shine as voice artists. They brought such sass and sarcasm to their characters that it had myself and many other adults laughing hysterically.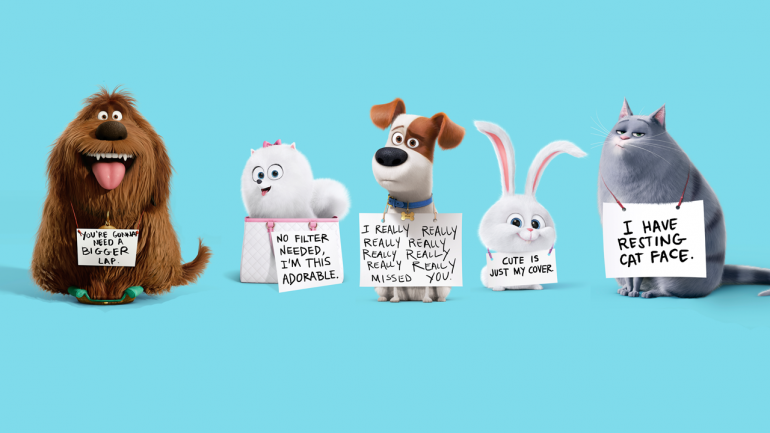 In a nutshell, The Secret Life of Pets is a creative spin on friendship, family and going after what you love. It's all wrapped up in a perfect score and colourful pets (with great lines) that make for a must-watch animation.
P.S. There is a great short before the film of some little yellow fellas we've all grown to love, as well as really funny end credits – so make sure you're on time and stay 'till the end!