Beautiful and occasionally poignant, Sea of Solitude sets itself almost impossibly high goals for the video game medium and fails ever so slightly to meet them.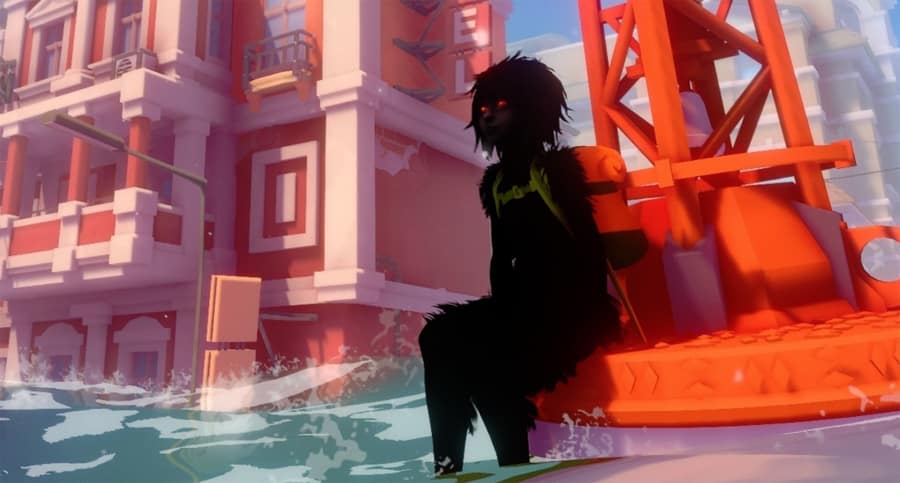 Sea of Solitude is the distinctly personal creation of director Cornelia Geppert. While the design team, of course, included more people, (the impressively low figure of 12 people), it was Geppert that conceptualized the game and aimed to use it as a medium to express her own mental state as it was in the aftermath of a particularly awful 2013 breakup. This means that I feel quite a bit more challenged when discussing or critiquing this game, as the comments I make about it feel like I'm speaking to Geppert directly. However, what I will unequivocally state upfront is that whatever other criticisms I will proceed to level at Sea of Solitude, I will never deny that it was made with passion and artistic vision, and by people who gave a damn about what they were doing.
That being said, here goes: You play as Kay, a vaguely demonic-looking monster girl, wreathed in what might be black fur or perhaps black ichor of some kind. She has glowing red eyes and an orange backpack. There is a distinct sense that she was not always a monster. Kay floats in a small rowboat in a dark world, eventually coming to a small point of light which she interacts with, illuminating the world around her. What is revealed is a beautiful city, based on real-life Berlin, mostly submerged under the ocean around Kay. As Kay continues onwards, she is faced by more dark and disturbing areas that she must bring to light, which begins to be populated by huge monsters that hurl verbal abuse at Kay or who try to destroy her or stop her moving forward.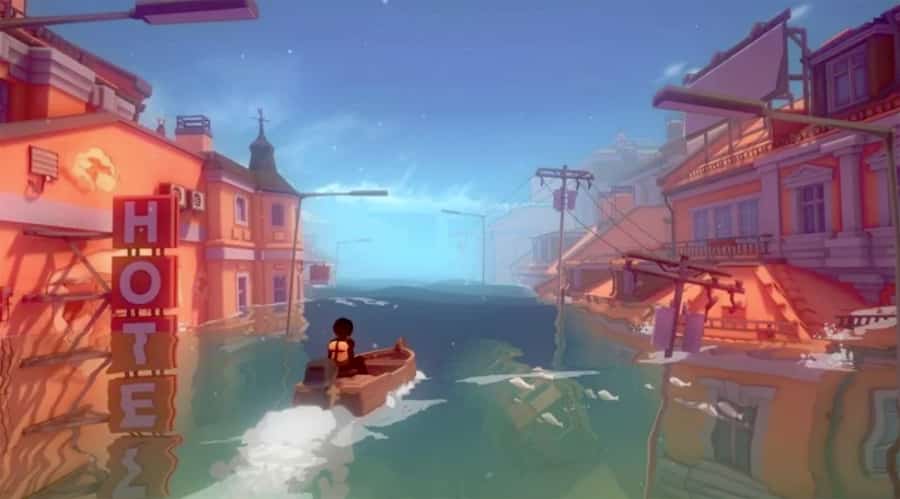 At some point, it becomes clear that certain of the monsters represent Kay's family or people that she knows: her father the chameleon, her brother the bird, her ex-boyfriend the world. Each major segment of the game where these characters are involved focuses on some kind of specific trauma or issue of Kay's – her parent's constant fighting, her brother being bullied, etc. When taken individually, there are moments which may speak to each player more personally than others, as the success of these sections almost entirely depends on how well you relate to them yourself. As a whole though, it is Kay's story, and by extension, Geppert's. This leads to the overall experience being rather too prescriptive – and the spoken narration doesn't help. Kay will see something and say, "Oh, he must be sad" or something like that, and it entirely strips the subtlety of the moment away from the scene as we are told what to feel rather than to let us feel it for ourselves. I've heard some people play Sea of Solitude without subtitles or spoken dialogue, and I could imagine that only improves the experience, but I wish it had been designed like that by default.
The next set of concerns I had come from when the game remembers that it needs to be a game: as in, it needs to have playable elements. You have a basic form of movement in your boat, and a flare that Kay can fire at any point to tell her where she must go next. Other than that, it is largely a clumsy, bare-bones platformer, where you can jump over gaps, swim, and climb ladders, and that's about it. The majority of time will see you trying to sneak around or over the monsters, and if you get caught you get eaten or some such. In essence, this makes the majority of gameplay a limited stealth game, and it's not the best I've played in that area. It's hard to connect with Kay and what's going on in her emotional state when you get eaten by a monster 3 times in a row trying to cross the same bit of water. The saving grace in all this is that the game is not very long, and the environments get varied enough that you do stay sort of excited about where you're going next.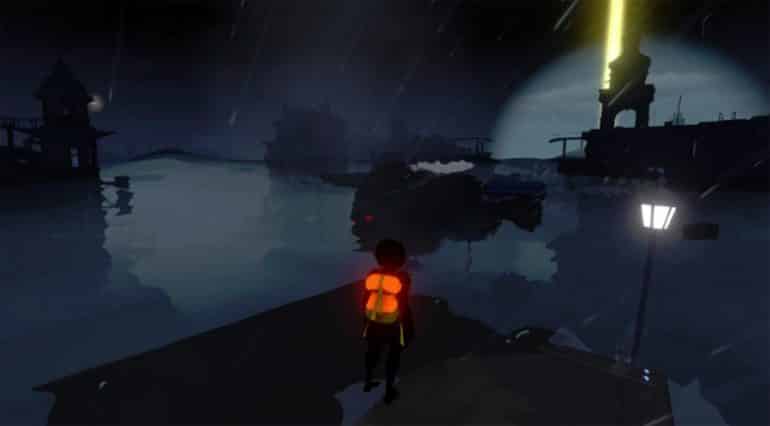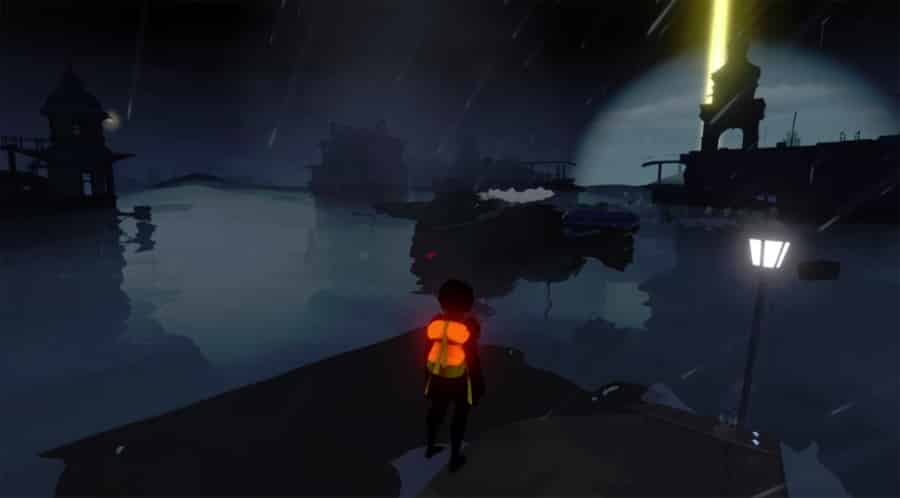 There are a few extra game-y sort of elements: bottles to collect which have extra messages inside about Kay's life, seagulls to chase away, etc. They add something I suppose, but not much, again indicating that the game occasionally struggled to reconcile its concept and the nature of its medium. The metaphors you tend to see throughout are generally so on the nose and explicit (The main gameplay loop is "find the light in the darkness," for goodness sake) that when something subtler actually happens, you wonder if it was intentional or just a gameplay mechanic that needed to be accommodated. Some sections play almost exactly like an English Lit 101 class where a professor will be saying "now the snakes represent this, while the wolf represents this." Again, it feels like the game worried too much that we would miss what it was trying to say that it treats the player more simply than it really should.
Sea of Solitude is an experience simulator, which was perhaps not invented but was certainly codified by Ico in 2001. However, what Ico and other games have understood better than ea of Solitude is that our experiences don't need to be directly managed so closely. You can give the player the world and the setting and the game and let them figure out their feelings for themselves, and everyone will come away with something a little bit different, which is not quite the case here.
While the greater message of Sea of Solitude is interesting (mostly questions about what it means to be a monster), the way in which we are directed to explore Kay's story means that there's very little room for interpretation or personal relation to events if your life doesn't sync up with Kay's. I liked learning about Kay's story, but I found I could bring only moments of it back to anything from my life. Your mileage might vary on this issue if you can relate to more of Kay's life than me, but my ultimate point is that the game wants to explore something of the universal human condition as a whole but ends up telling us about a very specific set of events in one human's life.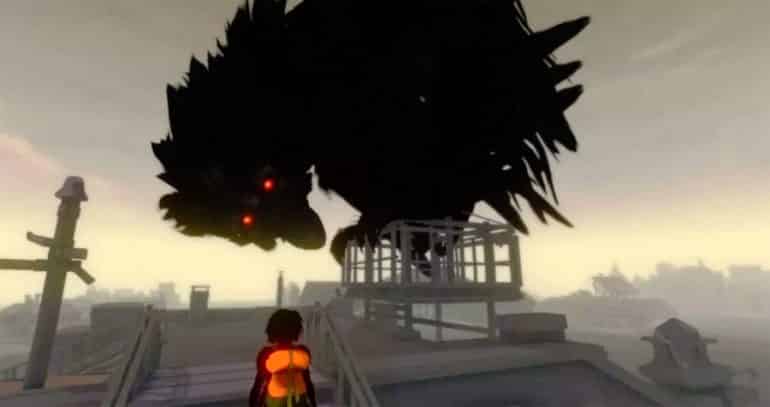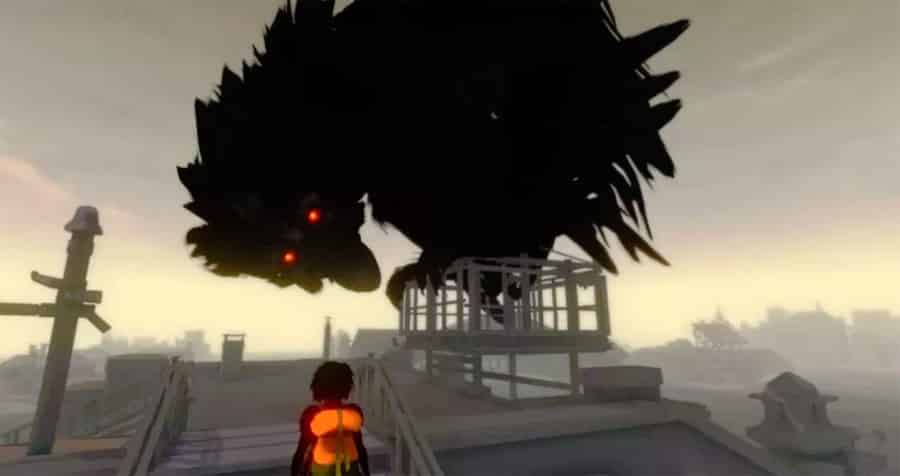 The game itself is absolutely gorgeous for the most part, and the stylized forms of graphics entirely suited to the purpose. The surreal nature of the world you're exploring leads to some interesting visual tricks and playful effects, which I appreciated. You can do almost anything when designing how a game looks, so you may as well make the most of the space you have. The gameplay lets things down, as well as the heavy-handed metaphors. I think this game would mostly appeal to people interested in art design in games, as well as those interested in the central issues of mental health and mental healing, but I don't think there's a lot to draw in people aside from those niche groups. That's fine too, you don't need to be accessible to everyone, and you also probably shouldn't be, in truth.
For what it's worth, I hope Sea of Solitude does help at least one person who's going through these same issues: the game feels heartfelt enough, as though it would like to do that. However, the actual enjoyment of playing it from a more overall perspective leads me to conclude that it's not quite hitting all of the targets it should. But still, it's a worthwhile entry into the field of using interactive media to address emotional and mental health.
The Review
Sea of Solitude
Sea of Solitude is a surreal journey through an intresting and gorgeous world, but its heavy-handed storytelling is what lets it down in the end.
PROS
Gorgeous world
Explores some interesting issues
A heartfelt experience
CONS
Story telling is a bit heavy-handed
Review Breakdown
Storyline

0%

Gameplay

0%

Graphics

0%

Replay Value

0%

Sound and Music

0%