Get detailed insights into the world of Scars Above and find out if this game is really worth trying out.
RELATED: The 15 Best PSVR 2 Launch Games Worth Playing
The latest third-person shooter, Scars Above, was developed by Mad Head Games and Published by Prime Matter. Players take on the role of Dr Kate Ward, a young researcher who has to find the other members of her SCAR team who Earth sent to investigate the Metahedron and get back home.
Scars Above seems to take inspiration from other games, most notably Soulslike games, which has a similar formula. While much of the game is focused on the sci-fi adventure story set for players to follow, it also explores other genres. Players will have to solve puzzles and play through cinematic and environmental storytelling as they figure out how they got to the alien planet in the first place and who is behind everything.
After Scars Above was finally published yesterday (Feb 28, 2023), players who had been drawn in by the promise of playing a game with similar gameplay to Returnal or Resident Evil. Instead, they got a game that managed to be its own thing, even with a few issues here and there.
RELATED: Like a Dragon: Ishin! Review – A Fun But Dated Yakuza Spinoff
The Story of Scars Above
When a mysterious alien structure, dubbed the Metahedron by humans, unexpectedly appears in Earth's orbit, a group of astronauts are trained and sent to investigate its purpose. But unfortunately, the alien ship has remained dormant since it first arrived, so the people of Earth aren't entirely sure what to think.
The Sentient Contact Assessment and Response team (otherwise known as SCAR) use their combined skills and knowledge to work together to get to the structure. Unfortunately for the SCAR team, things quickly begin to fall apart.
As they arrive at the Metahedron and begin scanning it, their ship is suddenly engulfed in a bright light. Kate sees brief flashes of a planet as the Commander calls her name before waking up on an unknown, hostile alien world.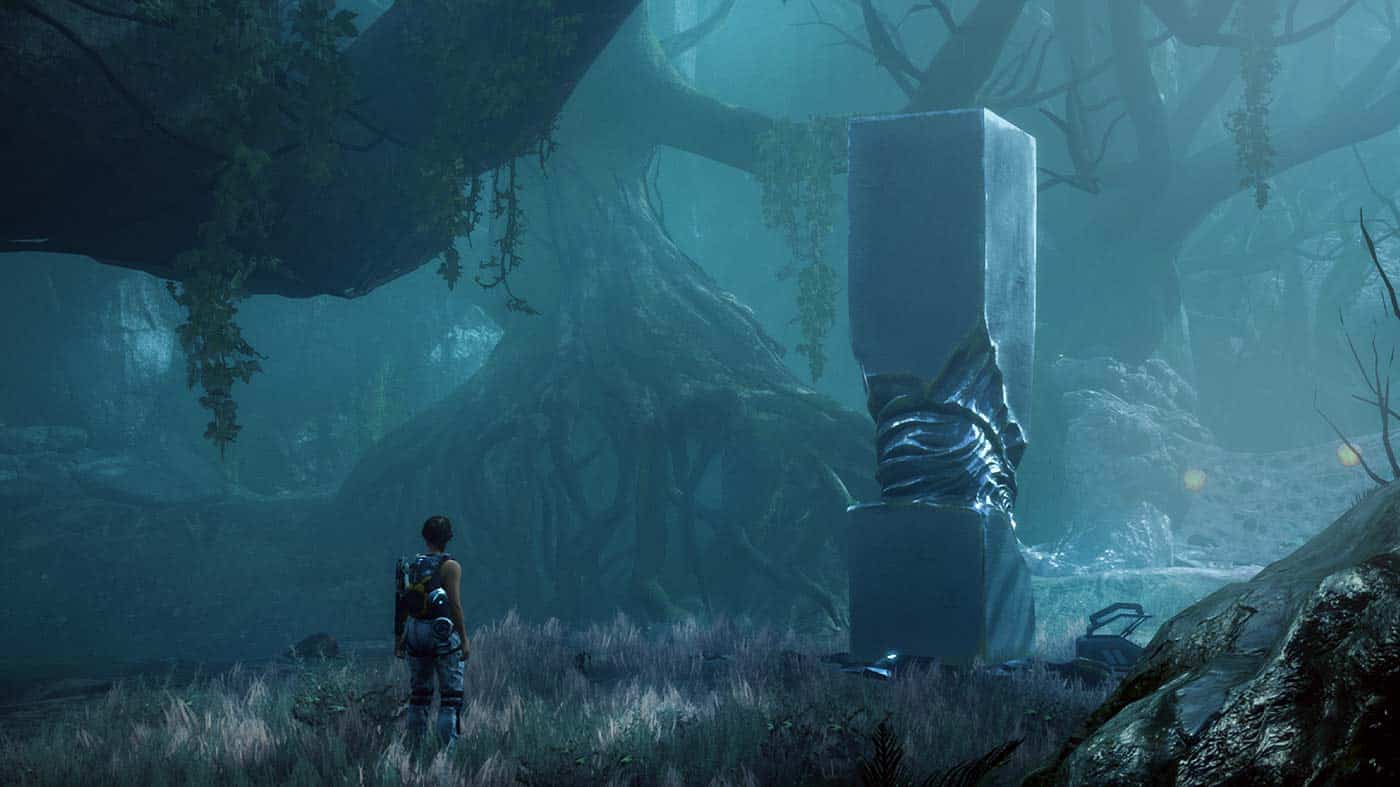 She encounters a holographic alien apparition that gets her to follow it and yells at her about what happened to its people. She then finds herself in a completely different location. She begins using her knowledge, expertise and various tools to fight her way through the planet's hostile environment and find her missing crew while figuring out what happened to the planet's previous civilisation (which was taken out by an unknown force).
Unfortunately for Kate, she soon has to accept that she is the last surviving member of her crew after learning that the others have been infected with alien substances from which she has very little chance of helping them recover. Nevertheless, each new discovery brings Kate a little bit closer to unravelling the conspiracy that threatens the future of her planet and humankind.
The story's premise is interesting, and the writers had the potential to do something incredible with it. However, the stiff dialogue and how little you know about Kate's crew make it bland and uninteresting. Furthermore, as the player, you have no real motivation for rescuing these people besides playing through the game.
Because the story is very linear and has almost no twists or surprises to bring any sort of excitement in, it becomes incredibly predictable the further you go. As a result, players may skip cut scenes entirely because they don't add anything to the game besides making the time you spend playing it feel longer. The almost unemotive vocal performance and bland writing don't make for a good story.
Environment and Performance of Scars Above
The environments that you come across throughout the game are beautifully done. It's one of the many things the game developers got right when designing Scars Above. All the structures and vegetation scattered throughout the game look like they're meant to be there, except for one or two, but they're easy to overlook in the grand scheme.
You can see the time and effort that went into each environmental design. There are some incredible shots for players to admire when they're not fighting monsters.
The enemy designs are great. They are all creepy, and most are unique looking. A few have reused armour pieces, but, for the most part, each alien has a unique design, from the small spider-like aliens you fight at the very beginning to the hulking masses you fight near the end.
The only thing the developers seemed to struggle with were the human characters. With aliens, you can have fun creating weird organic shapes and moving them in a creepy way because no one has any point of reference for them. Unfortunately, there are many points in the game where the human characters look stiffly animated, which is not helped by the fact that none show any real emotion. Even when Kate's tone changes slightly, her face doesn't add anything to her feelings. The overall design of the world outshines all these issues, so they're relatively easy to overlook.
RELATED: Atomic Heart Review – Where Robots Want to Jump Your Bones
Gameplay of Scars Above
Using Your Ammo and Environment to Your Advantage
The gameplay, while simple, is quite creative. You begin the game by crafting VERA, a gun that shoots electrical charges and becomes the players' primary weapon as you progress through the game. Every shot has enough weight behind it to make it feel satisfying as you take out your enemies, especially when you load the right elemental ammo. VERA can be loaded with several types of ammo, including electrical bolts, explosive rounds and freezing charges.
When the game was being promoted, it was made clear that Kate is not supposed to be a soldier. The sentiment carried through into the game mechanics. Players must learn to use the most effective method of combo attacks against their enemies to maximise damage and kill the hostile aliens faster. You can also take advantage of your surroundings and switch out ammo to better suit your environment.
For example, say a swarm of little aliens is charging at you through shallow water. The wisest course of action would be to blast them all with a freezing charge before zapping them with electrical bolts and watching as the electricity is carried through the water and fries them all. It's highly effective and makes dealing with an overwhelming number of enemies easier.
Similar gameplay is seen throughout the world of Scars Above. Again, you can use your extensive array of weapons to make your way through the environment (by freezing over alien-invested waters) and solve difficult puzzles and challenges.
Enemy Weak Points
Many of the enemies that Kate will face on her mission have colour-coded pores on their bodies that reveal their elemental weakness. Of course, you can use any ammo against them, but taking advantage of this weakness allows players to deal with their enemies quickly and take them out with almost no trouble.
However, some enemies hide their weak points, and you may have to cycle through all four damage types (fire, ice, electric and poison) before you figure out how to kill the enemy. As frustrating as this can be at first (especially if the enemy keeps killing you), it's incredibly satisfying to finally figure out your enemy's weakness and kill it with the right combination of attacks.
Other Helpful Tools and Weapons
The rifles you build throughout the game will be what you use the most, but there are other tools in the game that are extremely helpful to your progression.
At the beginning of the game, Kate will pick up a basic melee weapon known as an electric cutter. It's helpful for the first few encounters with spider-like creatures but becomes mostly useless in fights after your find VERA. However, the electric cutter isn't completely useless, as players can still use it to cut through fauna that has grown over the path or to enter hidden paths.
The Protective Barriers are very helpful as they give you a chance to react to your enemies' hits by absorbing the damage that comes with their attacks. Gravity Traps are just as beneficial, as an attacking enemy will be drawn into a time well, which slows them down and makes them easy to attack.
There are also checkpoints throughout the game; they are the most helpful tool you will ever encounter. After fighting through a ridiculous amount of enemies, you will come across a glowing pillar-like object. You do not want to ignore this, as it could be the difference between life and death. Players can use these pillars to refill their health bars. Unfortunately, an advantage for you is also an advantage for your enemies because as soon as you interact with the checkpoint pillars, all the enemies you just fought through will respawn.
RELATED: Returnal Review – Edge of Tomorrow & Alien Had A Beautiful Baby
Kate's Knowledge and Scanning Abilities
Kate's research abilities are particularly helpful. As you defeat enemies, Kate can scan them to discover weaknesses and tell you more about them. This allows players to take down their enemies faster and gather helpful resources from them.
The scanning abilities also tell you about your environment and what happened to crewmates that passed through an area before you. These moments give players a break from the constant gunning down of enemies and provide some nice environmental storytelling opportunities.
Scars Above's lore dumps don't feel like lore dumps because of how cleverly they're delivered to players. For example, rather than have another character tell you a lot of information all in one go, players can observe what's happening in the game with Kate's scanning abilities, and you will learn what's going on through her dialogue. It's satisfying because it feels like you worked to get this information.
They are also used to teach players how different mechanics work, giving each tool you use in-game an origin story. For example, players learn to synthesise freezing charges by extracting the ingredients from an alien growth stuck to a wall. This ammo is initially used to freeze over water so you can cross, but it has several other uses, including providing players with a new attack mode for their guns.
Progress and Levelling Up
Returning to re-kill enemies is not only made infuriating by Kate's movement speed but also entirely unnecessary. Scars Above isn't an RPG, so you don't level up to gain more power. Instead, players have skill lines that help improve their offensive and defensive abilities and fall under the categories of Engineering and Xenobiology.
Engineering skills improve the extensive array of gadgets and weapons you build throughout the game, while Xenobiology skills build your health and improve the effects of regeneration. Both skill lines are incredibly effective in their improvement, so it can make it difficult to choose what to upgrade.
Notable Issues About Scars Above
Scars Above was developed by a smaller team and didn't have a massive budget like some of the more popular games released over the last couple of years, so there were bound to be a couple of issues. Unfortunately, as visually stunning and as fun as the gameplay is, a few things bring down the quality of the game.
Under Utilised Game Mechanics
A few things can be forgiven, like the stiff feeling animation and movement and gameplay ideas that feel like they weren't executed in the way the Scars Above team wanted them to be done. However, what players might have an issue with is the game mechanics that don't make any sense.
At the beginning of the game, there is a big fuss made about needing to find a workbench to craft your first weapon. However, after crafting your first weapon, it's never actually needed again. Therefore, it feels like a wasted mechanic.
There's also the issue with the checkpoints, as mentioned before. As helpful as they are with ensuring you don't wind up back at the beginning of a level, their activation results in the relatively useless mechanic of respawning all the enemies you just killed. Players will never go back and re-fight their way through all the aliens, so there's no point in having them come back.
If the workbench had been made necessary for upgrading weapons and players had to backtrack to use a workbench, that would've made a bit more sense. Then players would be faced with the mystery of not knowing what lies ahead of them or how far away the next workbench was. They'd have to choose between risking moving forward without an improved weapon or going backwards and taking on enemies they already know how to kill.
It's a tragic waste of two mechanics that could add quite a bit to the game if the developers had used them better.
Poor Sound Design in Scars Above
Scars Above's soundtrack and other sound choices weren't too great. Nothing was impressive or memorable, but the lack of a wow factor didn't take away from the game experience.
Generally, the music makes the game feel more immersive when you're playing a tense thriller sci-fi. It picks up speed during tense boss battles to raise your heart rate and make everything more tense and stretches out eerily as you walk through areas waiting for something to jump out at you.
This third-person shooter didn't do that. The bosses don't have bass-centric music that freaks you out, and the music doesn't do anything to add to the mystery of the world through which Kate is fighting. Different enemy sound effects can help you figure out what sort of enemy is going to attack you from behind, but otherwise, the sound design is nothing to write home about.
Kate Explaining Stuff Unnecessarily
As with any game, the player character (or one of the other characters) will usually explain what you need to do for the first few missions of the game. This is mainly done so you don't spend 15 minutes wandering around a room for a platform that should have been much easier to find.
Kate does it too, but it often feels unnecessary and like the game is just giving you the answers to questions you didn't ask. It can be annoying and take away from the gameplay because it feels like the game is trying to rush you through more than it is trying to be helpful.
It doesn't happen all the time, and there are at least some puzzles that require you to put some thought into them, but it does happen enough to be annoying.
RELATED: Kayak VR: Mirage Is One of The Best PSVR2 Experiences
Relearning Information
The checkpoint system is beneficial, and it can be very satisfying to reach one after you've been fighting hostile aliens for a while, but it does come with drawbacks. For example, if you have to keep playing through a section that needs you to observe what's going on and listen to a bit of dialogue before you move on, it can get annoying after a while. This is especially true when you keep dying over and over just before you reach the next checkpoint.
All-in-all Scars Above is a great sci-fi game. A few elements need some work, but they don't take away from the gameplay.
TL;DR
Scars Above just released, and the response was mixed — though it did lean more towards the positive side.
Players can expect to find an entertaining and creative adventure.
A few unfortunate issues bring down the quality of the game, but they are easily forgivable.
What do you think of Scars Above?