Technology is growing exponentially, and more intelligent TVs and smart devices are coming out daily. For example, Samsung has just announced a new upgrade to their 2020 ultra-short throw projector that will be coming out sometime soon. Here are all the details on Samsung's new 8k projector called The Premiere.
RELATED: 3 New Tech Devices You Must Have In Your Home In 2023
The Premiere
Samsung's The Premiere was unveiled at CES 2023, the tech event from the 5th of January, 2023, to the 8th of January, 2023. This event is where all the new tech coming out in the future is announced, and Samsung announced their new 8K ultra-short throw projector. This is an updated version of the 4K Premiere, released in 2020. It is a single box designed to project an image on a low TV console a mere few inches away from a wall.
The Premiere uses special lenses and video processing to project the image from so close and is reportedly able to create an image up to 150 inches diagonally with 8K pixels. The system has built-in speakers and uses Doby Atmos to fill a room with sound and light. Of course, as a Samsung product, it comes equipped with innovative TV features like integration with Netflix, Disney Plus and YouTube.
What is Ultra-Short Throw?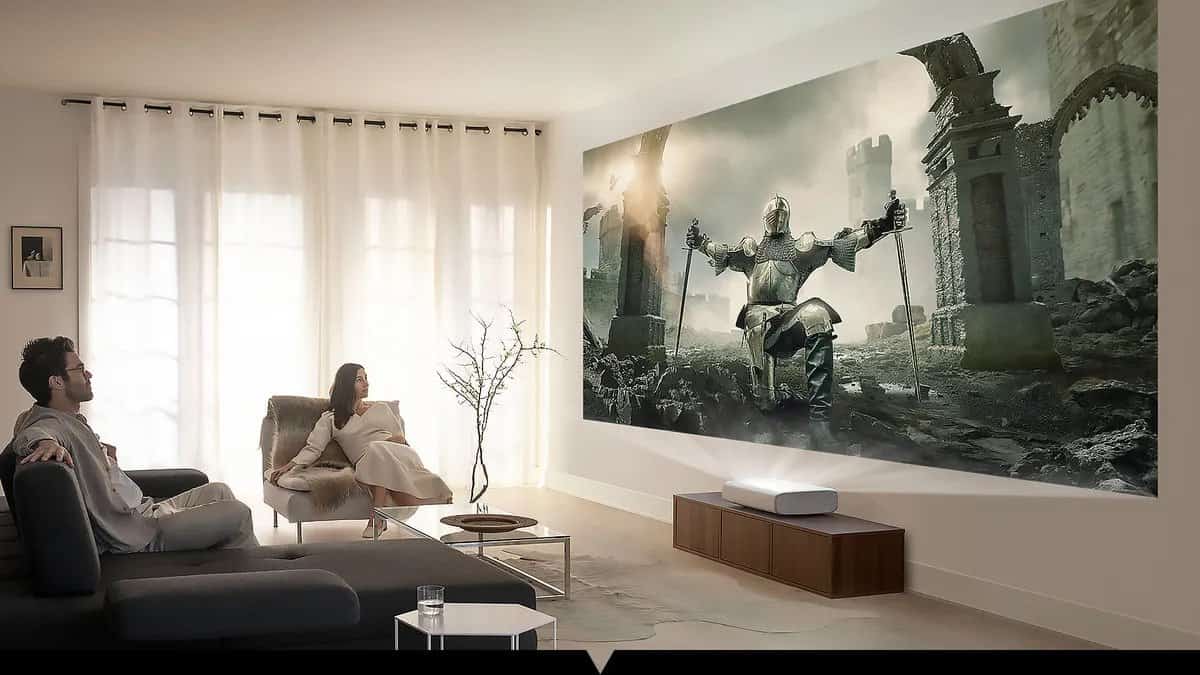 A traditional projector would need about 10ft from a wall to project an image of about 100 inches onto it. In contrast, higher-end projectors could sit further away, and short-throw projectors would need less. An ultra-short throw projector can sit just a few inches away from a wall and still produce a substantial image thanks to the highly advanced lenses and video processing they use.
Because of the highly-advanced lenses and the processing technology, UST projectors can be very pricey. They tend to cost much more than traditional projectors, with a projector producing a 120-inch image at $3,500 (R59,379.95 depending on the exchange rate) and a 130-inch image at $6,500 (R110,277.05). Most 8K capable projectors these days cost $11,000 (R186,622.70), and we can presume that Samsung's 8K projector will cost around the same.
The other unfortunate downside of UST projectors is a noticeable reduction in contrast ratio due to the short throw of light. This tends to make the images projected look flatter than they would on a traditional projector. Most Ultra-short throw projectors try to counter this problem by increasing their brightness. Unfortunately, this doesn't improve the image quality at all, instead makes the image brighter.
RELATED: "2023 Is Recovery Year": The Raspberry Pi 5 Will Not Be Released Next Year
Is It As Good As It Claims?
Although The Premiere boasts 8K capabilities, there is only a little content that actually is 8K. Most projectors can convert everything you send to it for viewing up to their resolution, making it look sharper, but taking a 1080p image and converting it up to 8K will make little difference besides making it a bit sharper. You would only be able to take full advantage of the projector's capabilities if 8K content becomes more widely available.
Whether it is worth it is entirely up to you, but if you enjoy ultra-short throw projectors, why not invest in one of the most high-tech home entertainment devices with built-in sound? This would be perfect for technophiles looking for an efficient, all-in-one device.
RELATED: Technological Breakthroughs To Help the Advancement of Medicine in 2022
Are you excited to see Samsung's new 8k projector, The Premiere?