I, like many other South Africans who own an eligible Samsung Galaxy smartphone, have been using the Samsung Rewards app for a number of years now. In just a few days of launching, the programme saw over a million users registered globally, which was later released in South Africa as well.
First impressions of the new Rewards app was nothing short of optimistic, with a number of reward items to purchase at a low starting cost (points). These prices, slowly increased as the app grew a dedicated group of followers looking to purchase Samsung products from their accumulated points, which were earned by logging into the app daily, downloading advertised apps or even completing simple surveys. Samsung products included TVs, sound systems, smartphone covers, earphones, and much more.
Over the past few months, however, the optimism has started to wane as a result of longer periods of absence between new rewards being loaded and means of accumulating points also having dried up.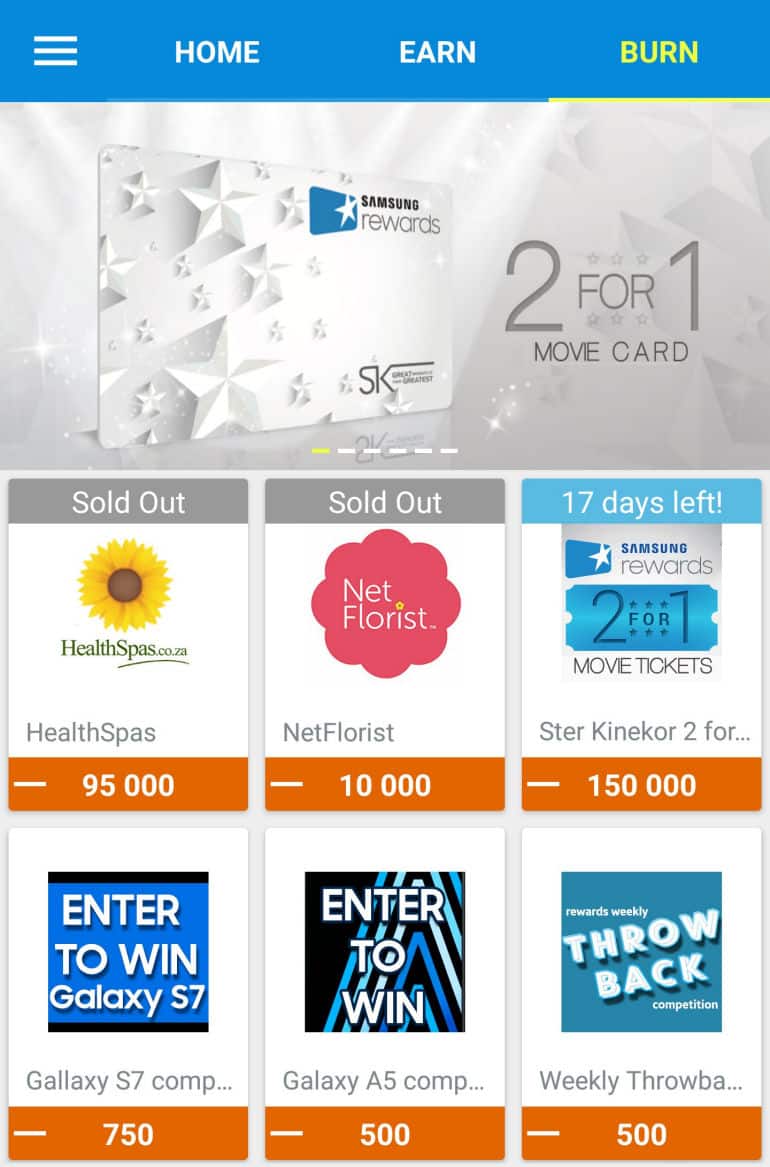 With the decrease in points and rewards since the turn of the year, there have been quite a few murmurs on social media sites and forums, with people expressing their dissatisfaction with Samsung and the app. After a few attempts at contacting anyone in the know, as a result of the recent decline, I was always met with a similar response that more rewards would soon be coming. However, they couldn't say when as they were awaiting confirmation from Samsung SA.
"We do not currently have stock as we are waiting for stock from Samsung SA. As soon as we get stock confirmation, the 'Out of Stock' icon will be removed and stock will be loaded to the Burn page as usual. When this will be, unfortunately, we cannot confirm at the moment."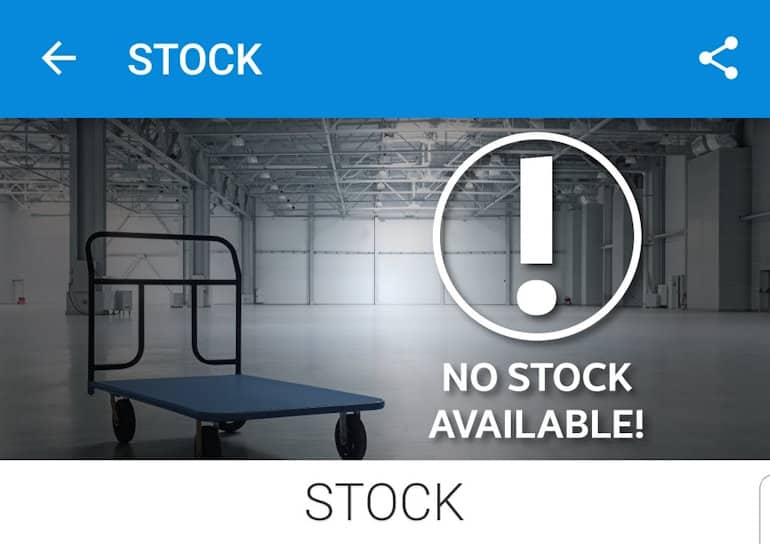 The Samsung Rewards app has always been somewhat of a closed off system, with very little known about it and how it operates and little to no official statements or press announcements from Samsung themselves. People were always left to wonder when new items would drop or when new apps and surveys would be loaded to earn additional points. This has led to the creation of a few Facebook pages dedicated to spotters alerting other users of when new items or reward accumulators have dropped, often causing a frenzy of activity resulting in app downtime (not often) when new items are loaded, which quickly sell out within minutes. Users of the app will be very familiar with sold-out signs, even as new items were just loaded with more than 100 in stock when first opening the app. This has been the way of interacting with the app since it started. People still loved it, though.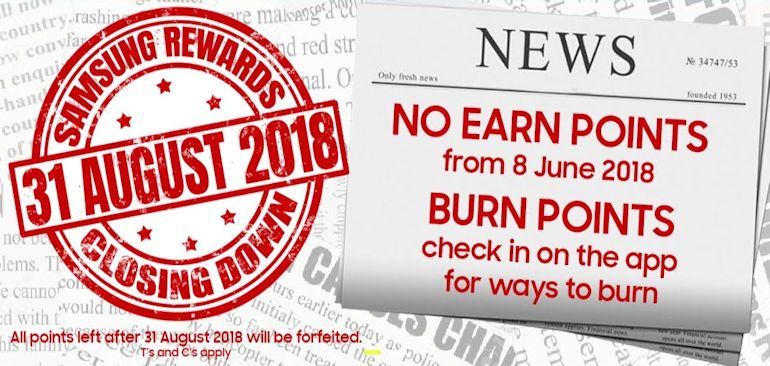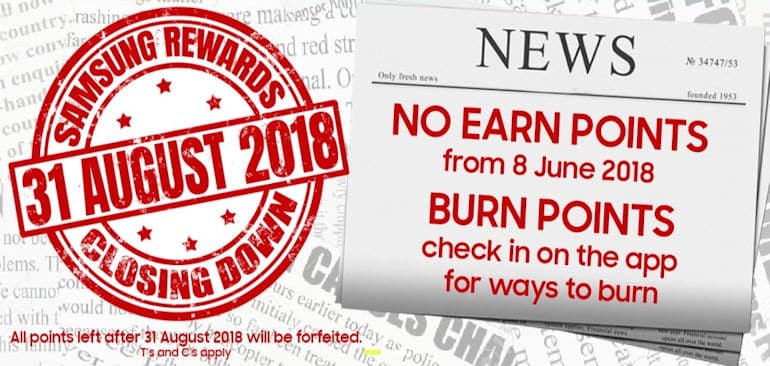 That will come to an end very shortly.
Again, there has been no official announcement from Samsung SA, apart from the banner ad that met all users when logging into the app as of 1 June 2018. From 8 June 2018, users will no longer be able to earn any additional points towards the rewards programme, which will officially close its doors on 31 August 2018.
There's no word as to how many new sale items will be available between now and August, but the frustration has already hit social platforms, many angry about the sudden announcement, leaving them high and dry with large amounts of points on their accounts.
Having reached well over 800,000 at one point, it was always a frustration for me finding items to spend on that I really wanted or were of real value. Now left with just shy of 600,000 points remaining, there's a potential of nothing to spend it on before the programme shuts down. I have seen some accounts with close to 2 million points, which means I won't be the only one left frustrated with the latest news.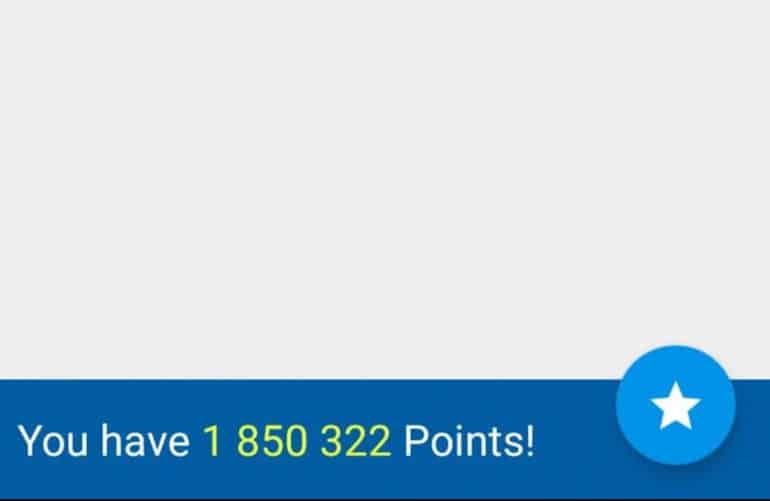 Even more frustrating would be the fact that other countries around the world run much better Samsung Rewards programmes, with additional ways to earn points and better incentives. Users can earn points through other Samsung apps like Bixby, S Health, and Samsung Pay usage.
R.I.P. Samsung Rewards. You will be missed.