As has been the trend for the past few years now, Samsung hosted their August Galaxy Unpacked event, this time for the launch of its latest flagship, the Samsung Galaxy Note 10. At The Venue Green Park in Sandton, Johannesburg, the local team hosted media, mobile partners, distributors and VIP guests for the exciting launch, which included the range of Galaxy Note 10 smartphones.
Ths standard Note 10 will have a 6.3″ screen, the Note 10+ a gigantic 6.8″ screen, both including Samsung's latest AMOLED 'endless' displays, with FHD+ resolution, equating to 2,280×1,080px, on the Note 10 and 3,040×1,440px on the Note 10+.
Samsung has changed things up a bit in regards to the camera, the latest inclusions referred to as a "pro-grade camera" and calling the lenses "high-powered pro lenses". The triple camera system on the Note 10+ will include 12MP (f/1.5) lens, a 12MP (f/2.1) telephoto lens, and a 16MP (f/2.2) ultra-wide lens. Both units will include Samsung's latest Exynos 9825 chipset, which has a 64-bit, octa-core processor with 8GB RAM (12GB on the 10+) and 256GB of internal storage, with a choice of 512GB on the 10+.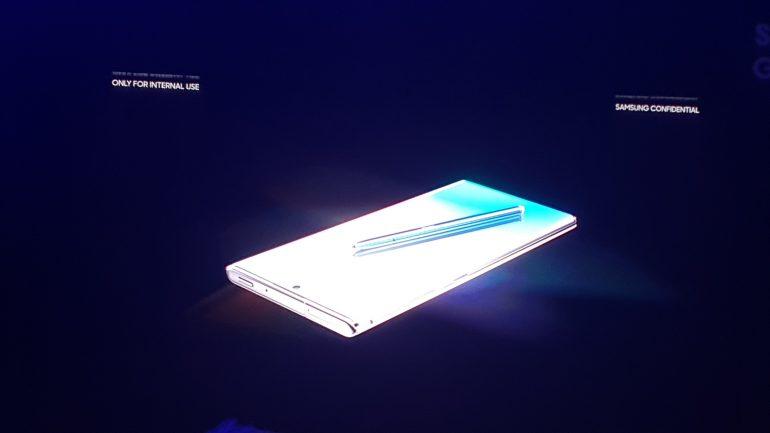 One of the new features highlighted in the materials includes live video bokeh for adding some depth to your videos.
Then there is "Audio Zoom", a feature which Samsung says, "uses three separate mics to capture sound within the field of view in which you are capturing the video." The marketing materials also confirm that the S Pen will have the power to switch camera lenses on the new Note 10 models as well.
The Note range is nothing without it's inclusion of the S-Pen, with the latest features including enhanced usage, which Samsung refers to as the "magic wand for your smartphone" with updated air gestures and the likes.
In terms of the battery, the Note 10 will include a 3,500mAh battery with 4,300mAh on the 10+. Both devices will include the newly included 45W fast-charging capabilities. As with the S10 range, Samsung has touted its AI capabilities, which learns your common behaviour to best predict usage for intelligent battery consumption.
The range of Samsung Galaxy Note 10 smartphones will be available for pre-order from tomorrow (8 August), with the first devices rolling out to customers from the 23 August 2019, and 30 August in South Africa.
South Africans will be glad to know that we fall within the first release window of the new devices. Customers who pre-order the new Galaxy Note or Galaxy Note 10+ smartphones will receive the Galaxy Fit free of charge. The devices will be available for pre-order on all the leading service providers and retailers, with local pricing as follows:
Galaxy Note 10 – R18,999
Galaxy Note 10+ – R22,999