It's truly a shame that Hideo Kojima's Metal Gear Solid 4: Guns of the Patriots is still relegated to the PS3, and many fans believe it would be awesome to see a remake of this game (and possibly the franchise) with updated graphics on a newer generation of the console.
Konami, if you're listening, this is a title that needs to be remastered for the PlayStation 5.
Hideo Kojima: Creative Genius Or Overrated Weirdo?
Hideo Kojima Makes a Masterpiece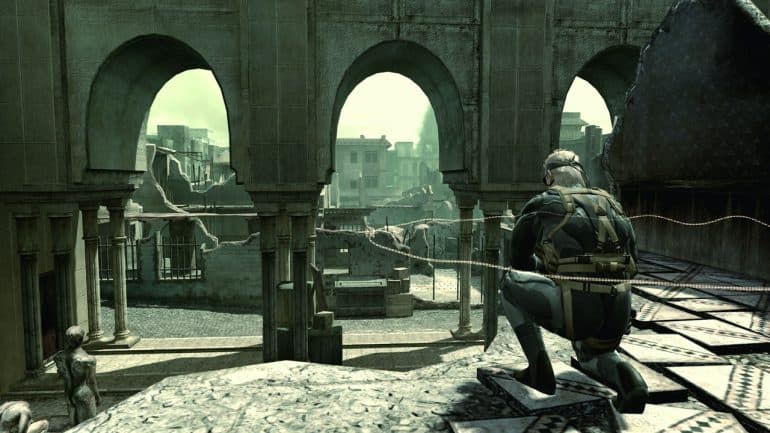 The Metal Gear Solid franchise started in 1998 and has always been a single-player, action-adventure game that combines elements of stealth and shooting to make its subversive, epic, ambitious and absurd military plot cohesive. The game series has always been known for its over-the-top action sequences, but somehow Hideo Kojima just makes the whole thing work.
Although we know that the franchise has been revisited many times since then, Metal Gear Solid 4: Guns of the Patriots was originally meant to have been the end of the legendary franchise, and it felt like it could have been the end of Solid Snake's story.
Kojima has always been wonderfully indulgent when it comes to the games that he creates (if Death Standing is any indication) and Metal Gear Solid 4: Guns of the Patriots was no different. The game is, to this day, considered a masterpiece that fulfilled his vision of having feature-length cutscenes with so much exposition and a story that catered more for avid fans of the franchise than it did to new players.
Kojima somehow manages to place everything perfectly within his game, as it is all considered and becomes cohesive with his vision, no matter how outlandish it may seem.
With all the different themes in the game, it almost seems like Kojima had a ton of ideas and refused to stick to any of them because he couldn't choose just one. Anything that he makes manages to be wonderfully unconventional but still make sense in the grander scheme of things and not leave his players behind.
Is Hideo Kojima Working on a Matrix Game?
Trapped on the PS3
The anticipation for Metal Gear Solid 4: Guns of the Patriots to come out, which, surprisingly, is still a PS3 exclusive, was unimaginable. The trailers that were made for this game were technical showcases rather than actual story trailers, that showed off the cutting-edge mechanics of the game rather than the characters and story in it. When the time was right, all was revealed.
Metal Gear Solid: Guns of the Patriots was a globe-trotting adventure starring beloved characters Old Snake, Otacon, Sunny, Naomi, and some other unexpected characters as they all teamed up to take down the villain of the game, Liquid Ocelot. In the mission to take him down, the globe-trotting begins with Old Snake disguising himself in the middle of a middle eastern warzone where he is trying to establish a neutral position in the local conflict, all while avoiding bipedal cow robots that are called Geckos for some unknown reason. Then he is seen in the rain-covered streets of a European city where the more common stealth missions are needed over the obvious action and combat.
Instead of making a game that was disjointed and confusing, the constant shifts in locations made something that was special and interesting, with compelling game design and a ton of variety that wasn't common in games at the time. Metal Gear Solid 4: Guns of the Patriots was insanely ahead of its time, not only with its cutting-edge mechanics, its visuals, and its scope of the world but with how it pushed the envelope on what games were at the time.
Tell us, would you like to see Hideo Kojima's Metal Gear Solid 4: Guns of the Patriots remastered for the PlayStation 5?