You've just stolen a brand spanking new horse, but the local law enforcement is after you. With your Bard blaring in your ear, you load your crossbow and get ready to make your last stand. If this sounds like a situation you'd like to find yourself in, then Jutsu Games' Rustler might be the game for you.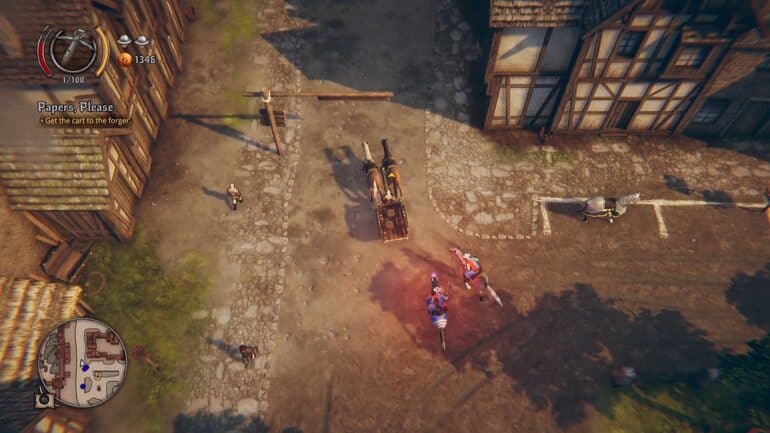 Ye Olde GTA
Rustler takes inspiration from the original Grand Theft Auto games and adds its own unique medieval twist. For those too young to remember the originals, they were not the 3rd person spectacles we've come to love but rather it all started with a simple top-down game that tasked you with stealing cars and causing as much chaos as possible.
Rustler sees you taking on the role of Guy, a lowly peasant with huge aspirations of moving up the societal ladder. Guy, along with his buddy, aptly named Buddy, will do whatever it takes to reach his goal and win the hand of the princess.
It all sounds rather romantic. The problem is that reaching that goal means breaking a few rules, stealing a few horses, killing a couple of knights and launching a cow or two with a catapult. You know, the usual medieval stuff.
Instead of being all serious, Rustler takes a more humour-filled approach to its narrative. A lot of these comedic moments tend to miss the mark and left me groaning at times. Having said this, there are jokes that are laugh-out-loud funny.
While Rustler's narrative is as basic as it gets, the open world itself does look rather good for a game inspired by a retro game.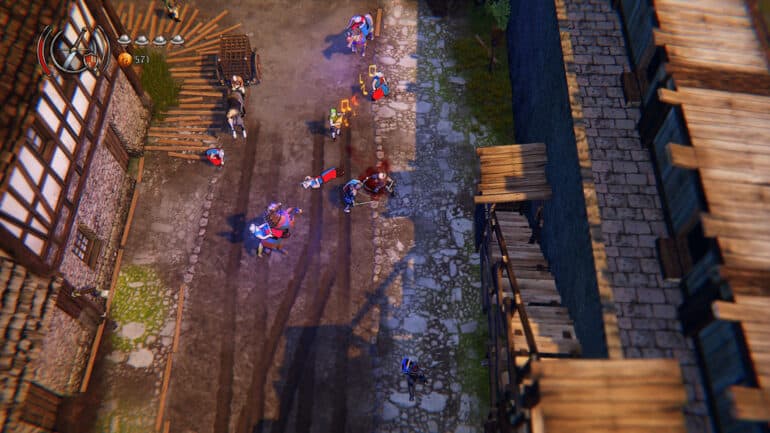 Grab a horse or two
Seeing as Rustler takes place centuries before the first car would roll off the production line, the game rather tasks you with stealing horses. Yes, this is less Grand Theft Auto and more Grand Theft Equine.
This is just one of the few medieval twists that the game introduces. My favourite of these being the ability to hire a Bard to follow you around to pump out tunes as you get up to all kinds of mischief. Another is pimping your horse in order to escape the long arm of the law unscathed. It's these moments that I found I enjoyed the most while playing the game.
The thing is, although the game clearly pays homage to the past, this means that some of its mechanics can feel a bit outdated.
You have my sword, Rustler
Combat in Rustler revolves around sharp and pointy weapons. Don't expect any automatic rifles, instead, you'll be using swords, sticks and halberds to take out those pesky knights.
The mechanics are quite basic, as you can only parry and block enemy attacks. There were times I wished that there was a bit more to combat than just madly swinging your weapon around. You do have a stamina bar that dictates how much you can swing your pointy stick around. But that's about it.
A Mishmash
Rustler is a fun little game that doesn't shy away from showing its inspiration. However, it can sometimes feel a little janky at times. There is a lot to do in the game but not nearly enough to keep your attention for long stretches of gaming.
That said, Rustler has some interesting ideas, some genuinely funny moments and an entertaining take on the old Grand Theft Auto formula. It just struggles to bring everything together in one cohesive game.
The Review
Rustler
Rustler is a fun take on the original Gand Theft Auto formula but does feel outdated at times.
PROS
Fun take on the Grand Theft Auto formula
Most of the humor hits it's mark
CONS
Mechanics can feel outadted
Review Breakdown
Gameplay

0%

Graphics

0%

Replay Value

0%

Sound and Music

0%

Story

0%