Developed by Final Strike Games under EA Originals, Rocket Arena is a brand-new 3v3 cross-platform shooter now available on PC, PS4 and Xbox. Ready to launch with 10 playable characters, 10 maps, 5 game modes (social and ranked) and customisable load-outs, this colourful title packs a solid start to what hopes to become a long-running addition to the "pick-up and play" online multiplayer scene.
Set in the world of Crater, a place where "the rules are written in rocket fuel", new players are introduced with an explosive overview of the various arenas and characters.
Getting started is simple enough, a brief tutorial guides you through the basic mechanics of how your rockets and abilities work. Primary fire is used offensively and to gain height when blasted at the floor, as well as climb walls.
Right off the bat, character movement and rocket-firing feel satisfying in Rocket Arena. The easiest comparison would be something along the lines of Ratchet and Clank, although admittedly, the rockets themselves lack the level of oomph one might expect from a game filled with explosives.
Additionally, there are two special abilities with cooldowns that differ from character to character.
Jayto, (First introduced in the tutorial) has a triple-rocket rapid-fire locked onto one ability and another that grants him boosted movement while replacing primary fire with a more powerful variation for a short time. Determining when to use abilities with different characters is what will ultimately set new and experienced players apart. On the surface, every character's abilities are easy to learn but clearly, tricky to master.
All 10 characters in Rocket Arena genuinely feel unique in how they move and play. Blastbeard, a cannon-wielding pirate, moves sluggishly but lobs powerful cannonballs while Plink, a kid equipped with scrapyard-forged weapons, feels light with his rapid-fire primary and teleporting grenade.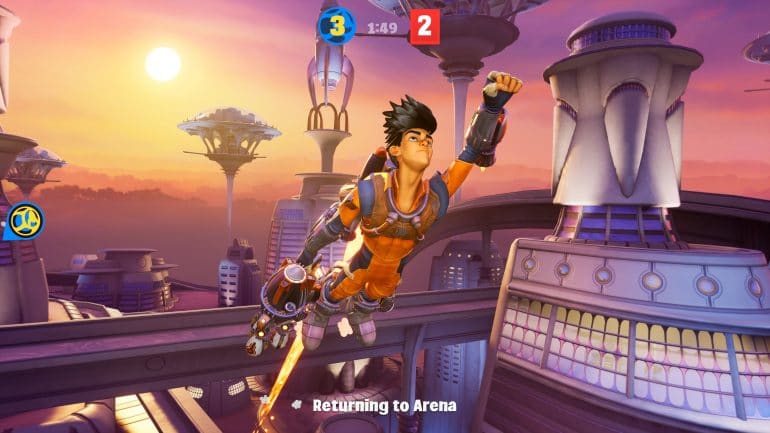 There is a practice mode where you can try out new heroes against a bot that is ready to be sacrificed for your experimentation over and over again (rest in pieces little guy). Final Strike is set to periodically add more characters, arenas, and game modes to keep things fresh and exciting over time. The first additions will drop when the first ranked season officially kicks off on July 28th.
Combat, the heart and soul of Rocket Arena, shines in 5 different game modes.
In "Knockout", the objective is simple, two teams of 3 aim to blast opponents out of the arena and reach the target score first. "Mega Rocket" is a defend and capture zone mode where teams battle to stay in control of the blast zone. "Rocketball" is essentially 'capture the flag' and is perhaps one of the more exciting modes as it encourages teamwork to defend team-mates and focus attention on enemies that have possession of the ball. In "Treasure Hunt", players fight to take hold of a treasure chest which earns them coins over time as well as coin rounds where players try and collect as main floating gold pieces spread around the map as possible. Currently, the only PvE mode is "Rocketbot Attack", a simple knockout mode against a hoard of bots. Hopefully, in time, there will be a few more creative PvE modes.
In Rocket Arena, there aren't health bars but rather a blast meter that fills up as you take damage and, once filled, sends you flying out of the arena in what has been dubbed a "Megablast". Being rocketed across the sky does not mean you are out of the action though. When players are Megablasted, they zoom across the map, back to the team spawn point. This is a great feature for two reasons: firstly, you can get an overview of the action below and figure-out your best approach back in. Second, matches take on a continuous flow that keeps you engaged, compared to traditional death-and-respawn mechanics.
At first, expect PvP matches to feel like utter chaos as you are Megablasted all over your screen by a barrage of rocket-fuelled abilities and occasionally, a train (arena dependant). Rocket Arena is a fast-paced action that demands you to test your reflexes. Nothing feels quite as satisfying as avoiding an incoming projectile with a well-timed a dodge (this too has a cooldown timer). You won't need to rely on that feature too much in the beginning though as rockets aren't the easiest thing to actually land a hit with. Aside from the drop-off of different character rockets, it's pretty difficult to hit targets they can jump, fly and fall in different directions so haphazardly. Mastering movement is as important (if not more) as mastering aim.
To add a layer of strategy to combat, characters in Rocket Arena can equip up to 3 "Artifacts". These items offer boosted stats and can be combined in whichever way best suits your playstyle. Playing around with different builds and characters adds a welcome depth without making things overly complex.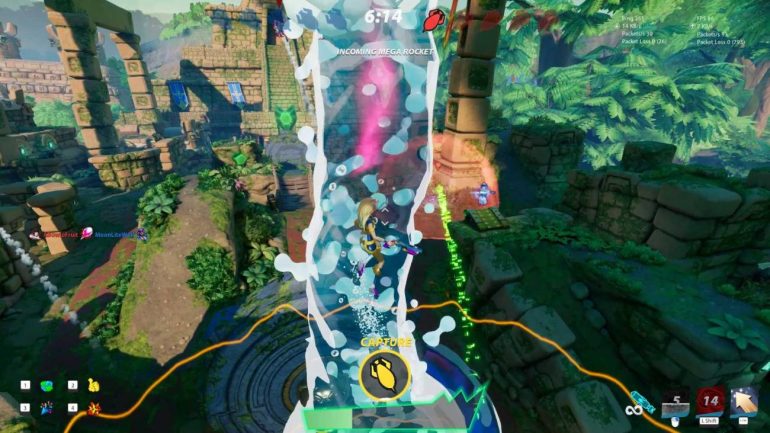 In matches, usable items appear in random boxes spawned throughout the map and offer you the chance to gain the upper hand with bombs, speed boosts, rocket magnets, trip mines and even a ninja headband that increases dodge distance and cool down for a short while.
Now, it is worth mentioning that whenever EA has a hand in publishing a game, the general gaming community tends to meet each new entry with scepticism around forking out extra money for in-game perks. Rocket Arena does have limited skins, rocket trails and other purely cosmetic items available that can be unlocked with rocket parts (earned by playing matches and completing challenges) or rocket fuel (obtained by, you guessed it, spending real money).
Honestly, it's not surprising at this point but that doesn't make it okay. Particularly in a game that is already fully priced and paid for.
Coming in for a landing, Rocket Arena delivers something new that feels solid and fresh, yet not groundbreakingly different. Online multiplayer games are all about having a blast with others and this game is sure to fit into the category of high-potential future favourites.
The Review
Rocket Arena
Sure, the micro-transactions are annoying but the addictive gameplay and promise of a growing roster of heroes, modes and arenas might just make this one a real boom for your buck.
PROS
Solid, addictive gameplay
Free post-launch content
Cross-platform
CONS
Micro-transactions suck
Rockets are a little lackluster
Limited PvE mode
Review Breakdown
Gameplay

0%

Graphics

0%

Replay Value

0%

Sound and Music

0%